A number of legislative uncertainties that had hung over the health care sector last year have dissipated in 2018. Unable to pass comprehensive health care reform to repeal and replace the Affordable Care Act (ACA), Congress settled for eliminating the federal mandate for individuals to purchase health care, a provision that was included in recently passed tax reform.
In California, last year there was speculation about whether or not the state would move to a single-payer system after Long Beach's own state senator, Ricardo Lara, tried to pass a bill to that effect. That bill is still on hold, however. Last year, the speaker of the assembly removed it from the floor because he felt it was incomplete. It remains in limbo.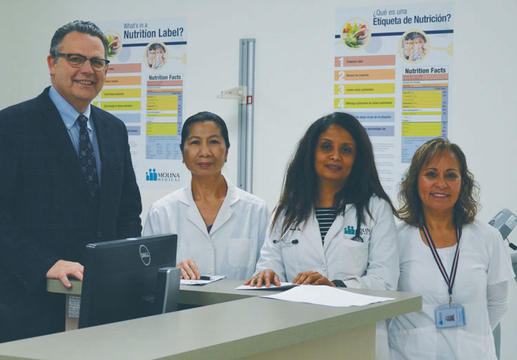 Dr. J. Mario Molina, former CEO of Molina Healthcare, recently took ownership of 17 Molina Healthcare clinics. They are now operating under his new company, Golden Shore Medical. He is pictured at the Golden Shore Medical clinic at 1900 Atlantic Ave. with clinic staffers (from left) Helen Eang, Dr. Smita Soans and Blanco Velasco. (Photograph by the Business Journal's Pat Flynn)
With these clouds of uncertainty having parted, the outlook for the health care industry is positive, overall, according to several executives who contributed to this report.
Innovative or unusual business partnerships among health care providers and nontraditional firms are a theme to watch this year, according to multiple sources. As an example, CVS, a national pharmacy, may merge with Aetna, a national health plan provider.
Health care costs may continue to rise, according to some sources. Still, top-ranking health care executives exhibited optimism that government health care benefits, particularly through Medicare and for seniors, may be expanded this year.
Last year saw a major shakeup in the Long Beach health care industry with longtime local leadership ousted from a top employer, Molina Healthcare, which subsequently cut jobs and reduced office space in the area. But local health care employers report that they continue to make investments. Former Molina Healthcare CEO Dr. J. Mario Molina, for example, recently took ownership of Molina Healthcare's 17 medical clinics in California under his new company, Golden Shore Medical.
MemorialCare Health System has continued to expand its outpatient presence in Long Beach through multiple partnerships with imaging centers, and continues to update its hospital facilities. While MemorialCare Community Hospital Long Beach isn't going away this year, it is slated to close in mid-2019 due to noncompliance with seismic regulations. In the meantime, the City of Long Beach is investigating whether there are any alternative options to closing down the hospital.
Other health care presences in the area, including Dignity Health – St. Mary Medical Center, Kaiser Permanente and HealthCare Partners, have expressed a commitment to providing and expanding care through new programs, services and investments.
Editor's note: The following are guest perspectives from industry executives about the outlook for health care in 2018.
John Bishop
CEO, MemorialCare Long Beach Medical Center, MemorialCare Miller Children's & Women's Hospital Long Beach and MemorialCare Community Medical Center
Hospitals and health systems face many challenges. Uncertainty over policy changes, skyrocketing costs, inadequate reimbursement, burdensome regulations, seismic deadlines and changing technologies challenge us all. Yet there's much reason for hope. We're constantly improving our clinical and operational processes with a vision to the future, thanks to thousands of dedicated employees, physicians and volunteers offering the highest quality, most compassionate care. And medical advances and new programs are making a difference.
For example, Supervisor Janice Hahn just unveiled a partnership among UCLA, MemorialCare Long Beach Medical Center and others for a Mobile Stroke Unit – first of its kind in Western U.S. – that responds to stroke-related emergency calls in Southeastern Los Angeles County, where stroke incidence is among the county's highest. We're increasing access to our emergency department at Long Beach Medical Center and MemorialCare Miller Children's & Women's Hospital Long Beach, and more patients are utilizing our urgent care centers. Our trauma center, which treats over 1,500 critical patients a year, was again verified a Level II Trauma Center.
A joint venture with RadNet created the largest, most accessible imaging network across Long Beach, Southern Los Angeles and Orange counties. We have also increased access to ambulatory surgery and kidney dialysis. A partnership between Miller Children's & Women's and UCLA Mattel Children's Hospital will expand child health services, while leveraging expertise at both campuses and throughout Southern California.
Newly renovated Miller Children's Cherese Mari Laulhere Pediatric Intensive Care Unit features private rooms and pull-out beds for parent overnight stays. With Miller Children's & Women's among the nation's best care for high-risk pregnancies, infants and children, 50 Southern California hospitals annually transport about 1,100 women and children to our facilities.
We will continue to collaborate with our communities to offer the highest level of care close to where people live and work.
Carolyn Caldwell
President & CEO, Dignity Health – St. Mary Medical Center
Health care, like many things, is constantly evolving. How a hospital adapts to the ongoing changes is what is crucial to ensuring patients receive the care they need at a level they deserve. Dignity Health – St. Mary Medical Center is not alone in its increased efforts to improve the patient experience. According to the Center for Medicare and Medicaid Services (CMS), value-based programs reward health care providers with incentive payments for the quality of care they provide. These value-based programs are responsible for health care reform, including better care for individuals and better health for populations at a lower cost.
When I first began the role of President and CEO for St. Mary last summer, I shared that I am passionate about serving diverse communities and I'm excited to witness the collaboration from many of our partners to ensure that we are providing the highest leave of care in a compassionate environment for our entire community. To do that, we must first identify the various complex needs of our residents, then evaluate our services, and implement a plan for improvement.
As such, St. Mary has appointed a new Chief Medical Officer, Dr. Everett Lyn, who is working closely with the leadership team to enhance our physician affiliations in order to make sure we are meeting the health care needs of our community. We are also working diligently to reduce our patient's length of stay. We know that patients have better outcomes when they can recover at home and a shorter stay reduces the cost of care.
Additionally, St. Mary has made recent investments in new equipment, such as a second catheterization lab and the start of an electrophysiology program. The program is designed for cardiovascular conditions, such as atrial fibrillation (AFib), which according to the American Heart Association affects 2.7 million Americans. This new specialty is important to meet the health care needs of the aging population that accounts for 12% of the Greater Long Beach area.
Amar Desai, MD, MPH
Region President, HealthCare Partners, a DaVita Medical Group
It's been another exciting year in the world of health care, and the industry shows no sign of slowing in 2018. Looking ahead, there are a few key themes to watch. For instance, many non-traditional companies have recently moved into the space through a flurry of mergers and acquisitions, shifting how consumers will engage with their providers. As a result, medical groups will be highly focused on providing a differentiated patient experience. At HealthCare Partners, a DaVita Medical Group, we aim to create patient-focused clinical interactions that foster retention and loyalty through highly coordinated, personalized care and use of new technology.
Another important theme is leveraging recent advances in technology to close gaps in coverage and more convenient access to care. HealthCare Partners is piloting telehealth solutions that facilitate specialty care, such as dermatology and cardiology, with the goal of expansion across clinicians. This will enable access in real-time, thereby reducing wait times and enabling patients to schedule an appointment in the comfort of their own home.
In addition, we are seeing more senior patients in Southern California opt into value-based coverage plans, such as Medicare Advantage, that may improve care through coordinated efforts. In these plans, patients have the benefit of working with a care team that has all of their health information at their fingertips, seamlessly coordinating across the health care system to take care of their complex health problems.
HealthCare Partners has served the Long Beach and surrounding communities for over 20 years, and has been recognized by local media as the region's best medical group for three years running. In 2018, we hope to continue to improve the experience and clinical quality we provide for our patients, as well as our commitment to becoming the leading independent medical group in America.
Dr. J. Mario Molina
Owner and President, Golden Shore Medical
2018 will not mark the end of Obamacare – Reports of the death of Obamacare, much like the famous quote by Mark Twain, will continue to be greatly exaggerated in 2018. While the recently-passed, GOP-led tax bill included the repeal of the Affordable Care Act's (ACA) individual mandate, discarding this provision won't kill the ACA. Americans are still widely embracing the ACA, and nearly nine million signed up in the recent marketplace open enrollment, despite a 90% cut in outreach and marketing budgets and an enrollment period halved from previous years.
Americans value the security that comes from being insured, and moreover, Americans are cost-savvy: for the overwhelming majority of participants, being insured costs less than being uninsured.
Entitlement Reform will hit a wall – Legislative rhetoric about "entitlement reform" will go nowhere in 2018. It's an easy target to call for reforms to government benefit programs, which are funded by taxpayers and serve millions of seniors, children, families, mothers, working poor and disabled Americans. But the rhetoric today will trickle away as 2018 midterm elections approach, particularly considering the sheer scale of these programs.
Take Medicaid, for example, which now covers one in five Americans. With expansion under the Affordable Care Act, Medicaid enrollment rose to 71.2 million in 2016, up from 54 million in 2010. Republicans in Congress, citing the growing costs of Medicaid and other programs, have proposed ways to overhaul the program and reduce spending. But when push comes to shove, in an election year they'll be hard-pressed to make severe revisions to programs on which so many of their constituents rely.
A Year for Strange Bedfellows – 2018 will be notable for more non-traditional partnerships and mergers among health care providers. Late last year saw the unusual proposed merger of CVS and Aetna, a $69 billion deal that could reshape consumer health care delivery. This year will be marked by more unique pairings as companies look to manage care delivery costs, increase margins and improve population health.
One novel thing I'll be interested in seeing in 2018: as CVS endeavors to reinvent the health care experience, will they radically adjust their sales strategy to move away from products that conflict with putting patients on the path to better health? In 2014, CVS became the first national retail pharmacy chain to end sales of tobacco products. Could a CVS-Aetna merger mean the end of the candy aisle or alcohol sales? We'll see.
Lesley Wille, RN
Senior Vice President, Kaiser Foundation Hospitals/Health Plan
Kaiser Permanente South Bay Medical Center
As consumers' expectations continue to rise, the health care industry must focus on providing health care when and where our customers want it. At Kaiser Permanente, we offer telephone and virtual appointments for patients who do not require a medical examination, and we are offering more outpatient services outside of Monday through Friday daytime hours. Our patients can e-mail their doctors, check lab test results and refill most prescriptions online, when it's convenient for them.
This consumer focus will require health care organizations to embrace innovation at a faster pace and adopt new technologies that help us prevent and manage disease. Kaiser Permanente has an innovation center that is dedicated to exploring new technologies that can help our patients lead healthier lives.
Second, we must expand our definition of health care to include all the upstream factors that create healthy people and communities. Medical care makes up only 10% of the factors that affect a person's health, while personal behaviors and environmental factors account for 60% (with genetics accounting for the remaining 30%). We're looking at factors such as economic security, educational attainment, community safety and access to healthy foods. Many Kaiser Permanente facilities, for example, offer weekly farm stands or farmers' markets to make healthy fruits and vegetables more accessible to our communities.
Most important, we must continue to make health care more affordable to everyone. The rise in health care costs is unsustainable for individuals and families who are seeing a greater percentage of their budgets going toward health care. We believe that affordable care is high-quality care. For example, we work tirelessly to prevent hospital infections, eliminate delays in hospital testing – which prolong hospital stays – and promote screenings for early detectable diseases such as breast and colorectal cancers.
Chris Wing
CEO, SCAN Health Plan
In 2017, media focus was on the turmoil surrounding the Affordable Care Act, or Obamacare.  While the press reported on the partisan struggles of Obamacare, behind the scenes there was growing bipartisan efforts to improve Medicare. The Senate actually voted unanimously to add much greater flexibility for health plans to care for the chronically ill in Medicare. They also voted unanimously to authorize Special Needs Plans permanently. That would be great news for seniors with diabetes, heart disease and end stage renal disease, seniors eligible for Medicare and Medicaid and those who receive care through Special Needs Plans.
The House has developed its own bipartisan improvements to Medicare. Hopefully, the House and Senate will come to agreement soon on Medicare reform that adds new benefits, such as telehealth, and greater flexibility for all seniors.
Importantly, both the House and Senate have introduced the Community-Based Independence for Seniors Act, sponsored by U.S. Representative Linda Sanchez (D-CA), which would help frail, low-income Medicare beneficiaries remain in their homes and avoid costly nursing homes. This could potentially save Medicare and Medicaid millions of dollars, while meeting the needs of this vulnerable population.
In the City of Long Beach, I take heart from Mayor Robert Garcia's promise to make our city a center of excellence on aging. Public and private partnerships are a key to the success of these endeavors, and SCAN is pleased to work collaboratively to help meet the needs of our older residents, as we have for 40 years.
As I look closely at all of the communities SCAN serves, I believe that we are well-positioned to deliver on our mission of helping seniors remain healthy and independent as they age. This is what drives us every day and prompts us to roll up our sleeves for the challenging work ahead.