North Long Beach has a special place in Westland Real Estate Group President Yanki Greenspan's heart, as it is where his grandfather started the business in 1978. For more than a decade, the Long Beach-based developer and property manager has been pining after the vacant lot on Atlantic Avenue between Harding and 61st streets.
"We've been trying to get this space ever since the city knocked down the old motel that was there once upon a time," Greenspan said. "We thought we could create something really good. We always thought that North Long Beach had a lot of opportunity. There are a lot of homeowners there, a lot of good neighborhoods."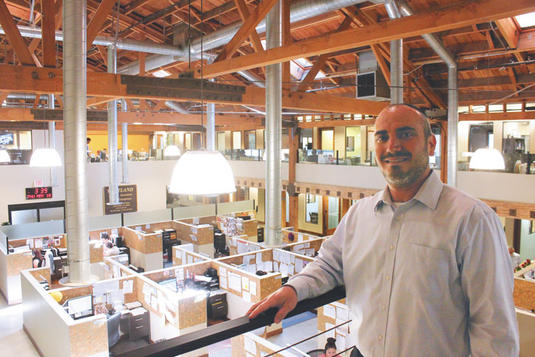 The Uptown developer Westland Real Estate Group was established in North Long Beach in 1978 by the grandfather of the company's current president, Yanki Greenspan. After witnessing the transformation that occurred in the Bixby Knolls area, Greenspan said he believes there is no reason North Long Beach cannot follow suit. (Photograph by the Business Journal's Brandon Richardson)
The company has owned Harding Plaza, a retail center on the southwest corner of Harding Street and Atlantic Avenue, for about 20 years and is finally gearing up to integrate the center into its latest development dubbed The Uptown. The $8.5 million project is expected to break ground this year and open in 2019. Part of Harding Plaza, including a laundromat, will be demolished to allow for the existing center to be seamlessly tied into the new development.
The new lot is 60,000 square feet and the completed project, including existing structures, will have about 35,000 square feet of building space. Plans also incorporate a heavy focus on outdoor community space. To enhance the outdoor dining and socializing experience, Greenspan said the sidewalks will be extended to increase the buffer zone between traffic and patrons. Parking will be in the rear of the development and will likely include covers topped with solar panels to increase the project's sustainability and provide shade.
"We're looking for food, coffee, a brewery and a grocery store – those are the elements we're trying to bring in," Greenspan said. "We have a relationship with Long Beach Beer Lab, which is next door to our corporate office, and we are taking them to North Long Beach. Burgerim signed a lease at the center [its second Long Beach location] and we're pretty close on the coffee and grocery right now."
Smaller, local tenants are easier to work with on projects like The Uptown because they are willing to take risks that large corporations often would not, Greenspan said. Whereas corporations look for busy street corners, local entrepreneurs are more likely to embrace midblock locations within a community, he explained. Besides past success with smaller businesses, the company surveyed the community and the results were overwhelmingly in favor of localized businesses rather than large chains.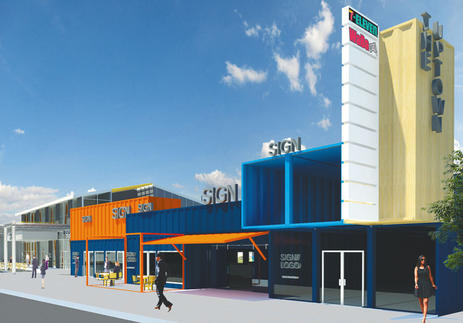 The Uptown, a new retail center on Atlantic Avenue between Harding and 61st streets will have 35,000 square feet of building space. The project emphasizes outdoor dining and community gathering areas, and will be home to a Long Beach Beer Lab, Burgerim, a coffee shop and other restaurants and retailers. (Renderings courtesy of Westland Real Estate Group)
Current Harding Plaza tenants that will remain in the new project include Bionicos Del Chavo, Boost Mobile, Capital Postal, Jaylan Nails, Louisiana King Fish, 7-Eleven and WaBa Grill. These tenants will have some leeway when it comes to design standards; however, new tenants will have strict design standards because one goal of the project is to raise the architectural standards of the area, Greenspan explained.
Long Beach-based architecture firm Studio One Eleven created the initial designs for the project, which is meant to give the entire city block a cohesive, modern-industrial aesthetic, Greenspan said. Design elements include the use of concrete and wood, as well as corrugated steel made to look like shipping containers.
"It takes a visionary, and I think Vice Mayor Rex Richardson has a vision for what a full-block development means to the community, whereas before it was decided more by bureaucrats who didn't have a vision," Greenspan said. "Vice Mayor Richardson has been aggressive in making sure we do the full-block development as a cohesive project. He's also pushing on the design standards and the tenant mix. He's been pushing very hard to make this happen."
North Long Beach is combating a reputation as an area that suffers from high crime rates. Greenspan said those reputations develop when neighborhoods are neglected for too long; empty storefronts and vacant lots invite vagrants and unsavory social elements. However, he explained that investments and developments such as The Uptown and other projects by LAB Holding LLC and Frontier Real Estate Investments along the Atlantic Avenue corridor will act as a catalyst for more improvements in the already-improving area.
Greenspan recounted growing up in the Bixby Knolls area, saying that he had been robbed at gunpoint on the corner of Carson Street and Atlantic Avenue when he was 11 years old. Today, that intersection is unrecognizable when compared to his past, he noted. The shift for Bixby Knolls into a popular shopping and dining neighborhood was gradual, like the evolution of downtown, Greenspan said, adding that it is North Long Beach's turn to go through a similar transformation.
"The more we can create community space, improve walkability and get homeowners walking out to the street and investing in the business corridor, the more we can improve the neighborhood," Greenspan said. "That's what they want – a place where they can go and hang out for the afternoon, grab a coffee, grab a beer and easily shop. They will use it. We have seen it happen in Bixby Knolls. There is no reason North Long Beach can't be the same."