With more than 50 projects underway, approved or under review, the City of Long Beach is going gangbusters with regard to development. Housing, retail, restaurants, industrial – developers are building it all. With so much activity, it is natural to see pushback from residents and local organizations.
Long Beach resident Warren Blesofsky and his group – Long Beach Citizens for Fair Development – have been exceedingly vocal about city practices when it comes to development. The group has vocalized its opposition for about 40 development proposals, according to Blesofsky, and has taken legal action on three.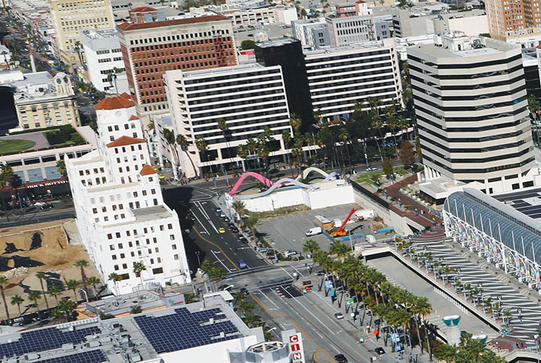 At center, the proposed site for a new hotel at 100 E. Ocean Blvd. (Business Journal photograph)
"We're pursuing a strategy of appeals and litigation citywide to change the way the city does business with regards to development. We really feel that the city government in Long Beach is by and for developers," Blesofsky said. "The loss of the environmental, cultural, historic and fiscal resources in Long Beach is generally for the benefit of a few people and not for the many residents of Long Beach."
The first formal appeal and lawsuit made by Blesofsky was against the second phase of the Shoreline Gateway project at 777 E. Ocean Blvd., adjacent to phase one, now called The Current. According to Ryan Altoon, executive vice president of Anderson Pacific LLC, the developer of the project, the suit was settled out of court. The settlement included a confidentiality agreement, so neither Anderson Pacific nor Blesofsky can disclose the terms of the settlement.
Currently, Blesofsky and his legal representation, Jamie Hall of Beverly Hills-based Channel Law Group LLP, are negotiating settlement terms for appeals at 100 E. Ocean Blvd. and 3655 N. Norwalk Blvd.
Hall has been involved in several other development lawsuits in Long Beach, including one against The Current and three on behalf of Debora Dobias and the group Long Beach Transportation and Parking Solutions (TAPS).
"I want to make sure that people understand that when people bring these lawsuits, it's not because they just want to be gadflies and they hate developers and they want no buildings," Hall said. "They're not absolute NIMBYs. It's about the details. It's about whether or not there is adequate mitigation."
The TAPS lawsuits were against downtown proposals by Ensemble Investment LLC, Raintree-Evergreen LLC and Broadway Block LLC. These lawsuits were settled together in November of last year and resulted in parking studies to be conducted in the Alamitos Beach and downtown areas.
Blesofsky said his appeal at 100 E. Ocean Blvd., the former site of the historic Jergins Trust Building, focuses on taxpayer abuse issues. He claims the site was sold under value, while other offers were millions of dollars higher. Blesofsky also claims the current zoning is for high-density housing but that, in a case of spot zoning, the city approved the land sale to a developer proposing a luxury hotel.
Blesofsky and Hall said negotiations are proceeding with developer American Life Inc., but that they could not share any details.
The Norwalk Boulevard property has been home to the El Dorado Park Community Church for the last 55 years. Developer Preface has proposed a 40-home gated community to complement the adjacent El Dorado Park Estates neighborhood.
"I look at that building as a beautiful, historic building. I see a town hall. I see a community meeting space," Blesofsky said. "Those are all uses that are allowed under the current zoning, and that's why I object to the zoning change for high-density, single-family, million-dollar houses."
Blesofsky said the proposed zoning change to residential is another case of spot zoning by city staff to appease developers, despite the site being surrounded by residential neighborhoods. He said the zoning change is meant to allow developers to minimize lot sizes to maximize the number of homes on the land, which doesn't provide the best quality of life for residents.
Project data, however, tells a different story. Current zoning allows for up to 42 homes with 7.2 units per acre and 6,000 square feet of gross land per home. The Preface project only consists of 40 homes with 6.9 units per acre and 6,316 square feet of gross land area per home – less units per acre and more square footage per lot, including an average of 7% more open space per lot.
Additionally, Blesofsky claimed the zoning change would allow for smaller setbacks on the properties, including rear, side yard and garage. However, the only change to setbacks according to the site plan is a two-foot increase to the rear setbacks from the property lines.
Blesofsky's appeal to the housing development also claims inadequacies in the environmental impact report, most notably the section in which alternative projects are identified. He contends the report is lacking an alternative that includes a housing element.
Alternatives listed in the document include abandoning the project and allowing the current structures to remain and function as a church, daycare and associated parking lots or converting existing facilities to a private elementary school or special event venue.
Alternatives that were rejected for various reasons of feasibility and scope included moving the chapel structure to preserve it and converting the chapel itself into housing.
"We are extremely disappointed litigation related to the City's Environmental Impact Report has been filed by Warren Blesofsky," a Preface spokesperson said in an e-mail to the Business Journal. "Despite the obvious and overwhelming community support for this project, as well as the thousands of hours of collaborative efforts between the development team and city staff, one individual – who chose not to participate in the planning process and does not live anywhere near the property – is attempting to undermine the project.  With apologies to our friends in the El Dorado neighborhood, we will continue to work with all stakeholders in the city and community to move the project forward while we try to reach a resolution with Warren Blesofsky."
Current negotiations between Blesofsky and Preface are focusing on the historical importance of the church and ways to mitigate the impact of losing the structure. Aside from the architectural importance, Blesofsky said the church's past as a drive-in church, where residents could listen to a sermon in their cars while parked on the property, marks a time in American history that should not be destroyed without consideration. He explained that this is uniquely American and part of the country's cultural landscape.
Blesofsky and Hall admitted that under California Environmental Quality Act (CEQA) guidelines, the best they can hope to achieve is mitigation beyond the proposed photographs of the church.
"One thing that we are trying to work on with developers, rather than just having some video taken with no context, is to actually do a documentary about the history of this church," Hall said. "The best way to preserve it is to do something like that and have it available for public view in perpetuity."
Bari Harris, an El Dorado Park Estates resident and local realtor, said she thinks the church is an eyesore and hopes the project moves forward quickly, despite Blesofsky's appeals.
"I think it's a shame that they are challenging the project and are holding it up," Harris said. "With the housing shortage that we have, I just think it's such a shame that they are holding up 40 more homes that we could have for people."
The city was presented with a petition signed by between 40 and 50 residents in support of the development project, according to Harris. Additionally, residents and even congregation members of the church that recently vacated the premises submitted numerous letters of support into public record.
Despite community support, Blesofsky maintains that the process and proceedings are not acceptable and said more mitigation is needed on the Norwalk project and reform needs to be made to the development process at the city council level.
Hall said that each project he has worked on has resulted in better projects. He explained that these lawsuits are a direct result of elected officials' tendency to violate CEQA guidelines by approving inadequate environmental reviews or bypassing them altogether, their poor treatment of developers and not listening to residents.
"I don't earn my living doing this. I have my own business. In fact, I've lost money doing these appeals. It's more just a matter of conscience to me," Blesofsky explained. "I'm not anti-development, I'm pro-development. I think Long Beach does need more housing, and I believe in private property. I also believe in playing by the rules."
Blesofsky said he is the owner of Linden River Capital LLC, in Long Beach. His company's website states: "We are a real estate investment firm that specializes in the acquisition, management and sale of distressed properties and mortgage loans."
Long Beach Citizens for Fair Development is in its infancy, with few core members, according to Blesofsky. He said he wished he did not have to resort to litigation, but claimed that the city does not take public comment to heart and instead focuses solely on staff reports. Because of this, he said the group has plans to continue taking action against development projects until changes are made to city procedures with regard to development approval.
"We want development weighted toward local developers and community development projects. I'd like to use the fiscal resources of the city for the highest good," Blesofsky said. "If the city wants to give the citizens a real voice when it comes to development, then we won't need to litigate anymore."