Due in part to social media and in part to a blending of cultures, managers and catering directors at Long Beach hotels have noticed a trend towards more creative weddings. The innovation extends to food, style of dress and even a couple's grand entrance.
Lisa Duncan, Hotel Maya's director of catering and convention services, said she thought social media was responsible for the rise in unique wedding ideas. Duncan mentioned the popularity of Pinterest, a social network site that allows users to share recipes and ideas for home decoration and style."I think they're striving to do something different, something that's a little more memorable. That's usually what we hear," Duncan said. "People get ideas and show us a picture. It's really fun to collaborate."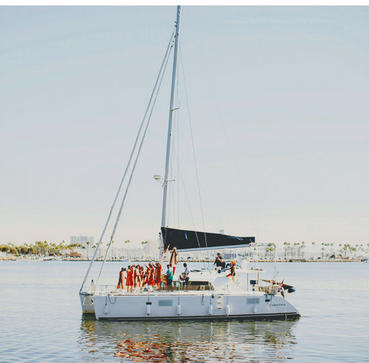 A wedding procession rides on a boat in a unique version of a Baraat, an Indian wedding ritual in which the groom is led to the ceremony by family members and friends. The groom traditionally rides a horse or an elephant. (Photograph courtesy of Hotel Maya)
Signature cocktails are one feature Duncan often works out with couples."We have a lot of fun with that. Sometimes couples will come to us with their favorite cocktail, or they'll have an idea, like they want something whiskey-based or pink or blue, and we'll go back and forth and share ideas. Sometimes one of our cocktails from Fuego [Hotel Maya's restaurant] turns into the signature cocktail at somebody's wedding."
Long Beach's waterfront location also lends itself to originality. At Hotel Maya, which sits on the water, many couples have opted to enter their reception from a boat. Others have hired a yacht to take them on the water for photos while guests are at a cocktail hour, Duncan said. "We got a request last week from a couple who wants to come in on a helicopter," she said. "We have such a unique property, we lend ourselves well to those couples who are looking to add a different flair."
Hotel staff has also noticed a trend of couples moving away from a sit-down dinner or buffet to a more informal style of dining. "Food has really moved more into a social experience rather than a typical, traditional sit-down dinner," Dan D'Sa, vice president at Grand Food and Beverage, wrote in an e-mail. "Food stations and family-style menus have been really popular. Brides and grooms are wanting their wedding to be more social rather than [their guests] being stuck at the same table for an hour and a half."
Duncan also spoke to this movement. She said many people like the idea of attendants creating food in front of the guests. According to Duncan, Hotel Maya is open to customizing menus and blending dining styles. "Sometimes one dinner course will be served and one [course] buffet style," she said. "We work with some really creative and imaginative couples. Often, it's a collaboration between the catering team and the couples."
According to Hilton Long Beach Senior Catering Manager Li-Ling Li, traditional wedding cakes have cycled in and out of style. "We went through a stage where brides wanted cake pops, a cupcake tower or donuts," she said. "Then we went into a stage where fake cakes were popular, where only the bottom tier was cut into and the rest was Styrofoam. Now I think we're trending back to more classic cakes, although they are not as much of a focal point. A lot of people have a traditional cake in addition to other desserts." Li also noted that many couples want to bring in street food or a food truck for a late-night snack as part of the reception.
The trend towards out-of-the box thinking also encompasses wedding attire. "Suits and dresses are similar in wedding parties but not so matchy-matchy," D'Sa wrote. "Groomsmen are having fun with socks and shoes. The men seem to be getting more excited about what they are going to be wearing than the women are."
Cultural weddings are also undergoing changes in style, a shift that Li has observed among her Indian clientele, which make up a large portion of the Hilton's wedding business. "We have noticed the traditional saris and dresses for brides are a little more westernized now," she said.
Li described seeing different versions of the Baraat, an Indian wedding ritual in which the groom is led to the ceremony in a procession of family members and friends. While traditionally, the groom rides a horse or an elephant, Li said that today many arrive in fancy cars or convertibles.
As the Hilton hosts more Chinese weddings, Li said she has noticed more blended traditions in that culture as well. "Traditionally, you wouldn't wear white to a wedding. White means death to the Chinese. But now, a lot of the brides include a white dress among a few outfit changes."
The Hilton's catering director, Richard Hoyt, attributes the trend to assimilation and the perspective of a generation raised in the United States. "We're now seeing a generation that was raised here versus a generation that immigrated here," he said. "Even the guests who attend are more mixed than 10 or 15 years ago. These cultures are assimilating into the U.S."