The Conservation Corps of Long Beach (CCLB) has been providing at-risk youth with the opportunity to fulfill their secondary education while gaining valuable work and life skills for the past 30 years. The organization is celebrating the 25th anniversary of its Dine on Pine event this year, which helps sustain its initiatives and provides the means for Corpsmembers to continue on with their education once they have completed the program.
Former International City Bank President Jane Netherton, who is one of the founding boardmembers of the Conservation Corps of Long Beach, said the organization started out with 10 concerned community members who wrote personal checks to get the program started. "We had to really struggle to get 14 people to be Corpsmembers," she recalled. "That's not the case anymore."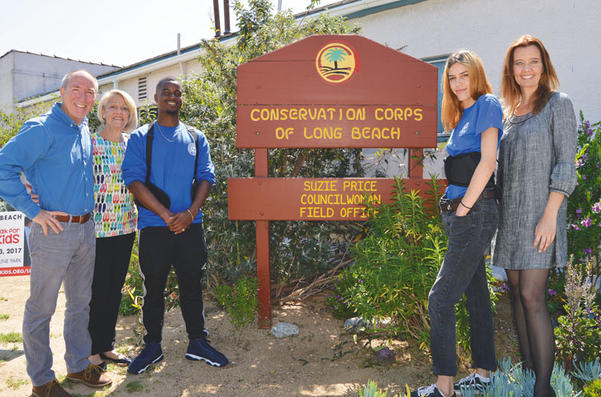 Pictured outside the Conservation Corps of Long Beach (CCLB) office at 340 Nieto Ave. are, from left: Executive Director and CEO Dan Knapp; founding boardmember Jane Netherton; Corpsmembers Errol Bennett-Valdez and Amanda West; and Tara Cannon, CCLB special projects coordinator. (Photograph by the Business Journal's Larry Duncan)
Today, the Corps has more than 90 members whose ages range between 18 and 25. They primarily hail from North Long Beach and Westside Long Beach, according to Executive Director and CEO Dan Knapp. The remainder are residents of Paramount, Compton, Lynwood and Watts.
"As a certified Corps, our charge is we're first and foremost a youth development organization," Knapp said. The Corps contracts with public and private entities to provide litter abatement and recycling services, ecology and wetlands restoration, parks and recreation facility improvements, and more.
Corpsmembers who have not finished high school are required to attend the CCLB Charter School to earn credits toward their diploma, in addition to their workforce duties. "We have an open-door policy. Our only prerequisite to join the Corps is a willingness to work and work hard," Knapp said. The program runs about one year to 18 months.
CCLB's annual Dine on Pine event, now a fundraiser for scholarships and the organization's educational programs, originally started as an event to provide a public face to CCLB.
"When we first started doing it, we wanted a way to let the community know more about who we were and what we did," Netherton said. "We thought, well, if we're doing this, why don't we have a real purpose besides just letting people know who we are. And it kind of blossomed into what we are today."
Dine on Pine is a progressive dinner fundraiser that takes participants to three restaurants on Pine Avenue for appetizers, salad and a dinner, followed by coffee and dessert, according to Tara Cannon, special project coordinator for CCLB. "Typically we get about 150 people, so it's a really great time to come together and network and mingle and see people you haven't seen in a while," she said.
Through the years, the event has raised $460,000. "Of that $460,000, over $250,000 has gone specifically to scholarships. $210,000 approximately has gone back into the programming here at the Conservations Corps of Long Beach for education over those years," Knapp said. Tickets for the event cost $125. Event sponsorships are also encouraged.
Corpsmembers must apply to receive scholarships from the organization, according to Knapp. "They have to apply, and the scholarships vary from a few hundred dollars to several thousand dollars, depending on where they are going to school," he said. "The average is about a thousand dollars for a scholarship."
Following their time in the Corps, about 80% of members seeking further education enroll at a community college. "About 15% are going to trade and technical schools, whether it's the union schools or some other. And then 5% go directly into a four-year university," Knapp said.
This year's Dine on Pine takes place Monday, June 26. "We start at 5:15 [p.m.] at The Federal Bar," Cannon said. After a short presentation and mingling, attendees are split into groups of 50, and each group heads to a different restaurant. They then rotate to each location throughout the evening. In addition to The Federal Bar, this year's participating restaurants include L'Opera and George's Greek Café.
"There are a few Corpsmembers at each of the restaurants so they can talk about their experiences and answer any questions," Cannon said.
At the end of the evening, the groups return to The Federal Bar for coffee and dessert, an opportunity drawing and the annual presentation of the Founders Award, which is given to an individual who has been heavily involved in the Corps and community. "This year we are honoring Glenn Ray, who has been on the board for many years as a past chair," Netherton said, referring to the owner of airport-based business Million Air North.
"What I want to emphasize is that this is the mortar between the bricks that keeps this organization moving forward," Knapp said of Dine On Pine. "Most of our young folks have major barriers to success, whether it's homelessness, education, parents, all those kinds of things. This funding helps bridge that gap, and it really helps them be successful while they are with us and after they have left us."
For more information about Dine On Pine or to purchase tickets, contact Tara Cannon at 562/208-5059 or tcannon@cclb-corps.org.