Overall airline passenger traffic at the Long Beach Airport (LGB) is down 14.8% compared to this time last year, and officials say the allocation of flight slots is to blame for the dip in passengers. However, LGB officials said passenger traffic should stabilize when pending flight slots are officially allocated to Southwest Airlines and Delta Air Lines in October.
LGB's monthly activity reports for this year indicate that airline passenger numbers have been down throughout 2019 compared to 2018. This year, LGB has served a total of 2,034,250 passengers as of July 2019. Last year, the total was 2,387,915 for the same time period.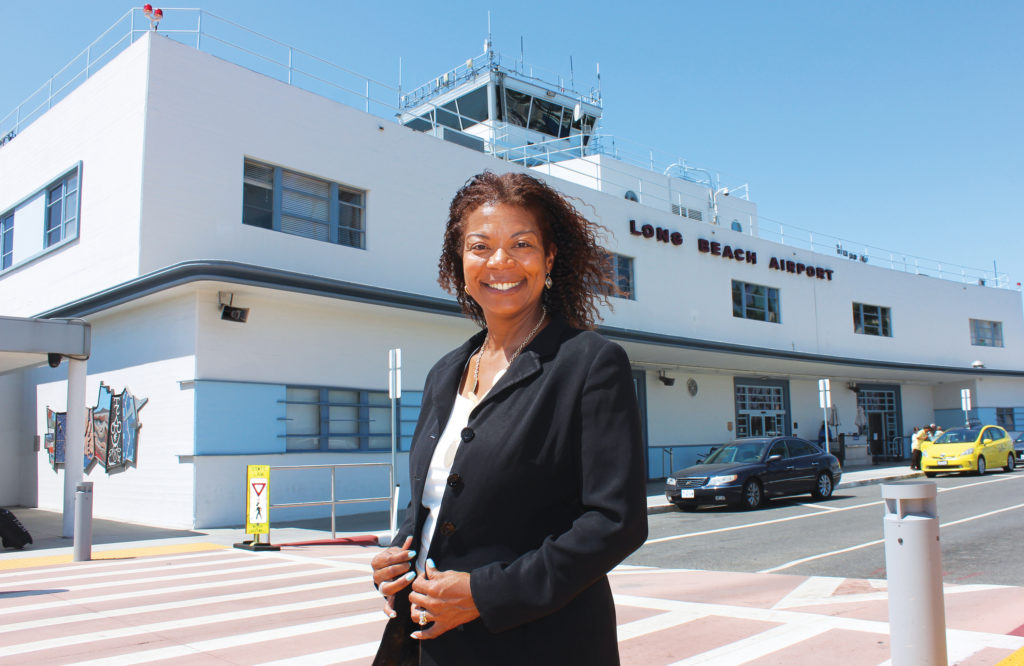 In July, 319,296 people flew on commercial airlines through LGB, a 10.8% decrease in airline passenger traffic compared to the same month in 2018. These figures account for both enplanements and deplanements, otherwise known as arrivals and departures.
Claudia Lewis, LGB finance and administration bureau manager, attributed the decrease in airline traffic to JetBlue relinquishing 10 of its 34 flight slots in April. JetBlue voluntarily gave up the slots after it did not meet the city's new minimum use requirement for flight operations at LGB, according to Lewis. The requirement, which went into effect this year, mandates that air carriers use 70% of their flight slots every calendar quarter. When it did not meet the requirement, JetBlue relinquished a total of seven permanent and three supplemental slots, Lewis said.
Southwest Airlines and Delta Air Lines will officially inherit the 10 slots vacated by JetBlue in October. A total of 12 slots are going to Southwest Airlines, five that are permanent and seven that are supplemental, and Delta Air Lines will have eight slots, six that are permanent and two that are supplemental. Currently, Southwest and Delta have six and four flight slots, respectively.
In addition to its current slot allotment, Southwest has been using most of JetBlue's vacated slots on a temporary basis since April, Lewis said. Southwest Airlines more than doubled its airline passenger traffic in July compared to the same time last year, experiencing a 123% increase, according to LGB data. The breakdown for airline numbers in the monthly report only factors in enplanement numbers.
Lewis said Southwest has been using these temporary slots as they become available monthly.  She explained that air carriers at LGB provide officials with their flight schedule six months in advance. If within that time frame there are slots that may not be in use, officials temporarily reallocate them to air carriers on a monthly basis. "If you think of it in those terms, the reallocated slots aren't even allocated on a six-month basis; they're reallocated on a 30-day basis," Lewis said. "We get those look-ahead schedules every 30 days. An air carrier could say, 'Four months out, we are/are not going to utilize these slots.' But then in the next 30 days, they can change that schedule and actually utilize them. That's why there are some challenges in the use of temporary slots."
Adam Decaire, vice president of network planning for Southwest Airlines, said the company's growth in air passenger figures this year is because of the temporary use of JetBlue's relinquished slots. The air carrier used about eight of JetBlue's relinquished slots this past summer, fluctuating based on the slot availability every month, he said. With the addition of these temporary slots, Decaire said Southwest was able to add various services to its schedule, such as a daily flight to Denver and three daily flights to Las Vegas. "We'll use every slot that's available for us in Long Beach, and we're going to fly it – temporary or permanent," Decaire said. He added that Southwest will have to reduce flights in October, when the temporary slots are divvied up with Delta.
Delta Air Lines' airline passenger numbers in July 2019 compared to the same time last year were relatively flat. Per the monthly report, Delta experienced an increase of just under 1% for enplanements. When factoring in deplanements, the figure actually shows a 0.2% decrease for Delta in airline passenger traffic, according to data provided by LGB.
Liz Savadelis, corporate communications representative with Delta Air Lines, said the air carrier currently has four flight slots at LGB, all of which are used for four daily flights to Salt Lake City. Delta will use additional flight slots being allocated in October to provide a fifth service to Salt Lake City and three flights to Las Vegas, she noted. "Delta's growth at Long Beach Airport is part of a broader investment in the L.A. Basin and broader region," Savadelis said.
LGB's other air carriers, with the exception of Hawaiian Airlines, all experienced decreases in passenger traffic in July 2019 compared to the same time last year. The airline passenger traffic numbers show a 2.7% decrease for American Airlines, a 5.4% increase for Hawaiian Airlines and a 36.3% decrease for JetBlue Airways.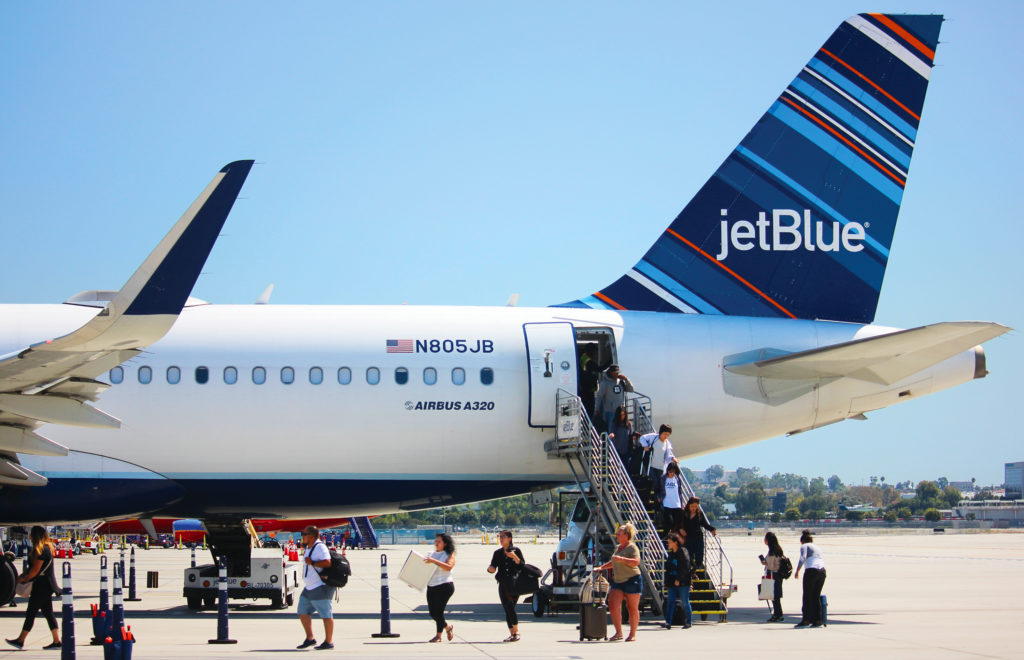 When factoring in only enplanements (flights boarded at LGB), the figures are: a decrease of just under 1% for American Airlines, a 6% increase for Hawaiian Airlines and a 36% decrease for JetBlue Airways.
However, Lewis said the dip in airline traffic is "not a concern at all," citing that there is still a strong demand for slots at the airport. "I anticipate the utilization of the reallocated slots in October will be at a much higher level than when they are in use on a temporary basis," she said.
In June, Lewis told the Business Journal that she forecasted a total of 3.6 million enplanements for 2019. She said she believes the airport is still on track to meet that projection. Although it is a decrease from last year's total of four million enplanements, she noted that this year's projection is an increase compared to LGB's all-time average of 2.8 million enplanements. "On the whole, there is an upward trend in traffic at Long Beach Airport," she said.
Cynthia Guidry, director of LGB, said her outlook on the airport's performance this year is positive. Although she has only been in her role for under two months, she said she has been in communication with airport stakeholders and community members to listen to their concerns about operations at the facility. "It's been relatively easy, because everyone has been so welcoming," Guidry said about her transition to LGB. "My first month has been about listening and learning about all the latest projects, programs and what is going at this airport. . . . The airport staff has just embraced me. Coming here and being able to share my thoughts and things that I've learned in my professional experience, it's just been a great attitude by the staff that's here. There are a lot of exciting things going on here at Long Beach Airport."
Guidry admitted there has been a shift in airline traffic since JetBlue relinquished its slots, but she still said there is a "great opportunity" to grow for the rest of this year. "We are positioned very well in the industry," she said. "It's all positive. This airport has seen fluctuations in the past, and we'll probably continue to see that in the industry overall. As far as Long Beach Airport specifically, it's still very promising."