Long Beach has a wealth of arts organizations both large and small, from museums to performing arts groups and cultural centers. The International City, as Long Beach is known, has its own opera, ballet, musical theater, multiple arts museums and more.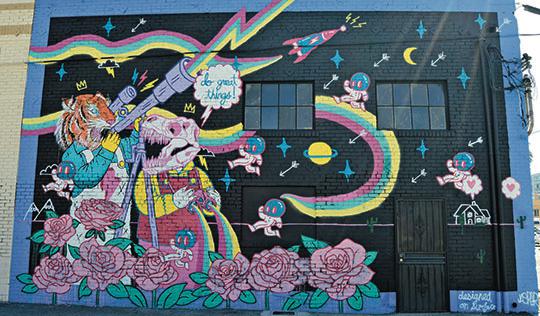 (One of the latest murals in Long Beach was painted by Jasper Wong on the Art Exchange in the East Village Arts District. Photograph by the Business Journal's Larry Duncan)
On the eve of Long Beach Arts Month, which begins October 1, the Business Journal asked leaders from several of the city's largest arts institutions to respond to the following question: "What do you believe should be done to foster growth in the local arts community?"
Responses were received from the directors of the Museum of Latin American Art, Long Beach Shakespeare Company, The Found Theatre, International City Theatre, Long Beach Museum of Art, the Carpenter Performing Arts Center, Long Beach Symphony and Long Beach Ballet. In order to foster growth in the arts community, local arts leaders emphasized the importance of arts education, better funding, providing support for local artists through affordable housing and other initiatives, and the need for a unified strategy among arts organizations and the city government.
Stuart A. Ashman
President and CEO
Museum of Latin American Art (MOLAA)
Long Beach is a unique and beautiful city with a long and interesting history. For generations, it has attracted visitors from Southern California and beyond.
Long Beach is currently the home of three important museums, a myriad of dance companies, a symphony, an avant-garde opera company and a diverse community of artists. When you put all of these together, you have the makings of a city that could become a world-class art center.
The most obvious action needed to foster growth in the arts community is support, all types of support. The most critical form of support is funding for the various arts organizations that are located here. The second is arts education. A community that invests in arts education sees unexpected benefits like children who are excited about school, who do better in math and reading and perhaps even go on to pursuing careers in the arts. Government support of the arts, beyond funding, is also important. The presence of elected officials like senators, assemblymembers, the mayor and city councilmembers at arts events – where they are duly recognized – demonstrates the value of the arts to the broad community.
Legislation at the municipal level that reinstates a 1 percent for the arts on any new construction would create a fund that would enable Long Beach to commission artists to create public works of art that would beautify the city and enrich its cultural landscape.
Finally, creating affordable housing geared to the needs of artists would attract many artists to Long Beach. Long Beach would benefit greatly by enlarging the thriving art community that already lives and works here.
Helen Borgers
Artistic Director
Long Beach Shakespeare Company
To foster growth, one first has to foster interest. Interest comes from exposure. For many, exposure must be free and easily accessible. For years, the Long Beach Shakespeare Company, in league with Partners of Parks and several other artists and arts groups, produced an annual free six-weekend summer Shakespeare festival in the parks of Long Beach. This included live musicians, dancers, actors, face-painters, and a variety of other artists. After a five-summer residency on the lawn outside the Aquarium of the Pacific, we had to abandon this tradition because the fees at the parks had became too restrictive, we received no support in the way of public safety, and no cooperation in scheduling.
Most families can get to public parks. If the city would ensure safe and clean restroom facilities at parks, provide fee waivers for public service events, not schedule competing events (group picnics, soccer games, etc.) when an arts event is planned, and provide rangers to maintain a peaceful presence, then the parks could be regular venues for music, theatre, dance, and visual arts exhibits. The arts groups would provide their own sound systems, lights, etc. It would be an opportunity for local businesses to get involved with underwriting and promotion, and a way for arts groups to work together. Events like these could create quite a community buzz! Maintaining safe parks should be a city priority in any case, and inspiring encounters with artists of all sorts builds life-long arts patrons as well as future artists!
Virginia DeMoss
Executive Director
The Found Theatre
Money is always an issue for small, nonprofit arts groups. Consistent annual city funding for the arts through the Arts Council for Long Beach would go a long way in providing stability for local groups. The arts are traditionally the first thing cut from city, school and other budgets when money is tight. But aside from the obvious lifelong value of the arts to a community and its residents, study after study shows that the arts are a huge economic driver for the cities that invest in them, drawing patrons to local restaurants, hotels and other businesses.
We're fortunate to have a progressive mayor who recognizes the value of the arts to Long Beach residents and the local economy, and seems willing to advocate for stable funding. Likewise, Long Beach businesses could benefit by advocating for arts funding and by partnering with arts groups in marketing and other efforts.
Long Beach is an arts rich city, despite the fact that there are few of the affordable lofts, warehouses and other spaces that used to be available to artists at low cost. Again, local businesses and city government could partner in providing reduced rents, utilities and other perks to nonprofit arts groups with a track record of serving the community.
Finally, I think Long Beach needs one or two big arts events that are of a high enough caliber to attract visitors from other areas. The city is rich with museums, galleries, artists' studios, theatres, outdoor performance spaces and unique businesses. It seems to me that a Fringe Festival, like the one that has made Edinburgh world-famous, would be a great fit for Long Beach. Not only does it allow local arts venues to showcase their work, but it opens up the opportunity for all types of businesses (bars, restaurants, retail stores, laundromats, etc.) to attract attention and business by hosting theatre troupes, art exhibits, bands, poets, comedians, high-profile guest speakers, and improv and performance art groups in their spaces during the festival. Long Beach is a big city with a big arts scene. Let's go big in promoting it.
caryn desai
Artistic Director/Producer
International City Theatre
Long Beach is blessed with a diverse landscape of opportunities to view and/or participate in the arts, including professional theatres, a symphony and art museums. But it takes awareness and understanding to achieve growth in the arts for our residents and to attract our neighbors in surrounding communities. A thriving arts community serves as an enticement for greater tourism and as an economic engine to the benefit of other businesses and our city. This takes leadership on many levels including political, media, arts organizations and community leaders working together.
If our leaders value and understand what the arts do to add to the quality of life, to the education of our youth and residents, and to the greater understanding of our shared humanity, there will be better buy-in and support. It is not just about dollars, although marketing takes dollars and spending priorities indicate what we value. Every resident who values the arts has the opportunity to introduce live performance or a painting to a child, a neighbor or a friend.
We cannot take this lightly. Arts education is vital to the future of our nation. It is a creative economy. If our children are not learning to think creatively, we will not have future artists – but we won't have scientists, inventors, innovators, entrepreneurs, etc. Give people the means to express themselves and you validate their existence in this fast paced and too often impersonal computer world. The arts make us human.
Ron Nelson
Executive Director
Long Beach Museum Of Art
I firmly believe that when entering a discussion about the arts and what it takes to nurture and support a thriving art scene, you need to understand not only how it enriches and elevates the cultural landscape of a community, but how it also enhances the local economy. The City of Long Beach's recent and continuing successes in the art world have been inspirational. With enlightened leadership in Long Beach coupled with the current social and political environment, the local arts are at a pivotal position.
For the Long Beach Museum of Art, it is not enough to strive for attendance records and gift shop sales. It is our mission to bring art to the community. So we strive to stay informed and educated about contemporary art. We listen to different generations to discern the work of artists that touch them. We reach out to schools to give students the opportunity to enjoy a museum experience and are excited when the students return with their families. Throughout the city, arts education is very important and we must ensure our future audience is exposed to music, painting, ceramics, sculpting and dance, not only leaving them with an appreciation for the arts, but also perhaps a personal goal to follow their creative spirit and enter the world of art here in Long Beach and beyond.
As one involved with the coordination of POW!WOW! Long Beach 2015, I'm thrilled to see how POW!WOW! Long Beach 2016 comes together. As an annual Long Beach event, POW!WOW! will continue to grow and our local large-scale canvases will be showcased along with the POW!WOW! events taking place globally. I hope to see Long Beach artists deeply involved with our local event, invited to create their work in other cities and exposed, appreciated and celebrated on the international platform that POW!WOW! offers.
Michele Roberge
Executive Director
Carpenter Performing Arts Center
I try never to impose the word "should" on anyone but myself… So I'll interpret the question as, "What should I do to foster growth in our arts community?"
I work for the Carpenter Center at Cal State Long Beach, the largest presenter of performing arts in the city. I join many colleagues in the belief that the best way to foster growth in anything is through education.
Two seasons ago, the Carpenter Center launched Arts for Life, a free arts education initiative that augments the professional performances we present on our stage, and often directly links to courses taught by many CSULB faculty. We bring artists into classrooms to teach, exchange ideas and offer their perspectives on the arts and other issues. Artists visit CSULB classrooms as well as elementary and high school classrooms throughout Long Beach.
The free Arts for Life experience isn't restricted to the classroom, though. It also enriches through free concerts and film screenings at the Carpenter Center, free readings of Shakespeare every month at the University Art Museum, and free lectures that link directly to performances to enhance everyone's enjoyment of the arts. Since its inception, more than 9,000 people have participated in Arts for Life.
We believe investments like Arts for Life foster growth in the arts community by opening the arts to everyone at all ages, encouraging discovery and delight. I think it's what we should be doing.
Kelly Ruggirello
Executive Director
Long Beach Symphony
Throughout history one can define a community by its thriving artistic and cultural offerings. Greece is known for its comedy and tragic plays; Italy, its Puccini and Verdi operas; Egypt, its pyramidal architecture; Spain, its Flamenco dance; and Japan, its Kabuki, to name a few such examples.
In the City of Long Beach, we are fortunate to have so many artists and arts organizations all independently striving to serve the needs of our community – "independently" being the key word. As Executive Director of the professional symphony in town, I'm not suggesting we merge missions or create a conglomerate of arts companies. I am suggesting, however, that the creation and implementation of a citywide supported plan would galvanize our independent efforts and support true strategic growth ensuring the longevity of our arts and cultural offerings for generations to come.
Today, many examples exist of cities that have created and successfully implemented coordinated, strategic artistic growth plans. San Francisco, for example, united its community in the creation of a comprehensive arts module in its General Plan that includes detailed goals and objectives to ensure it maintains its acclaim as a "…cultural center where the arts are central to the essence and character of the City." Many other cities, large and small, have created similar strategic plans that foster the growth of the arts in their towns.
Uniting Long Beach arts providers, artists, educational institutions, corporate, foundation and government leaders in the creation of an artistic vision for this community and the subsequent implementation of a dynamic, forward-thinking strategic plan would encourage creativity and collaboration, enable new avenues of funding, and foster sustainable growth in our local arts community.
David Wilcox
Artistic Director
Long Beach Ballet
Thirty years ago, the City of Long Beach began a period of proudly defining itself as one of the few cities in America with all four of the major performing arts organizations: Symphony, Opera, Musical Theatre and Ballet. There were marketing campaigns which focused on that glorious reality and all four groups performed in the same cavernous theater – the Terrace. Unfortunately, financial drought hit Southern California during the '90s and most of the major arts organizations either reorganized, moved or succumbed outright to the downturn. In my 35 years of experience as director of the Long Beach Ballet, I have come to realize that the performing arts can indeed define a city if the city leaders desire such a definition. I haven't had the feeling for a long time that this is the case in Long Beach, but I will continue to provide the city with quality ballet as long as I am alive.