Governments the world over are seeking to combat climate change and improve air quality – a goal reflected in the Paris Climate Agreement, a global plan for combating climate change that has been ratified by 168 countries. While the United States is no longer a participant in the 2016 agreement, other government regulations, trends in consumer demand, and technological advancements stand to create a new energy landscape, one that is already spurring the oil and gas industry to change.
Many oil and gas companies are investing in alternative fuels and energies. British Petroleum (BP) and ExxonMobil, for example, both have extensive webpages detailing the diversification of their portfolios beyond traditional oil and gas operations. BP touts itself as one of the top wind energy producers in the United States, as well as "the largest operator of biofuels production in Brazil."
ExxonMobil has invested in the study of algae as a potential source for a biofuel and makes a key component for solar panels, according to the firm's website. Additionally, the company identifies itself as a leader in carbon capture and sequestration, a process in which carbon dioxide gas emissions are captured and then injected into the ground for storage, rather than being released into the atmosphere. Although the process is for now "prohibitively expensive," ExxonMobil is pursuing projects and methods to reduce costs and make the technology economically viable.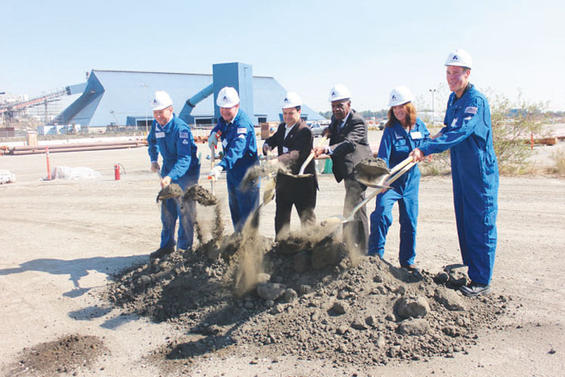 Andeavor, formerly Tesoro, celebrated the official groundbreaking of its Los Angeles Refinery Integration and Compliance project on October 10. The development is meant to connect the company's Carson and Wilmington refineries to drastically reduce emissions, while increasing processing capability. Pictured from left: Dave Foster, vice president of Los Angeles Refinery; Matt Baebler, Andeavor senior manager of capital projects; Carson Mayor Albert Robles; California State Senator Steven Bradford; CJ Warner, executive vice president of Andeavor operations; and Don Sorensen, senior vice president of Andeavor logistics. (Photograph by the Business Journal's Brandon Richardson)
In a report this year, the United States Department of Energy (DOE) stated the expectation that fossil fuels would account for more than three-quarters of global energy consumption by 2040, despite a more rapid increase in the production of renewable or nuclear fuels. Natural gas is identified as the fossil fuel expected to experience the greatest rate of increase in consumption. The fuel has a lower carbon intensity than other fossil fuels like petroleum and coal. The DOE projects that the consumption of renewable fuels will increase at an annual rate of 2.3% through 2040.
Chris Lafakis, a director at Moody's Analytics specializing in energy economics, predicted that the demand for oil should increase at a rate of 1% per year within a 30-year time frame – but only if there are no technological advancements with respect to alternative energies. "That [demand] is being fueled by the industrialization of emerging market economies," he said. "Think about the early industrial revolution in England, and then in the United States, and how the standard of living increased. . . . The same things that we did 100 years ago in the U.S. economy are happening in East Asia today. And that creates demand for oil and oil products."
However, technologies are already being developed that would likely impact demand for oil. "If we're looking at long-term demand trends, then we are going to have to consider the possibility of transformative and disruptive technologies," he said. These could "supplant fossil fuels and particularly oil," he noted.
"The main threat that we can see on the horizon right now would be batteries. And they are much more efficient," Lafakis said. "if you think about the internal combustion engine, it's largely the same invention as it was in the early part of the 20th century. . . . You lose about 60% to 65% of the energy that you put in to the internal combustion engine during the combustion process. So they are very inefficient." Batteries cut that inefficiency in half to about 30% of energy lost, he said.
Batteries remain cost prohibitive in some respects – in a recent Business Journal article, for example, a BYD executive noted that the battery technology required to operate a drayage truck is much more expensive than traditional diesel-fueled engines. However, Lafakis said that battery manufacturers are working on ways to reduce cost. "I would say that it's almost impossible to forecast with absolutely certainty the rate of decline in battery cost. But I would say that costs have declined dramatically; I mean, over 60% in the last decade," he said.
"It's almost a certainty that battery costs will continue to decline and that electric vehicles will constitute an increasing percentage of total vehicle sales," Lafakis said. The use of natural gas and renewable fuels to power vehicles is also likely to increase, he added. As a result, he predicts that global oil demand will be affected.
Additionally, Lafakis anticipates that 90% to 95% of new power plants in the United States built in the next 30 years will run on natural gas rather than coal.
"Over the next 10 years or so, I would expect continued growth of 1% to 2% in [annual] global oil demand, which means that we're going to need more oil supply. And that's going to come from primarily OPEC countries and the United States," Lafakis said.
"I think that at some point you're going to get to the point where demand stops growing," Lafakis said. "Right around 2030 is when I would expect oil demand to kind of peak. And then I would expect steady declines in oil demand in 2030 and beyond." He added, "I say that with a lot of humility and a recognition that I could be wrong, just because it's very difficult to project the rate of technological innovation."
A decrease in demand for oil would mean that the price of oil would decline, cutting into the attractiveness of investments in the fossil fuel, Lafakis explained. He speculated that oil and gas companies would seek to invest in alternative energies to remain economically viable. "They are going to have to adapt to this landscape," he said.
Catherine Reheis-Boyd, president of the Western States Petroleum Association, told the Business Journal that oil and gas companies are here to stay for the foreseeable future, and noted that many are investing in innovative technologies and alternative fuels. The organization represents oil and gas companies in the Western United States.
"We're really interested in talking about the exciting, innovative and creative things these companies are doing. And it's not just in the oil and natural gas space; it's in the alternative and renewable fuel space for the future," Reheis-Boyd said.
"Many people don't know that this industry invests more than the federal government in alternative renewable fuels," Reheis-Boyd pointed out. "We have companies that are investing in electric charging stations through different parts of their trading company, like Shell or BP," she noted.
Other companies are continuing to research ways to better integrate ethanol into transportation fuels, Reheis-Boyd said. Ethanol is less carbon-intensive than oil-based fuels, and can be mixed with those fuels to reduce carbon emissions. However, someone has yet to crack getting beyond a mix with just 10% ethanol, as more tends to damage engines, she explained.
"You see each of them in their own way finding what they believe is going to be a way to diversify our future portfolio of fuels going forward," Reheis-Boyd said, adding that wind and solar energies are also areas of investment for oil and gas companies.
Discussions around shifting fuel and energy supplies to alternative sources need to include an emphasis on cost and timelines, Reheis-Boyd said. She used the goal of replacing all cars on the road in California with electric vehicles as an example. "You have 200,000 electric vehicles. You have 26 million internal combustion engines. So, there is just no way that that's going to happen overnight or by 2030 or by 2040. I mean, the gap is too big," she explained.
Currently, electric auto sales encompass as little as 2% of overall vehicle sales in the U.S., according to Lafakis. "Even if they were 100% of total vehicle sales, you still have the [existing] vehicle stock that is 98% conventional [vehicles]," he said. He estimated it would take around 15 years for all autos in the United States to be electric, if all vehicles sold from now on were electric.
"A lot of times these goals are certainly meritorious, but they are also aspirational. They're just not based in reality," Reheis-Boyd said, referring to goals meant to reduce the use of fossil fuels. "They can't just say 'Oh, well let's just move to that space tomorrow.' It is a transition, and it's an exciting one."
Reheis-Boyd said she expects to see shifts in what oil and gas companies invest in in the future. "That's all good. That's a natural progression," she said. "The challenge in California or Washington and Oregon is not that our companies can't innovate and diversify and look at these opportunities. It's that there is such an anti-oil, off-oil agenda to keep oil in the ground and don't do anything with it."
This is particularly problematic when it comes to investment in natural gas operations, she noted. The fuel offers significant reductions in carbon dioxide emissions and other harmful emissions. Production of natural gas in the U.S., however, has grown due to controversial processes like hydraulic fracturing, which some contend cause earthquakes.
Jennifer Foelske, Southern California general manager for Fluor, a global engineering and construction company, said that regulations are burdensome to refineries in her region. "Refineries are being challenged to comply with these environmental regulations, while managing existing maintenance requirements on limited annual budgets," she said via e-mail.
Fluor has developed some resource and cost-saving processes to help such clients. "We are working closely with refiners to help them upgrade their facilities and comply with these emissions requirements in a capital-efficient manner," Foelske said. "For example, Fluor has a gas process technology that enables refineries' cogeneration units to operate on 100% refinery fuel gas. This technology eliminates the need for natural gas and frees up capital that can then be re-invested into operation, maintenance and reliability projects."
"I think oil and gas is still the prominent fuel and will be the prominent fuel for now and into the foreseeable future. So, no, I don't see a huge slowdown of our ability to find, extract, produce and refine the valuable resources we have." Reheis-Boyd said.
"The big trends are the proliferation of renewables and the proliferation of electric vehicles," Lafakis said. "The wild card would be what is the rate of technological progress and how quickly do we move towards these new technologies."