The reasons startups and other new businesses are attracted to Long Beach vary greatly. The conventional explanations are almost always the same – it's centrally located between Los Angeles and Orange counties, it has a port complex, it has an airport, it's just off several freeways. While these are certainly big draws for business, there are other significant benefits of doing business in Long Beach.
"From a macro perspective, Long Beach is grossly underrated. Long Beach seems to welcome people from all walks of life and is home to a diverse group of people that creates a great vibe for the city," Bob Ruth, president of building management company The Ruth Group, said. "For people who are looking for the outdoor lifestyle, they have all those elements sitting in the downtown core. Now, with new development and the residential coming along, the residential will drive retail, and the retail ultimately [will drive] office."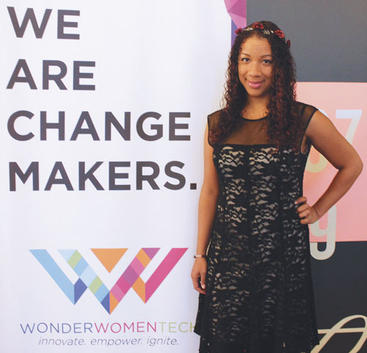 Lisa Mae Brunson, founder of Wonder Women Tech, said culture and diversity are the cornerstones of her business, which makes Downtown Long Beach the ideal area for company headquarters. (Photograph by the Business Journal's Brandon Richardson)
Ruth credited Mayor Robert Garcia and other city department heads' hands-on, progressive leadership as a driving force in fostering a nurturing and prosperous environment for businesses and residents alike.
The Ruth Group manages one building in Downtown Long Beach: Downtown Plaza, at 211 E. Ocean Blvd. Though it has several other tenants, the building is 40% occupied by a full-service marketing agency, Designory. Ruth explained that Designory is a perfect model tenant for Long Beach – diverse, interesting, memorable and looking for "more than just a place to put bodies behind desks."
Currently, The Ruth Group building has several floors being renovated into creative office space, a move that Ruth said is driven by employees. He explained that people have realized that creative space fosters a collaborative and stimulating environment, which makes employee recruitment and retention easier. He noted the influx of creative space, including the opening of WeWork's office space downtown, as evidence of this trend.
Lisa Mae Brunson, founder of Wonder Women Tech (WWT), has an office in WeWork's creative office building at The Hubb, located at 100 W. Broadway. Brunson founded WWT in 2015, which she described as "an ecosystem that highlights, celebrates and educates women and the under-represented across STEM industries and the arts." The company builds conferences, events and workshops internationally to foster its mission.
"I had our first conference in Los Angeles but I produced it in Long Beach and then we were provided the opportunity to bring the vision to Long Beach and have a home here," Brunson said. "I really love the city. I lived in Los Angeles and happened to visit Long Beach. I loved the vibe of the city. I made a decision to move right there on the spot during my first visit."
Support from the city and Mayor Garcia in sponsoring her Long Beach conference, as well as community support and involvement, enabled WWT to scale up operations faster than if they had chosen another location to be headquartered. She added that she would not have received similar support from the city government and community in Los Angeles.
With diversity and culture being the cornerstone of her business, Brunson said Long Beach embodies those ideals with a good mix of large and small businesses, creatives and everything in between, mixed to create a "beautiful collage of diversity and art."
"Just having this vibe where it feels like anyone could create success. Whether you're a knitter on the corner or you're a teacher or you're launching a tech startup, I think you can find a home here in Long Beach," Brunson said. "That's really what I love – the sense of community and collaboration and spirit."
In addition to the support and overall vibe of Downtown Long Beach, Brunson said she loves being able to bike to work and walk to amenities. She also enjoys being able to bring her dog to the office and to surrounding restaurants on her lunch break.
Kangarootime founder and CEO Scott Wayman established his company in the downtown area more than two years ago. Wayman explained that the company works with childcare centers and early education schools to automate their systems for, and streamline communication with, parents and teachers, saving 40 to 60 hours per week in labor for the business and giving parents peace of mind.
Wayman said he has watched the growth of Silicon Beach and the amount of startup activity happening there. He said this region of Southern California gives new businesses access to engineering and other startup talent, with a growing population of young professionals.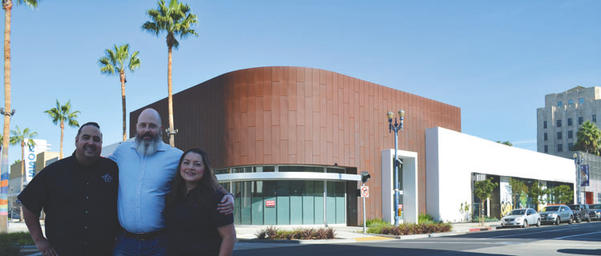 Tourism foot traffic was a major draw for partners Luis Navarro (left), Simon Huxton and Brenda Rivera when they decided to locate Long Beach's first distillery, Portuguese Bend, on the corner of The Promenade and 3rd Street. Opening is scheduled for 2018. (Business Journal photograph)
"Not having to have the company in the heart of Santa Monica is really nice," Wayman said. "Being here where it's more affordable, being here where you are on the ocean and you're in an urban environment that's growing and updating and going through a renaissance is really amazing."
According to Wayman, the Downtown Long Beach Alliance (DLBA) has been helpful in connecting him to resources, while Long Beach Economic Development Director John Keisler helped him find business opportunities within the city. Wayman said he thinks the city's infrastructure and government are leaning in a direction that is positive for startups and their success.
In 2009, Wayman and his wife purchased their first condo in Long Beach's West Ocean Towers and in 2013 bought another. From his firsthand experience, being able to live near work surrounded by restaurants, entertainment and the beach is a big draw when recruiting talent that may have other employment options.
The Long Beach Creamery has been a staple of the Bixby Knolls area since 2014 and early next year will open its second location at 222 E. Broadway in Downtown Long Beach, across from Congregation Ale House. While her Bixby Knolls location is more of a destination, with people traveling from out of the area for her ice cream, owner Dina Amadril said she chose downtown for her second location to take advantage of the higher volume of foot traffic due to the denser population as well as travelers in town for conventions, events and cruises.
"One of my next goals for the creamery is to start shipping ice cream. So, if people come from Ohio or Idaho or wherever to an event here in Long Beach and they fall in love with the ice cream, then they can get it shipped to them," Amadril said. "The best way for me to expose them to that is by having a foothold in downtown."
The downtown's walkability and bikeability are key to the movement of residents and visitors, and result in the increased foot traffic, according to Amadril. She said plans for a bike lane passing in front of her new location will mean even more bodies passing her ice cream shop.
Hoping for a Valentine's Day opening for the downtown location, Amadril said she has already begun chatting with surrounding business owners about cross-promotion to garner business for one another. Amadril already has long-standing relationships and collaborations with other businesses, such as The Pie Bar and Romeo Chocolates.
Luis Navarro and Brenda Rivera, owners of Lola's Mexican Cuisine and The Social List, have partnered with Simon Huxton to open in 2018 Long Beach's first distillery and restaurant, Portuguese Bend, at the intersection of The Promenade and 3rd Street. Speaking about his two Lola's locations, one in Bixby Knolls and one on 4th Street, and the Social List, also on 4th Street, Navarro noted that their success is entrenched in the surrounding neighborhoods and local residents.
"In downtown we can create a magnet, a draw, where people from all over, not only Southern California, but conventioneers, come and really just create something. I want to be a part of that moving force to create kind of like what San Diego created with the Gaslamp Quarter," Navarro said. "To really create that downtown feel and that downtown pull where people want to come. That's our vision and why we are choosing to go to the downtown right now."
Navarro said DLBA President and CEO Kraig Kojian approached him about opening up a new business concept in downtown. Having already been working on details for the distillery, according to Navarro, the idea was an instant attention grabber, even catching the notice of Mayor Garcia, who told Navarro he hoped the new business would be located in downtown.
With numerous developments and improvements, such as Tony Shooshani's revitalization of The Streets, formerly City Place, Navarro said downtown is full of potential. Portuguese Bend will be located beside the Retail Design Collaborative and Studio One Eleven offices.
"We've been in downtown a lot lately, especially with a lot of our meetings happening with regards to the distillery, and it's just different," Navarro said. "Downtown Long Beach has been asleep; it's been dormant. But right now I feel that there has been a corner that has been turned with all the businesses that have opened in the last couple years. And with all the approvals of all the residential that is coming in. I feel that, if we build it, they will come."