Since 1937, the Downtown Long Beach Alliance (DLBA) has spearheaded business improvement efforts in the city's diverse downtown. Originally founded by the owner of Buffum's Department store, a mainstay of the Pine Avenue of yesteryear, the organization evolved over time and was tasked in 1973 by the city council to manage a new parking improvement area in the downtown. In 1998, oversight of a new property-based improvement district was added to the DLBA's role, establishing the entity as the manager of both parking and property-based fees paid by downtown stakeholders.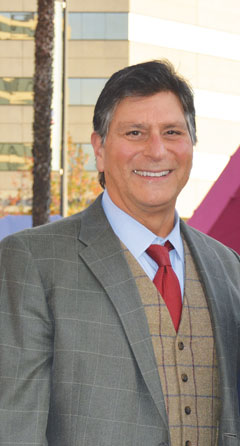 In that time, the DLBA has developed a toolbox of core services for its members centered on economic development, cleanliness and safety, beautification and placemaking, and marketing and communications. According to Kraig Kojian the DLBA's president and CEO, the organization has made strides in changing the perception of downtown for the better. The area the DLBA oversees spans east to west from the Los Angeles River to Alamitos Avenue, and southward from 10th Street to the waterfront.
"Our efforts over the last 15 or 20 years have been dedicated to changing the perception of our downtown," Kojian said, adding that during that time period one could "fill in the blank" with any number of less than ideal opinions floating around about the area. "Now there is a different, positive perception of our downtown versus what people thought of it 10 to 15 years ago. I am really proud of the fact that we have been able to come so far. . . . To change that is not a very easy thing to do."
New businesses that moved into downtown over the past 10 years have helped change the area for the better, according to Kojian. "They are really collaborative. It certainly tells us that the community has turned the corner, and the business community has turned the corner," he said.
The majority of the DLBA's funding goes toward its efforts to keep the area clean and safe. "Clean and safe is the most visible portion of our program. It really serves as another set of eyes and ears for our community members, businesses, residents and the police department," Kojian said. The DLBA employs a clean team that removes litter, pressure washes sidewalks and removes graffiti. It also employs safety ambassadors, identifiably uniformed individuals who patrol the downtown on foot, bike and Segways up to 18 hours a day.
Economic development is also among the nonprofit's key priorities. "Economic development for the purposes of what we're doing is really to recruit, retain and create jobs," Kojian explained. In recent years, the DLBA has centered this strategy on data collection, which it leverages to identify trends in the economy of downtown and to inform existing and potential business owners in the area.
In Fiscal Year 2017-2018, 185 net new businesses were added to the downtown area the DLBA oversees, a 6% increase in new businesses from the prior year. In that time, the DLBA's pedestrian counters tracked 5.7 million people walking through the area.
"We have electronic pedestrian counters located throughout the downtown in key locations, and this is something we didn't have two or three years ago," Kojian said. The technology enables the DLBA to identify trends in foot traffic. The DLBA provides this data to entrepreneurs looking to start businesses in the area to help them determine the best location. The information also helps the organization identify areas that might need some assistance in terms of boosting pedestrian activity.
"We're getting a lot of dining and entertainment venues coming into the downtown, which is great for our street activities and certainly having people on the street," Kojian observed. "But I think we need more consistency throughout the course of the week. Where there are slower days Sunday through Wednesday, we want to build that up a little bit more."
Kojian noted that the boom of residential developments in downtown should provide an organic boost to daily activity in the area. "By bringing in more residents and having these new housing developments filled with users of our downtown, that will help complement what the convention center is drawing during the week," he said.
"We're always trying to think of new programs both from an economic development standpoint as well as a marketing and event standpoint," Kojian noted, adding that the organization might come up with some new events for calendar year 2019. "We're definitely going to be re-evaluating all the events that we have been doing for this year, especially with our new events person and her team coming on board."
In addition to serving existing businesses in downtown, the DLBA provides a number of resources to potential investors and entrepreneurs. Its Woman Owned Business Accelerator and entrepreneurial grant programs, for example, help potential new business owners get a leg up. "Those are two very popular programs that we are now seeking sponsorships for," Kojian said. "I want to be able to identify and find partnerships to support these programs to help launch business and the entrepreneurial ecosystem for our downtown." In order to fund such endeavors with donations, the DLBA established a 501-c3 nonprofit, the Downtown Foundation.
The top challenges to overcome in the downtown area aren't unlike those of other urban cores, according to Kojian. "Our number one problem in downtown is homelessness," he said, noting that the issue is attributable to multiple factors, include mental health care and the cost of housing. "It's a community centric issue and we all have to be concerned about it," he said.
The DLBA has a homeless outreach specialist who builds relationships with homeless individuals in downtown to help connect them to social services. In the 2017-2018 fiscal year, the organization made 1,680 homeless outreach contacts.
Kojian noted that the abundance of new residential buildings being constructed in the downtown should help address overall housing needs. "We need all types of housing," he said. "If we could continue to emphasize housing in our downtown and build higher density in our downtown, I think that is going to at least address some of the issues the city is feeling."
Asked to gauge the business climate in downtown, Kojian said his response was dependent upon the type of business sector. "Retail is changing . . . I think online shopping has made a huge impact for that retail shopping experience," he said. "However, you see a lot of smaller, independent boutiques becoming stronger based on their brand recognition and connecting to their neighborhoods or their communities. They are really capturing a stronghold on that market, which is very encouraging."
Kojian noted that there is not a strong demand for office space in the downtown, given its current occupancy rate of around 82%, per Cushman & Wakefield. However, he noted that the area has always been and will continue to be a mainstay for professional services companies such as accounting and law firms. "Once we see the port headquarters move back into the downtown, I think it's going to be a great boost in international trade and transportation [sectors] in our downtown," he said.
Businesses continue to be attracted to downtown because of its unique, authentic vibe and urban waterfront, according to Kojian. Plus, he noted, the area's real estate is more affordable than other waterfront cities.
Going forward, Kojian said, "We want to be able to continue serving as a leading voice for the downtown, and obviously being a clearing house of accurate information that can be used by members of our community, potential investors and members of the media."