When the owners of Baja Sonora Mexican restaurant, Mary Lynn Sophiea and Mike Mendelsohn, closed one of their franchises due to construction, they were afraid of losing their customers, Sophiea said. To stay competitive, they decided to open a food truck in its place on Clark Avenue at the beginning of this year.
"We loved it," Sophiea said. Reflecting back on her experience, since she and her partner closed the truck to focus on re-opening the restaurant, she said she gained lots of respect for food truck operators.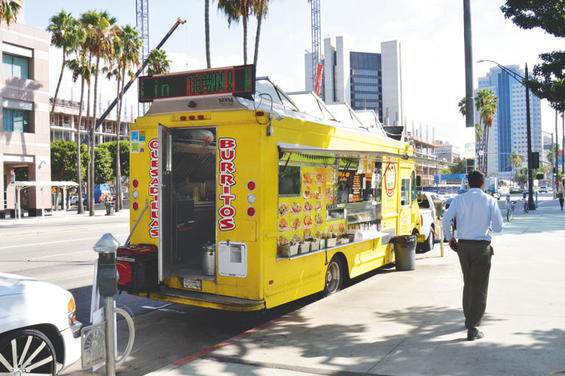 Food trucks have grown in popularity over the past several years as employees looking for a quick, less expensive lunch flock to the trucks throughout the city. The one pictured here is on Ocean Boulevard, waiting for office building employees to break for lunch. Food trucks are often seen outside the Pine Avenue entrance to the Long Beach Convention Center, directly across the street from several restaurants at The Pike and nearby Rainbow Harbor. (Photograph by the Business Journal's Larry Duncan)
Food trucks might seem ubiquitous in any large city. Indeed, about six years ago, the City of Long Beach relaxed some of its zoning restrictions on the mobile eateries because they were becoming so popular, said Environmental Health Bureau Manager Nelson Kerr. The department also thought the city would attract more business if it honored health permits from L.A. County as well as from Long Beach, according to Kerr.
"Before 2011, the trucks could only go to industrial complexes and the port," Kerr said. "Now it's fairly open for them to operate in almost every area."
To operate in Long Beach, a food truck must pass a health inspection and obtain a business license. The license costs $447.38 per vehicle and must be renewed annually, according to Business Services Officer Brett Yakus. In comparison, restaurants pay a base tax of $355.25 and then $9.21 per employee every year. The annual total comes out to about $493 for a typical mid-size restaurant, Yakus said.
"Depending on the size of the restaurant, it's probably a little cheaper for trucks to operate," Yakus said. "Medium- to large-sized restaurants pay about the same amount as the trucks, but chain restaurants end up paying more."
But a restaurant may have to pay an additional tax to a business improvement district, depending on its location. Kurt Schneiter, the owner of Famous Dave's Bar-B-Que located at 300 South Pine Ave., said that food trucks can "compete more nimbly" because they don't have to pay rent, property taxes or the business improvement assessments.
Schneiter said he sees a food truck at the intersection of Ocean Boulevard and Pine Avenue near his restaurant "almost every day." Famous Dave's is located across from The Pike Outlets, a shopping and dining center near the convention center and the Aquarium of the Pacific.
"We subsidize a parking structure through our rent," Schneiter said. "And then the food trucks are getting the customers who are using it, he said. They're basically getting a free ride."
Sophiea said she found maintaining a food truck was more challenging than a restaurant and that she discovered additional costs throughout her time in operation.
For example, every night Sophiea was required to report her truck to a commissary, a commercial kitchen where food providers can prepare and store food.
"We had to pay someone there to clean it and pay one of our guys to get the truck there and take an Uber back," she said. "They charge you for every little thing."
As for health inspections, the health department requires checks for the trucks four times per year. Restaurant inspections are conducted anywhere between one and three times per year based on risk, according to Kerr. A facility selling packaged food is classified as low-risk and likely receives one inspection per year. A fast food restaurant would fall into medium-risk. A full-service restaurant, which stores food for multiple days, would qualify as high-risk and therefore requires three inspections per year, Kerr said.
"I think the trucks do present a unique challenge," Kerr said. "We see issues with maintaining temperatures in refrigeration. That's a significant public health concern. We've seen space issues, not only with storage space but operating space. It's very crowded in there."
According to Kerr, the law requires trucks to have access to an approved restroom within 200 feet if it is going to stay in one place for more than one hour.
He also noted that California has particularly strong environmental health laws, which can present a challenge for trucks from out of state.
"It's important that we have a mechanical refrigeration system rather than an ice block," Kerr said as an example. "And we have a requirement to have a three-compartment sink in our vehicles, and some states don't have that same standard. We also have a hand-wash sink requirement."
According to Kerr, about 20 food trucks are operating in Long Beach under a permit from the city's health department. He estimated that even more are conducting business in the city with a county permit.
This is another aspect of the mobile food industry that Schneiter viewed as an unfair advantage. "Food trucks almost always come from somewhere else. They're basically stealing jobs from locals," he said.
In the next couple of months, Schneiter said he plans to convert his restaurant, Famous Dave's, from a national to a local brand in order to stay competitive. The change in status allows him to revise the menu and invest in new signage. It also results in lower costs for franchises, he said.
"This is about instant gratification," Schneiter said of the trucks' popularity. "When you're in a hurry and you've only got about 30 minutes to get back to the office, are you going to walk that extra 100 yards to go get better quality food at a restaurant?"
Mobile food vehicle operating conditions prohibit food trucks from operating within 10 feet from the outer edge of any entrance of any type of business, including outdoor dining areas, according to the Long Beach Business License Division.
Schneiter met with the Long Beach Area Convention & Visitors Bureau about the trucks. Since the city is the landlord of The Pike, allowing the trucks to continue conducting business in the area leads him to believe officials are not on his side, he said.
"I understand that the world is changing," Schneiter said. "But if the city's going to allow them, they need to make sure they're not harming the people that are actually supporting the city. Our property taxes go up every year and so does our minimum wage."
Schneiter claimed the trucks contribute to pollution since many are left running. He also said they make the area look "cheesy."
Sophiea said she paid $750 per week to rent a "very old" truck from 1981. She also paid $80 per day for gas and propane. While she said she was a bit embarrassed by the quality of her vehicle, it was what she could afford in her price range.
Although the Baja Sonora truck kept to one location, Sophiea reported hearing from other friends with trucks who appeared at parks and concerts of having to pay an upfront fee of around $700 for the chance to attend the event.
Comparatively, in nearby Signal Hill, four food trucks are registered with the city. According to Senior Planner Colleen Doan, the city does not issue permits for them to park anywhere. Rather, each of the trucks has a conditional use permit that allows them to park, one at a time, at Ten Mile Brewing, the only microbrewery in the city. They are allowed to visit only at certain times on certain days.
Doan said, "from time to time," businesses employ the trucks to appear at events, usually grand openings. They are not limited to one truck, as long as the vehicles do not block fire safety access.