After the successful championing of the STEM acronym to promote an emphasis on science, technology, engineering and mathematics in education, a new one has been gaining traction: STEAM. That extra A – which stands for arts – has caused some squabbling among legislators and academics.
One side wants to be sure that the importance of the arts to STEM fields (and vice versa) is emphasized through integrated curriculum that will ultimately result in a more creative workforce. The other side argues that the arts are already an integral part of STEM fields (and, again, vice versa) and that adding the A distracts from the original purpose behind the STEM movement – getting students interested in growing career fields.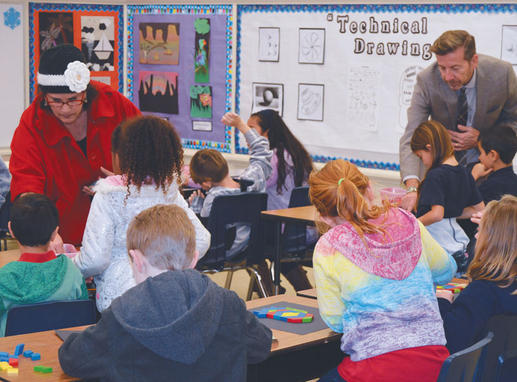 In a classroom lesson designed to teach mathematic principles as well as artistic design, Sandra Katz's (left) 2nd Grade class as Burcham Elementary uses colored, shaped tiles to create mosaics in different geometric forms. Pictured at right is Principal Christopher Eckert. (Photograph by the Business Journal's Larry Duncan)
One of the major proponents of STEAM has been the Rhode Island School of Art & Design (RISD), through which the nonprofit STEM to STEAM is operated. RISD has successfully championed STEAM at the government level, according to Babette Allina, the school's director of government relations. For example, they assisted in the formation of the Congressional STEAM Caucus. That caucus successfully lobbied for the inclusion of language in the reauthorization of the Elementary and Secondary Education Act that opened up federal funding originally dedicated to STEM programs for other academic areas of focus, including the arts.
"We see tremendous shared competencies across STEM and arts and design disciplines," Allina said. Case in point, RISD has a partnership with Brown University in which Brown students take industrial design courses at RISD and RISD students take engineering courses at Brown.
Allina argued that sometime mid-last century, the arts were separated from STEM education in an unnatural bifurcation. "In the past, artists and scientists have typically worked together, and we do share many of the same skillsets: observation, iterative thinking," she said. "We develop hypotheses and have to come up with solutions as well."
Gary May, dean of the Georgia Institute of Technology College of Engineering, penned a piece for Inside Higher Ed in 2015 arguing to retain the STEM acronym, and he still maintains that position. "I think arts are already incorporated into STEM education," May told the Business Journal. "What they are not incorporated into is the acronym."
May said he does not in any way mean to suggest that STEM majors should not study the arts. But he is against "acronym creep." "Let's just stop diluting what we're trying to focus on, which is getting more students interested in primarily math, science and engineering. That's what my objection is," May said.
"The best analogy I can give you is the Black Lives Matter versus All Lives Matter issue," May said. "You know, when you say, 'Black Lives Matter,' you're not saying other people should die. When someone says, 'Save the whales,' they are not saying, 'Kill all the other fish.'" He added, "So when you say STEM instead of STEAM, you're not saying the arts don't matter. What you're trying to do is focus on a particular set of disciplines and not dilute the movement by adding every single thing you think students need to know into the acronym, which I think is kind of ridiculous."
Forouzan Golshani, dean of the California State University, Long Beach College of Engineering, also pointed out that STEM fields and the arts are naturally linked. "Engineering and the arts have almost parallel development processes," Golshani said. "Some aspects of art, for example, include architecture. That is really the same as software engineering. The process is identical."
Engineers' education should include the arts, whether it is music, photography, design or another area of interest, according to Golshani. "That is an absolute necessity," he said.
In the past, the interaction between artists and those in STEM fields has resulted in major discoveries, Golshani noted. For example, in 18th century Germany, it became common for communities to hold social events in schools and churches, which enabled people from different trades to interact, he said. It was then that toolmakers and musicians came into contact. Discussion about the need for keyboards with dynamic variations of notes led the two parties to develop the pianoforte, according to Golshani.
"Whenever arts and technology and engineering came together, it resulted in phenomenal things, absolutely astounding innovations," Golshani said.
One way Cal State Long Beach has brought STEM fields and the arts together is through the Innovation Challenge, a competition to create a business plan for a product, service or application in which winners receive seed funding for their idea. "We encourage students to form teams that are interdisciplinary," Golshani said. "This year, we have 48 teams entering the process, and the majority of them have design students, engineering students, arts and business students."
"It's a two-way street – artists need to know technology," Golshani said. "Arts programs really need to embrace engineering and technology the way that we embrace it."
While Golshani would advocate for more arts integration in STEM programs, he is limited within his own college due to accreditation requirements and state funding. "The reality of what we are dealing with is that the funding of state universities is such that they want us to deal with a minimum number of units that qualify students for a profession. So that doesn't leave me a whole lot of leeway," he explained.
The Boeing Company is both behind the concept of STEM and of STEAM. "While most may not associate Boeing with the arts, we know that a quality arts education helps develop creativity, communication, collaboration and other 21st century skills that are critical to our current and future workforce," Bill Cusato, director of the Boeing Commercial Airplanes Service Engineering and Operations Center, said in an e-mailed statement to the Business Journal.
Cusato concluded, "To continue to be an aerospace leader, it is not enough to possess strong technical skills alone. That's why we invest in programs and organization like the Long Beach Symphony and provide funding to LBUSD [Long Beach Unified School District] to help education leaders integrate STEM and STEAM concepts in their classrooms."
In the Long Beach Unified School District, some schools are embracing STEAM as their defining educational focus. Burcham Elementary is in the first of a three-year process to become a STEAM-based academy, according to Principal Christopher Eckert.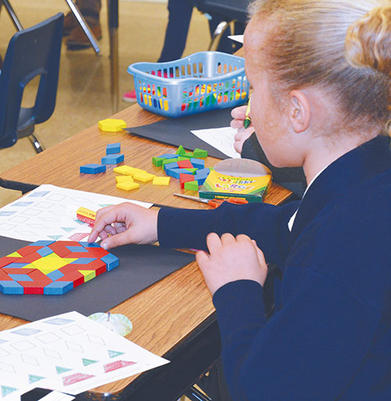 A second grade student at Burcham Elementary uses colored tiles to create mosaics in the form of geometric shapes. The lesson fuses mathematical instruction with artistic design. (Photograph by the Business Journal's Larry Duncan)
"Along with common core and the regular curriculum, we wanted to make a conscious effort to do something different at Burcham," Eckert said. The reason for the shift was twofold: to benefit the students and to combat declining enrollment.
"So as we started looking into different programming, the STEAM movement jumped right out at us," he said, noting that the initiative has the support of the school's Parent-Teacher Association. "By adding art into it, we are focusing on . . . the creativity that goes into the technical arts and into design and engineering."
This year, the school opened a new science lab and a design studio. In the design studio, STEM fields will be integrated into arts curriculum. When students are being taught about drawing shapes and lines, they learn about corresponding mathematical principles like area and perimeter, Eckert explained.
Focusing on STEAM enabled the school to secure extra funding for science and engineering materials, Eckert noted. Kits to build robots with Legos are currently on order. "When they come in, the kids will be constructing with Legos and then using Chromebooks for coding to have the robots move," he explained.
Prisk Elementary has identified as a STEAM academy for the past four years, according to Principal Damon Jespersen. "We have two engineering labs, two science labs, two art studios and two computer science labs where students participate in various activities and instruction related to each one of those curricular areas," he said.
For the first time this year, Prisk is holding a STEAM fair instead of a science fair. "The key factor – no matter if a student chooses a science, technology, engineering, math or an art project in which to participate in the STEAM fair – is that they have to identify the integration of the other elements or components within that project," Jespersen noted.
"Part of the art incorporation involves partnerships. We have a partnership with the Cal State Long Beach art department," Jespersen said. "We are in the process of developing an educational program with the Queen Mary that includes using the Queen Mary as a resource to make STEAM education come alive."
Regardless of the debate over whether STEM should get an extra A or not, all agreed that the arts are already an integral part of STEM fields – and that those fields are of equal importance to the arts.
As Jespersen put it, "There is a true integration of all those disciplines regardless of whether you deem it a focus or not."