Don Rodriguez's history with the Boys & Girls Clubs of America nonprofit organization began as a passion project.
In the mid-1990s, Rodriguez heard that the organization he had spent his summers with as a youth – the Boys & Girls Club of Hollywood – was in trouble.  At the time, he was operating his own Farmers Insurance agency. "They had lost the home they had been at for over 65 years and were ready to close it down," Rodriguez recalled during an interview at the headquarters of the Boys & Girls Clubs of Long Beach, of which he serves as CEO.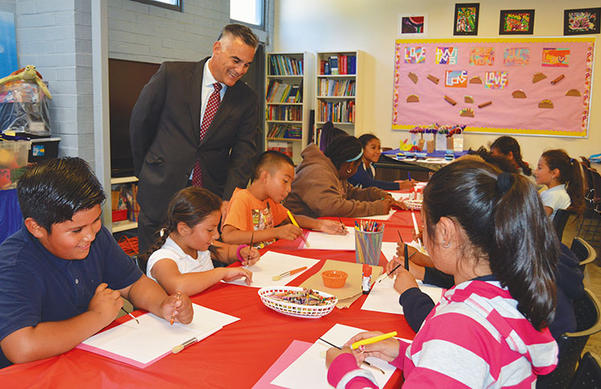 At one of the Boys & Girls Clubs of Long Beach's main locations, 1920 Lemon Ave., CEO Don Rodriguez looks on as club members have fun with art supplies after school. Club membership costs only $15 per year. (Photograph by the Business Journal's Larry Duncan).
"I took it over thinking that I could just get it up and running in a year and go back to insurance," he said. "Realizing it was going to take a little longer than that, I sold the agency to Farmers and went full time as the CEO of the Hollywood Boys & Girls Club."
Under Rodriguez's leadership, the club embarked on a capital campaign and was able to purchase property and a building. "We added about $2 million into the endowment, got the organization up and running," he said.
Rodriguez has served in the nonprofit sector ever since. After five and a half years with the Boys & Girls Club of Hollywood, he became CEO of the Downtown Los Angeles-based organization Los Angeles Team Mentoring. Fourteen years ago, he became CEO of the Boys & Girls Clubs of Long Beach.
The Long Beach nonprofit was founded in 1939 as a boys club, and in 1991, girls were integrated into the organization. Since its founding, Rodriguez estimates the club has served more than 230,000 youths ages 6 to 18.
Membership in the club costs just $15, and those who can't afford that receive a scholarship to attend. "Right now, we have a membership of about 2,700 kids that are members of the club. And we're seeing anywhere from 1,200 to 1,500 kids a day," Rodriguez said. In the summertime, he expects more than 2,000 children to take advantage of Boys & Girls Clubs programs in Long Beach.
The club is funded by donations from individuals, foundations and corporations. "We're constantly looking for funding. The more funding we have, the more programs we can provide for the kids," Rodriguez said. Each year, the organization holds a gala with an auction to raise funds, he noted.
"We have been very fortunate. We have a great board of directors of people in Long Beach who have helped with getting support for the organization," Rodriguez said.
"We are not a fee-for-service organization. You could walk into a Boys & Girls Club after school, and you could get your homework done, you can play at our three main sites, and you can also get a hot meal," Rodriguez said.
The hot meal is a relatively new addition to the club's offerings. "At one of the sites, I saw kids sneaking snacks. And I asked the branch director what was going on, and he said, 'Well, they don't have food at home,'" he recalled. "So we made it available so that they would have a hot, nutritious meal before they leave."
The club is a beneficiary of Caterina's Club, a program that teaches kids how to cook pasta. "We give them the pasta and the pasta sauce so they can cook for their families to make sure that they have a meal on the weekends," Rodriguez said.
Most members of the Boys & Girls Clubs of Long Beach receive free or reduced lunches at school. They represent mixed ethnic backgrounds, according to Rodriguez. "If it weren't for the Boys & Girls Club, a lot of them would be on the streets after school," he said. "They would never have an opportunity to be in a basketball league or our baseball league or attend some of the events that we have been able to take them on."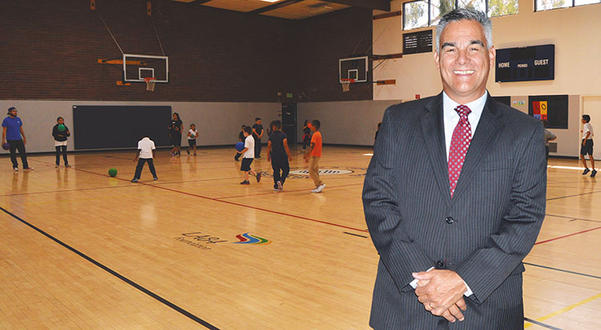 Don Rodriguez, CEO of the Boys & Girls Clubs of Long Beach, has been a Long Beach resident for 30 years and is passionate about giving back to his community. He is pictured at the club's 1920 Lemon Ave. location, which features a large gym for members to play in. (Photograph by the Business Journal's Larry Duncan).
Rodriguez reflected, "The kids that we are serving, there are a lot of challenges that they face that we would normally not face. . . . Being able to be fed. Having a roof over their head."
The nonprofit is focused on education, according to Rodriguez. "We want kids to not only graduate from high school but [to] have a plan when they graduate from high school – either go on to a two-year or four-year college, trade school, military. Just have a plan when you leave," he said.
The Diplomas 2 Degrees program helps kids from the 7th grade on determine which classes to take in order to pursue college or a future beyond high school. "We have a case worker that meets with them, helps them with their homework and tutoring," Rodriguez said. "If there's issues in school, meeting with their counselors. Meeting with their parents to let them know where the child is at and what we need to do to help them through, and then keep them on track."
The club takes members on visits to California State University, Long Beach – an institution that, despite living in Long Beach, some kids never knew about before, according to Rodriguez.
"We just took some kids on a college tour. . . . And some of them, when you asked them what was the best part of the trip, they said, 'If I get good grades, I can get my own room and have three meals a day and have a pool and a rec room and everything right there,'" he recalled. "Those are things that most people take for granted, where the kids that we are serving, that's a luxury. . . . So when you put it in those simple terms, it makes sense for a lot of these kids to try to do better."
The club also offers a STEM (science, technology, engineering and math) program, financial literacy learning, health and wellness programs, sports leagues, recreation and more. The organization partners with various other Long Beach entities, including the nonprofit Long Beach Blast; the YMCA; the Long Beach Unified School District; the Long Beach Department of Parks, Recreation & Marine; and others.
"Our three main locations have game rooms where there are pool tables, pingpong tables, a place for them to feel belonging," Rodriguez said. "Then we have our homework rooms. The three locations also have music rooms so they are able to learn to play a musical instrument. . . . So you get a wide variety of programs, from working with computers to working a musical instrument to arts and crafts to playing in the gym."
Two of the club's locations also have gardens for members to get their hands dirty and learn how to plant healthy foods.
"When I first got here, we had just the three locations. Now we have eight school sites and three of our own sites," Rodriguez said. The sites are spread throughout Long Beach, with one in Lakewood. "We just finished remodeling our biggest location at 700 E. Del Amo. . . . And within the last five years we have also remodeled our club at 1920 Lemon Ave. So we have been trying to invest into the facilities, making them better and more inviting for the children."
The Del Amo location, which will have a grand re-opening in June, was completely remodeled thanks to funds raised through a capital campaign. "We added about 1,400 square feet of program space that used to be the old locker rooms for the gym," Rodriguez said. "We even redid the floor in the gymnasium. So it was a complete remodel. New bathrooms [too]." The club is still fundraising for repairs to the roof, he noted.
"When I first got here . . . the organization was going through some changes and challenges, and I was brought in to try to level it out and move the organization forward," Rodriguez said. "It was a great opportunity for me at the time, living in Long Beach and being able to give back to a city where I have raised my family."
He added, "It's a great city. It has offered unbelievable opportunities, and I am happy that I was able to give back to the city. And, hopefully, I have made a difference in the lives of many children besides my own."