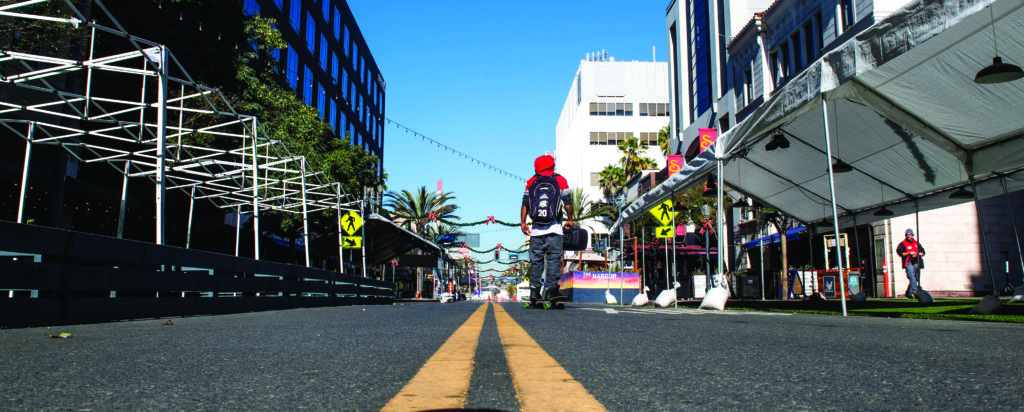 In the last weeks of the year, the streets of Downtown Long Beach would normally be filled with office workers coming and going to their companies' holiday parties in the restaurants and bars  along Pine Avenue.
This year, the streets of Downtown are empty. The Federal Bar, a popular venue for office holiday parties, has closed permanently. Parklets along Pine, set up to support outdoor dining, sit empty as well.
"Downtown, because of the density of hospitality, entertainment and restaurants—we felt it," said Kraig Kojian, president and CEO of the Downtown Long Beach Alliance. Since the beginning of the pandemic in March, 19 Downtown businesses have permanently closed their doors.
Bars and restaurants have been especially hard hit. "This is the time of year that this industry really flourishes," Kojian said.
While a survey on the state of Downtown businesses is still underway, Kojian said the district has focused on providing immediate assistance in the form of grant programs as well as safety and security services, following its most recent business assessment in April.
"We're asking businesses for a lot of information—and what they're hoping for is some relief," he said.
But relief can be hard to come by, especially as the business improvement district faces its own fiscal challenges.
In April, the district revised its budget from $4.5 million to $4 million to account for the loss of revenue from parking assessments and event sponsorships. For the upcoming fiscal year, the DLBA has budgeted $4.3 million in expenses.
"We were very conservative going into the new fiscal year, at the same time we have to provide some level of service for our stakeholders," Kojian said. "We know what the standards are."
The Clean & Safe Teams, which include safety ambassadors tasked with de-escalating potential conflicts and directing homeless residents in need of services to the appropriate resources, have been a priority for the district. So has redirecting funds to local businesses wherever possible.
In collaboration with Farmers & Merchants Bank, the business district freed up $30,000 in funding to go directly to Downtown businesses in the form of emergency relief grants.
Now, the DLBA is hoping for more funding at the federal level to support its relief efforts.
"This is not going to be accomplished with nickels and dimes coming out of local government," Kojian said. Instead of being funneled through the county, Kojian said he hopes that another round of federal funds would go directly to the city of Long Beach.
Internally, the business district is getting ready for a reassessment of its strategic priorities and funding for the next 10 years.
The first six months of that process will consist of community outreach in the form of surveys and focus groups to determine what Downtown businesses and residents want the district to prioritize in its services and advocacy, followed by a property base assessment that will determine the amount of funding available to the district in the years to come.
One issue Kojian is planning to prioritize in the organization's strategic planning is racial equity. When protests arising from the death of George Floyd made their way to Long Beach, many Downtown businesses were damaged in the looting that followed.
"What happened on May 31st was a total shock to our system," Kojian said. While the events of that night were traumatic for many businesses, Kojian said the protests also sparked some introspection on his end.
"I look at ourselves as a contributing factor to social injustice," he said, referencing the district's advocacy for market-rate housing in the Downtown area as an example.
To remedy any contributions his organization may have made to further social injustice in the city, Kojian said its upcoming strategic plan has to reflect the lessons learned from this summer of unrest.
"We want to have diversity, equity, inclusion and access as part of our strategic plan," he said. "Social injustice didn't happen overnight and it's not going to end overnight." he added. "This is an ongoing, everyday effort."
Editor's note: This story was edited to accurately reflect the full amount of funds made available to Downtown businesses through several collaborative efforts between the Downtown Long Beach Alliance and Farmers & Merchants Bank.