Craft alcohol – brands that are produced by local or regional operators in smaller quantities than booze giants such as Anheuser-Busch or Jack Daniels – has been growing in popularity, with an onslaught of new companies over the last several years. The trend did not bypass Downtown Long Beach, which has makers that offer a wide variety of inebriating beverages.
"Craft anything ties you closer to the actual person that's making it. If you look at the large company manufacturers, you don't know who they are; it's not local," Joe Farrier, co-owner of the yet-to-open Ficklewood Ciderworks at 720 E. Broadway, said. "Craft is local. You know the individual. I think in Long Beach that's a big deal. It's more about community. When you look at some of these areas where you see a boom of craft beverages, it's because the people want to know who is making what they're consuming."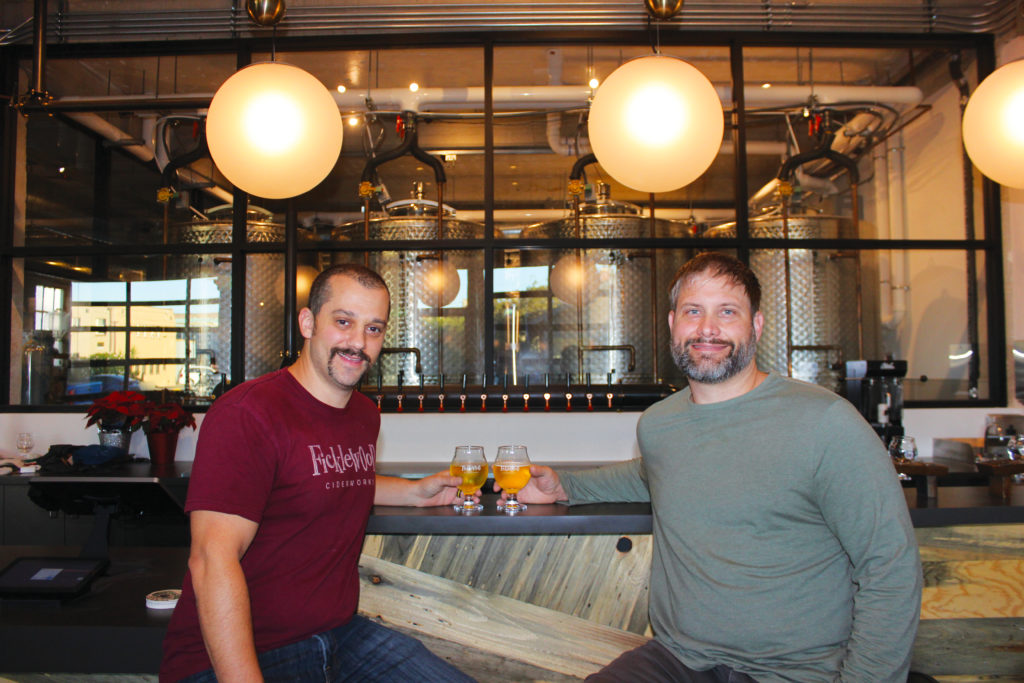 Craft beer is a $27.6 billion per year industry and makes up 24% of the U.S. beer market, according to the Brewers Association, a nonprofit with more than 5,261 U.S. brewery members. The U.S. craft spirits market is expected to achieve revenues of more than $20 billion by 2023, with a compound annual growth rate of 32%, according to a July 2018 report by Research And Markets.
In 2018, the U.S. wine market was worth $70.5 billion, with imported wine accounting for just under one-third. In 2017, the U.S. hard cider market dipped to $470 million from $536 million in 2016; however, smaller brands experienced 71% growth over those two years, according to Forbes. Local and regional cideries make up 25% of total revenues generated by the industry each year, according to Statista.
Downtown's oldest craft beer producer is Rock Bottom Restaurant & Brewery, which opened in 1997 and brews approximately 800 barrels (24,000 gallons) of beer annually. Though it is a corporate restaurant and brewery with 24 other locations nationwide, the beer brewed in downtown is unique to Long Beach, General Manager Johnny Diaz explained.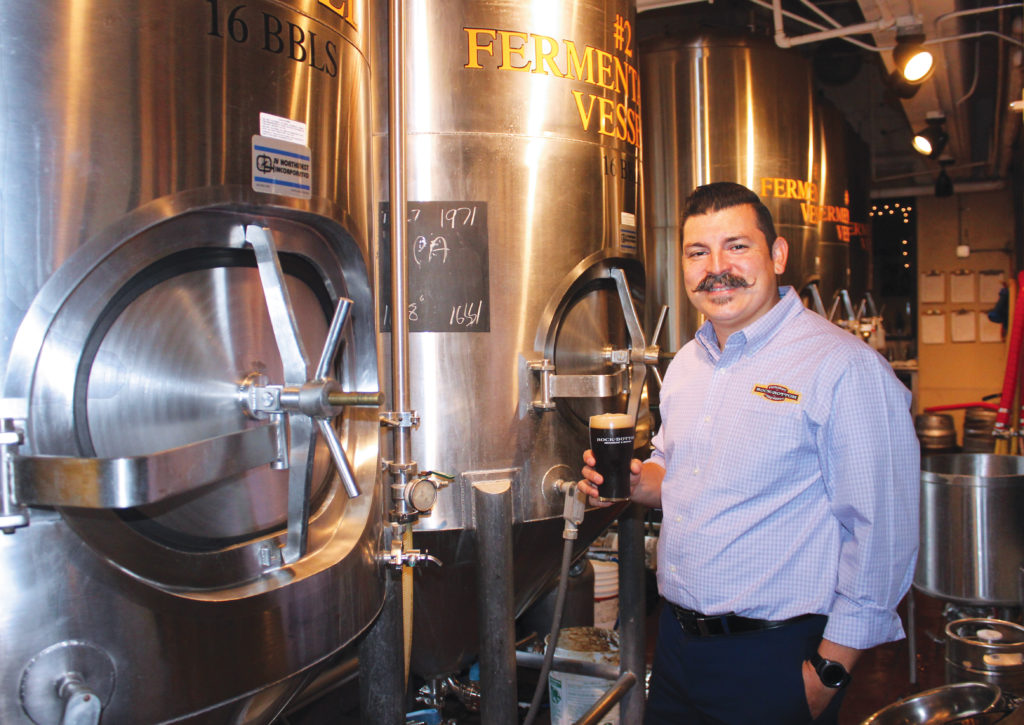 "All [Rock Bottom locations] have the same menu as far as dining, but each location has its own brewer that brews basically whatever they want," Diaz said. "I mean, there are five categories that we have to abide by – we have to have a light, a malty, a fruity/spicy, something that's hoppy and something that's dark. But . . . we can brew anything within those constraints."
This year saw the introduction of two firsts in the Long Beach craft beverage scene: the city's first distillery in Portuguese Bend and the first winery in Waters Edge Winery. Portuguese Bend, the brainchild of Lola's Mexican Cuisine and The Socialist owner Luis Navarro, opened in September and currently offers a vodka and two gins, both of which are distilled on site. Navarro said his team recently began the process of distilling three rums – a Caribbean spiced rum, a white rum and a navy proof rum suitable for Tiki drinks. Future plans include whiskey and bitters production.
Navarro explained that he thought up the concept for Portuguese Bend six years ago, but that rules and regulations dating back to just after prohibition have kept craft alcohol at bay in many areas. "[These laws] have never been reevaluated to update them to current times," he said. "They were written after prohibition and they've literally sat for decades."
In the 1960s and '70s, the California wine movement began to pick up steam, which led to the formation of a group that was able to lobby and chip away at restrictive laws, Navarro explained. Today, he said the same is happening with craft spirits and beer, making it easier for smaller brands to open craft alcohol production facilities in urban areas such as Downtown Long Beach. Numerous laws over the last six years have aided entrepreneurs in opening up shop, including Senate Bill 1283, which allowed for brewpub-restaurant licensee's to sell product brewed onsite for offsite consumption.
Waters Edge Winery opened its doors in October, offering guests 50 different wines made from grapes sourced from around the world, all produced onsite. The winery sources grapes from Chile, Argentina, Spain, France, Italy and several U.S. states, to name a few locales.
"We wanted to offer something very unique from what people are used to when it comes to wineries, wine bars or the food and wine pairing scene," owner Collin Mitzenmacher said. "We make everything on site so we can do some fun, different things such as blending countries or blending states, showing that we can be more versatile as an urban winery than having a vineyard out in wine country."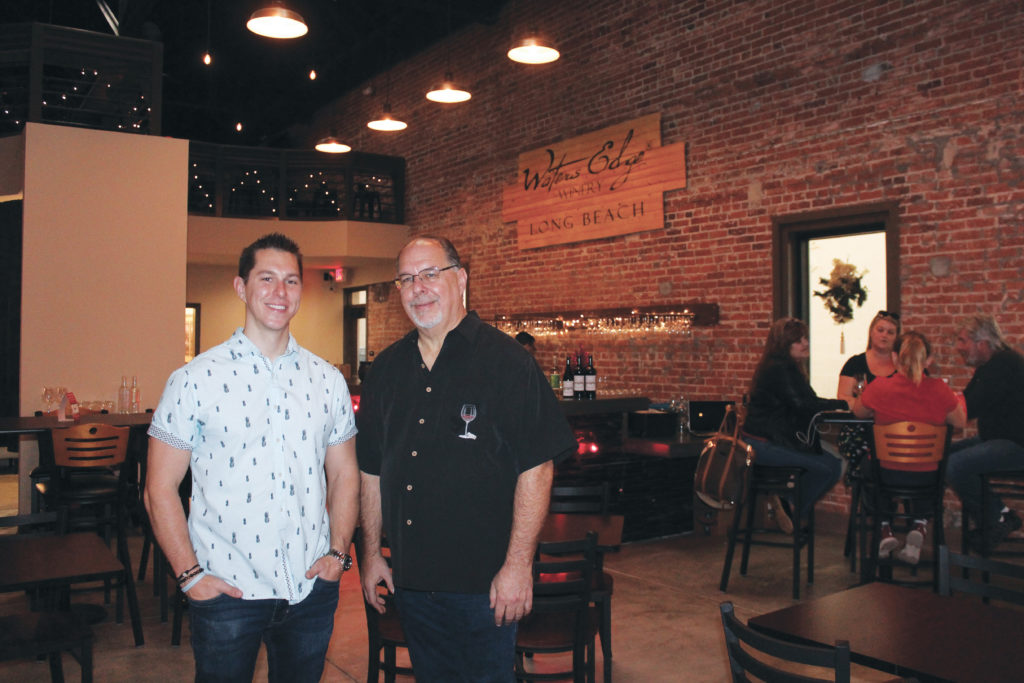 Waters Edge is a corporate company with 11 franchises – and seven more opening before summer 2020 – in 10 states. However, like Rock Bottom, each franchise has the freedom to experiment and create their own wines, which must then be approved by the corporate office. Mitzenmacher's father, Mark, is the director of operations for the corporation. He said the Long Beach site is going to become the flagship location, where new franchise owners can learn the wine-making process and see Waters Edge in action in the real world.
Ficklewood, the city's first cidery, is set to open in mid-January in the East Village Arts District, according to owners Farrier and Stefan Enjem. The pair also formed the Long Beach Craft Beverage Guild, a group of craft beverage makers who get together to sample each other's work, share best practices, collaborate and create.
"We're planning to do 10,000 gallons a year but our capacity is about double that. The reason for that is in subsequent years we're looking for growth and distribution out of this location," Enjem said. "We're doing a lot of small batch stuff that we'll have for a limited time."
The cidery is going to open with around six ciders on tap, including the Ficklewood Original that will become a permanent staple. But the site is equipped with 14 taps to accommodate anticipated production growth, Enjem said, noting that the watering hole will have ciders that are enjoyable for beer and wine drinkers, as well as traditional cider enthusiasts. Ficklewood ciders are not artificially sweetened and are gluten free due to the owners' own dietary restrictions – Enjem is a diabetic and Farrier has celiac disease.
"We spent about a year looking at spots all over Long Beach and almost signed a lease in another area. And then we walked into this building and we were both just floored," Farrier said. "The location, the new apartments opening up, the foot traffic and the energy are amazing."
Over the last eight years, Beachwood BBQ and Brewing on the Promenade has become a staple in the Long Beach beer scene, pumping out 68,200 gallons of the frothy beverage annually, according to co-owner Gabriel Gordon. The company expanded its Downtown Long Beach craft beer presence in 2014 with the Beachwood Blendery on Long Beach Boulevard, though the Blendery's first beer wasn't released until 2016 due to the longer brewing process at that facility.
"[Craft beer] is just a better product than the mass-produced garbage that Big Beer makes. It shows when it is done well and it's done right, and when it's done with love," Gordon said. Out of the restaurant space, Beachwood produces anywhere from 150 to 200 different beers every year, while the Blendery pumps out about 40. "Making beer with great ingredients and interesting flavors – of course people would rather drink that," he added.
"Long Beach is just a cool city that people are really engaged in and quite proud of. Beer has always been about community, so it was a natural fit for us," Gordon said. City staff was instrumental in getting Beachwood up and running, Gordon added, noting that staff met with him and his architects to make sure the team avoided pitfalls that could delay the permitting and opening of the business.
Two future additions to Downtown Long Beach's craft beverage landscape are Altar Society Brewing Company and Whale Face Beer. Altar Society is the vision of local real estate agent Jon Sweeney and his partner Chris Evans (not to be confused with the movie star). The brewery will be on the ground floor of The Masonic Temple building at 230 Pine Ave., the home of popular wedding venue The Loft on Pine. Built in 1903, it is the oldest original building in Long Beach, according to Sweeney.
At full capacity, Sweeney said the brewpub will be able to produce 2,500 barrels of beer annually. He said the space will have a full liquor license to accommodate weddings and other events. Sweeney added that Altar Society will not be a full-service eatery, but rather will have counter service with a communal open pizza kitchen, sandwiches and fried foods.
"I am a beer guy. I am not going to settle for any crap," Sweeney said. "We have been around Long Beach; we know what's out there. We know what [Beachwood] produces and we're going to make sure that we're on that same level, because I refuse to open something that's just not going to be good."
Altar Society will have about 20 to 25 taps, through which 15 to 17 of its own beers will flow. The remaining taps will be used to showcase other local brewers and for collaborations, Sweeney noted.
The vision for Whale Face Beer is to have a tap room located on the ground floor of The Linden, a residential development by Sares-Regis Group that opened this year. However, Whale Face owner Brendan Megowan said he is still putting together a plan and funding for the tap room, which will not have a brewing facility on site. Currently, Megowan co-ops brewing space with Strand Brewing Company in Torrance.
"People just want to experience something that's theirs. So when you put something in town that is geared toward the local population, they just enjoy being able to have their own thing," Collin Mitzenmacher said. "Whether they have their own distillery, their own brewery or now their own winery, they can really take pride in it because it's made right here in town. I think that's what gets people excited about [craft beverages]."