From high-rise condominiums with ocean views to historic single-family homes in one of the oldest parts of the city to urban lofts amid bustling business corridors, Downtown Long Beach has a wide variety of housing to suit many lifestyle preferences and pocketbooks.
Local real estate agents specializing in Downtown Long Beach residential real estate have long held firm that the area is one of the most affordable in Southern California for waterfront living. "It has always been the least expensive coastal community up and down the coast," Barbara Irvine-Parker, realtor associate with Coldwell Banker Coastal Alliance, told the Business Journal. Irvine-Parker specializes in the condo market in downtown.

Prices for residential properties downtown are based on a building's size and location, as well as its view, Irvine-Parker said. "This year, condo sales [prices] have ranged from $190,000 to $1,894,500," she noted. Rental rates for apartments range from $1,350 to $6,140 per month.
Mike Dunfee, real estate broker and agent with Doma Properties, said that there are currently 114 homes listed for sale in the downtown area, ranging in price from $142,000 to $1.4 million. "I think we are the best value, period. Just period," he said. Apartments and condos make up the majority of downtown's housing stock, but the city's Wilmore district – one of the oldest parts of Long Beach – features historic single-family homes, he explained.
While new apartment buildings recently completed in downtown are higher-end, like The Current and Edison, their prices are affordable in comparison to similar luxury apartment buildings in other Southern California beach cities, Dunfee said.
Many of Dunfee's clients are young professionals and empty nesters who, while at very different stages of life, are attracted to downtown for similar reasons – proximity to restaurants, nightlife and the beach.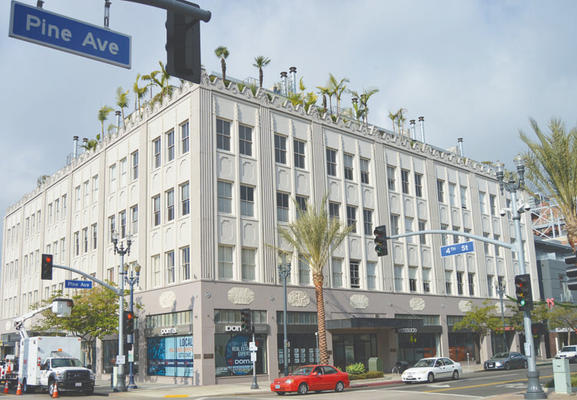 The historic Walker Lofts building at 115 W. 4th St. was once the site of a department store. The ground floor is now retail and offices, and the upper floors house residential lofts. (Photograph by the Business Journal's Larry Duncan)
Eric Gray, president of the Downtown Residential Council (DRC), has lived on The Promenade for nine years and moved there for the same reasons. "I love that we have restaurants and wine bars at our fingertips," he said. "I love that we're close to the waterfront, the convention center, the water taxis. You can walk to Shoreline Village. And it's interesting to see new types of businesses open up in downtown."
The DRC is a forum that brings together downtown's six neighborhood groups – the Ocean Residents Community Association, the Promenade Area Residents Association, the East Village Association, the North Pine Neighborhood Alliance, the West Gateway Neighborhood Association and the Wilmore City Heritage Association. Members of these organizations live in a wide variety of residences, Gray noted.
Downtown has gone through a lot of change in recent years, Gray pointed out. "We have seen a lot of new restaurants open up, a lot of new small businesses really trying to make it," he said. "I have seen a lot of neighborhood enhancement projects like tree plantings. I have seen a lot of community events. So I have definitely seen it improve."
Gray is fully supportive of the array of residential real estate development projects currently taking place in practically every region of downtown, which he said will create economic growth opportunities.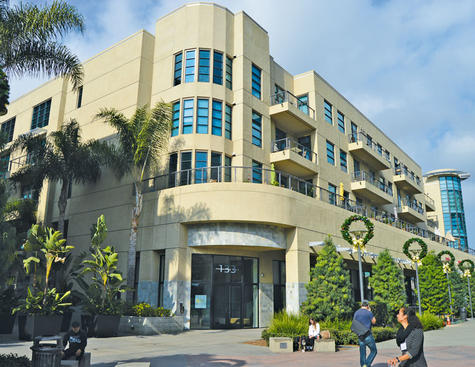 133 Promenade Walk has a variety of owned residential units, including lofts, townhomes and flats. (Photograph by the Business Journal's Larry Duncan)
One such development is Shoreline Gateway, a two-tower project at the corner of Ocean Boulevard and Alamitos Avenue. The first phase was The Current. Completed this year, the 17-story luxury apartment building is more than 70% leased, according to Jason Silver, development project manager for co-developer Ledcor Properties Inc. Ledcor is a partner in the project with AndersonPacific LLC and Qualico Developments Inc.
The Long Beach City Council recently approved changes to the second planned tower. Although retaining its originally planned height of 35 stories, the apartment floor plans have been reduced to about 900 square feet, allowing the addition of 94 units. When completed, which will likely be in the year 2020, the tower will have 315 units. "We see sufficient demand in the area for this number of units, and quite frankly more," Ryan Altoon, executive vice president of AndersonPacific, said.
Altoon pointed out that there are many residential developments planned in Downtown Long Beach – so many that he said the area will soon see a "tremendous boom" of activity.
"We are still looking for other opportunities in the City of Long Beach, especially the downtown area," Silver said of Ledcor. "We have got a couple we are looking at now, but I am not at liberty to say which ones." He added, "We do feel the city is ripe with opportunity, hence our continued investment with the City of Long Beach and AndersonPacific."