The atmosphere for shopping, dining and drinking downtown can be summed up with one word: eclectic. Outlet stores, boutiques, national brands, wine bars, craft beer, craft coffee, chain restaurants, local eateries – Downtown Long Beach truly encompasses a diverse gathering of food, drink and shopping.
"The whole downtown has changed. The whole atmosphere has drastically changed," Kamran Assadi, co-owner of Utopia, a restaurant in the East Village, said. "When we started our business, in our neighborhood maybe there were two or three other restaurants. Now I can't even count them. There are so many different restaurants open, and retail shops and other businesses opened in the last 10 or 15 years. It's a different neighborhood."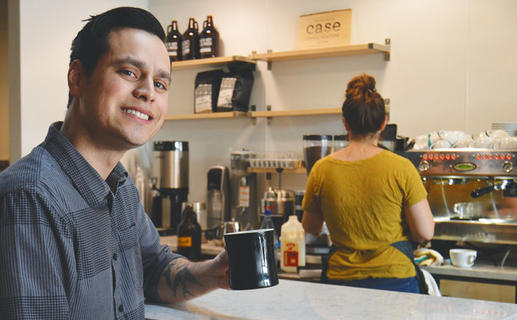 Bobby Hernandez and his wife, Correne, opened Recreational Coffee at 237 Long Beach Blvd. in October 2015. He said foot traffic and sales have increased every month since opening. (Photograph by the Business Journal's Larry Duncan)
Utopia opened its doors on the corner of 1st Street and Linden Avenue 17 years ago. Assadi recalls that at the time, when he and his business partner, Amir Zolghar, told friends and family of their plan to open a restaurant at that location, they called the pair crazy and thought they were fools. When the restaurant opened, Assadi said the neighborhood was terrible and that he is amazed at the pace at which it has become such a desirable location.
Compared to other locations in the city, such as Belmont Shore, which Assadi said has a much more family-friendly atmosphere, downtown has a younger, hipper demographic nowadays. He said in 1999 when the business started, he had never seen so many elderly. But with the growing number of restaurants and bars, as well as entertainment, more young people are drawn to the area.
"We're looking forward to the growth and success of downtown. We were lucky we got into that area when we did, instead of other places," Assadi said. "We've paid our dues. The early years were an absolute ghost town, but it's definitely a happening place now."
Samantha Argosino, owner and founder of The Brass Lamp, a craft beer, specialty wine and coffee bar combination, opened her doors in October 2015, a time that she said saw many hip and trendy businesses moving into the city. She said this is a very exciting time for food and drink in the city, with creativity and a craft focus becoming more of the norm.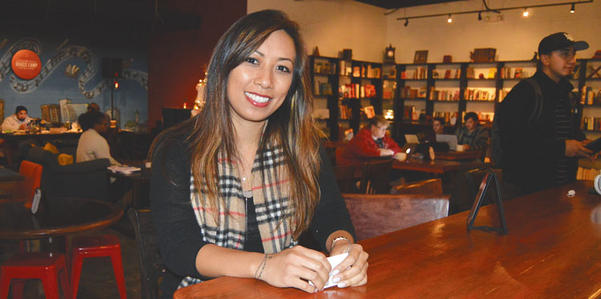 Samantha Argosino, owner and founder of The Brass Lamp, a craft beer, specialty wine and coffee bar combination located at 245 The Promenade N., said there is a strong sense of community between small business owners in Downtown Long Beach. (Photograph by the Business Journal's Larry Duncan)
She said customers are becoming increasingly knowledgeable about different types of beers, wines and coffee, though she will still have the occasional request for a macrobrew beer, like Bud Light or Stella Artois.
"In the coffee industry, they're referring to this time as the third wave. The first wave being like Folger's Coffee. The second wave being Starbucks," Argosino said. "Now this third wave, it's very crafty, very specialized, very customized, having a lot of art aspects to it. That is where the need is right now, that is the demand – that customized, move-away-from-the-big-chain type of food and drinks."
As development of residential units continues in the downtown area, Argosino said diverse food and drink options will continue to pop up. This will only add to the already strong sense of community between startup business owners, Argosino explained.
The downtown area is fortunate that more and more independent operators are opening their doors instead of Cheesecake Factory-type restaurants, according to Gabriel Gordon, owner of Beachwood BBQ & Brewing.
"It just seems to be a very vibrant and cool food and drinking culture. There's quite a few different types of restaurants and bars, and there's specialized stuff. I think all in all it's come a super long way in our downtown area," Gordon said. "It's almost entirely filled with mom and pop independent businesses, which I think is the most special thing about what's going on with the renaissance of downtown."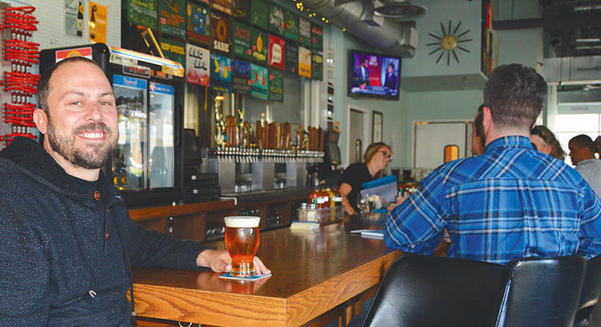 Gabriel Gordon, owner of Beachwood BBQ & Brewery, located on The Promenade near 3rd Street, said city officials made bringing his business to Long Beach an easy experience. (Photograph by the Business Journal's Larry Duncan)
Gordon said the density of downtown, which is still increasing, is what allows these types of businesses to thrive. He explained that, to have a vibrant food and drink culture, a city has to have many restaurants doing their own thing, and it has reached vibrant proportions when specialty spots begin popping up, such as the Blind Donkey, a whiskey bar in the East Village. A specialty bar or restaurant cannot come into a city without other cool restaurants or bars surrounding it, according to Gordon.
Downtown Long Beach is past the point in craft beer culture where some spots carry it and some don't, Gordon explained. "Even places that don't necessarily care, that aren't putting a ton of thought into their beer programs, know that you have to have craft offerings to exist in the current marketplace," he said. "So that's really cool – you can go to almost any bar in Downtown Long Beach, and there's a good chance that you'll find OK beer."
Gordon attributed downtown's proximity to the ocean and hardworking city officials to the growing success of the area. He said working with the city to expand his business to Long Beach five years ago was vastly easier and an overall better experience than what his peers encountered in other cities.
Before opening their coffee shop downtown, Bobby and Correne Hernandez literally walked the neighborhood to see if surrounding residents were satisfied with their coffee, according to Bobby. He said that around 92% of the people they spoke to said they would be willing to pay a little extra for a better quality craft coffee. With this information in mind, the pair opened their shop in October 2015.
"People are looking for something more unique, better quality, and are invested in throwing down extra money for it on a consistent basis," Bobby said. "The fact that we have been seeing numbers that have been topping themselves every month, being here now over a year, it's definitely a good indicator that not only are they wanting it as a one-time thing but it's a repeat buy for everyone. It's a good thing. People are stoked on it."
Hernandez said he has seen growth in food and drink experimentation and craft around the city, even by their neighbors, Beer Belly, a restaurant with specialty food and craft beer, and Beachwood Blendery, which brews craft beers. Helping to drive this creative trend is the unique positioning of downtown to cater to residents, business people and tourists, all on a consistent basis. With such a wide range of people, Hernandez said it was inevitable for a foodie culture to emerge.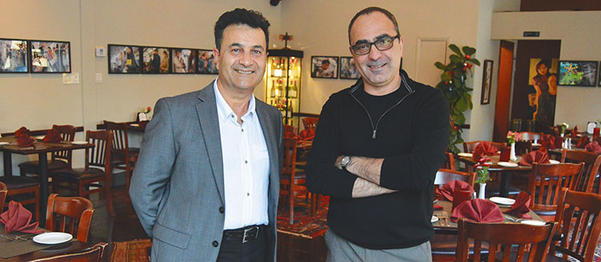 Amir Zolghar (left) and Kamran Assadi opened their Utopia restaurant on 1st Street and Linden Avenue in 1999. They said they're impressed with how the area has evolved and the number of businesses that have moved in. (Photograph by the Business Journal's Larry Duncan)
"Every time there's a convention, there's a brand new rotation of people that are from all over the country, all over the world," Hernandez said. "Literally every day we have two or three Australian pilots who will come, and they are on rotation. They'll come every two months, and they are regulars. Nowhere else in Long Beach, in my opinion, can you get that type of unique customer than what we have here."
The creative and crafty restaurant, bar and coffee shop owners are never satisfied with their products and are continuously trying to outdo themselves, Hernandez said. This passion, along with a population that appreciates these types of products, creates a perfect storm for the renaissance of foodie culture in the downtown, Hernandez explained.
Shopping in the downtown area has become as diverse as the food and drink scene. With an ever-expanding maker and boutique culture integrating with high-end stores and national and international brands, shoppers are not short on spots to splurge in.
"Shoreline Village is always a great destination because we are on the water. We provide a great view for looking out over the harbor. You can see the port, the lighthouse, the lights on the Queensway Bridge," Debra Fixen, manager of the property, said. "So it's a nice place to have a good meal. We have several waterfront restaurants to choose from. And then you can take a nice stroll."
Fixen explained that Shoreline Village offers many unique shops and dining experiences that cannot be found anywhere else in the city. Other features that help to set it apart from other shopping and dining destinations in the city, according to Fixen, are live music on most weekends depending on the weather, bike rentals and other activities and treats, including an arcade, ice cream and funnel cake. All of these options create a trip that can last several hours or even a full day, she said.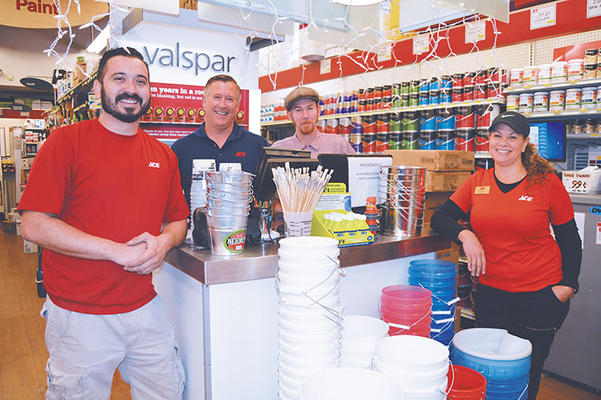 Since opening Long Beach Ace Hardware at 746 E. 4th St. in what is now the East Village, owner Tyler Barnes said the area has changed from slummy to vibrant. Barnes is pictured second from left with his store managers: Oscar Baez, Rory Barker and Tammy Nakao. (Photograph by the Business Journal's Larry Duncan)
The newest commercial retail space in downtown is The Pike Outlets. The space was given a $65 million face-lift and celebrated its grand reopening in October 2015. To go along with the Cinemark movie theater, DDR Corp., The Pike's property management company, has filled the space with outlets from national and even international companies, such as Nike, H&M and Forever 21.
"The Pike Outlets provides a fun and vibrant atmosphere for shopping and dining for Long Beach visitors and residents," Brent Gonzalez, general manager of The Pike Outlets, said. "What separates us from other shopping centers in Long Beach is the great, complementary mix of retailers and restaurants, including Gladstone's Long Beach, California Pizza Kitchen, Auld Dubliner and Famous Dave's."
Gonzalez said The Pike shifted to outlet stores as DDR thought it was an underserved market in Long Beach, with the next closest outlet center, Citadel Outlets, being 20 miles away. He explained that off-price retail is one of the fastest-growing retail concepts today. The company is working to fill in several vacant storefronts, with multiple discussions and deals in the works, including G by Guess, which is scheduled to open in 2017.
"We're happy to see the strong momentum in economic development in Long Beach with several other commercial real estate projects happening, and we're excited to play a role in the revitalization of Downtown Long Beach," Gonzalez added.
Downtown revitalization has affected not only large retailers in the area: Smaller, locally owned stores have also seen a boost in business thanks to community improvements, which also have brought many new businesses in.
"The whole area here seems to be safer and cleaner. When I started over 20 years ago, it was pretty slummy over here. The building that I'm in now, I had to completely redo it. But with all the apartments and condos coming in, there are new customers," Tyler Barnes, owner of Long Beach Ace Hardware on 4th Street, said. "The atmosphere is good, and the economy seems to be better. Long Beach is a pretty vibrant city, pretty amazing. Just the fact that there are so many different types of people here, it's very dense, it makes it good for my business."

The Pike Outlets is a series of shops, restaurants and entertainment venues – including a Ferris wheel – located across the street from the Long Beach Convention Center on the east, and just north of the Aquarium of the Pacific. Within the past year, The Pike has added well-known retailers such as Nike, Restoration Hardware, Gap, H&M and many more. (Business Journal photograph by John Robinson)
Barnes said his store has over 200 accounts with property management companies and hotels, and it services more than 450 customers per day. Aside from community improvements, Barnes said the improved economy has put money back into the pockets of residents, which allows them to spend more on shopping and dining.
Michelle Qazi opened her vintage home goods store, 6th and Detroit, in the East Village this past June. She said foot traffic has gone up each month she has been open. Qazi said she has lived in Long Beach since 2003 and never hung out in the downtown area in the past. However, now she said she loves watching the area becoming more of a destination every day, with small shops and restaurants popping up all the time and residents welcoming them with open arms.
"I think there's just so much more awareness of small business and local craft makers. I think people are making an effort to focus on that for food and shopping, as opposed to just going to the mass-made stuff," Qazi said. "I think people are more into supporting the little guys these days. There's definitely this pulse that's happening right now and this energy around downtown.