Anderson Paint And Hardware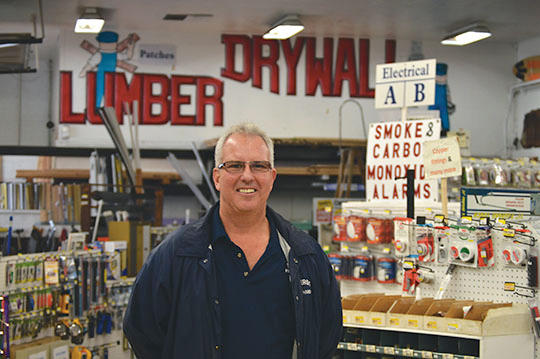 Since 1972, Greg Anderson (pictured) and his family have been able to brag about one particular milestone in regard to their Anderson Paint and Hardware store on North Pine Avenue: it continues to be the sole independently-owned hardware store in the entire downtown. It has also been the longest stronghold along North Pine, an area that had long needed pedestrian activity – but thanks to its own mini-renaissance after Molina Healthcare bought the eastern block of Pine between 6th and 7th, has now seen more activity than ever. Through thick and thin, from hosting Nick Waterhouse in its parking lot for Summer and Music to providing endless support for charities and events, Anderson has remained present. And fear not, it will continue to provide housing supplies, tools, plumbing needs, locks, kets, garden tools, window glass and its countless other offerings that have made it a hardware staple not for just DTLB, but Long Beach.
4th & Elm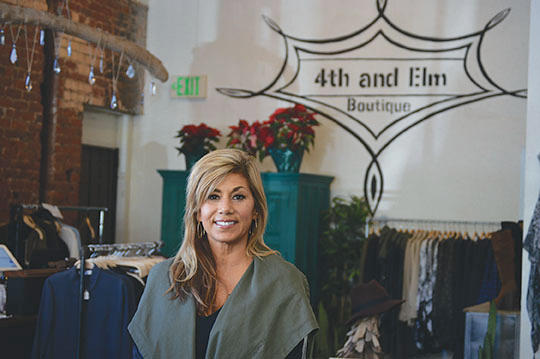 The southwest corner of 4th and Elm had been a rather odd hat shop for too long for residents to remember exactly when it opened. But when Lori Scott (pictured) eyed the shop, she was determined to bring not only her own dream of owning a boutique to the space but to fulfill the very same dream her late mother had wished for her. Opening on her mother's birthday this year, May 29, Scott has since turned her experience working for massive apparel retailers – from Louis Vuitton to BCBG – and obsession with unique pieces for women into a small business success that has helped bring a different type of retail into the neighborhood dominated by Fingerprints and Berlin Bistro. "Y'know, I'm both a rocker chick and a high fashionista – I like the best of both worlds and that is what I try to offer," Scott said. "If you want boho chic, I got you covered with vintage washed jeans, a knit top, and a fringe poncho. Want runway? Here's a fur vest." Scott's free spirit has led her to explore DTLB – and her adoration for downtown has also helped her business in a different way: social media. Taking to the streets with a camera, Scott has watched her use of Instagram and Pinterest boost Internet traffic and call-ins.
Pier 76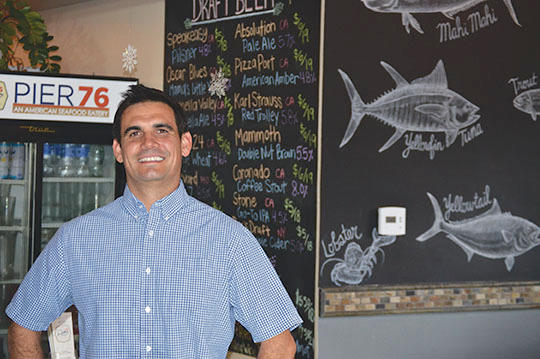 After moving to a larger location last year – from its crammed quarters in the Cooper Arms building to its current home at the southwest corner of 1st Street and Pine – Pier 76 Fish Grill has not only become a Downtown Long Beach (DTLB) staple but also serves up some of the best seafood in town. Even more impressive? They do so without gouging your wallet and for many, it's not just one of the best, but the best, seafood in Long Beach. The owner and head chef, Chris Krajacic (pictured), is the type of guy who approaches seafood with ultimate simplicity. You're not going to find macadamia nut-encrusted halibut or lemon-cured branzino; no, but you will find some of the highest quality yellowtail or swordfish that is grilled to perfection and served with a simple sauce on the side. And some of the fish you're eating might have been caught by Krajacic himself, as the avid fisherman often puts his own catches on his menu. Lastly, do not skip Pier's bucket of moules frites. For just $11.50, you get a tin bucket filled with a plethora of freshly-steamed California black mussels atop a pile of fries that sit in a salty, white wine-broth accompanied with poblano peppers and onions. This seafood classic is quite possibly the best in the region, even surpassing staples like Walt's Wharf in nearby Seal Beach, given its price and flavor.
Queen Mary Couture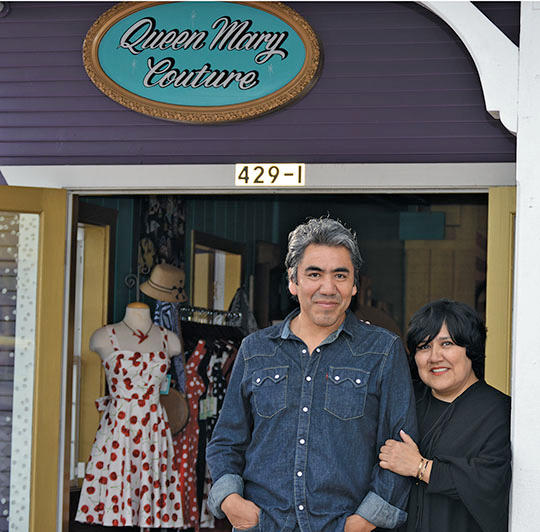 When the Queen Mary announced late last year that third-party group Event Network would oversee the entirety of the ship's retail operations for the next five years, it did so by also making its 12 tenants at the time – small business shops that had been on the ship for years – vacate. Queen Mary Couture owner Martha Chacon (pictured with her husband, Ernesto) was one of those tenants, having been on the ship since 1984. Officially no longer on board as of January 6 of this year, Chacon was quick to relocate – and kept her business right in DTLB, moving Queen Mary Couture to Shoreline Village and re-opening her doors on January 17. Started by her late son Ernie in 2006, Chacon has kept Queen Mary Couture alive in his memory – and along with it, serving rockabilly realness to Long Beach for decades with her eclectic boutique that caters to every rocker girl and greaser this side of the 710. From Disney villain shirts in the style of street artist Fafi to Fluff's Devilette line to odd bits of vintage items, Queen Mary Couture is about as Long Beach it gets. Fear not lacking ink on your arms or familiarity with brands like Steady, Stop Staring, Breaker, Doe & Rae and Vocal – Chacon welcomes all her patrons with arms wide open.
Thai District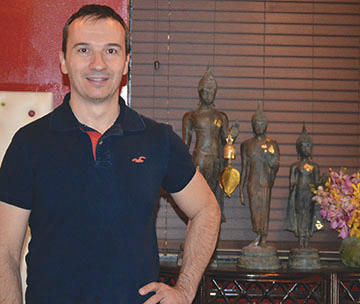 Five years after Chef Andre Angles (pictured) shuttered the doors on his famed classic French restaurant, Frenchy's Bistro, along Anaheim between Termino and Ximeno, the chef has taken on his second gastronomical endeavor by partnering with classically trained chef and pastry chef Ty Theara to bring the East Village its first taste of Northern Thai Cuisine. This is Thai District. Set in the historic Broadlind Building at Broadway and Linden, Thai District distances itself from most SoCal Thai joints by stepping away from the cuisine of the country's central region, largely Bangkok, and focuses on Northern Thai food. Bright, citrusy flavors that are high in acidity, Northern Thai deal with fermenting and herbs that stem from Southern China, Burma and Laos. Think pickled mustard greens and cabbage. Think baby lemongrass and kaffir lime. Think fermented soybeans and pork. Think pomelo, a grapefruit-like citrus that, at least when in season, Theara plans on featuring heavily. It highlights his pomelo salad, a beautifully gorgeous construction of pomelo chunks amidst two perfectly poached prawns and larb-like chicken. "Over the past year, I've had the chance to show the Downtown my technique, to show people that Thai is not just pad thai or pad-see-eww and that it can be taken to different levels," Theara said. "We're not fine dining and we didn't want to be. What we've shown is exactly what we aimed for: a contemporary take on Thai cuisine."
World Trade Office Supplies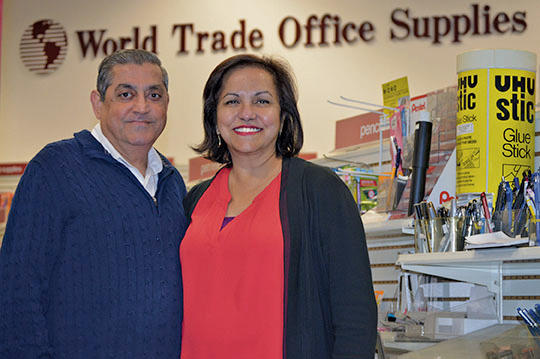 While the World Trade Center tower along downtown's western edge has seen a lot of come-and-go-s – including the sale of the building in August to Orange County-based Greenlaw Partners – there has been one mainstay that hasn't changed much since it opened in the tower in 1991: World Trade Office Supplies. Even through the sale of the property it sits on and the beginning (and soon to be domination) of the digital era, husband and wife duo D.P. and Anita Punjabi (pictured) have proudly run the supply store, delivering everything from office furniture to paper for conventioneers, locals and courthouse visitors. Pulling in nearly $220,000 in annual revenues, World Trade Office Supplies – with its niche market and small office appeal – will continue to do big business well into the future.