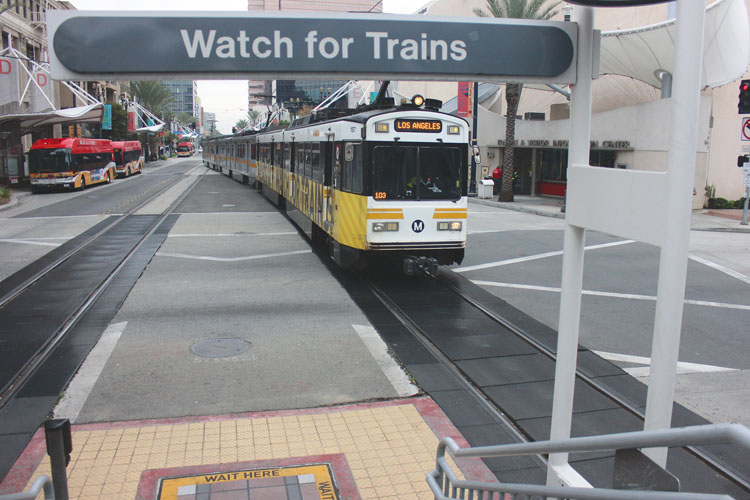 As Downtown Long Beach continues to grow, new residents and visitors are likely to put a strain on existing facilities and transportation systems, from parking structures to bus lines. To accommodate the increasing number of people who come to live, shop and work in downtown, local and regional agencies are working to improve existing infrastructure and add new options to the transit network, starting with the modernization of the Metro Blue Line.
The $350 million project will replace 22 miles of overhead power lines spanning the entire light rail line, as well as upgrade existing signals and crossover tracks to prevent stalled trains from interrupting regular service. Additionally, the New Blue Improvement Project, as the modernization was coined by Metro, will add interactive map screens and new signage to all stations. "It's the busiest line of the entire system and Metro is widely used in Long Beach," Mayor Robert Garcia, who sits on the Metro board and has spearheaded the project, told the Business Journal. "We want people to take the Metro, but in order for people to do it, it's got to be safe, it's got to be clean and it's got to run efficiently."
The system's oldest line is in need of upgrades to ensure safety and comfort for its passengers. "The Blue Line is going to be 29 years old next year. As a result of that, there are many upgrades, repairs and modernization projects that we need to conduct in order to bring it up to the same level and standards as our other rail lines," Ayda Safaei, Metro's community relations manager, told the Business Journal. "The main goal is to enhance safety, increase reliability and improve the customer experience."
Once the southern part of the line shuts down on January 26, commuters and local riders will have three alternative shuttle bus options offered by Metro, in addition to existing local transit offerings. The free Blue Line Local Shuttle will service all closed stations during regular hours of operation; the Blue Line Select Shuttle will serve all closed stations during the first closure phase and select high ridership stations during the second phase; and the Blue Line Express Shuttle will take commuters directly from Downtown L.A. to Downtown Long Beach. The first phase of the project, which will result in a suspension of service south of the Willowbrook/Rosa Parks Station, is expected to last from January to May 2019. The second phase will result in a service suspension of the line's northern portion from May to September.
"There's no question that it's going to be disruptive for a lot of people," Garcia said. "However, I hope that we can all focus on the light at the end of the tunnel and know that when the project is complete, it's going to be a much better riding experience for everyone."
In the meantime, there are local alternatives, such as bus lines operated by Long Beach Transit (LBT). The transit agency's public information officer, Michael Gold, said LBT is prepared for a potential increase in ridership during the Blue Line shutdown. "People may be using Long Beach Transit a little bit more, so we're going to make sure we have strong and frequent connections," Gold said. In addition, the transit provider is currently reviewing its own system in a quest to improve overall operations, with plans to implement the study's recommendations starting next year.
Changes are likely to include improved connectivity between job centers and the Metro rail, as well as an expansion of late night and weekend services. Especially as downtown's nightlife and dining scenes gain more traction among Long Beach residents, alternatives to driving are in increasing demand. "That's what people have been asking for with downtown being such a destination," Gold said.
One change already underway is the company's transition to a more environmentally-friendly bus fleet. LBT's free downtown shuttle, The Passport, is entirely powered by electricity. A new stop on Pine Avenue in front of the convention center was recently dedicated as a charging station for the shuttle buses. "We're utilizing that to test out how we can extend the range of those battery-electric buses so we can serve other parts of the city," Gold said. The transit company plans to switch its entire fleet to alternative fueling options, such as natural gas, hybrid or electric buses, by 2020. "Our long-term goal is to be all electric," Gold added.
LBT riders should expect another significant change in 2019: mobile ticketing. The bus operator plans to add a mobile ticketing option, putting it ahead of Metro, which still requires passengers to pay through prepaid Transit Access Pass cards or exact cash. "We're trying to stay ahead of the game," Gold said.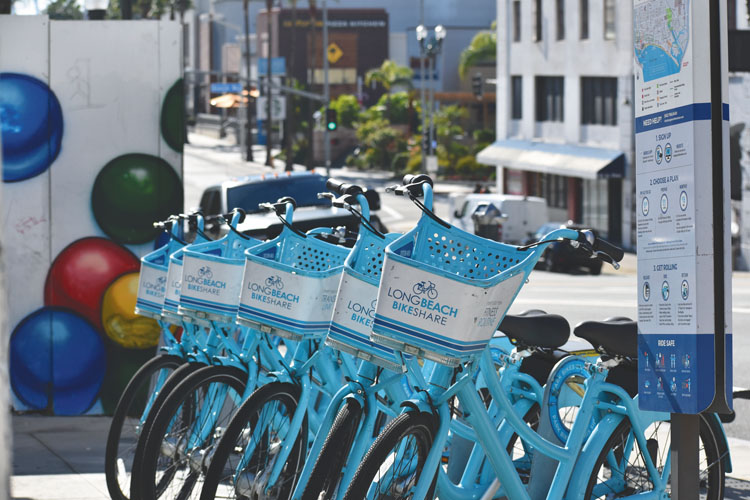 For short distances, visitors and residents of Downtown Long Beach have the option of using the city's bike share program or the new fleet of electric scooters offered by a number of independent providers. The e-scooters, which were introduced through a pilot program in August, are currently available in three operational areas covering most of the city, including downtown. Michelle Mowery, mobility and healthy living programs officer at the city's public works department, said the city took a proactive approach on the issue.
"The scooters in Santa Monica's and San Francisco's cases were dumped on the city. We worked very specifically to develop a pilot program in that we put together guidelines and invited the vendors to come talk to us," Mowery said. "We haven't had some of the difficulties that were incurred by those other agencies because of that." In other cities, the introduction of e-scooters was met with concerns and protests, as residents perceived them as a threat to pedestrian safety and an obstruction on public sidewalks.
Currently, there are six e-scooter companies operating in the City of Long Beach, two of which – Bird and Lime – chose to expand their fleets when the city extended the opportunity to all providers in October. The maximum number was initially set at 150 scooters per provider, with the option to double the fleet size after the program's first month. These figures still constitute a small fleet compared to other cities, Mowery said, but her department aims to collect more feedback and data before allowing the program to expand further. The department will present the results of these efforts to the city council at the end of January.
"Some people love it and adore it, and they're begging for more scooters. And some hate it," Mowery said, adding that attitudes towards scooters appear to differ based on location. "I think the overall program has been more warmly received in downtown." The city's bike share program received more universal appeal, Mowery said. "They are well-loved," she said.
"Even the people who don't like the scooters really like the bikes." The city is planning to add 500 to 600 new bikes to its existing fleet of 400 in 2019.