Downtown Long Beach is made up of five business districts – the waterfront, the West Gateway, the East Village Arts District, the Pine Avenue and Promenade area, and North Pine –representing different hotbeds of business activity with unique clusters of industries, shops and restaurants, each boasting a distinct vibe and energy.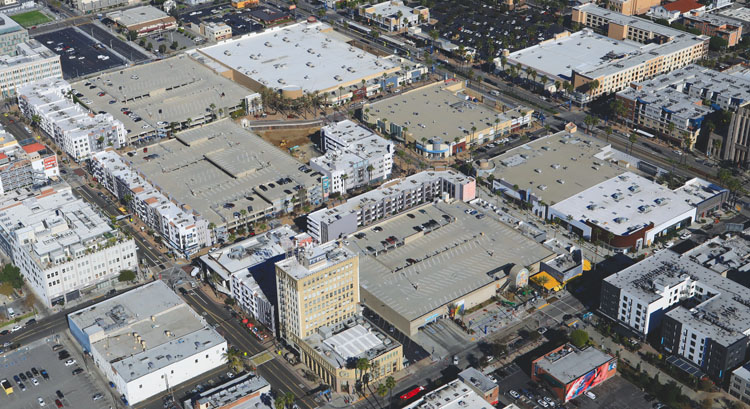 The downtown waterfront is perhaps the most iconic area of Downtown Long Beach, as it is home to the city's most widely recognized sites and attractions. The heart of the city's hospitality and tourism industry, the waterfront is home to the historic RMS Queen Mary, a floating museum, hotel and attraction, as well as the Aquarium of the Pacific, Southern California's largest aquarium.
Also on the water are the retail areas of Shoreline Village, a boardwalk featuring tourist-centric shops and restaurants, and The Pike Outlets, a shopping center boasting national brands such as H&M and Nike, national and local restaurants, and a Cinemark move theater. Across Pine Avenue from The Pike is the Long Beach Convention & Entertainment Center, which attracts more than one million convention attendees each year, generating steady business for downtown hotels.
Debra Fixen, general manager of Shoreline Village and the boardmember representing the downtown waterfront for the Downtown Long Beach Alliance (DLBA), told the Business Journal that improvements to the area have resulted in increasing business activity. About three years ago, a renovation to The Pike Outlets was completed, and there are a number of ongoing developments underway, including an expansion of the Aquarium and multiple residential projects.
"With the general revitalization of the downtown area, more people come out to the downtown waterfront," Fixen said. "There are more restaurants, more housing. And with more housing being built, it's going to increase." She added, "It has made the area more desirable."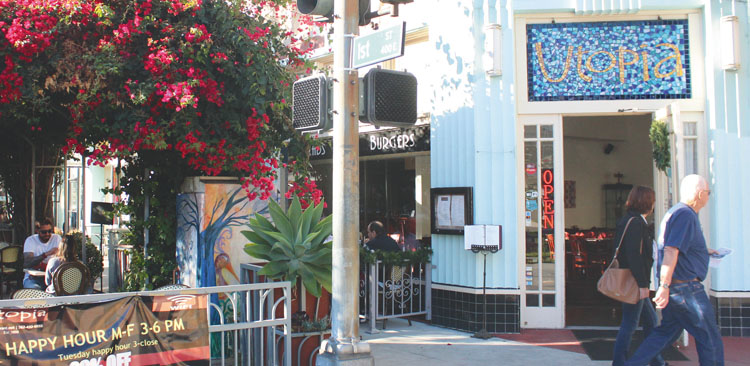 The downtown waterfront extends north to Ocean Avenue, the southernmost touchpoint of three of downtown's other business zones. The gateway to the Pine Avenue and Promenade area – considered the "downtown core" – is the intersection of Pine Avenue and Ocean Boulevard. Between Ocean Boulevard and 4th Street, Pine is a bustling thoroughfare, celebrated for its collection of unique restaurants frequented by workers in surrounding offices, conventioneers, tourists and locals alike. It also features a handful of retail shops. Similarly, the Promenade, a pedestrian path stretching from Ocean Boulevard to 3rd Street, is also known for its eateries and bars.
Although referred to by the DLBA as the "Pine and the Promenade" district, the area also extends eastward to Pacific Avenue, encompassing a number of office buildings including The Hubb, home to Long Beach's WeWork coworking offices, the DLBA, the local office of Rep. Alan Lowenthal and various creative and professional services firms.
The northernmost portion of The Promenade serves as the entrance to The Streets, a massive shopping center and residential complex spanning from 3rd Street northward to 6th Street, and eastward from Pine Avenue to Long Beach Boulevard. This entryway was recently improved with designs by Studio One Eleven, a Long Beach-based architecture firm that relocated from a nearby office tower with its parent company, Retail Design Collaborative, to the corner of 3rd Street and The Promenade about two and a half years ago. This year, several new eateries and quick serve restaurants have opened there, including Table 301, Poki Cat, Ammatoli and others.
Alan Pullman, founding partner of Studio One Eleven, said his company's move to The Promenade has made its employees feel more connected to the city. "We really are much more present in the street life of the community," he said.
"We have seen the Promenade become revitalized with new mixed-use buildings, with groundfloor restaurants and retail establishments," Pullman said of the area. "You see more pedestrians on the street, which creates a safer street . . . . There is a lot more vibrancy to our sidewalks. People are riding their bikes more."
Pullman said that residential developments planned in the Pine and Promenade district, including one at Broadway and The Promenade North and another at Broadway and Long Beach Boulevard, would infill gaps between business corridors. Plus, he noted, more residents mean more business.
Also north of the downtown waterfront is the West Gateway district of downtown. Spanning from Pacific Avenue westward to the Los Angeles River and north to Willmore, this district is known for its office high rises, including One World Trade Center, the California Bank & Trust building, the 100 and 400 Oceangate buildings and the twin Molina Towers. Concentrated along Ocean Boulevard, these buildings house some of Long Beach's largest and most well-respected professional services companies, such as the law firm Keesal Young & Logan, the accounting firm Holthouse, Carlin & Van Trigt and Ensemble Real Estate Investments, to name a few.
West Gateway is also a hub for local, county, state and federal government agencies. The new Long Beach Civic Center is currently under construction next to the existing city hall. Scheduled to open by summer, the site will include a new Main Library, port headquarters and city hall – and joining the existing Long Beach Police Department headquarters. The Gov. George Deukmejian Courthouse, an architectural gem with glittering pillars and a floor to ceiling glass facade, is part of West Gateway.
Alan Burks, the DLBA boardmember representing the area, moved his firm Environ Architecture to the plaza of West Gateway's 100 Oceangate tower in 2010. "We made the move because we were growing and had to find larger quarters," he said. In that time, he has not seen much change in the area. "If anything, we have seen office buildings fill up and then empty out again," he observed. However, he noted that new developments planned in the area – including a mixed-use development behind the World Trade Center building and an apartment building under construction behind the California Bank & Trust tower – should inject some new energy into the area. "It will certainly benefit the area. More people and more activity are always a good benefit," he noted.
Burks described West Gateway as having a professional, "button-down shirt type" of vibe as the financial district of downtown. "It doesn't have the youthful energy that Pine Avenue or the East Village has yet. We're hoping that that will change," he added.
Further inland, the downtown business area known as North Pine radiates outward from the stretch of Pine Avenue that runs northward from 4th Street to 10th Street, and eastward from Pacific Avenue to Long Beach Boulevard.
North Pine offers a host of options for apartment and condo living, including in historic buildings such as the Kress Lofts and the Walker Building. In the past few years, a resurgence of businesses has populated Pine Avenue in this district, primarily between 4th and 7th streets. The mix of businesses is eclectic: Long Beach Vintage Etc. (an antiques shop), DC Boxing, Toxic Toast Records, King Buffet and the Press-Telegram among them.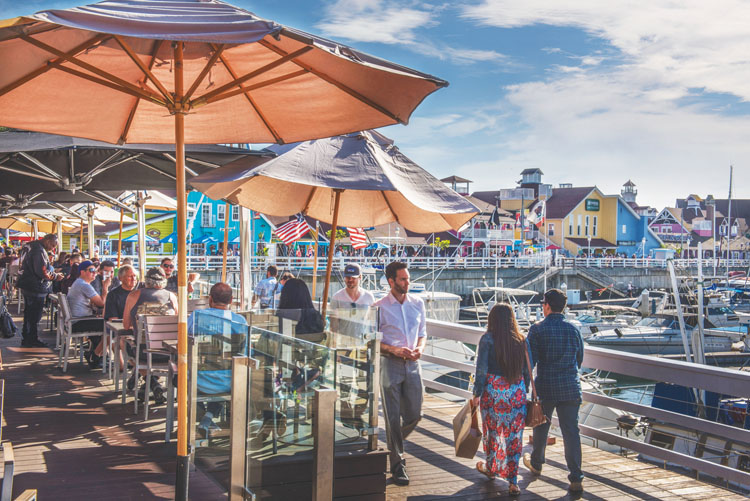 Laurie Gray, the DLBA boardmember representing the area, opened The Pie Bar at 450 Pine Ave. in 2016 and has since seen the area grow as a desirable place for businesses to locate. "I have seen a lot of positive changes and growth since we opened two and a half years ago," she said. "We now have new neighbors like Plant Junkie, Envy Body Piercing, Romeo's Chocolates, Pinot's Palette, Long Beach Coffee and Tea, and Saints and Sinners Bake Shop. . . . It's an affordable place to move, get involved with the community and start to build your business."
Downtown's largest neighborhood is the East Village Arts District. Named in part for an abundance of Art Deco architecture in the area, the East Village is an enclave of niche retailers, tattoo parlors, nightlife, bars, eateries, coffee shops and apartment buildings. True to its name, the area is a hub for artists – it is home to the nonprofit Arts Council for Long Beach, which supports Long Beach artists through grant programs, as well as LBMAx, an art center featuring a gallery and artist-in-residence program.
Walking through the streets of the East Village feels a bit like taking a step back in time to the origins of Long Beach, due to restored historic buildings such as the Lafayette apartment tower and the old brick Broadlind hotel. But blended with these time capsule-like structures are bright contemporary murals and a mix of businesses that represent Long Beach's diversity and eclecticism.
Kerstin Kansteiner opened her thriving café, Berlin Bistro, in the East Village at 420 E. 4th St. in 2011. Already a business owner – Kansteiner also owns Portfolio Coffeehouse in the city's Retro Row corridor – she decided to open the cafe when Rand Foster, owner of Fingerprints record store previously located in Belmont Shore, suggested they set up shop alongside one another.
"At the time I felt like downtown and the East Village was not quite ready. I didn't see the foot traffic," Kansteiner recalled. However, once she opened Berlin, she found that the neighborhood was much busier and safer than she once thought. Over the years, Kansteiner said she has seen a steady flow of new businesses open in the East Village. "If you come to town and you want to experience different cuisines, it's all here," Kansteiner said. "From vegan to Indian to Korean to burgers, beer, wine – there are a plethora of options. . . . Downtown has become more of a gourmet playground."
Like other business owners in downtown, Kansteiner looks with optimism on the many residential developments planned and underway, including a Sares-Regis Group project under construction right next to Berlin. Although there are challenges for her business – homelessness remains a problem throughout downtown, for example – overall, she said the area is moving in a good direction. "I am looking really positively into 2019," she said.