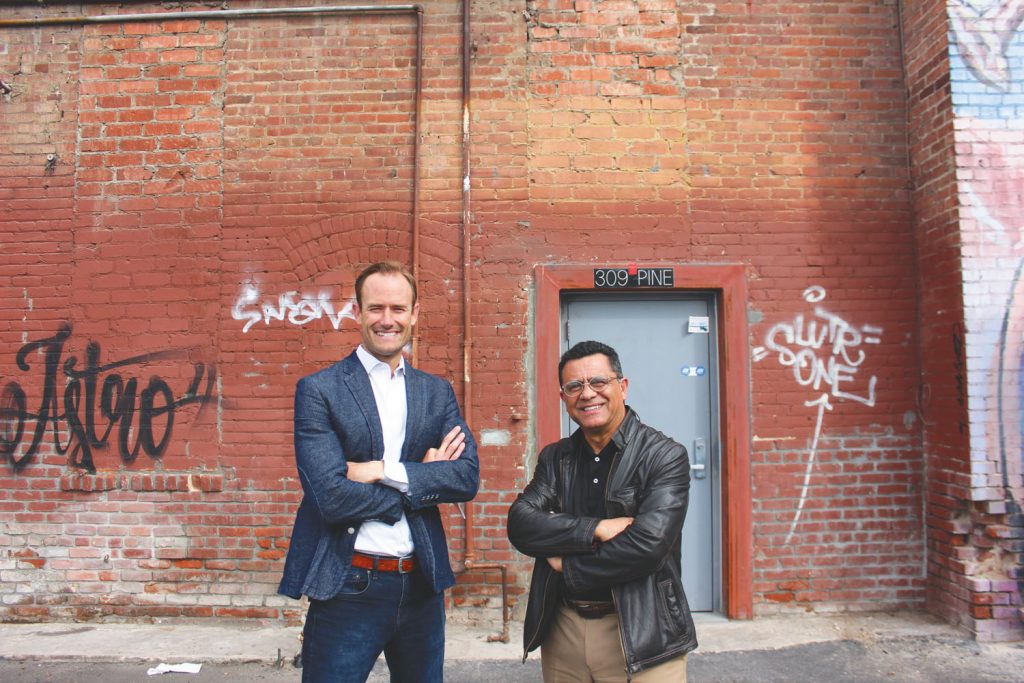 For the entrepreneur looking to grow his or her business in the City of Long Beach, there are several assistance programs of which to take advantage. Seyed Jalali, economic development officer for the city's economic development department, told the Business Journal that Long Beach actively engages with its business community. This engagement covers a variety of methods, from helping entrepreneurs access capital to creating opportunities to enlist new businesses in civic projects.
Startup in Residence (STiR) is one such opportunity. Created by San Francisco nonprofit City Innovate, the STiR program connects technology start-ups with governments throughout the United States to solve municipal challenges. "They [City Innovate] work with a government to develop a challenge statement, then they upload this challenge to their online platform and invite start-ups from across the world to submit solutions to the challenge," Eric Romero, project manager for the economic development department, explained.
Participating governments, such as the City of Long Beach, then consider the various proposals received through the STiR program. Once selected, a start-up enters into a 16-week phase to co-develop a technology solution for the government's challenge. The entire process is free of charge to the participating government. "The ultimate goal of the start-up is to land a contract with the city, but there is no commitment that needs to be made beforehand – before we enter into the 16-week engagement," Romero said.
City staff are interested in working with STiR to connect with new businesses that may not otherwise have the clout to pursue government contracts, Romero said. "We're hoping to ultimately recruit more start-ups to Long Beach," he continued. "We're also hoping that start-ups in Long Beach will start submitting proposals for these challenges that are outlined."
Several city departments have issued challenges through STiR so far, Romero said, with plans for more in the future. In addition, the economic development department has spoken with representatives from California State University, Long Beach, about the possibility of creating a similar program for start-ups that want to contract with businesses in the private sector. "They [private businesses] have a little more flexibility than the city does," Romero noted. "I think it would be a great way to really leverage all the different dollars that go to purchasing services and products and using that to stimulate the local economy."
Long Beach was recently recognized by Citymart, a tech start-up focused on improving public services, for creating innovative strategies to secure contracts. In its analysis, "Are Cities Walking the Start-up Walk?" Citymart examined public requests for proposals (RFPs) from 56 city and county governments. Governments were evaluated based on the accessibility and innovation of their RFPs. The City of Long Beach was ranked No. 1 for creating the most innovative opportunities for small businesses per capita, with Portland and Austin ranking second and third respectively.
Linking Federal And Local Small Business Assistance
To encourage the development of more technology-based businesses in the city, the CSULB College of Engineering hosted a free workshop in February to educate attendees on two major assistance programs, Small Business Innovation Research (SBIR) and Small Business Technology Transfer (STTR). The SBIR program provides funding to small businesses working on technologies that have commercial applications, while STTR helps those businesses partner with research institutions. "It's a very good source of funding," College of Engineering Dean Forouzan Golshani told the Business Journal.
The CSULB administration was eager to put on the workshop after the United States House of Representatives passed a measure to expand investment opportunities for the SBIR and STTR programs in January, Golshani said. Sponsored by Rep. Alan Lowenthal, who represents Long Beach, the workshop featured several government agencies, including the Air Force Research Lab, National Institutes of Health, Office of Naval Research and Defense Advanced Research Projects Agency.
Golshani wants to position the College of Engineering to partner with new technology firms. "We see our role as an engine of socioeconomic development for the region. We have laboratories, we have expertise, and we have the desire to be partners on any of these projects," he said, noting that the workshop was meant to encourage future initiatives in the public and private sectors.
Small Business Loans
The Long Beach Economic Development Department offers three types of loans to help small businesses and start-ups. The largest of these loans is provided through the Grow Long Beach Fund, a partnership between the city and the National Development Council Grow America Fund, a national small business loan program. These fixed-rate loans range from $100,000 to $2 million and are available for companies that have been operating in Long Beach for at least two years. The loans are for more established businesses with a cash flow that can service a higher debt, Jalali said. These funds may be used for "any legitimate business expense," according to the department's website. These uses include construction, tenant improvements, equipment and working capital.
Larger loans are dispensed two or three times per year, Jalali noted, while the bulk of the department's assistance portfolio is dedicated to microloans ranging from $25,000 to $100,000. "I'd say we probably average one or two a month," he said of microloans. One stipulation of the Microenterprise Loan Program is that the borrower must create "one full-time job for every $35,000 borrowed," the rules state. This microloan offers a prime lending rate plus 1.5%, and may be used to finance "equipment, fixtures and furniture, and working capital."
The newest type of loan offered through the city helps businesses that are ineligible for microloans due to their small size. Kiva is a nonprofit organization that offers a platform for start-ups to crowd-fund 0% interest loans via small donations from lenders around the world. The City of Long Beach partnered with Kiva to make this platform available to local entrepreneurs and small businesses. To receive a loan, applicants must be sponsored by a pre-approved loan trustee, one of 13 community organizations that the city has entrusted to vouch for loan recipients.
Funds raised through Kiva are matched by the Los Angeles Local Initiatives Support Corporation (L.A. LISC). Borrowers receive between $500 and $10,000, which may be repaid up to 36 months later.
"We look at Kiva as a sort of passport to advance into the next level, ultimately to be able to get the microloan and all the way up to an SBA [U.S. Small Business Administration] loan of $3 million," Jalali said. "These businesses are starting small, and they're gradually reaching the point where they become more bankable and qualify for larger financing, whether through the city or our banking partners."
Fifteen Long Beach businesses have benefited from Kiva loans since May 2018, Business Development Specialist Semira Araya said. These businesses have received funds from 1,648 lenders, who together with LISC have provided $137,000 in total funding. Word of mouth has created more interest in the program, Araya said. "The businesses that we've worked with have been really happy with their campaigns and sharing their successes," she commented. "I'm personally working with five different businesses at the moment that are going to be applying in the next week or two."
The Shaun Lumachi Innovation Center
The City of Long Beach partnered with Long Beach City College (LBCC) and BLANKSPACES, a co-working office space network, to create the Shaun Lumachi Innovation Center. Located in Downtown Long Beach at 309 Pine Ave., the center is designed to offer both a shared work environment and entrepreneurial support programs through LBCC. The two-story building was the home of LBCC's Small Business Development Center prior to its renovation, which began in January 2018.
Jalali said the center's completion has been delayed by frequent rains this winter, but that it will be up and running by early June. "The Shaun Lumachi Innovation Center is another great addition to the revitalization of Pine Avenue," Jalali commented. "Brought forth by [1st District] Councilwoman Lena Gonzalez, this coworking space represents a partnership with Long Beach City College and BLANKSPACES to continue our support for new and existing business ventures and help grow the local entrepreneurial ecosystem."
Workforce Development: Pacific Gateway
Pacific Gateway, the workforce development arm of the City of Long Beach, serves residents in the greater area beyond the city's border. The mission of the organization is to train local workers in the skills needed to succeed in an evolving labor market, Executive Director Nick Schultz told the Business Journal. "We're in constant contact with our economic drivers [about] what those skills might be, and are tailoring our offering so that workers have the skills to compete," he said.
In the third quarter of 2018, Pacific Gateway received a $100,000 grant from Citi Foundation and Living Cities, a partnership among several foundations, nonprofits, financial institutions and the federal government. Long Beach was one of five cities to receive this grant, which was awarded to increase entrepreneurship among minorities and women-led businesses. "It's a one-year project . . . helping us to actually evolve and expand services through a multi-pronged approach to entrepreneurs that haven't had the same type of access to services as some other folks in the past," Schultz said.
This multi-pronged approach has five aspects, Schultz continued: seeding entrepreneurship in minority communities; helping entrepreneurs; building the community's capacity to support new business; supporting the transfer of business ownership; and increasing access to supportive programs. Schultz said this effort is still in the data collection stage, which entails reaching out to community members and "analyzing the gaps between what they say they need and what existing programs provide."
In its daily programming, Pacific Gateway hosts skills workshops and subsidizes on-the-job (OTJ) training. The latter is one of the organization's most effective tools, Schultz said. The economy is growing past the point where employers are only looking to hire skilled workers, he explained. "Most folks now are in a position where they're willing to onboard some risk with somebody, and that's exactly what OTJ is there to incentivize. Somebody has 80-90% of the skills, [then] we can step in over a defined period of time to help close that skill gap and pay 50% of the wages."