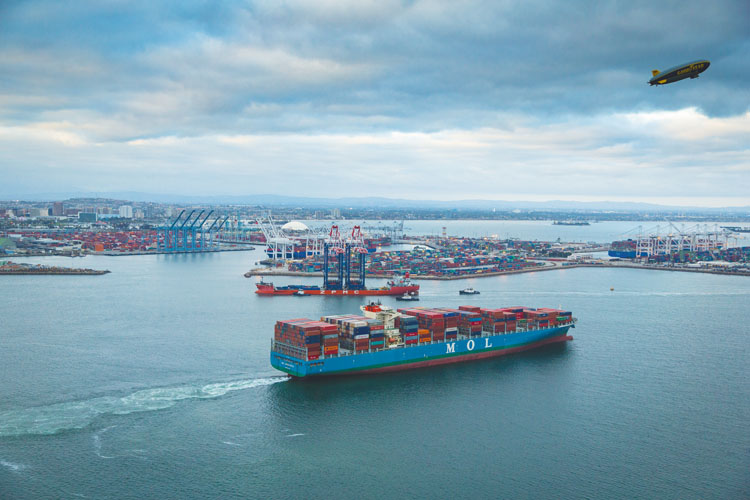 Despite a number of unknowns that could affect the economy this year, analysts are largely predicting a stable 2019 with continued, although slower, economic growth. The ongoing U.S. government shutdown, the trade dispute between the Trump administration and China, and, on a local level, the housing crisis are all points of concern, but given strong economic fundamentals experts find it unlikely that any of these matters could cause a recession this year.
Although estimates have not yet been released by the United States Bureau of Economic Analysis, Beacon Economics' Robert Kleinhenz expects they will reveal that gross domestic product (GDP) increased by as much as 2.9% in 2018. In 2019, "We are looking at GDP growth probably being in the low 2% range," he said.
The tax reform bill passed in 2017 was a key factor in the boost to GDP the following year and isn't likely to have as much of an impact in 2019, according to Kleinhenz, an economist who serves as the executive director of research at Beacon.
Another factor in less robust GDP projections for 2019 is the tightening labor market. Kleinhenz expects the U.S. unemployment rate, currently at 3.9%, to continue to decrease over the course of the year. "There are limits to growth imposed by the fact that our labor force is growing in a limited sort of way right now," he explained.
In Long Beach, the unemployment rate was 4.8% as of November – an increase from 4.4% in November 2017. Kleinhenz speculated that the change "might not be statistically significant," as "thin samples" are typically taken at the municipal level to measure unemployment. For Long Beach, "I would say for all intents and purposes the unemployment rate is historically low and is going to be in the 4.5% to 5% range over the foreseeable future," he said.
According to the U.S. Bureau of Labor Statistics, California workers' wages increased 4.7% in the first half of 2018. With a tight labor market, Kleinhenz expected that growth to continue, and to outpace inflation as well. "A lot of people are worried about a tight labor market giving rise to a wage inflation, and that wage inflation translating into increases in inflation overall," he noted. "That is just not the way the world works these days, because part of the elevated levels of inflation we have seen in past decades have not just been tied to wage gains, but also to increases to commodities prices like gasoline and so on.
"Commodities prices, including the price of oil, are just not all that strong right now. So, there is a lot of reason to think that inflation is going to stay low, right around the 2.5% mark we saw last year, and that wages are going to increase," Kleinhenz explained.
With more money in their pockets due to wage gains and tax reform, consumers are spending more on services and goods. According to Kleinhenz, increased consumer spending accounted for two-thirds of the growth in GDP last year.
"With all this attention being devoted to the volatility of the stock market, there are a lot of people talking about the possibility of a recession – that the ups and downs of the stock market are reflecting problems with the economy that may materialize later on this year in the form of a weaker economy," Kleinhenz said. "Well, that's not going to happen if consumers keep on spending."
Somjita Mitra, senior economist for the Los Angeles County Economic Development Corporation (LAEDC), said that the county "is on solid footing" going into 2019. Strong economic trends present at the national level are also uplifting the local economy. "We continue to add jobs to our economy. We are continuing to see a declining unemployment rate," Mitra said.
Mitra expected wages to increase in Los Angeles County as well. This could impact businesses, she pointed out. "For businesses to attract and retain quality workers, they are going to have to pay more because there are a lot of job opportunities for people. Businesses are going to have to make some tough decisions about who they are hiring, who they are retaining and how much they are paying," she said.
Job growth in Los Angeles County has been driven by "population serving industries" including health care, and accommodations and food service, according to Mitra. Many of these jobs, however, are low-paying. In health care, increases in employment have been driven by the need for home health care workers, who make on average around $20,000 a year, Mitra estimated. Food service jobs, which are also increasing countywide, typically pay about $18,000 per year, she noted.
L.A. County is experiencing job gains in some higher-paying industries as well. "We are going to continue to add jobs in transportation and warehousing. . . [which] pay relatively well compared to the median income," Mitra said. LAEDC is in the process of creating a transportation and logistics industry council to support the growth in this sector. Silicon Beach – the nickname for the county beach cities where a number of tech giants have opened offices – is also a center for high wage job growth. Information and technology sectors should add about 26,000 new jobs to the area over the next few years, Mitra estimated.
Low unemployment, job growth, increasing wages and rising consumer spending all lend to a stable economic outlook for 2019. But questions linger as to what effects a trade dispute between the U.S. and China could have if talks between the countries ultimately come to blows instead of a resolution. The Trump administration has indicated that if the countries cannot reach an agreement by March 1 to address an imbalance in trade, 25% tariffs would be implemented on billions of dollars' worth of Chinese imports. The Chinese government has made clear that it would respond in kind.
Kleinhenz does not believe such an action would tip the United States into a recession, although it would impact trade-related industries such as shipping, logistics and warehousing. "You know, this isn't a static situation. If someone can't sell stuff to China, they'll look elsewhere around the world to sell stuff," Kleinhenz pointed out. "It's important to keep in mind that it's not static, it's dynamic."
While exports to China make up just 1% of U.S. GDP, China's exports to the United States account for 4% of its GDP. "In that sense they have more to lose than we do, and it'll behoove them to try to this straightened up fairly soon," Kleinhenz said. "But China has a long history and they are very patient, so they could be willing to endure for a long time."
Mitra noted that the shutdown of the federal government, which on January 11 had been ongoing for 21 days, could also have some local impacts. "The government is a significant employer of people in the county," she said. "The shutdown of the federal government is affecting not just the actual [government] employees, but also all their industries that they support with the rent they pay, the groceries they buy."
Another issue impacting residents in the county and much of the state is housing affordability. "We have a severely constricted housing supply right now," Mitra said. "Only about 30% of households can afford to buy a home in L.A. County. That means that two-thirds of our population rents. That is also creating a tightly constrained rental market," she explained.
The average income earner in the county pays more than half of their income in rent, Mitra said. "That's money that is not being paid into our local economy. When people spend so much of their money on rent, they are not able to go out as much to eat or go out to the movies or buy groceries, clothing," she explained. "Also, they are not able to save to buy a home."
Sales prices for single-family homes have continued to increase in Long Beach and the county, despite a slowdown in sales, according to Kleinhenz. "There is every reason to think that home prices will continue to increase in 2019. The pace of growth is probably going to be slower than it was," he said. "Among other things, affordability constraints are going to limit sales in 2019." However, he noted, "I see no reason to think that we are going to see sales drop off precipitously."
If housing affordability in Los Angeles County continues to worsen, Mitra foresees problems for the local economy. She noted that Millennial workers are beginning to move out of the Bay Area due to its high cost of housing – and that L.A. Millennials could follow suit if its affordability trend isn't addressed. "The government can change their zoning regulations to create more higher density housing and transit-oriented developments. We don't have enough space to buildout in the county," she said. "Our mindset has to change. We have to build up because we can't build out."
Kleinhenz pointed out that approval of the City of Long Beach's Land Use Element had only minimal changes to accommodate housing density. "The city will continue to face the challenge that it probably needs to continue to provide more housing than it has historically if it wants to grow over the long term in a manner that is beneficial for its residents," he said.
Despite uncertainties surrounding trade, the government shutdown and housing, Kleinhenz's outlook for the economy is still positive. Asked how long he felt growth was sustainable, he responded, "Australia has had no recession for something like 25 years. There is no reason to think that an economic cycle has to include a recession. . . . . It's when we suffer from certain excesses or when policymakers do things that go too far that we may find ourselves staring at a contraction."