Despite slight increases in interest rates, the commercial real estate market continues to experience low vacancy rates, high demand and upward pressure on sale and lease prices, according to Jeff Coburn.
"I don't see any major swings coming this year. I think it's going to continue to run at the pace it's running," Coburn, a principal with Lee & Associates Commercial Real Estate Services in Long Beach, said. "We'll see as interest rates change a little bit, but it doesn't hit commercial as dramatically as it does residential."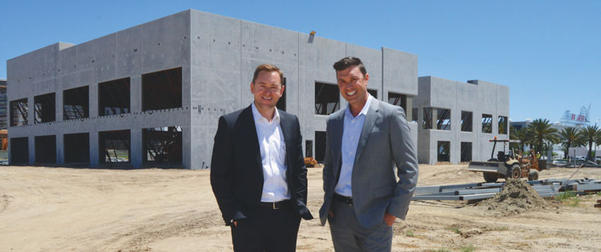 Shaun McCullough, left, and Jeff Coburn, principals at Lee & Associates Commercial Real Estate Services, stand in front of Urbana Development's four-building office condominium project, The Terminal at Douglas Park. Coburn said phase one, which consists of two buildings, is 90% under contract and phase two already has contracts under negotiation. (Photograph by the Business Journal's Larry Duncan)
Industrial
For industrial real estate in the South Bay, including Long Beach, vacancy rates are still hovering around 1%, according to Lance Ryan, senior vice president of marketing and leasing for Watson Land Company. He explained that the market in the Greater Los Angeles Area is similar and that even out in Inland Empire areas the vacancy is around 3% or 4%.
With low vacancy rates and a demand for industrial space that Ryan describes as unprecedented, new users are finding it challenging to locate space and existing users are having a difficult time expanding operations. Additionally, low inventory and high demand have led to price increases.
"The sale prices continue to go up. . . . There's still a lot of upward pressure on lease rates, and concessions have backed off," Ryan said. "Really, it's characterized by such limited supply that we are finding multiple offers for just about any building that either becomes available directly or becomes available for sublease."
Ryan said that he does not expect this trend to change anytime soon due to the lack of developable land, despite industrial developments gearing up to come online at Douglas Park – namely, three buildings at Pacific Pointe East located along Conant Street at Lakewood Boulevard. He said the vacancy rate will not change and that he expects to see higher renewal rates.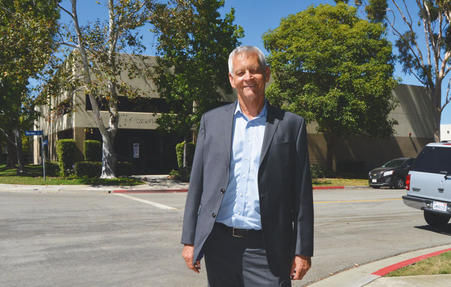 John Eddy, senior vice president at Coldwell Banker Commercial BLAIR WESTMAC, said he recently completed a seven-year lease with Texas-based QRC Valve Company for a 13,000-square-foot building located at 3835 Vernon Ave. (Photograph by the Business Journal's Larry Duncan)
John Eddy, senior vice president at Coldwell Banker Commercial BLAIR WESTMAC, said he recently leased a 13,000-square-foot building at 3835 Vernon Ave. Texas-based QRC Valve Company signed the seven-year lease at $1.12 per square foot, which he said he thinks might be a record high for the city. Eddy explained that typical lease rates range anywhere from 65¢ to $1 per square foot.
However, Eddy said that Long Beach has changed significantly since November of last year, when voters approved the cultivation and sale of medical marijuana in the city.
"It's almost as though we have two sectors in the industrial marketplace: those that are in the marijuana zone and those that are not," Eddy said. "We have some very skewed pricing on the available buildings that are in the zone. They are priced minimally at double the market rate for a normal listing."
Eddy explained that he sees some properties that would normally sell for between $130 and $185 per square foot with asking prices between $250 and $400 per square foot, depending on location and building size. However, he noted that when it comes to leasing, many landlords have no interest in having tenants in the marijuana industry.
Eddy said that, in his opinion, the marijuana trends will not continue, as he has already noticed a significant drop off in activity involving the industry since the beginning of the year. He said the market would remain strong and eventually "flush out" those in the marijuana industry, making the market steadier.
Office
For office space in the city, Robert Garey, senior director at Cushman & Wakefield's Long Beach office, noted upward pressure on rates for both leasing and sales due to a lack of supply of office space available on the market.
"We're seeing a major shift to capital being invested and buildings being converted to have more of a contemporary, creative flare to them," Garey said. "I think that's a positive thing with the stock of office space getting better with this capital infusion. I think tenants have better choices, and the buildings are being repositioned for a bright future."
These conversions are most evident in the downtown area, where buildings such as the World Trade Center and 100 W. Broadway are seeing substantial investments to re-energize the office space with a more modern and creative focus.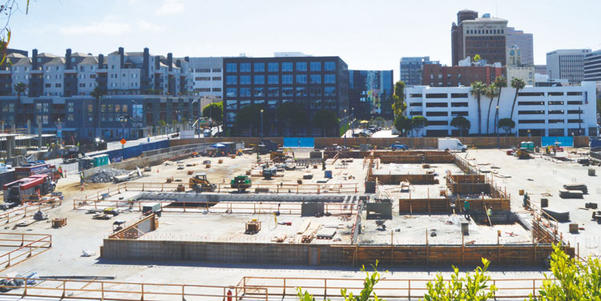 As part of the new Long Beach Civic Center development, construction continues on the new 92,500-square-foot main library. The library is slated for completion in mid 2019. (Photograph by the Business Journal's Larry Duncan)
Aside from renovations to update office space, other buildings are being repurposed to residential space. Garey noted the former Verizon Building located at 200 W. Ocean Blvd. that is being converted to 86 residential units and the Security Pacific National Bank Building at 110 Pine Ave. that was recently sold with entitlements to be converted to 118 residential units. This trend is contributing to increasing office space rental rates and the declining supply, according to Garey.
When office space is leased before a development project is complete, this is a sign that the city definitely has pent-up demand, Garey said. The Terminal at Douglas Park, a four-building development that includes for-sale office condos and is currently under construction on the northwest corner of Lakewood Boulevard and Conant Street, is experiencing this firsthand.
"The first two buildings, the walls are tilted. And we just put the roof on building number one," Jeff Coburn explained. "For the phase one, we are 90% under contract for that project, and we have substantial interest for phase two. We have offers that are in negotiations, and we're probably going to be under contract with the two other buildings before we even break ground."
To further highlight Douglas Park's ever-increasing popularity, Coburn noted the recent sale of the 142,000-square-foot Universal Technical Institute (UTI) building to Los Angeles-based Rexford Industrial Realty Inc. Irvine-based Sares-Regis Group, the company behind the development of much of Douglas Park, sold the building to Rexford for $30.6 million, with UTI retaining its lease through August 2030.
According to a first quarter report by Lee & Associates, the downtown office market has an availability rate of about 14.7% out of its more than 7.7 million square feet of total inventory. Suburban Long Beach is performing slightly better with a 9.8% availability rate out of its more than 9.6 million square feet of total inventory.
Retail
Though the retail market remains strong, Brian Russell, vice president of Coldwell Banker Commercial BLAIR WESTMAC, noted that deals seem to be taking longer to close.
"It takes longer times for retail operators to pull the trigger and lease space to open their business," Russell said. "That's one of the things I've noticed in the last two, three months or so. There's still good leasing activity, but it's just taking a while."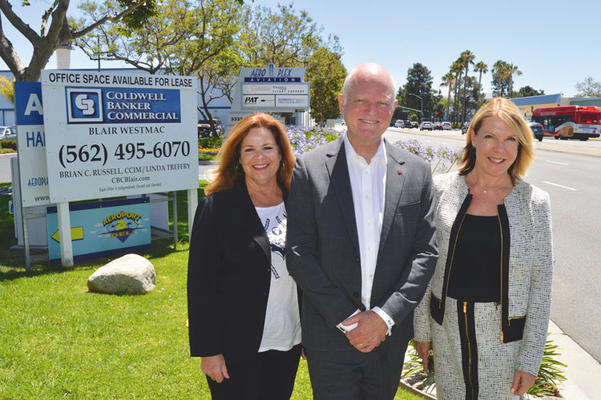 Brian Russell, vice president of Coldwell Banker Commercial BLAIR WESTMAC (CBC), said the commercial real estate market remains strong but that he has noticed deals are taking longer to close. Russell is shown at Aeroplex at the Long Beach Airport, located at 3333 E. Spring St., with Cindy Goodfellow, left, vice president of client and community relations for the Aeroplex/Aerolease Group, and Linda Treffry, an associate with CBC. (Photograph by the Business Journal's Larry Duncan)
On the sales side, Russell explained that the market is stronger and safe, noting several sales with high price tags: a small retail center on the northeast corner of Lakewood Boulevard and Stearns Street is in escrow for $5.5 million, or $300 per square foot; the Van's shoe store on 2nd Street in Belmont Shore is in escrow for $960 per square foot, which comes out to $3.6 million; and the Chevron station on the northeast corner of Redondo Avenue and 7th Street sold for $2.5 million in February, which came to $1,600 per square foot. Russell pointed out that typical sales prices are currently in the mid $200 range.
Leasing of retail space in the downtown area continues to be strong due to the increased density coming to the area, according the Russell. He explained that this has led to prices in the area becoming more stable. He also noted a little softening of pricing in the Belmont Shore area, since vacancies are lasting a little longer than before due to current asking rates.
According to a report by Coldwell Banker Commercial BLAIR WESTMAC, as of June 23, 61 sale transactions have been made in Long Beach, totaling more than $65 million, with 16 more sales pending for more than $21 million.
"I think buyers are more willing say 'no, thank you' and pass if a location is not checking off all their site criteria. And I think the cost of construction is going up now," Russell said. "And that is pushing up the cost and might have a distinct impact on retailers being a little more cautious these days because they know the cost is going to be a little higher than a year ago."

The walls of numerous buildings have been tilted at Burnham-Ward Properties LLC's Long Beach Exchange, located on the southwest corner of Lakewood Boulevard and Carson Street. According to Scott Burnham, founder and CEO of Burnham USA, the project is scheduled for completion by the first or second quarter of 2018 and confirmed retailers include In N Out Burger, Dunkin Donuts, Mod Pizza, Orange Theory, AT&T, Lowes Orchard Supply, Nordstrom Rack, T.J. Maxx, PetSmart and Whole Foods 365. (Photograph by the Business Journal's Larry Duncan)
Doug Shea, chief executive officer of INCO Commercial, said he expects the retail market to remain strong for the rest of the year. He did note that the downsizing of large big-box stores such as Sears and Kmart continues, which could eventually leave large gaps in the Los Altos area.
The recovering economy and more disposable income for the average person are driving factors for keeping the retail market strong, Shea said. He explained that if businesses are doing well, investors are more likely to start a business or expand a current one. Shea pointed to areas such as Belmont Shore and the crowds that amass there throughout the week to eat and shop as a good sign for the market. He also noted interest rates have not jumped as predicted, which is helping to keep the market healthy.
However, Shea has noticed that medical marijuana is having an effect on retail, with users already demonstrating their willingness to pay a lot more for a lease. He said this gives a false sense of worth to the properties and could begin to have a negative impact on surrounding businesses.
"As far as any tenants that are around them, I think it will hurt them. I think the clientele will change, and I don't see anything good coming of it," Shea said. "I think it will be long term and continue to get worse and worse. I see it hurting big."