The oil and gas industry is a leading economic driver and major employer in the State of California, creating more than 368,000 jobs, according to a June report by the Western States Petroleum Association. The report also states that the industry produces $33 billion in labor income, $148 billion in total economic output and more than $50 billion in local, state and federal taxes.
Oil
While oil-drilling activity has increased dramatically nationwide, according to Bob Barnes, executive vice president of operations for California Resources Corporation, activity in California remains low.
"California has been the third-largest oil producing state for decades, but domestic statewide production levels are decreasing," Barnes said. "At a time when our state is embracing the mantle of environmental leadership for America, California is missing an opportunity to be a shining example that a state or country can achieve energy self-sufficiency while applying the most stringent standards in the world."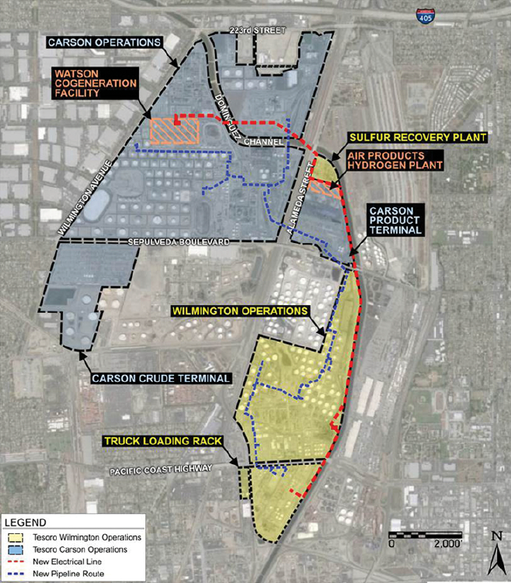 In June, the South Coast Air Quality Management District and the U.S. Environmental Protection Agency approved 18 permits for the integration of Tesoro Corporation's Wilmington and Carson refinery facilities. The $460 million project will physically connect the adjacent facilities and is expected to increase crude oil storage and processing capabilities, while reducing emissions. (Image courtesy of Tesoro)
Instead, Barnes explained that California is becoming increasingly dependent on oil produced in areas with lesser environmental, labor, human rights and safety standards. In 2016, Barnes said California imported a record 67% of its oil from other countries and Alaska to meet the ever-increasing demand.
The growing dependence means California's working families are subsidizing energy development, jobs and taxes in other states and foreign countries, according to Barnes.
"In an ever-changing and uncertain world, increasing California's energy supply is the best way to ensure that all Californians have access to affordable and reliable energy," Barnes said. "Our mantra is 'Energy for California by Californians,' and we are dedicated to ensuring that California has a vibrant and sustainable future by all measures – environmental, economic and social."
Catherine Reheis-Boyd, president of the Western States Petroleum Association, said that while the prominent political atmosphere in California is promoting a well-funded off-oil agenda, residents in the state consume approximately 2 million gallons of gasoline and diesel fuel per hour. According to the California Department of Motor Vehicles, as of December 2016, there were about 32 million registered vehicles on the road.
California oil producers must be more calculating when it comes to exploration and drilling activity due to stringent regulation. Reheis-Boyd explained that it is a major challenge to comply with state regulations and still remain competitive in the open market.
The fees associated with the oil industry are not restricted to producers, Reheis-Boyd noted, but are also felt by consumers at the pumps. Prior to Senate Bill 1, the cost of gasoline included 74.83 cents per gallon and the cost of diesel included 82.71 cents per gallon in taxes for low carbon fuel standard, cap and trade, underground storage tanks, and state and federal taxes. Beginning November 1, SB 1 increases gasoline tax by 12 cents per gallon and diesel tax by 20 cents per gallon for road maintenance and rehabilitation.
According to Reheis-Boyd, there are opportunities in the state to ramp up exploration and production, which would mean less imported oil brought in on tankers and trains, thereby reducing emissions harmful to the environment.
"So we would love to do more exploration and production in California if the regulatory environment would allow us," Reheis-Boyd said. "I'm not going to say that it's just the regulations, because one of the biggest factors for producing crude oil is the price you get for it when you sell it."
Currently, oil prices are in the low $40 range, according to David Slater, executive vice president and chief operating officer of Signal Hill Petroleum (SHP). Slater said that for SHP, current prices mean they can maintain current operations and remain profitable, but both the company's drilling rigs have been mothballed for the time being.
"We're definitely in a lower activity mode as far as discretionary spending," Slater said. "But we're maintaining our high-caliber operations and keeping our focus on safety and keeping a focus on being environmental and neighbor friendly."
While SHP's and other California companies' activities are low, Slater said that United States production has essentially doubled with recent drilling of shale plays in Texas and other states. This introduction of millions more barrels of oil per day into a full market is what is creating price volatility, which Slater said is likely to continue through the year.
Slater said he hopes prices at least swing up into the low $50 range so that California companies can begin ramping up activity to help meet the demands of residents.
"Our pitch is always, we need the energy and the access. The clean, affordable energy is what differentiates our society from a lot of other places in the world," Slater said. "And it is just an all-around winner if we could just produce that energy right here in our own backyard."
Tesoro Corporation
On June 1st, it was announced that Tesoro Corporation and Tesoro Logistics LP will change their names to Andeavor and Andeavor Logistics LP, respectively, beginning August 1. The announcement comes on the heels of Tesoro's acquisition of Western Refining Inc.
"While our name is changing, our strategic priorities, financial discipline, guiding principles and the foundational elements of how we operate remain the same," Chairman, President and CEO Greg Goff said in a press release. "We will continue to focus on optimizing our highly integrated refining, marketing and logistics system, caring for the communities where we operate, aiming to achieve the best safety and environmental performance in the industry and investing in our people and assets."
Several weeks after the acquisition finalization and rebranding announcement, the South Coast Air Quality Management District issued Tesoro 18 permits to facilitate the continued integration of the company's Wilmington and Carson facilities. In a June 20 letter, U.S. Environmental Protection Agency officials stated that permits had been reviewed and found eligible to be issued.
The $460 million investment is meant to physically connect, further integrate and update the adjacent facilities. The project would reduce greenhouse gas emissions locally to the equivalent of removing more than 13,500 passenger vehicles from the roads each year. Nitrogen oxides, sulfur oxides, particulate matter and carbon monoxide are also expected to decrease, while volatile organic compounds are expected to increase.
While connecting facilities, the project does not expand the boundaries of either but will increase the feedstock processing capability by approximately 2%, or 6,000 barrels per day.
The project also features two new storage tanks at the Wilmington facility to replace smaller tanks and six new tanks at the Carson facility, which will decrease the number of trips required to transport crude oil from marine vessels to the facilities. Currently, multiple trips mean longer berth and wait times for ships at the port, which increases emissions – in addition to emissions produced by the transport between the port and refineries.
According to an independent study by the Los Angeles Economic Development Corporation, the project would create more than 4,000 jobs, generate $715 million in revenues for local businesses and contribute more than $91 million in local, state and federal taxes.
According to a company spokesperson, construction activities are scheduled for completion by the end of 2018, while construction related to the storage tanks is expected to continue within the refinery's boundaries until March 2021.
Gas
According to the United States Energy Information Administration, from February through April, Californians consumed more than 463,700 million cubic feet of natural gas for all uses, including residential, commercial, industrial, vehicle fuel and electric power. The department website shows that the citygate price (a point at which a distributing gas utility receives gas from a natural gas pipeline company or transmission system) of natural gas was $3.31 per thousand cubic feet.
According to Thomas Lawson, president of the California Natural Gas Vehicle Coalition, a statewide association made up of about 25 companies related to the natural gas vehicle industry, 2017 has been a good year for natural gas.
"You will start to see a shift in focus in the rise of renewable natural gas [RNG]. That is a game changer because it is a 100% complete biofuel," Lawson said. "The California Air Resources Board sent out a report earlier this year stating that of all the natural gas dispensed in California, 61% was renewable natural gas."
In May, the Los Angeles County Metropolitan Transportation Authority awarded a multiyear contract to Newport Beach-based Clean Energy Fuels Corporation to provide its Redeem brand RNG, which is the first renewable and commercially available vehicle fuel made from 100% organic waste. Lawson said the fact that L.A. is doubling down on RNG is a good sign of where the industry is headed.
The new low-NOx Cummons Westport engines for commercial uses for medium-sized vehicles and eventually heavy-duty trucking is another technological advancement that is putting natural gas in the spotlight, Lawson explained. In order for California to hit its lofty environmental goals within the desired timeline, Lawson said these types of technologies that would replace diesel engines must be utilized as much as possible.
"The ports are looking at doing an update to their Clean Air Action Plan, and we definitely believe that the renewable natural gas industry should be a part of that plan," Lawson said. "It's key that information gets out there to the people who are making decisions so they can make sure that California has all the tools in its toolbox to do what we want it to do, which is be cleaner, create jobs in California, as well as grow and foster a renewable energy sector in the state."
At the end of May, the Southern California Gas Company announced several pipeline safety enhancement projects to begin this summer in San Luis Obispo and Santa Barbara counties. The $14 million upgrades are meant to enhance the region's pipeline system, which serves about 73,000 customers.
"Thousands of people in San Luis Obispo and Santa Barbara counties will benefit from this investment in the natural gas pipeline system," Rick Phillips, senior director of SoCal Gas' Pipeline Safety Enhancement Plan, said in a press release. "More than 90% of homes in this region use natural gas for heat and hot water, and about 60% of all electricity generated in California is made by natural gas-fired power plants."
The company is spending approximately $1.2 billion this year for improvements to distribution, transmission and storage systems and pipeline safety, as part of its five-year $6 billion capital plan. During these projects, SoCal Gas customers are not anticipated to experience any service interruptions.