Stronger economic growth is expected both at a national and regional level this year, in part due to tax reform, according to economists interviewed by the Business Journal.
"We're looking for a bit of an acceleration in the economy," Steve Cochrane, managing director for Pennsylvania-based Moody's Analytics, said. "If 2017 comes in at 2.3% growth for real GDP – and that's still an estimate because we don't have fourth quarter [figures] yet – in 2018, we're looking at something closer to 2.8% [growth]."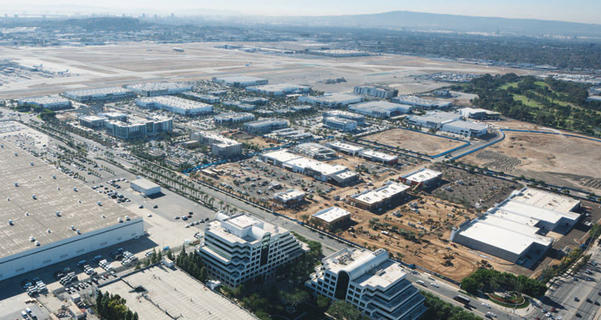 Most of the new jobs created in Long Beach during the past few years are due to the Douglas Park project north of the Long Beach Airport and along Lakewood Boulevard. This photograph – taken in December for the Business Journal by Evan Patrick Kelly – shows most of the project area, which includes the massive Mercedes processing facilities. The most recently completed projects are two of the four 25,000-square-foot buildings that make up The Terminal at Douglas Park, and the Hampton Inn & Homewood Suites 241-room dual-brand hotel. The 265,000-square-foot Long Beach Exchange at Douglas Park retail center is expected to be a major retail destination. Its opening is pegged for May 12. (Business Journal Photograph)
Cochrane's projection for increased economic growth in 2018 is related both to policy and cyclical economic momentum. "First of all, the labor market is very tight. We have got the unemployment rate down at almost 4%," he said, noting that this is considered equivalent to full employment. "The labor market will get tighter, and we will get an acceleration in wage rates. So consumer spending should be a good force to drive the economy next year."
Regionally, the industries that led the economic recovery – trade-related sectors, health care and leisure and hospitality chief among them – are expected to continue faring well. But there have been some job losses in sectors that are actually on strong footing, due in part to automation, according to Robert Kleinhenz, economist and executive director of research at Los Angeles-based Beacon Economics.
Despite a strong year for the San Pedro Bay ports, transportation and warehousing employment decreased in Long Beach last year, Kleinhenz noted. And although the financial markets are doing well, financial services jobs decreased too. "In both of those cases, I think we have to recognize that automation is playing a role as these sectors try to be more efficient," he said.
Overall, however, the Long Beach labor market is strong, having grown by 1.6% last year, according to Kleinhenz. "I think we're looking at growth rates in the labor force of about 1% for the region, including Long Beach," he said. "And what that means is that the unemployment rate will probably continue to edge down, and we'll see continued growth in job counts."
Steven Banks, newly appointed chief economist for the Los Angeles County Economic Development Corporation, noted that there is some disconnect between the skills of the labor force and those required to fill open positions. "There are a lot of job openings in Southern California where there simply aren't the workers who have the technical and vocational skills to fill those jobs," he said. "What does it mean for things like vocational schools, technical schools and community colleges? There are huge opportunities there to align the skills that an employer wants with the development of the labor force."
Mark Vitner, senior economist for Wells Fargo, said he expects wages to increase by as much as 4% this year. Effective January 1, the minimum wage in California increased to $10.50 for employers with 25 employees or fewer and to $11 an hour for employers with 25 employees or more.
The increasing minimum wage – which is slated to reach $15 per hour in 2023 – has had some impact on hiring, according to Vitner. "One of the things that we have seen is much less hiring in retailing," he said. "Employers in industries that tend to hire a lot of workers at the minimum wage are trying to find ways to conduct business with fewer workers."
New tax legislation passed in December increased the standard individual deduction by nearly double, to $12,000. "For many people who don't itemize, they are probably going to see things improve bottom line as far as their federal taxes are concerned," Kleinhenz said.
"The tax change is going to allow a lot of households to get a tax break if they're lower and middle-income households," Kleinhenz explained. "Upper middle-income households will be the group that gets caught in the bind and are likely going to have to pay more taxes. And then high and very high-income households are going to see some huge tax breaks."
The business community is a clear beneficiary of tax reform – the new corporate tax rate is 21%, reduced from 35%. Following the passage of the tax bill, companies across the nation announced wage increases and bonuses for employees.
"The bottom line on tax reform is that the U.S. economy has been operating with an antiquated tax system that was last updated in 1987, well before we had Internet and before the Berlin Wall came down," Vitner said. "The tax system needed to become competitive with the rest of the world. And this [reform] largely does that through the lower corporate tax rate."
The equity markets continue to reflect business optimism. "The Dow [Jones Industrial Average] went over 25,000 yesterday [January 4] – yet another record high," Cochrane said. "The wealth effect is pretty strong these days. It's seemingly an important driver for housing markets and for consumer spending, more than we have seen in the past." (Note: By January 12, the Dow had exceeded 25,800.)
There is one glaring caveat to tax reform, however. "We're anticipating a huge increase in both the budget deficit and in turn the national debt over the next 10 years, if the tax plan survives over that time span," Kleinhenz said. "When the economy is doing well, many economists would argue that this is the time when you should be trying to rein in the deficit and reduce the debt service that is required on the national debt."
While tax reform is expected to have a mostly positive effect on the economy, it is going to hurt the pocketbooks of some California homeowners. "The lowering of the mortgage interest deduction and the cap on state and local taxes is going to hurt homeowners who are in that $750,000 to $1.5 million range," Vitner said.
Economic growth in California is now starting to increase more rapidly in inland areas where housing is more affordable, according to Vitner. Tax reform should encourage movement toward inland areas due to the cap on property tax, he noted.
"One of the challenges is that housing has become so much more expensive. Housing costs have increased so much faster than income growth," Vitner said. As of the third quarter of 2017 – the latest data available – only 28% of Californians could afford a median priced $555,680 home, the lowest rate of affordability seen in a decade, according to the California Association of Realtors.
Renters don't have it much better. According to Banks, Southern California has the highest rental rate in the country.
While construction of apartments is ramping up in California, much of the new construction is high-end, according to Vitner. And, in many cases, older, mid-priced apartment buildings are being torn down to make way for these new developments, he added. "Nobody is building mid-priced apartments. There's no added supply there," he said. "It's a real challenge for folks."
In Long Beach, affordable housing is the hot button topic of the day, according to Kleinhenz. In February, the city council is expected to debate and pass an update to the city's Land Use Element, a proposed document that initially included increased densities and building heights but has since been whittled down, due to community pushback. Kleinhenz noted that population growth in the city is very slow due to a lack of new housing.
"For all intents and purposes, the Millennials are now a part of our labor force going forward. And the City of Long Beach has to think long and hard about how attractive it is as a place for people who are of age to enter that workforce and grow the economy," Kleinhenz said. "If we're not building sufficient housing or the kind of housing that they want to live in, then I'd say we're running the risk of choking off economic growth in this city."
Click here to read the outlooks for nine local industries.