According to this year's economic profile on Downtown Long Beach, the area is thriving. Aided by a "vibrant local and regional economy," business confidence is soaring. In addition, the rise of nontraditional office space and an expansion of retail options are leveraging downtown's creative potential and attracting new demographics to the area.
A survey conducted by Beacon Economics to compile the profile analyzed data from 2017 and 2018. It found that, in 2017, 81% of downtown businesses expressed confidence that the economy will expand in 2018, and 43% plan to hire more employees this year. Kraig Kojian, the president and CEO of the Downtown Long Beach Alliance, which produced the economic profile, said the overall strength of the economy in 2017 contributed to this level of assurance.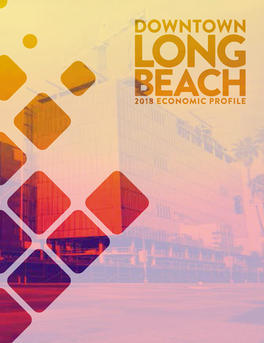 According to the report, 2017 saw 180 net new businesses downtown, increasing the number by 15% from the previous year. The report stated that gross sales receipts in Downtown Long Beach have reached a record high, and that the area has become a "destination for consumers seeking a holistic shopping experience."
"I think there's an evolution when it comes to the types of business moving into an evolving area," Kojian said. "A strong foundation has been laid already by the previous business owners that have been here for more than a handful of years. For example, Beachwood BBQ, Rainbow Juices, Pier 76 Fish Grill and BO-beau kitchen + roof tap have strong followings and are [creating more options] in Downtown Long Beach. That, in turn, has created more buzz for newer concepts such as R Bar, Yoga108 and Gu Ramen Taps & Tapas. Yoga108 is open, and R Bar and Gu Ramen will open in the near future.
However, the survey found that downtown residents would like more retail options for groceries, household items and electronics. According to Kojian, any gaps in the types of businesses represented are due to the lack of right demographics to support them. "I think it's going to take stronger demographics. Downtown Long Beach is improving in many ways. [The demographics] are definitely getting stronger," he commented. "There's going to be a bottom line where the demographics will step over that threshold and the types of businesses that are missing now will come."
The survey constructed profiles of the types of people who are choosing to call the area home. Statistics reflected a significant increase in two categories: "metro renters" and "trendsetters."
"Metro renters," one of the fastest growing segments, were defined as well-educated professionals around 33 years old. They live near their jobs, typically in one of the area's older apartment buildings or condos. They also tend to walk or use a ride-hailing service as their primary form of transportation. According to last year's economic profile, they comprised 23% of the area's residents in 2016, while in 2017 they made up 32%.
The other growing demographic, "trendsetters," made up 17% of Downtown Long Beach residents in 2016, while last year their ranks rose to 30%. They are defined as having a median age of 36, and are also single and well educated. They do not own homes or vehicles and tend to spend their disposable income on upscale city living and entertainment.
Kojian said that, in addition to diverse retail and dining, the influx of young professionals could be attributed in part to the rise in creative co-working spaces. These environments serve as a community for freelance workers, entrepreneurs and startups.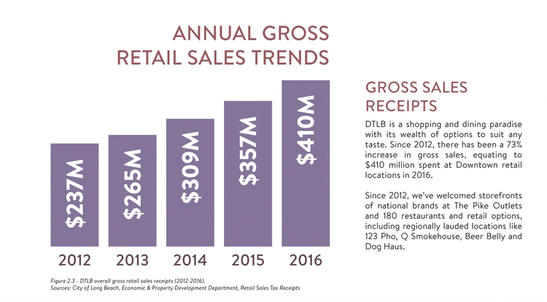 According to Kojian, the continued expansion of co-working spaces such as WeWork Long Beach, Work Evolution Laboratories and the P3 Office Lofts reflects the "entrepreneurial spirit that's driving more small business owners to feel and see flexible spaces without the usual constraints of long-term leases in a commercial office space."
The report also noted that other office spaces are undergoing renovations to meet the desires of the workforce. Some of the attractive amenities may include libraries, outdoor hangout areas, collaboration tables and artwork. "The environment in Downtown Long Beach is becoming more youthful, energetic and creative," Kojian said. "I'm sure a rise in creative office companies helps."
At the end of 2017, seven residential projects were under construction downtown, representing 1,038 new units, the report stated. Even with the added inventory, Kojian projected that housing demand is strong enough to fill the buildings. "We have about 95% residential occupancy, which is considered very healthy in a stable market," he said.
According to Kojian, the residential occupancy rate was at around 97% two years ago before the completion of apartment projects such as The Current and Edison. After that, he noted that rates dipped below 94%, but that the buildings filled up within an eight-month timeframe. "The demand for housing remained strong at all levels and is likely to remain so until the market is able to meet pent-up demand," Kojian said.