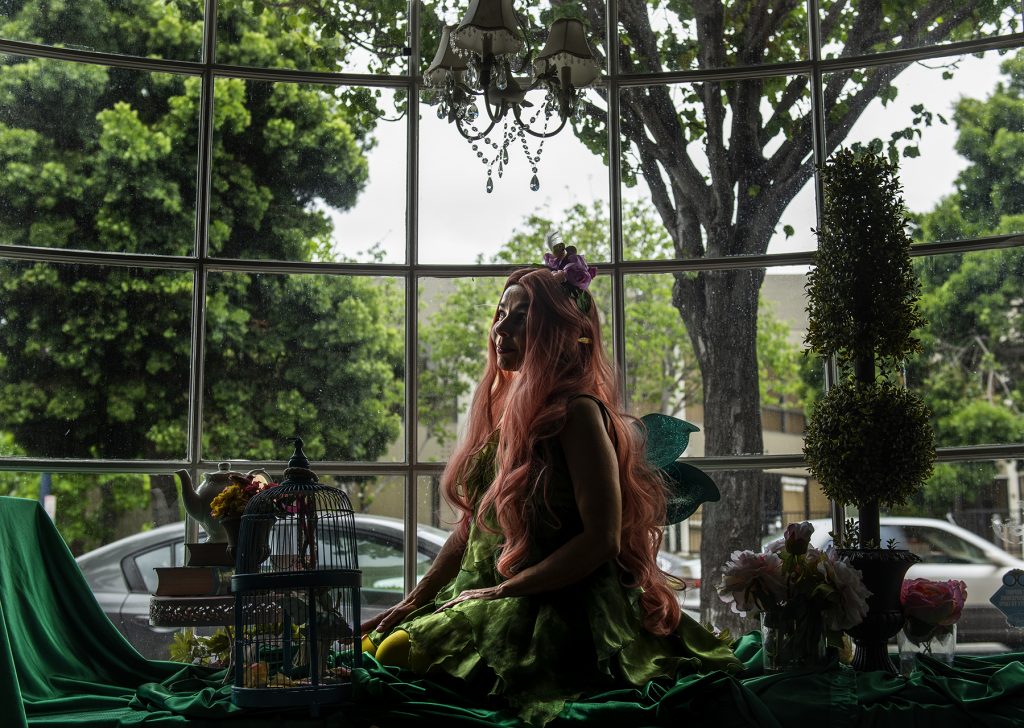 For 17 years, Elena Hassan has been hosting elaborate tea parties for children—and some adults—all over Southern California. For Hassan herself, the fantastical world she creates has been a way to escape the stress of everyday life and has carried her through challenging times. 
Now, she is bringing her magic to the former Elise's Tea Room, at 3924 Atlantic Ave., in full Alice in Wonderland fashion.
The old-fashioned tea room, located in a row of mom-and-pop shops in Bixby Knolls, recently closed due to the coronavirus lockdown. The mounting costs, the former operator, Elise Benavidez, said in a Facebook post, had become too much to bear without any revenue coming in.
When Hassan saw the "For Lease" sign in the window, her heart jumped. She already had a brick-and-mortar location for her business on Studebaker Road where she hosted themed parties before the pandemic. Taking over Elise's Tea Room would allow her to add a tea parlor, something she'd long dreamed of doing.
"I love the outside of the building, how old-fashioned it is," Hassan said. "I always wished that it was mine."
When the landlord offered her some very favorable terms, the details of which she preferred to keep private, Hassan saw it as a sign.
"I felt like the universe was putting everything in place, so I had to say yes, I had to take a chance," Hassan said. 
The new owner is hoping to turn the tea parlor into a physical manifestation of the magical worlds she dreams up in her head, and has been transporting into reality through her event planning business over the past two decades.
Creating magic is her business, but it's also something deeply personal for Hassan.
"I'm a geek at heart. Any chance I get to wear a costume—I'm all about it," the 45-year-old said. "I've just never really quite grown up in that way. It's helped me through a lot of difficult times."
A few years ago, Hassan went through a lengthy divorce. Crafting costumes, throwing tea parties—it helped her deal with the stress. "I like to be able to escape to that magical world. And I like to be able to do that for others, especially kids," she said.
The new tea room has once again given Hassan an opportunity to escape into her own world, in a way. When she began her renovations, the walls still bore the markings of the tea room's traditional past, some of which she hoped to retain, but there was still plenty of work to be done.
The location is split into two rooms, the blue and the pink room. The blue room, Hassan said, will be used to host pre-booked events and photoshoots, similar to her current location. The pink room will be used as the tea parlor. 
"We want it to be a place where grannies still want to go to have tea, but their cool granddaughters will want to take them," Hassan said. Her mother, an interior decorator and artist by profession, is in charge of making her dreams of the space come to life. 
Paintings of animals in Victorian outfits, dusty pastels and pops of color are some of the pins on Hassan's vision board. 
"I like to call it a modern, urban, edgy Marie-Antoinette style," she said. "I want it to be a funny, quirky place, with a modern edge."
Over the years, Hassan, has become a tea enthusiast with a vast knowledge of teas, she said, and she's acquired a collection of hundreds of tea cups, plates and saucers to match. "I literally don't have to buy anything for the tea room except for tables and chairs," she said. 
Scones, cakes and other sweets will be supplied by local vendors Rossmoor Pastries, Sweet and Saucy Shop and Corona-based Kake and Kettle. Although crafty, Hassan doesn't consider herself much of a baker and said she and her team will stick to preparing tea and assembling sandwiches on site.
To provide additional funding to bring the event space into compliance with ADA standards, Hassan has been selling gift certificates to be used once the tea parlor has opened. 
Her main focus has been "just to stay afloat and not lose my business entirely," she said. "I'm excited, but I'm absolutely terrified at the same time. I haven't slept in quite a while."