Dr. Lourdes Ramos-Rivas, the first Latina president and CEO of Long Beach's Museum of Latin American Art (MOLAA), has ambitious plans to grow the museum into a first-class institution with international clout.
A museum professional with 20 years of experience, Ramos-Rivas has spent her career immersed in Latino art. Prior to being recruited by MOLAA's board and taking over leadership of the museum in May 2017, Ramos-Rivas served for 13 years as executive director of the Museo de Arte de Puerto Rico and as the director and curator of the Institute of Puerto Rican Culture's national collection. The Puerto Rican native also completed a fellowship at the Museo Nacional Centro de Arte Reina Sofia in Madrid, Spain. In addition to her role at MOLAA, she is one of seven commissioners for the American Alliance of Museums tasked with accrediting museums throughout the United States.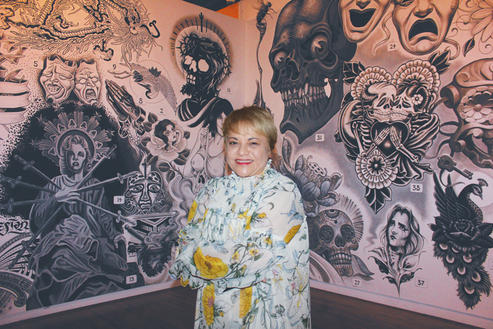 Dr. Lourdes Ramos-Rivas became president and CEO of the Museum of Latin American Art in May 2017 after being recruited by the board. She has plans to create new centers of study at the museum and to lift the institution to international prominence. (Photograph by the Business Journal's Brandon Richardson)
Ramos-Rivas is spearheading a strategic plan for MOLAA, a planning process to expand its collection and storage facilities, and a feasibility study to create a research center on Latino and Latin American art and a center for the study of murals.
"The trajectory of muralists in L.A. is huge. We want to build up the first study center for murals," Ramos-Rivas said. "We are in the process of conceptualization and looking for the resources."
Creating centers of study at MOLAA will require building additional facilities. The museum has the land to expand, but has not yet secured funding, Ramos-Rivas explained. "We have to set up a capital campaign. We have to look for partners," she said.
As she begins undertaking this process, Ramos-Rivas is also working on growing the museum's leadership. In the past year, the museum has brought on a vice president of development and a vice president of content and programs, she noted. Another priority is expanding the current board of 10 to 21 individuals. Three new boardmembers were recently installed, she said.
As for any nonprofit, another ongoing focus for MOLAA is fundraising. "It's not easy fundraising in general in this area. I found that it's quite difficult, not just for MOLAA, [but] for all the nonprofits," Ramos-Rivas said. "We have to build up the culture of philanthropy for everybody here in Long Beach."
Although she has only been leading the museum for close to a year and a half, Ramos-Rivas has already secured exhibitions and events that have put MOLAA in the spotlight. Recently, the museum hosted the World Forum on Mexican Gastronomy, a celebration of Mexican cuisine featuring lectures, demonstrations and, of course, food samplings. It was the first time the forum had ever been held outside of Mexico. More than 27,000 people visited the museum for the event, Ramos-Rivas noted. "It was really a very strong, a very beautiful and a very colorful experience," she said.
Last year, MOLAA participated in "Pacific Standard Time: LA/LA," a collaboration among 70 art institutions in Southern California sponsored by The Getty and Bank of America. MOLAA's exhibition as part of the collaboration, "Relational Undercurrents: Contemporary Art of the Caribbean Archipelago," is currently traveling to museums across the country, including in New York, Florida, Portland and Oakland. "It is the first time an exhibition produced by MOLAA traveled to other four venues," Ramos-Rivas noted.
Coming up in October, the museum will again be under the gaze of the art world as it honors Placido Domingo, internationally acclaimed opera star, with its first-ever Legacy Award. The honor will be bestowed to Domingo at MOLAA's annual gala on October 5, a major fundraising event for the museum, Ramos-Rivas said. "He is not just a big singer, but also a real icon of philanthropy. And, of course, he is the director of the L.A. Opera and is an extraordinary human being," she said of Domingo. The concept of the Legacy Award is to honor people who make an impact in the art world and in the community, she explained.
Overall, Ramos-Rivas views MOLAA as the "house of culture for Latinos" in Long Beach and greater region – an institution that serves to educate the public not only about Latino, Latin American and Chicano art, but also about the associated cultures. "Culture is about the knowledge of each other," she said.
MOLAA continues to offer a variety of educational programming, including workshops and field trips for public and private school students, according to Ramos-Rivas. "We support all the students in the way that we can with the resources we have," she said.
The museum has three ongoing exhibitions running through February 2019, when new exhibitions will be installed. Currently on display are: a selection of works by Peruvian artist Cecilia Peredes; "Ink: Stories On Skin," which examines L.A. Chicano culture and tattoo art through the lens of the history of Long Beach, the former Pike Amusement Park and the presence of the U.S. Navy; and "A Dream Is The Shadow Of Something Real," a solo exhibition of work by Chicana artist Judithe Hernández.
The museum also has a full calendar of special events. "We have other special events coming up, like concerts, some dinners, films, and some documentaries coming soon," Ramos-Rivas said. MOLAA also occasionally offers cultural trips to foreign countries. "We went this year to . . . the art fair of Argentina. It is the most relevant in Latin America," Ramos-Rivas said. "We visited artists' studios and collectors' houses." Events listings can be found at molaa.org.
"For MOLAA's future, I want a robust institution that can support Latino/Latin American art in a very open way, in a very progressive way . . . with the right facilities to support art in residence and to produce the most marvelous exhibitions of Latino/Latin American art, and with a strong board." Ramos-Rivas said. "Everything you can envision in a first-class institution, that's what I want for MOLAA."