Founded by Kam Babaoff and his father in 1980 and headquartered in Downtown Long Beach since 1996, real estate investment and development firm Ensemble Investments continues to expand both in geographical reach and focus. Now with investments and projects in eight states, as well as a new focus on multi-family development, the firm continues to look to Downtown Long Beach not just as its home, but also as an ongoing investment opportunity.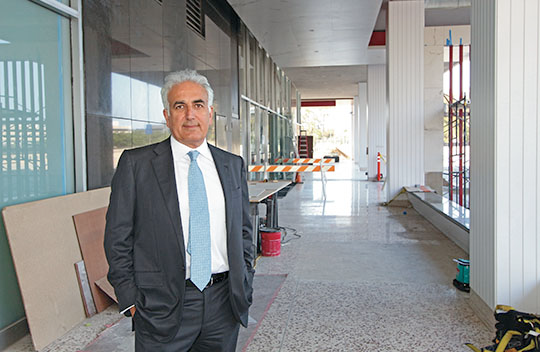 (Kam Babaoff, managing director of Ensemble Investments)
"We like Downtown Long Beach. We feel at home," Babaoff said in an interview at his office in the California Bank & Trust building at 444 W. Ocean Blvd, which Ensemble owns. Babaoff is a managing director of the company.
Ensemble's hospitality division designed, and owns and operates the Hotel Maya, a Doubletree by Hilton resort hotel located on the Queensway Bay near the Queen Mary. The company recently finished remodeling all of the Maya's guest rooms, in addition to revamping its event spaces. Additionally, Ensemble owns and operates the Residence Inn Long Beach Downtown, also on the Queensway Bay, and has plans to remodel it, Babaoff said. The company was originally founded as a hotel investment business, he noted.
"Downtown L.A. is on fire now with all kinds of residential and commercial development and hotels. And I think it's time for Downtown Long Beach to be on fire also," Babaoff said. Recently, Ensemble Investments added a division focused on multi-family developments, which is already set to make its mark on Downtown Long Beach.
The firm has two projects planned south of Ocean Boulevard – a 113-unit apartment building at 207 Seaside Way, and a 95-unit apartment complex behind the California Bank & Trust building. According to Babaoff, the latter's lobby will be at the same level of the California Bank & Trust building, where a second location for Belmont Shore's cafe Aroma Di Roma is currently under construction.
"We're very bullish on the multi-family residential [market] in Downtown Long Beach, and we intend to do more," Babaoff said. When asked about potentially investing in properties formerly owned by the Long Beach Redevelopment Agency, many of which are now for sale, Babaoff pointed out that his company used to own one of the most coveted of these properties at the southeast corner of Ocean Boulevard and Pine Avenue.
"We used to own Ocean and Pine for 10 years. Maybe we'll buy it back," he said. "That's like a gateway. It needs to be done very carefully."
Much of the real estate development underway in Downtown Long Beach is taking shape in the form of multi-family residential buildings, with the exception of The Pike Outlets. Although at least 2,000 units are planned or underway in the area, Babaoff still doesn't think it's enough to spur significant retail and commercial investments.
"In order to create a critical mass in downtown and make commercial [real estate] work, you need residents down there," he said. "That process got started 10 years ago with the addition of a number of new residential buildings. It got cut short with the recession, and the process got stopped," he explained.
"To really get that critical mass, my recommendation to the mayor was to build as many as 5,000 units if we could," he said. "It's possible over the next four to five years." With more residents, more retailers would be attracted to the downtown area, he noted. "If we have good residential and retail and have an active downtown, I think the commercial [development] will follow. It will be a long process, but it will follow."
Even with the potential created by ongoing and planned residential projects, city government needs to play a role in making the downtown area more conducive to commercial office users, Babaoff asserted. One of those issues to be solved is making transit to the downtown area easier. "That's beyond any developer solution. That's a government solution," he said. "I don't know what that solution is, but to me it is an impediment to attracting major tenants to come downtown."
Local government also needs to play a more active role in attracting a major commercial office tenant with a name that would then attract smaller office users to the area, Babaoff said. "You need a major tenant to come in before office buildings can get built," he said. "You don't build spec office buildings any more. Those are things of the past," he explained. "Hopefully in the next 10 years we get to build some more office buildings. But it has got to be tenant driven. If the city can go attract some major tenants to come in, that would be the answer."
Real estate developers also would be more likely to move ahead with projects in Downtown Long Beach if the entitlement process could somehow be expedited, Babaoff pointed out.
Although he had suggestions for how city government could be more active in fostering real estate investments, Babaoff was complimentary of city leadership and staff. He commended Mayor Robert Garcia for his role as a "cheerleader" for the City of Long Beach. "You need that. You need the enthusiasm and the energy to be the leader and bring businesses to the city," he said.
Outside of Long Beach, the company has multiple projects under construction, including hotels in Emeryville, Menlo Park and Ithaca, New York. Ensemble also has a new hotel planned in Pasadena, which will break ground in December. "The cornerstone of our company is innovation and development," he said.
"We want to be in great locations. We will build assets that match the location and the community," he said, noting that Ensemble's designs are far from cookie-cutter. "We want to be environmentally sensitive and do projects that are going to last for a long time."
In the future, Babaoff's vision is to keep Ensemble headquartered in downtown as it continues to invest both within Long Beach and far beyond the city's borders.