On Wednesday, June 26, the two sides in a yearlong conflict between the Association of Long Beach Employees (ALBE) and the office of Long Beach City Manager Pat West conducted the last day of evidence presentations in an ongoing fact-finding process related to contract negotiations. The union has been unable to reach a memorandum of understanding (MOU) with the city since it broke away from the International Association of Machinists and Aerospace Workers (IAM) in 2016.
Union members and representatives are frustrated with the lengthy and so far fruitless negotiations, and are anxious to see what results the fact-finding process will yield. The evidence-gathering portion of the fact-finding process was expected to conclude on June 19, but the independent chair of the three-person committee leading the effort requested an additional day to review the matter.
The union's general counsel, Wendell Phillips, said he's optimistic that the fact-finding process will result in a recommendation that favors significant raises for ALBE members. Still, he noted, that recommendation is non-binding and doesn't guarantee an actual raise for workers represented by the union. "So far in this process, we're not encouraged by what we've seen," Phillips said.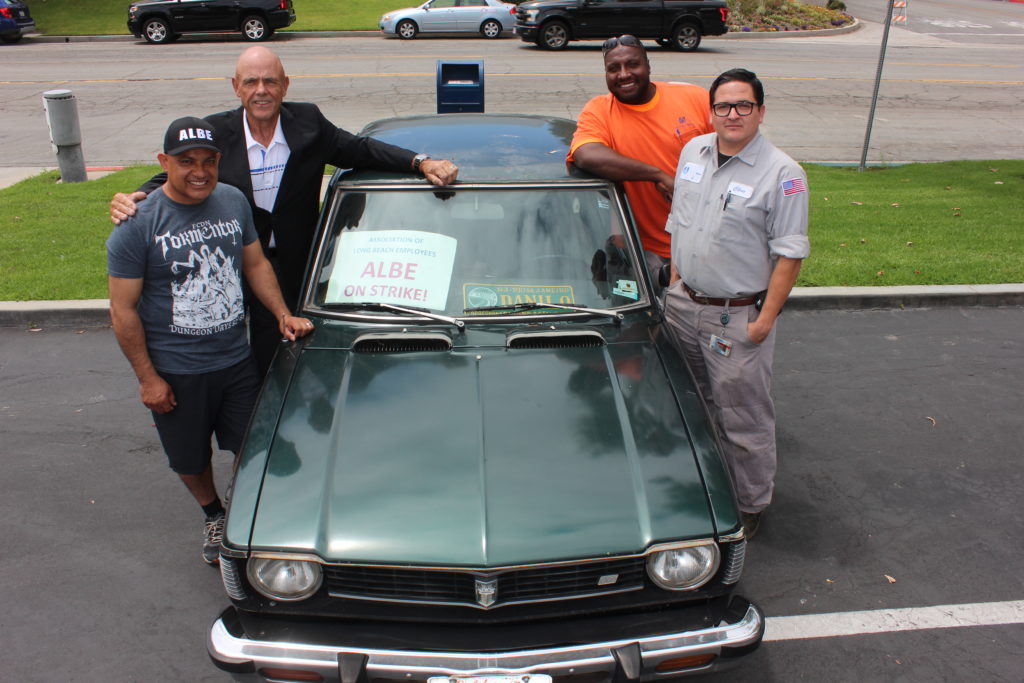 ALBE members are currently subject to terms imposed on them by the city council in October 2018. Those terms, modeled after the memorandum of understanding between IAM and the city, provide union members with a 2% raise per year to account for annual cost-of-living increases. In an interview with the Business Journal, Phillips suggested that IAM, the union which ALBE members broke away from in 2016, agreed to the annual 2% raise in an attempt to quickly close a contract with the city before more workers could leave the union.
The three-year MOU signed by IAM in 2016 also includes what is commonly referred to in labor negotiations as a "me too clause," a provision that prevents the city from offering higher wage increases to other unions without applying these higher wages to IAM members as well. "By the time we got to negotiations, all we were ever going to get was 2%-2%-2%, and that's why our members turned it down," Phillips explained, referring to the existing agreement of an annual 2% wage increase for three years signed by IAM and the city. "That's why we don't have a contract today." With the city's MOU with IAM set to expire at the end of September, there's a possibility ALBE will find itself in the same situation again, unless the results of the fact-finding process sway the city council to request more favorable conditions for the new union.
City of Long Beach Labor Relations Manager Dana Anderson said she was not at liberty to discuss details of any offers made during the ongoing negotiations.
Daniel Galaz, who said he has worked for the Long Beach Water Department for 30 years, didn't express much optimism. "From my experience, it doesn't look good. But it has to do with participation, too," Galaz said. Only about 35 members of the union answered a call to show up in support of their representatives in front of the Long Beach Energy Resources offices on June 19. "They want the money, but they don't want to put the effort in." Galaz said he came to show that he's ready to fight for better wages, not just for himself, but for the new generation of workers hoping for a career with his department. Right now, he noted, Long Beach's water department is colloquially referred to as a "training facility for DWP," the Los Angeles Department of Water and Power.
A recent graduate of the department's non-career training program, Alondra Soto said she's seen several of the other trainees in her cohort accept higher-paid gigs with the DWP after gaining paid job experience and certifications through the Long Beach program. Soto, who was recently hired as a full-time employee by the Long Beach Water Department, said she's not immune to the lure of a bigger paycheck. "You feel bad, because they took a chance on you, but at the end of the day, it's about money," Soto said. "Even with the little experience that I have, I'm already getting offers in the mail to come to work with other cities."
According to a 2018 compensation study commissioned by ALBE, Long Beach workers in the Water Utility Mechanic I classification received a maximum base salary of $4,528 per month. The same study listed the maximum base salary for a similar position in the City of Los Angeles at $7,167. Despite this reported difference in pay with nearby Los Angeles, Long Beach Manager of Labor Relations Dana Anderson said there were no persistent issues with attracting and retaining workers to the classifications and departments represented within ALBE's membership.
"There have been particular classifications that have had issues, in which there have been adjustments to those classifications, but I wouldn't say it's an issue," Anderson said, providing no further details. "There are a few exceptions, but it's not the majority of the group."
Long Beach Water Department General Manager Chris Garner told the Business Journal he supports salary increases for a majority of his department's field workers, particularly the water utility mechanics used in ALBE's compensation study, noting that the loss of qualified workers posed a threat to the operations of the water department.
"We were losing people to competing water agencies," Garner said. "My goal in this is to protect our operations. That's my obligation to the board, that's my obligation to the customers. I have to make sure that I retain the trained and certified employees that do the work. If I start losing employees to other agencies, it's very expensive to replace them." According to Garner, supervisors in his department recently received a salary increase of approximately 10% as a result of these considerations. For workers represented by ALBE, salary increases are subject to the ongoing negotiations. "Until that is finalized, it's in limbo," Garner said.
Soto said she wants to stay for at least a few years to pay the city back for its investment in her career. But, she noted, that choice is much harder for some of her colleagues. "It's different for me because I'm single and I don't have kids. So I don't need this raise," she said. "But there are a lot of these guys who have families, and they can't even afford to live in Long Beach."
Adam Klempke, who has been working in the water department's sewer division for several years, said his income has had a significant effect on his home life. Klempke said his wife is unable to work due to a disability, and depending on his income alone has led the couple to put off having children for fear that the financial responsibility would overwhelm them. "We're trying to be smart about it and not get into something that I can't afford," Klempke said. The couple would have liked to purchase a home in Long Beach, but settled for Bellflower instead.
In his eight years with the department, Klempke has witnessed both efforts to attain raises by IAM and the current fight under ALBE's flag. The reaction by city leadership, he said, has been disappointing. "I was around when the IAM was first trying to do this and so I remember going to the city council meetings, and it's just kind of disappointing, because we show up – we had the entire stands full there – and they weren't very responsive to us," Klempke recounted.
While the city's reaction to both unions' efforts have made him feel unappreciated at times, Klempke said he feels supported by his own department and Garner. "I work for the water department, I love the water department, I have no ill feelings against the water department. But it feels like the city is holding everything back," Klempke said.
He also noted that the union's goal to achieve pay increases across several city agencies might be a detriment to water department workers, who constitute the largest employee group among ALBE's membership. "I know they're trying to get an increase for every unit, which I would love to see happen," he said. Instead, he said, he'd prefer separate negotiations for each department, a step that would threaten the sense of unity among ALBE workers. According to Treasurer Danilo Landaverde, union members hail from 11 different departments, including the harbor, energy resources and public works departments. "Ideally, I would have liked to have seen them break each department apart, as sad as that is," Klempke said.
A worker with the Parks, Recreation and Marine Department, who came to the city offices on Spring Street to support the union on June 19, said unity was crucial to the success of the effort. "We're all skilled and general workers, so even though we're from different departments, we are in this together as one," the employee, who asked for his name to be withheld, told the Business Journal. "I feel good about it as long as everybody can come together with the strength in numbers, because everybody here is underpaid."