Evolve Theatre, a new theater company with Long Beach roots, is making its debut at the Long Beach Playhouse's Studio Theatre on March 18 with a new play entitled "Choosing Us*." Managing Director Kenny Allen and Artistic Director Ryan Weible are the founders and leaders of the theater company, which is dedicated to enacting positive social change through its performances.
Allen holds a bachelors degree in theatre arts from California State University, Fullerton and has worked in marketing and administrative capacities for the Segerstrom Center for the Arts, The Laguna Playhouse, Shakespeare Orange County and South Coast Repertory. Weible holds a bachelors degree in performance studies from San Diego State University and a masters in educational theater from New York University. In addition to roles directing and script-supervising productions in New York, Weible has directed more than 50 plays and musicals in California.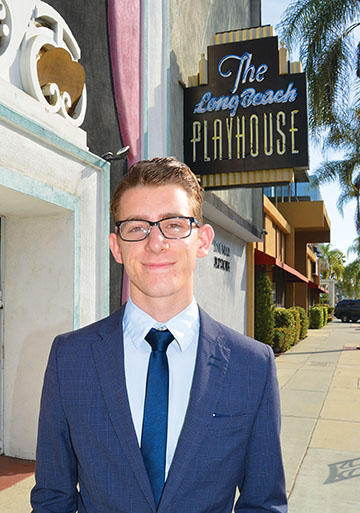 The two were inspired to have Evolve Theatre's first project focus on transgender issues when they learned of the 2014 suicide of transgender teen Leelah Alcorn. After meeting with leaders of the transgender communities in Long Beach and Los Angeles, Allen and Weible commissioned two transgender writers, Lino Martinez and Rain Valdez, to write "Choosing Us*." Vanessa Espino served as a co-author and advisor to the two playwrights, who are also playing the lead roles.
"It's the story of two different characters both on their own journeys of self discovery," Allen told the Business Journal. "Throughout the play they get closer to finding out more about who they are and what love and family means to them, and finding out what their gender expression means to them."
Kenny Allen, managing director of the new theater company Evolve Theatre, is pictured outside the Long Beach Playhouse where his firm is making its debut March 18 with the play "Choosing Us*." The Playhouse is located at 5021 E. Anaheim St. near Pacific Coast Highway. For more information about the play, the company and performance dates and times, visit: www.evolvetheatre.org.
The play is being funded by an Indiegogo crowdfunding campaign, according to Allen, who noted that the new theater company is sourcing its funding from private donations.
In the future, Allen said Evolve intends to address whatever issues need the most attention, as suggested by the community. "Already we've had different community leaders and organizations that have been asking if we would consider doing a project in the future," he said.
While "Choosing Us*" is a traditional theatrical performance, Allen said future productions are likely to be done in the style of interactive theater, in which audience feedback and participation are sought during and after performances. Eventually, he would like to mount full seasons of performances.
"Choosing Us*" performances take place March 18, 19, 25 and 26 at 8 p.m. at the Long Beach Playhouse, 5021 E. Anaheim St. General admission is $15, and the cost for students and seniors is $10. For tickets and more information about the theater company, visit www.evolvetheatre.org.