The City of Long Beach is leveraging data and technology to make the city more accessible to new businesses and increase the productivity of existing ones through initiatives such as BizPort, an online portal for aspiring entrepreneurs; My Sidewalk, a platform for providing demographic data; and the fiber master plan, an effort to expand Internet connectivity citywide.
The city launched BizPort in December 2016 to reduce confusion prevalent among prospective business owners when they came to city hall to apply for a license, John Keisler, the director of economic development for the City of Long Beach, said. The portal breaks down the process of starting a business from the planning phase to launching and eventually growing an individual venture.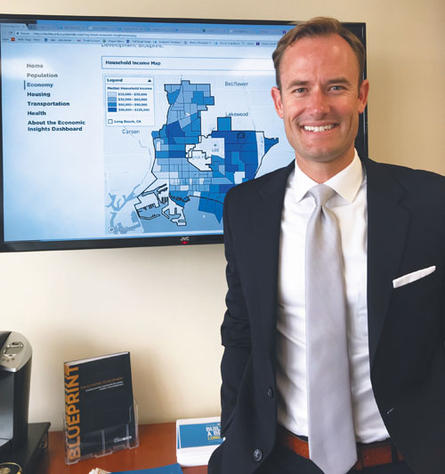 John Keisler, the director of economic development for the City of Long Beach, demonstrates My Sidewalk, a new program that provides maps and graphs outlining the city's demographics. This information, according to Keisler, is essential to prospective business owners and commercial real estate brokers looking to invest in the city. (Photograph by the Business Journal's Anne Artley)
"People were coming to city hall to get a business license and didn't realize they needed to do about eight other things first," Keisler said. "It took added time and confusion. In some cases, they had already signed a lease and were losing money. And time is money!"
Some of the steps necessary to creating a business plan include identifying funding sources, creating a marketing strategy and determining whether a particular type of business is accepted under the city's zoning requirements for a particular area. "A lot of people make the mistake of signing a lease for a property where they're not allowed to [operate] the kind of business they'd like, and they go bankrupt," Keisler explained. "Most people starting a business have a talent, but they don't necessarily know about planning departments, zoning and restrictions."
According to Keisler, many prospective entrepreneurs do not know about the resources offered through the Long Beach Public Library, which are linked through BizPort. Some of these include one-on-one tutorials on computer skills and bilingual English and Spanish computer classes. BizPort also connects users to SCORE, another previously underutilized program which provides a mentor from a network of retired business owners free of charge.
"We have workforce development resources through the federal government," Keisler said of the services accessible through BizPort. "Most people don't know that. We can actually pay half the salary for new employees to get on-the-job training. People also don't realize the city has a small business loan program. We have businesses that have been here a long time that never realized they could get loans through the city."
Keisler said the BizPort program aims to reduce complexity for entrepreneur. "The technology is designed around where [business owners] are in their journey. By the time they come in to register their business they've done all the work, so approval comes quickly."
To help aspiring business owners in the early stages of the process, the city launched the My Sidewalk program at the California State University, Long Beach Regional Economic Forum, on April 25.
My Sidewalk provides maps and graphs outlining the city's demographics. It breaks down data such as the per capita income and the median ages of residents in every neighborhood. "One of the most important things we hear when we talk to businesses who want to locate here or from commercial real estate brokers who are trying to bring people to the city is that they want this economic information," Keisler explained.
According to Keisler, the breakdown of demographics is important for prospective business owners since Long Beach may not appear attractive to investors on the surface. The city's median household income is $55,151 and the per capita income is $27,752, which Keisler said is less than in Orange County and the City of Los Angeles. "Retailers might look at that and might not want to invest here," he said. "But when you actually map it, the median household income is $122,526 on one [the east] side of town. That's higher than the state average and in Orange County. A lot of people are also shocked that it's so high in Naples or in Belmont Shore. There's a real disparity in income between neighborhoods."
Keisler said My Sidewalk allows prospective business owners to view the number of active and pending business licenses in the areas where they are considering setting up shop. Another tool reveals the consumer expenditures for an area and breaks down purchases into retail categories. "Business owners can see if there's a demographic to support their business," Keisler explained. "It goes back to the steps outlined in BizPort. You don't want to spend money before you know what's going on around you. We have all these tools which would cost around $30,000 if you asked somebody to do it for you."
According to Keisler, the My Sidewalk program meets one of the goals of the city's blueprint for economic development: to build an online platform that tracks and reports performance for each of the city's key objectives for business growth. Some of these include increasing the number of active business licenses, lowering the cost of business operations, reducing the median number of days for licensing approval, and raising the number and value of small business loans.
My Sidewalk also tracks Internet access and the average advertised download speed in each neighborhood. Increasing availability and access to high-speed Internet is another one of the city's economic objectives. As part of Long Beach Fiber Master Plan, the city is expanding its network of optic fiber to improve connectivity.
Two weeks ago, the Long Beach City Council approved an ordinance that streamlines the process for reviewing and processing applications to install small cell antennas. This measure paves the way for faster and more accessible Internet, which in turn helps businesses reach prospective customers. "If you're advertising online, it can help your customers find you," Keisler said. "When you see that you have four bars on your phone, that's connectivity to four small cells. If you're out walking around, looking for a certain type of business, you can more easily find it on your phone. You can also quickly upload an Instagram picture, for example, which is like an ad for a business."
Keisler added that greater connectivity helps businesses run more efficiently from the point of sale, such as a customer running their credit card, to online accounting. "I don't think there's any other city using data and technology like we are," he said.