In the United States, historically, minority-owned business owners have been disproportionately underrepresented in terms of gaining access to capital to start and fund their businesses due to years of racial and economic discrimination.
"There are certain variables that may act as obstacles for minority-owned businesses . . . especially when it comes to borrowing money," Seyed Jalali, Long Beach economic development officer, said. "We see and we feel that a majority of the victims that fall into the predatory funding trap are indeed minority-owned businesses."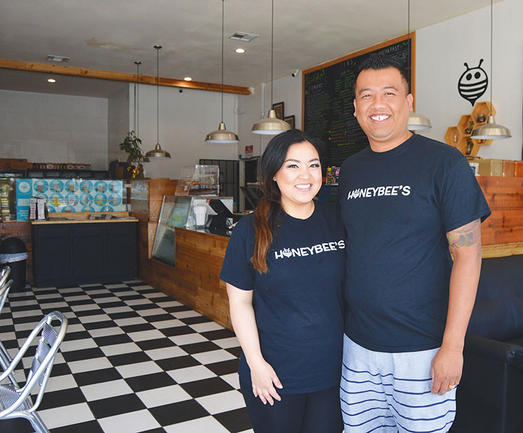 Jackson and Mareni Khem, owners of Honeybee's, a coffeeshop on the corner of Loma Avenue and 3rd Street, said they had to work especially hard and adapt to create a successful shop in a predominantly Caucasian neighborhood. (Photograph by the Business Journal's Larry Duncan)
Jalali said the country has come a long way in the past 20 years but that immigrants coming to the country still face challenges attributed to language barriers, education level and cultural norms. For example, he noted Cambodian immigrants have an inherent fear of government due to government corruption and the genocide of the Cambodian people in the past. He explained that this fear makes them less likely to reach out for government assistance while starting and maintaining a business.
Prior to 1977, banks were known to "redline" certain neighborhoods within cities, meaning they would not lend money to those within these low- to moderate-income areas. The Community Reinvestment Act of 1977 was designed to discourage these discriminatory credit practices, which Jalali said worked overall and is no longer an issue in Long Beach.
John Keisler, director of the Long Beach Economic and Property Development Department, said that through community outreach, his department has determined the greatest challenge facing minority-owned businesses other than access to capital is confusion over the process of starting a business.
"So confusion was the number one challenge, and that was because of, in some cases, [lack of] linguistic familiarity with the city itself, the network and knowing who to call, and the mentors and those kind of things. And lack of clarity," Keisler said.
Sometimes, the challenges faced by minority-owned businesses are not at the governmental level, but rather other companies within the industry of the business. Such is the case for Guy Barton, owner of Long Beach-based Tahlequah Steel, named after the Cherokee Nation city in Oklahoma.
Barton explained that leading competitors in the reinforcing steel industry are disrespectful and claim the firm only obtains business because of government mandates to allocate business to minority-owned companies.
"So what we have to do as a minority business – you've heard that cliché to 'give 110%' – well, we need to give 120% in our work ethic and our building to show our competition that we do just as well or better service in building," Barton said. "It's a greedy world."
With 44 years in the industry and now working under the tenth-largest steel company in the world, Gerdau, Barton said he has heard it all but has become very thick skinned. The company recently completed work on part of the new Gerald Desmond Bridge in Downtown Long Beach.
Jackson and Mareni Khem, owners of Honeybee's, a coffeeshop and market on the northwest corner of 3rd Street and Loma Avenue, said their biggest challenge was gaining a foothold and support in the neighborhood, which they said is mostly Caucasian.
"Sometimes people aren't kind of sure about the business, and people are a little hesitant to come try it out. So it's just a lot of work for us to prove ourselves," Mareni said. "Before we took over, it was a market. And it was owned by an Asian before, and he didn't really have a good reputation here before. And now it was another group of Asians coming in to take over."
Jackson explained that the couple adapted the business to the neighborhood by asking residents what they were looking for in the space. The couple celebrated the store's one-year anniversary on May 1 and said now that they have proven themselves, the surrounding community loves and embraces the shop.
"They keep telling me, 'Please, do not leave,'" Jackson said. "What we do here, it was never our dream. It's the neighborhood dream."
Leoh Sandoval, owner of Aguas Way, a family-run cafe near the intersection of Long Beach Boulevard and Platt Street in North Long Beach, had the exact opposite experience as the Khems. Sandoval explained that many of the businesses in the majority-Hispanic neighborhood are pretty worn down and beat up.
"Most of the Hispanics aren't used to the type of atmosphere that we have – a little bit more hip and modern look. They don't travel downtown or to Bixby Knolls to eat at a place like we have," Sandoval said. "So when they come to our establishment, they see it and they assume right away that we are really high priced because of the look, which we're not."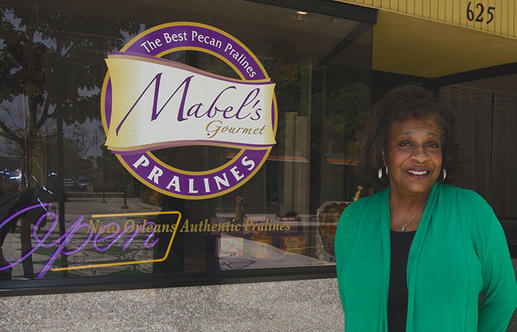 Saundra Christmas, owner of Mabel's Gourmet Pralines on Pine Avenue, said her greatest challenge is excessive fees imposed by the city when she wants to participate at farmers markets, festivals and other city events. (Photograph by the Business Journal's Larry Duncan)
However, being a Hispanic-owned business in a majority-Hispanic community does have its perks. Sandoval explained that many patrons, particularly the older generation, enjoy being able to go into a nicer establishment and speak Spanish with the staff.
Sandoval also said he was not able to finance his business and instead relied on loans from family and friends to pay for startup costs. Other than this small financial hurdle, he said the startup process with the city was smooth.
Some minority business owners, such as Saundra Christmas, owner of Mabel's Gourmet Pralines on Pine Avenue, do not experience any challenges directly as a result of racial factors. Christmas explained that her main challenges are the constant fees imposed by the city, something every business owner must endure.
"I've already met the guidelines that the city says I have to in order to keep my store open, but if I go to a farmers market or a festival, I'm again hit with another fee," Christmas said. "If someone comes to do business in Long Beach as an outsider, I'm basically treated like them. I have to buy a new permit, even though I have paid for a permit at the store."
Vice Mayor Rex Richardson thinks more can be done to assist small businesses, particularly minority owned, in achieving their dreams. He said the city has been working to highlight and accentuate these businesses more to showcase Long Beach's diverse and unique culture.
However, Richardson explained that he would like to see the process of starting and maintaining a business be made easier for all, particularly small, minority-owned businesses.
"Given the diversity in Long Beach, there's really a niche here for minority-owned businesses, and we should be just a little bit smarter in how we leverage our diversity and really highlight our culture," Richardson said. "Support for minority-owned businesses has to be central to any economic development strategy that we have."