Fern Nueno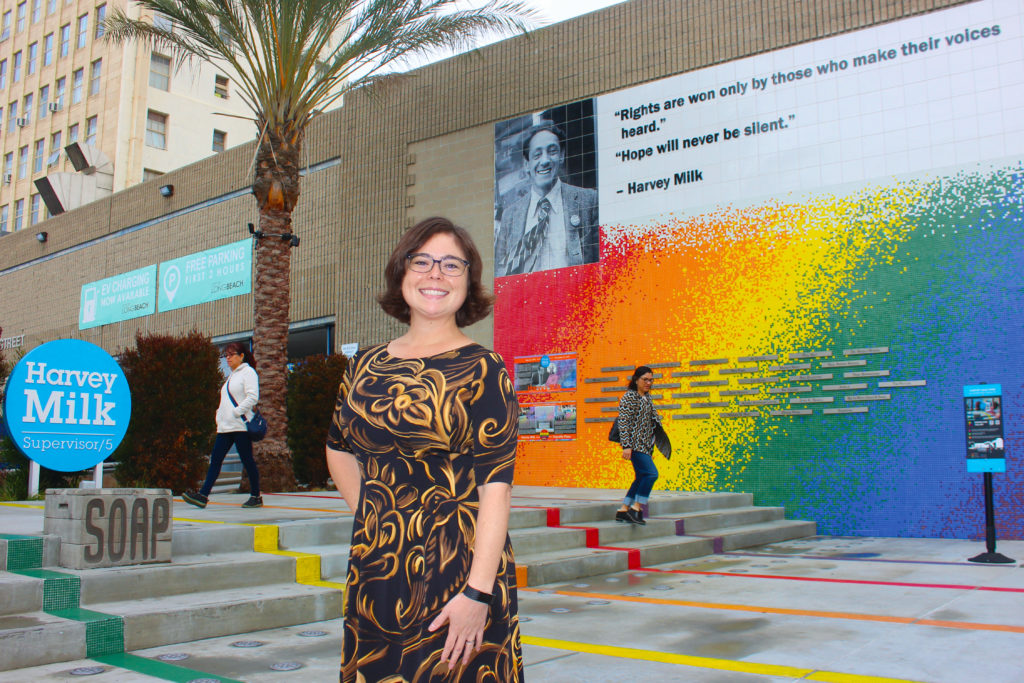 By Samantha Mehlinger, Editor
Through her work with Long Beach Development Services and now with the city's economic development department, Fern Nueno has contributed to a variety of efforts to improve the city's downtown.
As a project manager with economic development, Nueno oversees the leasing of city-owned property, much of which is located along the downtown waterfront, including the office complex Catalina Landing and the retail center Shoreline Village.
Nueno first joined city staff as a planner focused on long-range plans for Long Beach, including the Land Use Element, Bicycle Master Plan and other documents. She also served as the staff liaison for the city's Queen Mary Land Development Task Force, a group of community stakeholders brought together by the city to develop a vision for the land around the Queen Mary.
Some of Nueno's favorite projects were those that made a visible impact on the downtown. "I worked a lot on the parklet and sidewalk dining guidelines. We worked really closely with business owners in downtown and the DLBA on that," she said, referring to the Downtown Long Beach Alliance. Since revising these guidelines, downtown has become known for its parklets – parking spaces converted into patios that both provide an atmospheric setting for business patrons and also help slow traffic on downtown streets.
"It's fun looking at activating public spaces and including placemaking and art," Nueno reflected.
Nueno also looks fondly on her time engaging the community to improve Harvey Milk Park at the Promenade in downtown. "Harvey Milk [Park] is such an asset in downtown and in the city," she noted.
When she takes her government hat off, Nueno can be heard once a month on Long Beach Public Radio, 99.1 KLBP, co-hosting the show "This Is Long Beach." The show highlights Long Beach's unique neighborhoods. "Every month, we pick a different neighborhood in the city and we try to highlight it by talking about the history, culture, food scene [and] all of that. And we'll interview business owners, employees, residents of the area, and anyone who has a unique perspective to tell," Nueno explained. To hear past episodes, visit soundcloud.com/thisislongbeachradio.
Anthony Davies And Mike Wellman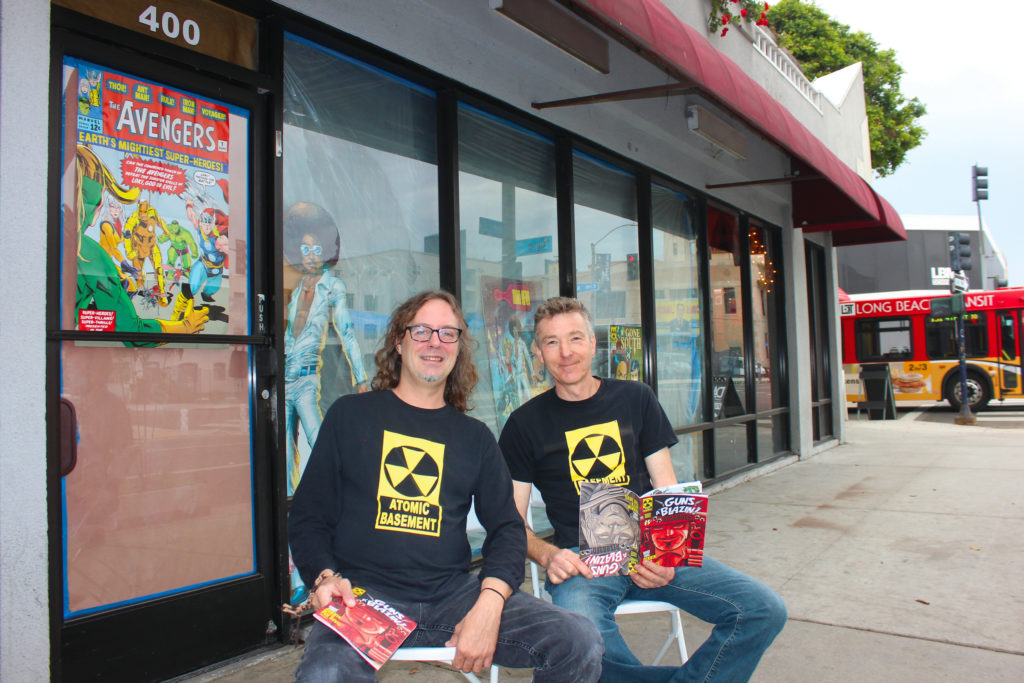 By Brandon Richardson, Senior Writer
Mike Wellman has been a part of the comic book community for 25 years. For the last 15 years, Wellman worked at The Comic Bug, a store he helped create in Manhattan Beach. Now, along with business partner and longtime friend Anthony Davies, Wellman is gearing up to open Atomic Basement Comics at 400 E. 3rd St. in Downtown Long Beach.
"My initial plan was for a Downtown L.A. location near the Alamo Drafthouse because I think that's going to be a really nice geek hub. But nothing really jived with us," Wellman said. "So, our friend gave us a tour of Long Beach. I love records, so we checked out Fingerprints and found this incredible arts district that's blossoming."
According to Wellman, the reason the East Village Arts District caught his attention is because his comic store is going to put a much greater emphasis on the comic creator than other comic shops. Every Wednesday night, after regular business hours from 7-10 p.m., Atomic Basement Comics will become The Lab, a space for comic writers and artists to collaborate and create. Every year, Wellman and Davies will select one locally created comic to publish through Wellman's publishing company Atomic Basement.
Wellman said he plans to strengthen his ties to Long Beach by collaborating with the annual Long Beach Comic Expo and Comic Con events, as well as by hosting special events such as signings and Free Comic Book Day in public spaces, including nearby parks. He also noted a desire to partner with LBMA Downtown (the downtown location of the Long Beach Museum of Art) located across the street from Atomic Basement, to showcase local comic book artists.
"There's just so much to do; I'm like a kid in a candy store. And it's walkable – that's what I like about Long Beach," Wellman said. "A lot of creators live here and I have a feeling I'm going to meet a lot of new people, so I'm excited about that."
Wellman and Davies plan to open Atomic Basement's doors on January 1, with a grand opening celebration on Saturday, January 22.
Pastor Wayne Chaney, Jr.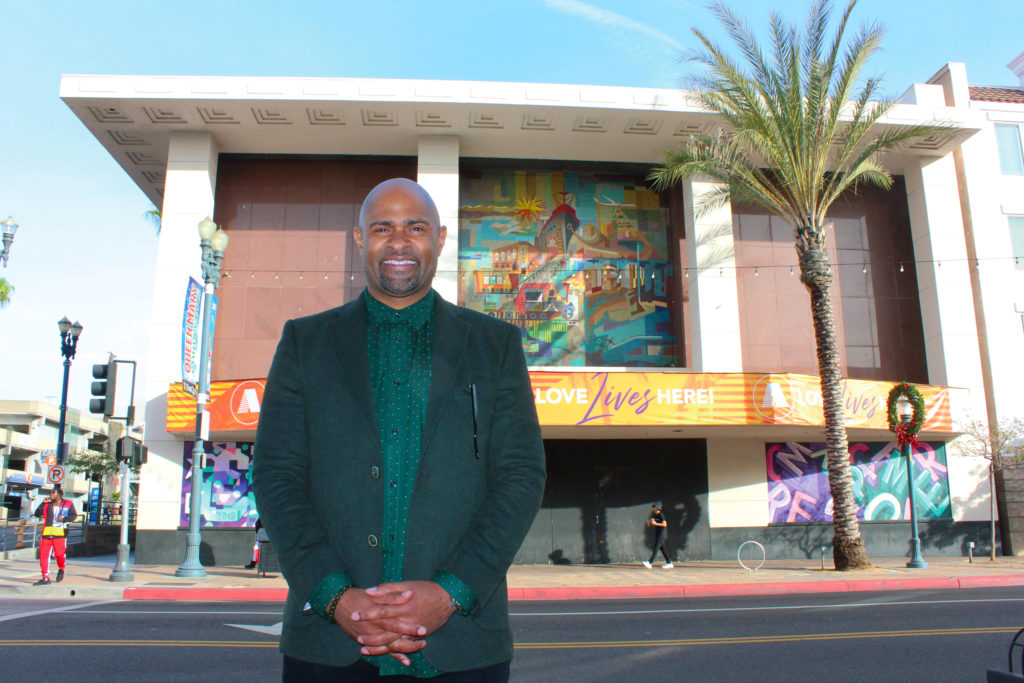 By Alena Maschke, Senior Writer
Pastor Wayne Chaney, Jr., lead pastor of Antioch Church, has always felt a strong connection to Downtown Long Beach. Chaney's great-grandmother worked on Pine Avenue, where she introduced his parents to one another. "It precedes me, the connection to Downtown Long Beach," Chaney said. "But it's always been a place where we shopped, went to the movies, hung out."
The first Long Beach Gospel Fest, a project of Chaney's, took place on the corner of Broadway and Pine in 2009 and at the Marina Green in the following, until the annual celebration entered a hiatus in 2015.
Now, Chaney is planning to bring music back to the same streets that have long felt so familiar to him and his family, with Antioch's acquisition of The Vault 350, a former concert venue located at 350 Pine Ave.
When he was younger, Chaney wouldn't have foreseen that he'd be leading the church through such a major transition – let alone leading it at all. "I did not want to go into ministry, I wanted to go into law," he remembered. But when he visited his grandfather, the founder of Antioch, almost two decades ago, he realized the church had suffered some losses. "The once booming ministry had dwindled," Chaney recounted. "It just broke my heart." In an effort to return the 58-year-old congregation to its former glory, Chaney worked on building its youth program. In 2003, he took over as lead pastor.
Currently under renovation, the Vault will soon provide a new home for the church, which currently holds Sunday services inside the auditorium of Long Beach Polytechnic High School. By renting out the space for concerts and events to cover operational costs, Chaney hopes to free up the church's funds for programming.
"In this day and age, we have to be wise about our resources, but also make sure that our massive vision isn't financed on the backs of contributing members," Chaney said. "We want as many of our dollars to go toward transformation as possible: the transformation of people's lives and the environments we live in."
Jewels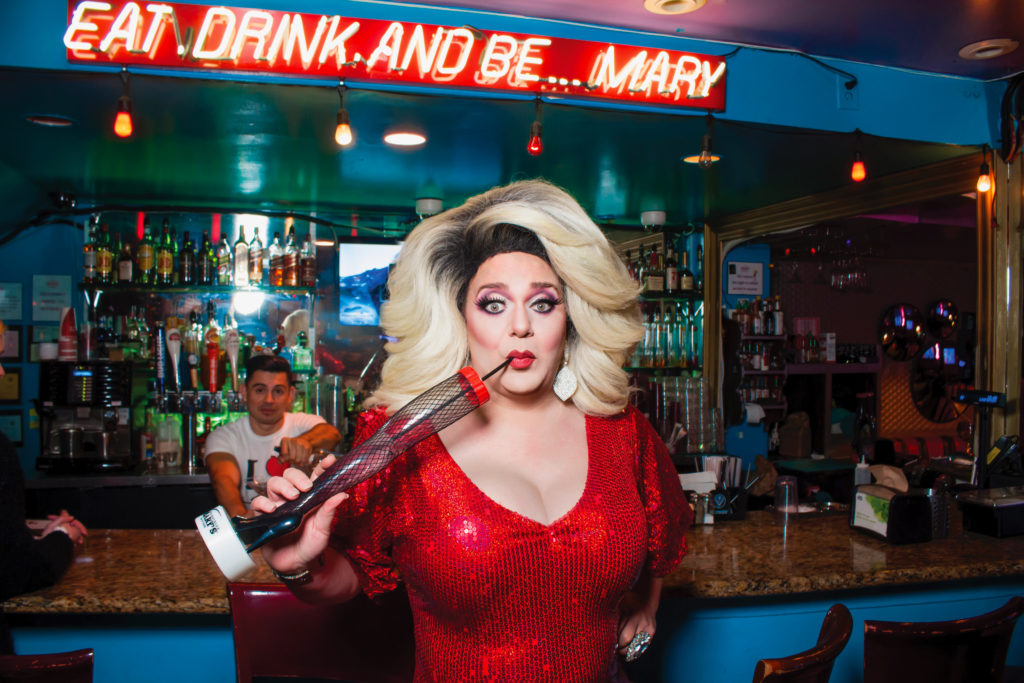 By Brandon Richardson, Senior Writer
Over the last 21 years, Jewels has solidified herself as a Long Beach icon and champion for LGBTQ+ advocacy, not only within the LGBTQ+ community but also through her citywide charitable efforts and her work as an entertainer and event host.
"I'm a strong believer in giving back to the community . . . and putting good out into the world. I think being an active part of our city, not only the culture and arts communities, but also helping those who need assistance, is super important," Jewels said. "It's not only the right thing to do . . . it enhances that sense of community."
In 1998, when she was 18 years old, Jewels moved from a small desert town near Death Valley to Long Beach. Shortly after the move, Jewels began her work as a Long Beach entertainer as part of the live "Rocky Horror Picture Show" at the Art Theatre of Long Beach.
Now, as one of Long Beach's preeminent drag queens and event hosts, having performed and hosted events at Hamburger Mary's since 2001, Jewels is in a unique position to assist in local fundraising efforts. She noted that through her working relationships, she can connect nonprofit organizations with entertainers and venues to support their causes. She sponsors, organizes and works numerous events annually to benefit The LGBTQ Center Long Beach, the AIDS Food Store and other Long Beach organizations.
This year, the annual Easter Walk, which Jewels is a part of, raised over $40,000 for the CARE Center at Dignity Health St. Mary Medical Center. Over the years, Jewels has played a key role in raising hundreds of thousands of dollars for various causes; however, she doesn't have the faintest idea of exactly how much. "I don't keep track of that," she explained. "Most of my fundraising efforts are collaborative. If you're keeping stats on what you personally raise, that's kind of an egotistical move."
Jewels has been recognized and honored for her efforts, including being inducted into the Equality Plaza Honor Wall at Harvey Milk Park in 2018. This year, she was presented a key to the city by Mayor Robert Garcia on December 17.
Jon Peterson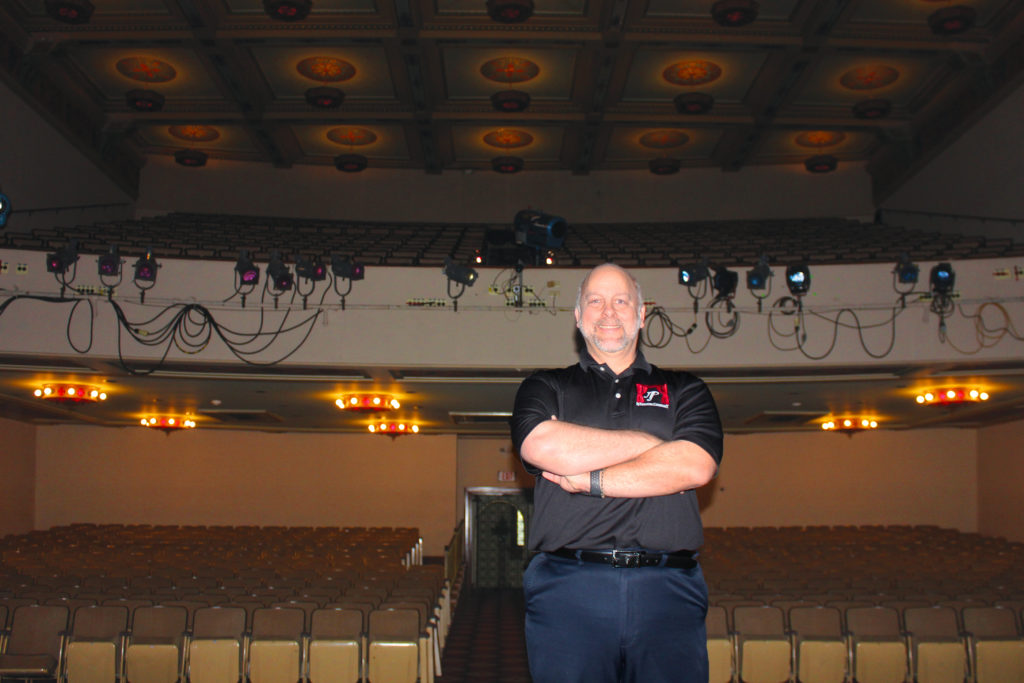 By Alena Maschke, Senior Writer
In the world of theater, Jon Peterson is a bit of a self-described anomaly. A trained actor, Peterson also completed a master's degree in business administration, and he spent the last decade working in the trade show industry.
That's until one day, his passion for the stage got the best of him. In 2018, he quit his job and moved to Taiwan for a temporary, six-week assignment as a musical theater teacher. "I loved the [other] job, it was great, but I was ready to get back into theater," he said of his decision.
When Peterson returned to Southern California that same year, he decided it was the right time to start his own theater company, something he had long dreamed of doing. He began to research regulations and best practices for setting up a nonprofit theater company, and a friend told him to get in touch with The Nonprofit Partnership. "It's probably the best choice I made in this whole process," Peterson noted.
In March 2019, Peterson's P3 Theatre Company announced its inaugural lineup, featuring Andrew Lloyd Webber's classic "Evita" as well as "Steel Magnolias," "Sordid Lives," "Gypsy" and "A Chorus Line," to be performed at the Ernest Borgnine Theater housed in Downtown Long Beach's Scottish Rite Event Center.
In addition to providing paid opportunities for professional actors to perform, Peterson said he's eager to play a role in the community, providing access to the arts to a broad spectrum of people. P3 regularly invites volunteers of other nonprofits, many of whom are seniors, to attend dressed rehearsals, where they can see the play's final version free of charge. "It's my philosophy that I will never deny anyone admission to the theater because they don't have the money," he explained. The company also provides professional actors to other nonprofits for musical theater workshops.
The dramatic life change has been worth it, Peterson concluded. "It's challenging as heck, but the fact that I get to spend my days connecting with people who are doing what they do because they love [it]; it just means a lot," he said.