There are few companies that have had a presence in Long Beach as long as that of Farmers & Merchants Bank, and perhaps even fewer that have made so many lasting marks on the community. Farmers & Merchants Bank got its start because the people of Long Beach invested in it – and the bank has never ceased returning the favor. In part because of Farmers & Merchants, schools and churches were built, the local YMCA got its start, the Long Beach Symphony is still playing, and a major hospital was able to grow.
At the bank's historic headquarters on Pine Avenue – an architectural icon of Long Beach's past, built in 1923 – President W. Henry Walker told the Business Journal that he is the fourth generation to lead Farmers & Merchants, but that it is the core values instilled by the family's first generation that continue to guide the bank's practices.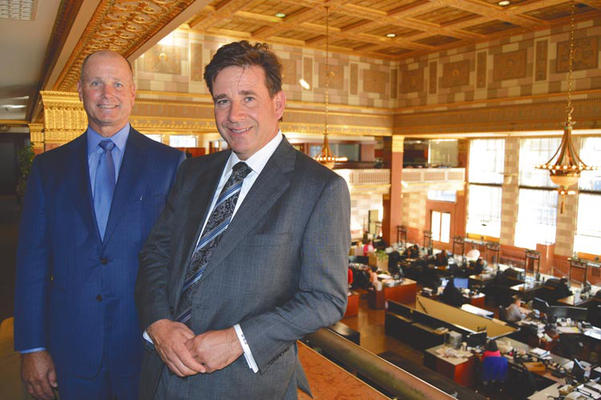 Daniel Walker, left, chairman of the board and CEO, and W. Henry Walker, president, carry on the legacy of Farmers & Merchants Bank's founder, Charles J. (C.J.) Walker. To this day, the bank upholds C.J.'s philanthropic spirit, regularly giving to local schools, healthcare facilities, nonprofit organizations and religious institutions. (Photograph by the Business Journal's Larry Duncan)
"I think when you look at our ongoing philanthropic efforts, you have to go back and consider our roots, which reach back to my great-grandfather and great-grandmother, and who they were and what they did for the city," Walker said, referring to F&M Founder Charles J. (C.J.) Walker and his wife, Carrie.
"Those values of a world gone by were embedded into the family – stories that go back to C.J. leaving the grocer some money every week for somebody who otherwise couldn't afford groceries," Walker reflected, noting that C.J. and Carrie were very strong in the Christian faith. At one point, C.J. was mayor of Long Beach but could not finish his term due to illness. He funded the election for his replacement from his own pocket – just one example of his philanthropic philosophy in life, according to Walker.
A 104-page history of the bank, written on the occasion of its 100th anniversary in 2007, notes that, "In the 1920s, virtually every religious denomination in town built a new sanctuary financed by F&M."
C.J. Walker helped to found the YMCA of Greater Long Beach and led capital campaigns to fund a facility for the organization, eventually raising $400,000, according to the bank's history. "The YMCA of [Greater] Long Beach, which was partially founded by my great-grandfather, has received enormous amounts of money over our 100-plus-year history in the City of Long Beach," Walker said.
Schools have long been beneficiaries of F&M's giving, and education continues to be a focus through the bank's recently formed F&M Foundation, according to Christine Walker, president of the foundation. "Education is definitely a highlight for us. It's something that we believe is a tool that nobody can take away, and that the value of education will allow a person to go forward in whatever they want to pursue in their life," she said.
In 1968, the Long Beach Unified School District issued $1.85 million in bonds to fund the construction of Elizabeth Hudson Elementary School in the city's Westside, according to F&M's history book. "They couldn't sell any of their bonds," Henry Walker recounted. "We bought them all. Can you imagine how we have paid generations forward on that level of investment for a city?"
Christine noted that the F&M Foundation has created an annual $10,000 scholarship for students in California State University, Long Beach's accounting program.
While the bank has been giving back to the community since it was founded, it has only recently begun the process of forming its own foundation to ensure the bank's charitable future, Christine said. "The focus of the Farmers & Merchants Foundation was just to formalize all of the charity and donation giving that we have been doing since we got started," Christine said. The foundation is still in the process of organizing, she explained.
"What we try to look for is organizations that are helping people in need," Christine said. "We do cover a wide sector of needs from medical, education, scholarships, and then basically capital improvements to the city."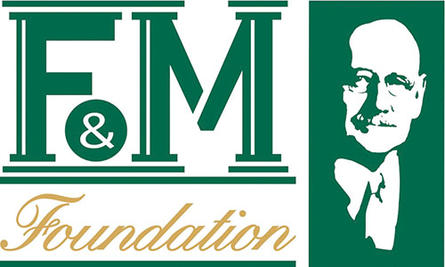 Health care has been a longtime focus of F&M's philanthropy. Long Beach Memorial Medical Center (LBMMC) and Miller Children's & Women's Hospital Long Beach exist as they do today in part because of F&M, which made a $4 million loan for the purchase of the land where the medical campus currently resides, according to the bank's history.
Cassieta Walker, wife of the bank's second president, Gus Walker, was one of the founders of the Seaside Hospital (now LBMMC) volunteer group and remained involved for almost 50 years, the book states. Today, Christine is chair of the LBMMC Foundation.
In 2015, F&M supported nearly 100 Long Beach-area nonprofits benefiting schools, faith-based organizations, health care, community development and the arts.
"For us, partnering with all the nonprofits and organizations that support this community is part of our banking relationship with our customers," Christine said.
The Long Beach Symphony is one local arts group that has benefited greatly from F&M's giving, Henry Walker pointed out. "The symphony has received over $1 million by now from us in ongoing sponsorship dollars," he said.
F&M's philanthropic efforts also sometimes come in the form of generous loans. "We can't forget that philanthropy is not just [donated] dollars, but many times it can be in the form of a loan to a nonprofit that otherwise couldn't get one," Walker said.
"Does philanthropy always just mean gift of dollars? Sometimes it's involvement – even involvement at the volunteer level," Walker said. "We have close to 2,500 hours every year of volunteer time from our staff."
F&M also gives back to the community by recognizing organizations and individuals. For example, since 1938, the bank has delivered apples each Christmas to Long Beach's police and fire departments as thanks for their work in the community. And each year, the bank holds an awards ceremony called "People You Can Bank On" that recognizes people who have overcome challenges and gone on to do great things in their communities.
"We feel blessed, and with that comes a responsibility to continue to give back," Walker reflected. "To whom much is given, much is expected."