Between bustling warehouses and manufacturing companies exists more than a handful of hidden culinary gems in the Westside industrial area of Long Beach, serving up an array of ethnically diverse fare.
Dining options, mostly along the Los Angeles River and down Santa Fe Avenue, abound with international flavors, from your traditional greasy spoons with hearty American and Greek dishes to authentic Mexican, Colombian and Italian cuisine.
Thousands of workers and customers look to grab a bite to eat during the workweek, lunchtime being the busiest for the industrial area's eateries.
The Business Journal spoke with business owners and employees in search of places to eat in the Westside industrial area and learned about a few local favorites.
Berth 55: Seafood In The Port
Where can you find fresh grilled or fried seafood, a comfortable place to sit and a near perfect view of the Port of Long Beach?
For decades, that place has been Berth 55 Fish Market and Seafood Deli at 555 Pico Ave., where on any given day you'll find throngs of longshoremen and area residents lining up for lunch. The eatery, which also serves beer and wine, is located next to a sport fishing operation and Queens Wharf Restaurant.
Although the longtime establishment was nearly forced to close its doors about three years ago for a fireboat station at the site, that proposal was eventually dropped after Westside business owners banded together to save the place from the wrecking ball.
Today, Larry Maehara, who runs the fish market and seafood deli that his mother took over nearly 27 years ago, said he's grateful to still be in business, adding that Berth 55 is "doing fine." In fact, he's working on a proposal to eventually redevelop the site.
"That's the next step for us," said Maehara, who now serves as vice chair of the Westside Project Area Council (PAC), which was instrumental in saving the place. "We have to come up with a business plan, and we are looking to present it to the port to see how they feel about it. Hopefully, they'll be on board."
Menu options at Berth 55 have remained the same, including an assortment of fish (sea bass, halibut, swordfish, yellowtail, salmon and red snapper) either fried or grilled, scallops, shrimp, New England Clam Chowder, fish tacos, cheeseburgers and fries.
"Why fix what's not broken? . . . People seem to enjoy it," he said. "For the most part, it's basic, fresh seafood. You fry it up or grill it up, one way or the other."
Santa Fe Importers: Italian Deli And Market
Santa Fe Importers, an authentic Italian delicatessen has been a staple of the Westside community at 1401 Santa Fe Ave. for 68 years.
Vince Passanisi, the current owner, said his grandfather started the business in 1947, mainly as a small grocery market. Over the years, the store has evolved with the community, which has transformed from an ethnically diverse residential neighborhood to mostly port-related industrial businesses.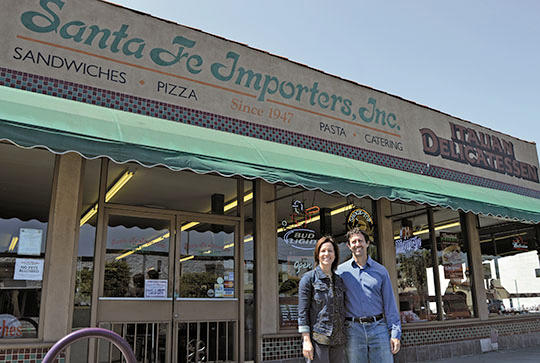 Marisa Passanisi and her brother Vince Passanisi are pictured in front of the popular Santa Fe Importers, an authentic Italian delicatessen they operate at 1401 Santa Fe Ave. in the Westside industrial area of Long Beach. In 1947, their grandfather, Vincent Passanisi, opened a small Italian deli and market, with recipes from his native Sicily and imported Italian foods. Today, Santa Fe Importers has a second location in Seal Beach. (Photograph by the Business Journal's Larry Duncan)
"We still have the market, but mostly we're doing lunches and food to go," Passanisi said. "We get people from downtown, the oil refineries and the port . . . On the weekends there are people who come all the way from Riverside."
The deli, which serves anywhere from 500 to 600 people during lunchtime hours, offers hot and cold sandwiches, pasta, pizza and salads, along with authentic Italian dishes made with family recipes passed down from generations, while the market sells imported cheeses, meats and other specialty items.
Passanisi also manages an Italian food manufacturing operation, selling products such as meatballs, sausage and salami for restaurants all over the country, he said.
Santa Fe Importers, which employs up to 50 people, now operates two other locations, one in Seal Beach, which opened in 2008 and a new spot in Irwindale that opened earlier this year. He said the company continues to stick to its core values, which are serving quality food in a timely manner while keeping the restaurants as clean as possible.
"What's been successful for us in the past is just trying to execute on the values that we've always had: the speed of the service, the quality of the food and the cleanliness of the restaurants. We know that if we can do that, we'll be able to continue serving the community, and, if we don't, we won't be here for very long."
Birrieria Tepechi: Authentic Mexican Cuisine
Across the street at 1440 Santa Fe Ave., Birrieria Tepechi has already attracted a loyal following of customers after opening nearly five years ago. The restaurant relocated from its original spot in Wilmington of 23 years after being displaced by a school.
The main draw is that it is one of the only places in the region to get birrieria, a lamb and goat dish served in either a broth or with a side of rice and beans. Few Mexican restaurants serve the dish, said Manager Rigo Castaneda, who said the restaurant was started by his grandparents in Mexico.
"Not a lot of Mexican spots have it, so it's either you know how to make it or you don't, so there's no in between," he said, adding that the restaurant also serves traditional Mexican food, including burritos, tacos and enchiladas.
While the restaurant draws a large lunch crowd from 11 a.m. to 2 p.m., Sundays have started to become busy as well, sometimes with a 30- to 45-minute wait time.
"It's a small mom and pop joint so we do our own sauces," Castaneda said. "Everything's made from scratch. There is no canned salsa or anything like that, so you could say it's pretty authentic and fresh."
5,000 Pies: Deep Dish With A Cause
About a year ago, 5,000 Pies opened at 2064 Santa Fe Ave. across the street from Cabrillo High School and just north of the Westside industrial area. It's mostly known for its deep-dish pizza inspired from the traditional Chicago-style pizza in which the cheese is on the bottom, other ingredients are in the middle and the sauce is on top.
"We're calling it Long Beach style, but it's definitely inspired by deep dish that you would find in Chicago," said Business Manager Rebecca Bacon. The restaurant also serves regular pizzas, an assortment of dessert pies, sandwiches, salads, chicken wings, fries and other food items.
As a "social enterprise" of Fountain of Life Covenant Church, the Christian-based restaurant isn't only in the business to serve food but to serve the community as well by providing employment opportunities, mentorship and culinary training with help from a professional chef.
"We've been meeting for about eight years as a church and we really just wanted to be doing more than just preaching the Bible and learning and growing as disciples," Bacon said. "We also wanted to be in the city helping to make it better."
A social enterprise is different than a typical business model in that the restaurant's goal is to not only make a profit but to improve the lives of people as well.
The name of the restaurant comes from a story in the Bible in which Jesus started with a small amount of food and was able to feed 5,000 people after blessing it and performing a miracle, Bacon said.
"That's kind of our hope, that we're providing more than just good food to the neighborhood and the community," she said. "It's also an onramp to talk about spiritual food and spirituality."