The international trade industry affords a myriad of career opportunities: law, customs brokerage and freight forwarding, warehousing, trucking, shipping, engineering, marine terminal operations, crane operations, finance, communications and many other occupations all fall within the realm of trade. As industry professionals tell it, practically any type of position you can think of is represented within the trade industry.
While trade professionals told the Business Journal that many of these fields are still male-dominated, they believe women are increasingly represented throughout the industry at all levels.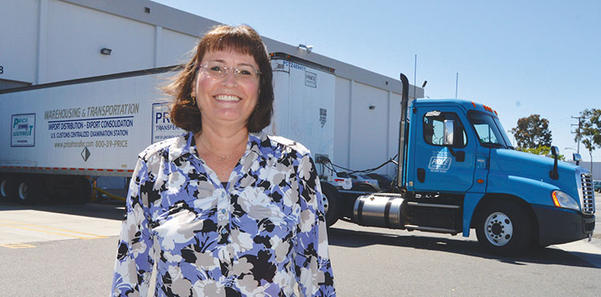 Tami Lorenzen-Fanselow is the CEO of FCL Logistics in Carson. Her family has been in the trucking, warehousing and logistics industries for three generations. Over the years, she says she has seen an increasing number of women in leadership roles in her field. (Photograph by the Business Journal's Larry Duncan)
"There have definitely been major changes in the fact that there are more women in international trade now," Tami Lorenzen-Fanselow, president of Carson-based FCL Logistics, told the Business Journal. Lorenzen-Fanselow's grandfather founded Price Transfer, a trucking and customs examination firm that is the sister company to FCL, in 1959.
Growing up in the family business, Lorenzen-Fanselow recalled, "There were very few women in the higher positions, definitely." Now, however, there are women in leadership roles at FCL and Price Transfer, as well as the industry as a whole. "We definitely have made some forward progress on women in this trade, and I see it continuing to move forward," she said. "On the trucking side, I think we still have a ways to go," she added.
According to the Bureau of Labor Statistics, in 2016 women made up 23.8% of workers in the transportation and warehousing industry. Only 11.5% of trucking industry jobs were held by women.
Capt. Charlene Downey, U.S. Coast Guard sector commander, Los Angeles/ Long Beach, joined the Coast Guard 24 years ago. She is responsible for all coast guard and maritime operations from the Monterey County line south to Dana Point, including within the ports of Long Beach and Los Angeles. She too has seen improvement in the number of women in her field.
"We are one of the branches of the armed services, and so when I came in, there were not a whole lot of women," Downey recalled. At the time, there were even some ships that did not accommodate women. "But now there aren't any restrictions for the type of ship that you go on. I think, for the most part, every ship can accommodate women. So we have really come a long way," she said.
"Each year, I think for all of the armed services we seem to be getting better and better with women in the service, particularly in the Coast Guard," Downey said. In the Coast Guard, every mission position is available to women, she noted.
The first female sector commander based at the port complex was Capt. Jennifer Williams, who served in the role prior to Downey. "I served as her deputy. So to have two women as a sector commander and a deputy, I think, probably was a first in the Coast Guard," Downey said. "And then I moved up into that position, and my deputy is a woman. . . . It just speaks to the fact that over the years women have been able to move up in the ranks. And there is always room to still grow."
Michele Grubbs, vice president of the Pacific Merchant Shipping Association (PMSA), said that the balance of women and men in the international trade industry is mixed, depending on the field. "I would say it kind of depends on certain areas involved in international trade. But I would say definitely that people have great opportunities in this industry," she said.
"I mean, if you look at the Port of Long Beach, we have three female harbor commissioners," Grubbs said, adding that those women all hold the officer positions of president, vice president and secretary. "And over in Los Angeles, the commission president is a female. And so I see clearly, females in international trade at the local level have risen to high levels."
Lori Ann Guzmán, president of the Long Beach Board of Harbor Commissioners, said that it is the first time in the port's 106-year history that all of the board officers have been female. In that time, there have been fewer than a dozen female harbor commissioners, she noted.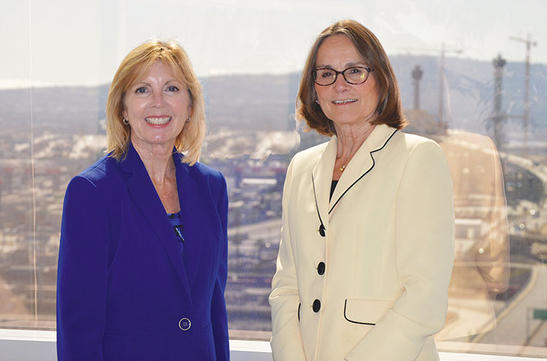 Pacific Merchant Shipping Association Vice President Michele Grubbs, left, worked with former Long Beach Harbor Commissioner Susan Anderson Wise in her efforts to create an annual event dedicated to highlighting women's roles in international trade. The Port of Long Beach has annually hosted the Women in Trade Luncheon since 2011. (Photograph by the Business Journal's Larry Duncan)
"Most of our interactions are really with customers and shipping lines. And so in my experience in those settings, there are very few women," Guzmán reflected. "It is a male-dominated field for sure, especially internationally but even here in the U.S."
Guzmán, who is the director of finance for the City of Huntington Beach and former chief financial officer for the City of Long Beach, said that she is used to working in male-dominated fields. "To be honest, I am in finance for a living, and so it's no different," she said. "I do have to say that with trade, it is a bit more male dominated than even in the public or private sector for finance."
Guzmán does not feel she is treated differently in her role as a harbor commissioner due to her gender. "I am often the only woman in the room. . . . You might have 25 or 30 people in a room, and I am still the only female," she said. "However, I felt nothing but warmth and being embraced and being respected as a peer. And you know, I have been able to develop great relationships," she added.
"You know, whenever you have a male-dominated field, it's typically because there is a legacy of relationships and networking organizations . . . and they are male and so they are speaking to other men," Guzmán said. "Whereas, all it takes is for a few women to be introduced into the field through whatever means, even as a commissioner or in the business sense . . . and then you can start those feeder systems naturally."
A number of organizations are dedicated to this concept. Andrea Ewart, a lawyer specializing in trade law, leads the Organization for Women in Trade (OWIT), an international, volunteer nonprofit that has 27 chapters throughout the world.
"To be honest with you, I think in the legal field, especially international trade law, that still seems to me to be very heavily male dominated," Ewart said. "I think there continues to be a need for an organization like OWIT to provide connections [that] provide mentoring, to build the networks that I think are really important for any professional," she explained.
"There is still an imbalance that needs to be addressed, particularly as you rise up through the hierarchy in any field," Ewart said. "It really is about finding [and] providing a friendly and supportive environment for women."
When Susan Anderson Wise served on the Long Beach Board of Harbor Commissioners, she spearheaded the creation of an event to foster such an environment for young women. Her intention was to give local high school students an awareness of trade-related fields.
Wise served on the board from 2009 to 2014. In 2011, the port celebrated its 100th anniversary, and a photograph got Wise thinking about women's roles at the port. "There was an old picture that they were using often, and it was literally like the ribbon-cutting or when the first ship came in, in 1910 or 1911," Wise recalled. "And there were a lot of men in the picture, and then there were just a couple of women."
In her own experience on the board, Wise felt women were not adequately represented in the field of trade. "I found myself over and over again in high level meetings with very few women in the room. And sometimes I was the only woman in the room," she recalled.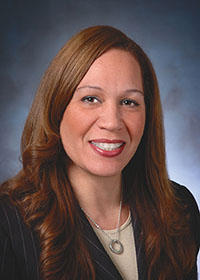 "It's a different message when you have young women looking at women on a stage who are attorneys in this field of trade, who are business owners, who are truck drivers, who are crane operators or who are students at Cal Maritime. 
And then you think you can do it too."
– Lori Ann Guzmán, President
Long Beach Board of Harbor Commissioners
Working with other women in the industry, Wise created the concept of the Women in Trade luncheon, which had its first run in 2011. The annual luncheon brings together women from all the various professions afforded by the international trade industry, and the port invites female students from all the Long Beach high schools to attend.
"I think that perhaps they didn't realize that there were women who were doing some of these things and that they too might do those things," Wise said of students who have attended the event.
Guzmán explained that seeing other women in roles in the industry helps students to envision themselves in those positions. "It's a different message when you have young women looking at women on a stage who are attorneys in this field of trade, who are business owners, who are truck drivers, who are crane operators or who are students at Cal Maritime. And then you think you can do it too," she said.
"It's all a matter of exposure. It's getting the word out and exposing women to these careers and how diverse the careers can be even within what we call trade," Guzmán said.
The Center for International Trade and Transportation at California State University, Long Beach has also begun working with high school students to spread the word about trade occupations, according to Executive Director Tom O'Brien.
"We have a new partnership with the Academy of Global Logistics at Cabrillo High School in Long Beach in which we partner with the Long Beach Unified School District and the port," O'Brien said. "That's another way we are sort of beginning the career pathway earlier. And that's another way to remind young women that there is a place for them in this industry."