When Azul Sanchez was a teenager, she wanted to attend a concert with a friend, but neither of them had enough money for the ticket. Not a problem, her friend told her, there was a cash advance lender right around the corner where they could borrow the money until their paychecks came in the following week. With the meager pay from her part-time job, it took her three months to pay back the loan, Sanchez remembers.
Today, Sanchez works as an assistant vice president and regional branch manager for Orange County's Credit Union. She offers financial literacy training to students in the Long Beach area, but she hasn't forgotten her own experience of being stuck in a high-interest loan. "Having that experience has helped me be empathetic and understanding, and know how to talk to different groups of people about how I've been there, I know, and I was able to succeed and give them the information that helped me," Sanchez explained.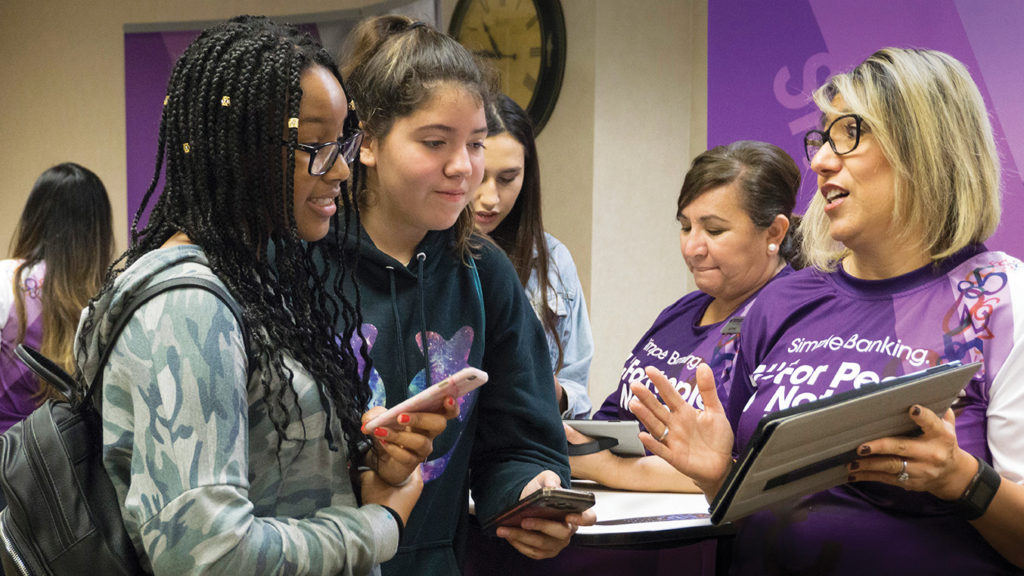 A person's level of financial literacy is likely to have a significant effect on their chances of success and quality of life. "It affects every aspect of your life," David Koch, a senior wealth advisor with Long Beach-based wealth management firm Halbert Hargrove, told the Business Journal. "So being able to navigate the system should be part of every American's education." Still, many Americans lack financial literacy and are unaware of the impact this knowledge gap could have on their future, Koch noted. "The whole country has a pretty large subset of people who aren't familiar with credit terms or banking structure or how your credit score, for example, can impact you in many different ways," he said.
Personal finances have not been part of the public education curriculum. "Learning those skills is dependent upon other resources in the community," Koch, who volunteers with a local financial literacy program, said. "I think most people learn it from their families. So, if their family's not familiar with those skill sets, then it's often not passed down to the next generation." In 2017, the California Senate passed Senate Bill 583, asking the Instructional Quality Commission, an advisory body to the state board of education, to develop and publish a curriculum on financial literacy for instructors to use on a voluntary basis. In the meantime, financial institutions, nonprofits and volunteers are trying to fill in the gap.
Parents are increasingly aware of the importance financial literacy has for their children's success. "I'm seeing a trend even just with the conversation, the subject matter becoming prevalent in schools because it's being demanded by parents of students. They want them to be educated on this," Crystal Boutiette, director of integrated marketing and communications with the financial literacy nonprofit Junior Achievement, told the Business Journal. "Parents are asking for this to happen. They don't understand why these life skills aren't a requirement in the classroom."
Today, Millennials and succeeding generations are especially in need of financial education, as student loans have become more prevalent. "We're going to see amounts of student debt that we've never seen before because the cost of attending college is just so high," Kat Delgado Kirkwood, senior vice president of programs at Junior Achievement, noted. "That's a unique situation that [prior] generations have never seen before and haven't had to deal with."
The American financial system has grown increasingly complex since the 1990s, when general-purpose credit scores first became widely adopted. "When you don't have a good credit score, you can't purchase a home, you can't purchase a car; it cripples you, where you can't be a financially sound individual," Kirkwood said. "Early exposure and de-mystifying credit score points is really the way you break the barriers and the way you inform students."
With the naissance of cryptocurrencies like Bitcoin, another piece has been added to an already crowded and complicated mosaic of investment opportunities. The level of technical know-how required to trade and invest in cryptocurrencies, their novelty status and volatile trade-in values offer a fertile breeding ground for fraud. "When I was growing up, there was no bitcoin or cryptocurrency," Sanchez recounted. "The type of fraud that we're experiencing now is completely different from the type of fraud that happened back in the day." As financial transactions become more digitized and cash becomes less prevalent, balancing a checkbook can become more challenging as well. "It's so much easier to spend money when you're using plastic than when you have cash in hand," Sanchez noted.
All in all, Sanchez said, younger generations' struggles aren't inherently worse, but different from their predecessors' – and financial literacy education should respond to that. "Financial literacy is more than a program or a class, it has to be tailored," Sanchez said. "Sometimes I feel like people think of financial literacy as a workshop or a one-time class, but it's more of a mentorship and guidance."
A 2014 graduate of the City of Long Beach's Neighborhood Leadership Program, Sanchez leads financial literacy initiatives at several Long Beach high schools. Using the Bite of Reality program, Sanchez helps guide students through a simulated financial reality, in which they are given a fictional occupation, salary, spouse and family, student loan debt, credit card debt, and medical insurance payments. Students are then asked to budget for housing, transportation, food, clothing, household necessities, day care and other needs.
The program has been promoted by credit unions across the country, and Sanchez said familiarizing students with credit unions is an important part of her mission. "A lot of people don't even know what a credit union is. Credit unions are not-for-profit financial institutions," Sanchez said. "When a member opens an account with a credit union, they're not a customer, they're a member."
For-profit financial institutions also offer programs to promote good financial habits and inform potential clients about the various financial products available to them. Wells Fargo is currently piloting a new program tailored to the Latino community that will promote strategies for financial health on social media with the help of Latina influencers. The bank also offers a Spanish-language online resource for financial literacy, El Futuro En Tus Manos – the future in your hands.
"Today, any mass brand in the United States, if they want to continue to grow, if they want to continue to have business, they need to be deliberate in understanding the needs [and] understanding the pain points that diverse consumers are trying to address," Wells Fargo Hispanic Segment Leader Xochitl Leon told the Business Journal. "So it behooved us – and my role – to try and build programs to increase confidence and create awareness around the tools and resources that we have to help our community succeed."
Nonprofits like Junior Achievement often partner with financial institutions to provide financial literacy education in schools. The organization also offers resources on the topic at their Finance Park facility in Los Angeles. While students are the focus of Junior Achievement's programming, Kirkwood said they often share their newly acquired knowledge with their communities. "We like to think that when we're teaching our students, they're taking that back to their families, helping them along the way," Kirkwood said. "So, we don't necessarily teach adults, but in a way, we're still getting that education out there to them."
In Long Beach, David Koch is spearheading a formal collaboration between Halbert Hargrove and Operation Hope, a local provider of financial education. Koch, who has personally participated as a volunteer in the organization's Banking for Our Future program, said connecting educators with those in need of financial education is one of the biggest challenges. "You might have a group that wants to learn and a group that's willing to teach, but if they can't find each other, nothing's going to happen," he said. Making that connection benefits everyone, including local businesses, Koch noted. "I think if you have a higher level of financial literacy, you have a higher level of business acumen in the community," he said.