Data from five years' worth of police reports detailing traffic incidents along the Broadway corridor, released by the Long Beach Police Department last week, shows a slightly higher number of average monthly traffic incidents this summer compared to previous years.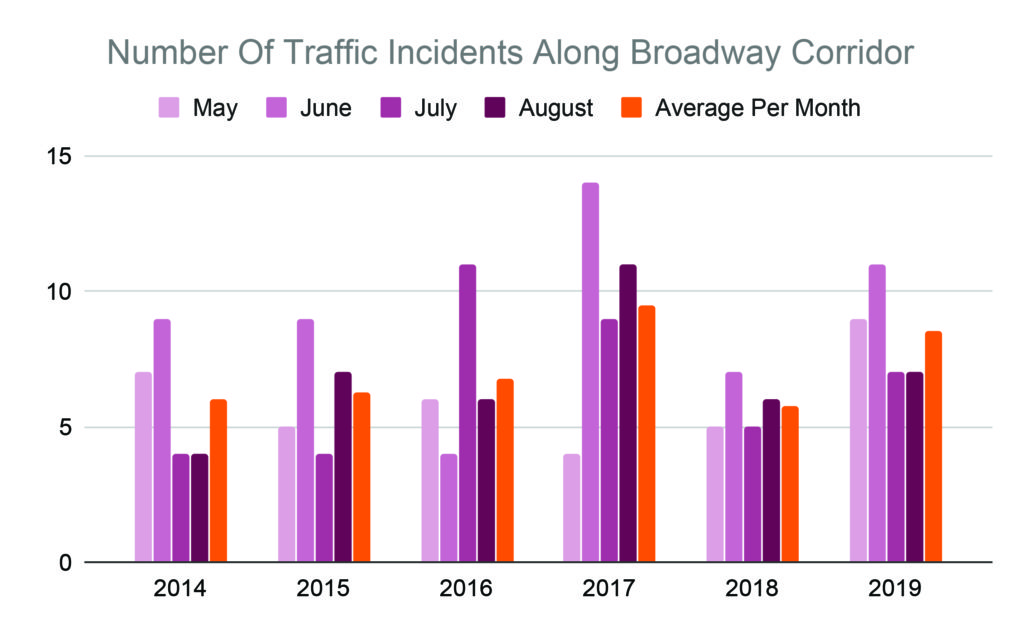 The new "Complete Streets" design, which aims to promote walking and biking by creating protected bike lanes next to pedestrian sidewalks, premiered on April 17, according to the Long Beach Public Works Department. Traffic was partially blocked to allow for construction and lane restriping during the summer of 2018, as well as in February and March of this year. The new design features a "road diet" which reduced the number of traffic lanes from two to one in each direction, replacing one lane each with parking spaces and bike paths.
Following the Broadway redesign, there were an average of nine traffic incidents – which include, hit-and-runs, collisions, DUIs and other events – each month between the beginning of May and the end of August this year. For comparison, there were an average of six traffic incidents each month during the same timeframe last year. In 2017, the corridor saw the highest number of incidents, with police writing an average of 10 reports on traffic incidents per month.
In total, LBPD reported 34 traffic incidents from May 1 to August 30 of this year. In those reported incidents, 16 people were injured. This constitutes a peak in injuries within the five-year timespan covered by the newly released data set. Only 2017, a year with a significantly higher number of traffic incidents overall, saw the same number of injuries. In the remaining years, there were an average of eight injuries per year in the same timeframe.
Overall, this year's number of traffic incidents along the Broadway corridor is on pace with previous years. Since 2014, the first year recorded in the dataset requested by the Business Journal, each year there was an average of 53 traffic incidents by August 30. This year's records show a total of 52 traffic incident reports filed by LBPD by that date.