At Aces High Aviation, located on the eastern perimeter of the Long Beach Airport, the flight school's four training planes are taking off 24 hours a day. Still, owner Sam Raymond is finding it hard to keep up with the demand for flying lessons.
"It's never been like this," Raymond said. "I'm turning away students. I have a long list of people waiting to start."
With travel restrictions limiting the pool of potential passengers, many airlines severely reduced their flight schedules during the pandemic. But that hasn't kept prospective pilots from flocking to flight schools, which have seen record enrollment in recent months. Now, as restrictions loosen, airlines are ramping up flights again, creating record demand for commercial pilots.
After the number of flight hours at his school dropped to nearly zero in April 2020, business today is the strongest it's been since his school opened in 2010, Raymond said. Young students especially are coming to the school, he noted, as remote schooling left them more time to invest in preparing for a potential commercial aviation career.
Despite a reduction in flight hours early in the pandemic, Raymond said the amount of hours flown was down only 5% by the end of 2020, compared to the previous year, after bookings made a strong return in the fall. This year, he's expecting the amount of hours serviced by his school to double compared to pre-pandemic numbers.
Other flight schools are reporting a similar trend.
Andy Patel, owner of Airman Flight Training, saw his cohort of students increase tenfold after he moved the school from Chino to Long Beach last fall. Career-minded students have taken notice of increased hiring efforts by airlines, Patel said, driving demand for flight lessons.
"It was all over the news that flight crews were canceling flights because they didn't have pilots," said Bosco Chowdhury, a flight instructor at Airman. "They knew: Now is the time to start."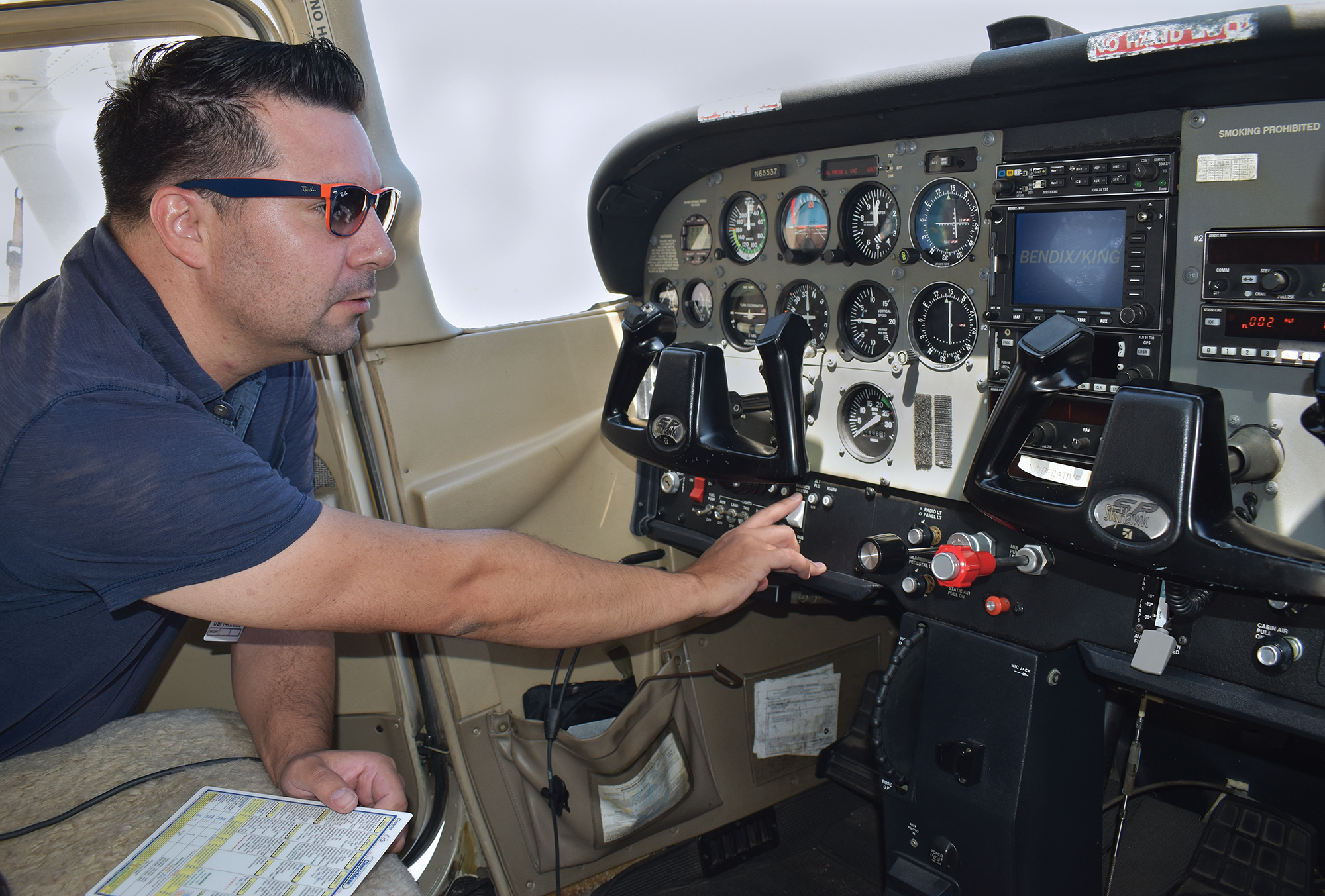 Commercial pilots are highly sought after, as many current pilots are nearing the mandatory retirement age of 65. According to FAA data supplied by the Regional Airline Association, nearly half of today's qualified pilots will reach mandatory retirement age within 15 years, and about 13% will be required to retire within five years.
The pandemic has exacerbated this shortage, with scores of pilots opting for early retirement. Roughly 5,000 pilots accepted early retirement offers when airlines severely reduced flights as a result of the pandemic, aviation consultant Kit Darby told industry publication Travel Weekly.
"[Airlines] had this huge problem all of a sudden: Yeah, there's not many flights, but also their crew is vanishing," Raymond, of Aces High Aviation, said.
Now, as passenger numbers pick up again, airlines are scrambling to staff up, offering aggressive financial incentives to attract recent graduates.
Cost is one of the major barriers for prospective pilots looking to obtain their commercial licenses, with a sticker price of around $80,000, plus licensing fees. And prices are only expected to go up, largely driven by an increase in insurance rates and the value of popular training aircraft like the Cessna 172.
"It's getting pretty out of hand," Raymond said of the cost of training.
This is where airlines are jumping in. To combat the current shortage, they began offering a range of financial incentives, from five-figure tuition reimbursements to bonus packages of up to $150,000, paid out over the span of a pilot's career.
But cost is not the only barrier. The reduction in commercial flights during the pandemic has created a bottleneck for students looking to obtain the flight hours necessary to become certified as a commercial pilot.
"Looking at FAA's database of the newly issued relevant pilot certificates, 2021 YTD production is way down compared with pre-covid years," Faye Malarkey Black, president and CEO of the Regional Airline Association said in an email, calling the shortage a "big national issue that is poised to get worse without intervention."
Commercial pilots need a minimum of 1,500 flight hours to become certified, which many complete as flight instructors. But the temporary freeze on airline hiring during the pandemic meant current flight instructors weren't moving on to positions with regional or major airlines, leaving no room for students looking to complete their hours.
"There's only so many planes," Raymond said. In recent months, resumes of students looking to become instructors have started stacking up, he added. "I have 30 resumes that I didn't even get the time to look through."
But despite the challenges, the current need for pilots is a win for flight schools and students alike, especially as airlines ramp up operations and passengers return to terminals.
August has been a record month for airline hiring, said Michael Arnold, director of marketing with ATP Flight School, which operates 69 schools nationwide, including one in Long Beach. In the past 30 days, 50-60 ATP graduates hired across the country were hired by regional airlines, a hiring rate exceeding pre-pandemic levels, according to Arnold.
"When we look at the pilot shortage, we see an opportunity for our students," Arnold said.
Editor's note: This story has been updated to correct the last name of Aces High Aviation owner Sam Raymond.