Now in its 92nd year, the 2.2-square-mile City of Signal Hill has replenished its reserve funds that were drawn on due to the Great Recession and the subsequent fallout.
"The general state of the city now is really sound," Signal Hill Mayor Lori Woods said. "We came through the recession really well. We did have to dip a little into the reserves set aside, but that's what they are for . . . and now we've built our reserves back up."
The city recently adopted a $21 million budget and, according to City Manager Charlie Honeycutt, the city is projecting a surplus of around $170,000. He went on to explain that if the general fund reserve were to be combined with the city's "rainy-day" fund reserve, the total would be 85% of the city's annual operating cost, which Honeycutt attributes to a fiscally conservative city council that understands how important it is to "have money in the bank for when the economy turns sour."
. . .
To read the rest of this article and more about the city and its industries, click the image below to download a free PDF of the entire Focus On The City Of Signal Hill. Content includes:
– "With A Replenished Reserve Fund, Signal Hill Continues To Thrive
– "Retail, Restaurants And Services Continue To See Sales Growth In Signal Hill"
– "Kaiser Opens Medical OfficesIn Signal Hill, Addressing Patient Needs In The Area"
– "Dealerships Look To Expand As Business Continues To Improve "
– "As Oil Prices Stabilize, Industry Executives Are Hopeful For Next Year"
– "Future Developments Promise Affordable Housing, Retail And Commercial Space In Signal Hill"
– "Signal Hill Impacted By Prop 47, But Community Policing Proving Effective"
– "Signal Hill Police Get More Involved In Community Through New Foundation"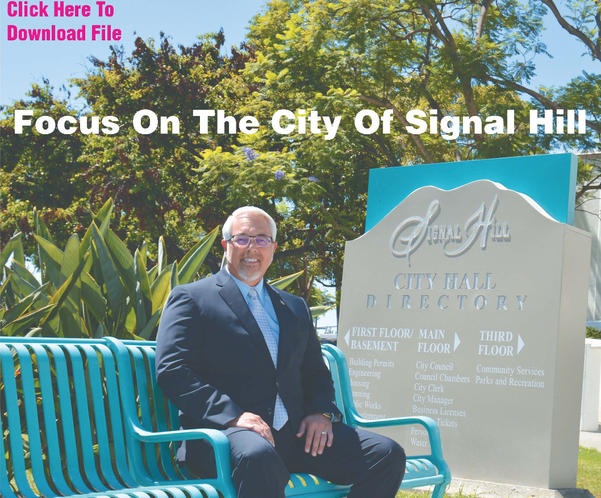 Pictured outside city hall, Signal Hill City Manager Charlie Honeycutt said the city's finances are "solid," adding. "Our business environment seems to be pretty strong; our auto center, which is our bread and butter revenue for this city, is doing well." (Photograph by the Business Journal's Larry Duncan)