With record-breaking port cargo volumes, an influx of new construction and healthier economic conditions, the business climate for Westside Long Beach industrial companies has improved greatly this year, according to business owners.
Despite the business activity, some challenges persist, including lack of space, outdated infrastructure, poor utility connections and truck congestion, among other issues. Looking forward, business owners are also concerned about how port expansion and major railroad projects may impact their operations in the future.
Considered an economic powerhouse for the city, the Westside industrial area mostly comprises small- to medium-size manufacturers, specializing in everything from aerospace to automotive. The area is also home to longtime, family-owned operations, many related to the local ports, in wholesale distribution, metal fabrication, warehousing, maintenance and repair.
The industrial area covers two separate districts divided by the Los Angeles River that both have their own special needs and concerns.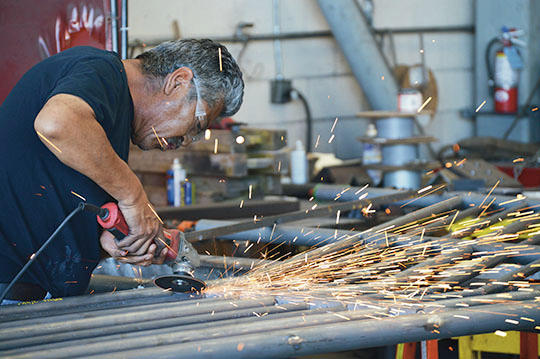 Phillips Steel Company employee Salvador Pacheco (Photograph by the Business Journal's Larry Duncan)
A property and business improvement district (PBID) that levies an assessment on property owners to provide services, such as security enforcement, on the east side of the river from about Anaheim Street to Pacific Coast Highway is represented by the Magnolia Industrial Group (MIG). The area includes about 300 businesses.
Another group of about 400 businesses on the west side of the river is represented by the Westside Project Area Council (PAC), which once oversaw the use of redevelopment funds for the area and has carried on as a nonprofit after redevelopment was eliminated by the state.
Industrial Activity Increasing
Several manufacturers and industrial businesses interviewed by the Business Journal reported an increase in business activity, especially those serving the local ports. Some businesses are now reaching capacity and have expressed interest in expansion.
"The people around us all seem to be doing well and you can tell by the amount of trucks that are parked in front of businesses these days," said Stan Janocha, chief operating officer of Superior Electrical Advertising, Inc., which manufactures signs for major restaurant chains, retailers and theme parks. Its clients include Disney Theme Park, Universal City Walk, McDonald's, Starbucks, Denny's and scores of other well known operations.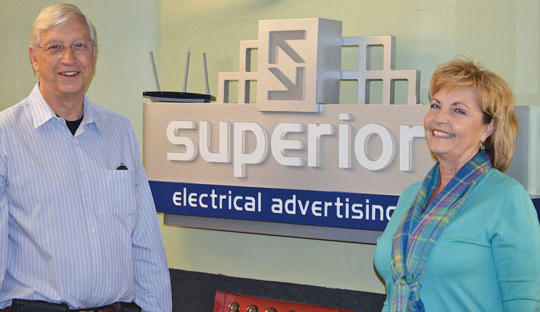 Stan Janocha, left, chief operating officer of Superior Electrical Advertising, Inc., and Patti Skoglund, president of the company, are pictured at the firm's headquarters in the Westside industrial area of Long Beach. The company is a leading fabricator of signs for major corporations. (Photograph by the Business Journal's Larry Duncan)
He said that his business, with locations in Las Vegas and Northern California, has increased so much that the company, which employs about 130 people, is currently looking to expand to a larger location.
The problem, however, is that finding space in the Long Beach industrial market is currently tougher than ever.
"We're trying to expand, but we don't have the property here to do that," Janocha said, adding that the company wants to stay on the Westside if possible.
Local industrial real estate brokers state that the vacancy rate, hovering at about 3 percent or below, is the lowest in the area's history and will likely continue to decline.
"If you take a look at the market in general, everything has picked up," said Bill Townsend, president of MIG and a principal commercial real estate broker for INCO Commercial. "For the industrial market in Southern California, the vacancy is low . . . There's very little out there right now. It's a tight market for all industrial."
First District Councilmember Lena Gonzalez, however, said the city is working to find space in Long Beach for Superior Electrical Design, Inc. in hopes the company won't move to another city.
"We would love for them to stay on the Westside, and we don't want them to go to another city," Gonzalez said, adding that she is working with the city's economic development staff to help the company find a new location.
Gonzalez, who was elected to the city council last year, taking over for now-Mayor Robert Garcia, added that the city is committed to streamlining permitting processes by implementing new software such as OpenCounter, which allows business owners to navigate the process online.
Business 'Back To Normal'
Other businesses in the Westside industrial area have seen an increase in business as well.
Karen Hewus, owner of Look Graphics, which manufactures graphics and signs for small retail shops in Long Beach and surrounding areas, said business hasn't surpassed her best years yet but certainly has improved over a few years ago.
Hewus, who opened her business in the Westside industrial area in 2006, said, just in Long Beach alone, people are opening up new shops again while new businesses are making changes and are in need of services.
"Things are improving quite a bit," she said. "Last year was much better than the year before, and this year is definitely on the same track of back to normal . . . I would say things are much improved and everybody's pretty much getting busy again."
Gil Ficke, owner of Long Beach Travel Center, located at 1670 W. Pacific Coast Hwy., where lines of trucks carrying cargo from the ports fuel up on a daily basis, said business has been "strong" as port cargo volumes have increased. He said the business climate has drastically improved from years ago. However, Ficke said a major issue is the area has become more cramped for space.
Hartmut Schroeder, president and CEO of SnugTop, a manufacturer of truck caps and camper shells for pickups, said his business has seen substantial sales growth as the automotive industry has improved across the country.

SnugTop, a manufacturer of truck caps and camper shells is located at 1711 Harbor Ave. It celebrated its 55-year anniversary last year. Hartmut Schroeder, left, president and CEO of the company, is seen inspecting a truck cap with employee Ramon Marquez. (Photograph by the Business Journal's Larry Duncan)
In fact, the company, which employs 240 people and celebrated its 55-year anniversary last year, is currently at capacity for the amount of business coming in and may have to look for new warehouse space soon, he said, adding that the industry has greatly recovered from the recession.
"We're building back up to where we used to be," Schroeder said. "The automotive sector has been doing quite well."
As an exporter, proximity to the Port of Long Beach is important, he said. Schroeder added that the Westside industrial area creates a synergy among businesses, noting that SnugTop often contracts with Phillips Steel, another longtime business on the westside, for services.
Mark Shutts, who has run Shutts Fabricators at 1632 W. 15th St. with his family for nearly a decade, said he has also seen business pick up, fulfilling projects for such clients as Mercedes Benz. In fact, his company has recently taken jobs working on storm drains at terminals in the local ports, Shutts said.
"Our problem isn't what we can sell, it's what we can produce," he said. "I always have to build whatever I sell so it's a matter of getting the manpower and skills together to produce parts that are viable."
Properties On The Market
Businesses interested in expanding may find some opportunity among the city's former redevelopment properties, many which are currently vacant lots and that are now being put on the market for sale after the state eliminated redevelopment.
So far, only one former redevelopment property on the westside has been sold, which includes a 3,252-square-foot property at 1478 Cota Ave. According to Mary Frances Torres, project manager for the Long Beach Economic and Property Development Department, the buyer plans to construct a commercial building for a business to employ eight to 10 people.
Frances Torres said a vacant, 13,000-square-foot property at 2136-2144 W. 16th St. is still on the market. In addition, the city has issued a request for proposals (RFP) for prospective developers interested in a property at 1404 Hayes Ave. while the city plans to release three RFPs for Westside properties in December.
Two more properties, 1545-1551, 1565 Santa Fe Ave. and 2021 Gaylord Ave., are to be considered for possible development proposals by the city's successor agency and oversight board on September 22 and September 23, respectively, she said.
Outdated Infrastructure
While the Westside industrial area has improved its conditions dramatically from years passed, many business owners state that the area still suffers from major deficiencies, including truck congestion and unsafe parking conditions.
The top concern for Greg Moore, president and CEO of Tell Steel, which has 54 employees and has been in operation for 50 years, is the high number of trucks parking around his business that create poor visibility for drivers making turns.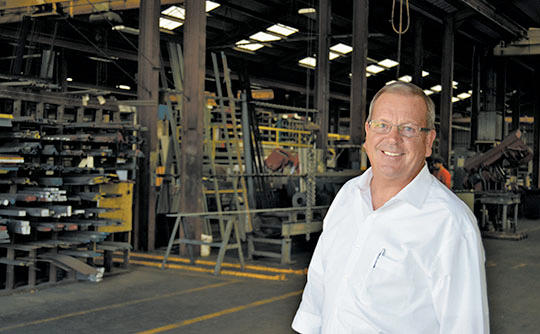 With 17 million pounds of steel in its warehouse, Tell Steel – which opened in 1959 – supplies stainless steel, aluminum, alloys and carbon steel to construction, aerospace, naval, aviation and transportation industries. Greg Moore, pictured, is CEO of Tell Steel. (Photograph by the Business Journal's Larry Duncan)
"Trucks are parked in every corner on the Westside and the safety issue of people getting in and out of streets with their cars is a very big concern here," he said.
Moore added that the lack of proper electricity, phone and Internet connections on the Westside is also a major concern for most business owners. He said Verizon has yet to upgrade phone lines to modern standards.
"For the most part, it's copper wire and when it rains we get a whole lot of folks here that lose their phone lines," Moore said.
Rail Project Concerns
Some business owners also see major concerns on the horizon.
One project that may have an impact on local businesses and nearby residents is BNSF Railway's proposal to build a Southern California International Gateway (SCIG) rail yard. BNSF is proposing the $500 million project on a 156-acre site adjacent to West Long Beach and the Terminal Island Freeway to create a near-dock rail facility.
According to the railroad company, the plan would significantly eliminate overall truck trips and reduce pollution. However, Westside business owners, environmental groups and Long Beach city officials disagree, claiming that, by BNSF's own projections, the project would add 5,000 more daily truck trips down Anaheim Street.
In addition, the project stands to oust several businesses located at the site for the proposed rail yard in the unincorporated area of Wilmington.
The project is currently held up in court after the City of Long Beach, the Long Beach Unified School District and other entities filed a joint lawsuit against the City of Los Angeles and BNSF, claiming an environmental impact report (EIR) is inaccurate.
"SCIG is a big issue for us right now because of the truck congestion," said Larry Maehara, vice chair of the Westside PAC.
Michael Mais, Long Beach assistant city attorney, confirmed that, after all parties have filed opening briefs, the case against BNSF and the City of Los Angeles is set to go to trial on November 16. A judge has moved the trial to be heard in Contra Costa County in Northern California for fear of bias.
Mais noted that the Office of State Attorney General Kamala Harris is intervening in the case, which shows there is some merit to the lawsuit.
Another project in the pipeline that may impact industrial businesses is the Port of Long Beach's plan to redevelop an existing rail yard on Pier B to remove rail bottlenecks in the port and allow additional on-dock rail use.
While the project stands to eliminate truck trips while increasing efficiency at the port, so far, plans include eliminating a bridge on 9th Street, the main access that Westside industrial businesses have to Downtown Long Beach.
"We don't want to see that [9th Street bridge] go," Maehara said. "It's so much easier for people to get to Downtown Long Beach through that 9th Street bridge. Without it, it's a long trek to get to the city and to downtown."
Port of Long Beach spokesperson Lee Peterson said port staff is developing a draft EIR on the Pier B project that should be out for public review and comment in mid 2016.