With Numerous Projects Underway And A Balanced Budget, City Officials Optimistic About The Future
Smack-dab in the middle of Long Beach sits the 2.2-square-mile City of Signal Hill. Considering its size, the old oil town is undergoing massive amounts of development, with three residential projects underway and one more in the works, as well as plans for two parks and a new 12,000-square-foot public library. On top of booming development, the city is well positioned financially.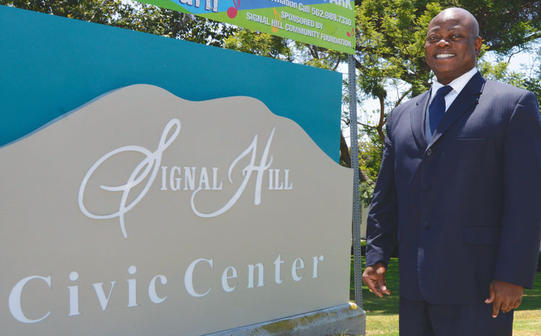 Signal Hill Mayor Edward Wilson said he is pushing for the city to move to a citywide elected mayor system to give residents a voice in the decision, as well as provide the city with more consistency. (Photograph by the Business Journal's Larry Duncan)
"I think the city finds itself in a pretty good place both fiscally and economically. We're looking to close out the fiscal year with some budget savings," City Manager Charlie Honeycutt said. "The council just adopted a $21 million balanced budget. We're projecting a moderate surplus as well. I just think from a budget perspective the city is looking pretty good."
The city's business environment is also strong, according to Honeycutt, with each of the major retail centers fully leased, car dealerships expanding and renovating, and new businesses such as Ten Mile Brewing preparing to open their doors. In addition to dealership renovations by Honda and BMW, the owners of Glenn E. Thomas Dodge Chrysler Jeep Ram are working to bring a Mazda dealership to the city's auto center.
Honeycutt explained that the large big box stores, such as Office Depot, Best Buy, Home Depot and Costco, continue to bring in large amounts of tax revenue for the city. According to city staff, the city's tax revenue breaks down as follows: 37.5% from business and industry, 22.6% from autos and transportation, 14% from general consumer goods, 12.3% from state and county pools, 8.4% from building and construction, 2.3% from restaurants and hotels, 2.2% from fuel and service stations, and 0.7% from food and drugs.
"What's kind of interesting is our In-N-Out Burger at our Gateway Center. That's got to be one of the best burger places in their chain," Honeycutt said. "When I look at the revenues that In-N-Out generates, it's always very surprising to me."
According to Mayor Edward Wilson, Signal Hill's benefits begin the moment an owner decides to open for business in the city. He explained that the city's application process is much faster and cheaper than many other surrounding cities, saving time and money for everyone involved. Local law enforcement is another business attraction, Wilson explained.
"We have an outstanding police department, which is another reason businesses like being here," Wilson said. "Their response time is very quick. They're very friendly but very professional and have great training."
Wilson said he is really excited about where the city is and where it is going. To keep moving forward, Wilson said the city established a five-year strategic plan with six guiding goals: ensure long-term fiscal stability; ensure public safety as a high priority; promote a strong local economic base; maintain and improve public infrastructure; ensure and enhance quality of life for residents; and promote a transparent and open government.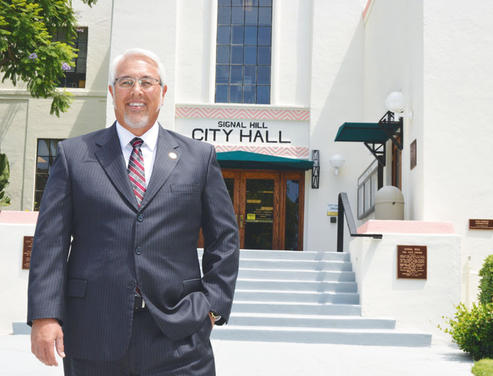 Signal Hill City Manager Charlie Honeycutt said the city expects to close the fiscal year with some budget savings. He added that the city council recently approved a $21 million balanced budget, with projected savings. (Photograph by the Business Journal's Larry Duncan)
"It took a while to get to where we are at, but our opportunities going forward are significant. We are a different city than we were 20 years ago [when] I got on the council," Wilson said. "I said we are going to put million-dollar homes on top of the hill. People didn't think we could do it – we now have it. We didn't have a gas station – we now have three gas stations. We didn't have our own zip code. There are a lot of things that people said we'd never have that we have today."
Earlier this month, Honeycutt said the city activated its new water well, including a new water treatment plant. The new well can produce the same amount of water as the two existing wells combined. Honeycutt said water independence helps the city keep water prices low for residents, a city quality in which he takes pride. Additionally, Honeycutt stressed the city's lack of a utility user tax.
In line with the city's economic and development growth, Wilson said that he is now urging city officials to allow residents to vote for their mayor. Under the current system, residents elect five councilmembers to four-year terms, and the position of mayor rotates among them each year.
Wilson explained that one year as mayor is not sufficient to set the course of a city and that being an elected four-year mayor would allow for more consistency and direction. He said this idea was part of his recent campaign, and he was amazed at home many residents thought they already voted for the mayor.
Another change Wilson implemented, or rather reverted to, was how commission appointments are made. He explained that in recent years, this process has varied but that the city charter clearly states that the mayor makes nominations, while the council approves candidates.
"If you're going to have a procedure, I think it should be consistent each time," Wilson explained. "To me, the best way to get consistency is to utilize the charter that we went out to the people and said this is how we want to operate. If that's the rules, then that's what we should use."
Wilson said the city is also looking into a new enterprise resource planning system to integrate all city departments so that all revenue streams are pooled, as well as revamping the city website to move more services online, such as building permits and business applications. To keep up with today's fast-paced world, Honeycutt said staff is looking into hiring a communications specialist to more effectively communicate with the community and promote the city utilizing modern tools such as social media.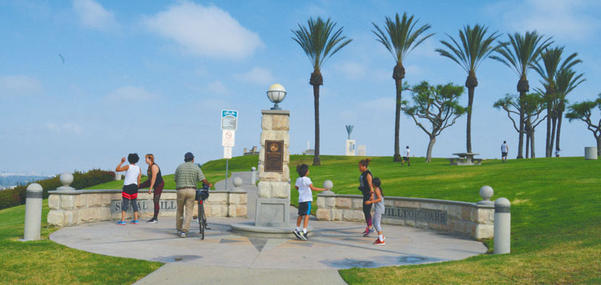 The 2.2-square-mile City of Signal Hill boasts seven parks and 1.9 miles of walking trails. Signal Hill Petroleum, a large landowner in the city, hopes to add to the trail system, while the city is in the process of designing a new dog park and view park. (Photograph by the Business Journal's Larry Duncan)
Looking to the future, Wilson and Honeycutt said the city is beginning to examine the impacts of Proposition 64 and the legalization of marijuana in California. Residents have voted several times on marijuana issues, including setting taxes on the books, but have so far voted heavily to deny marijuana in the city. However, Wilson said city staff is determining the best approach moving forward.
Currently, the city is preparing for or underway on several projects. Already under construction is the Los Cerritos Channel stormwater diversion project, in partnership with the City of Long Beach, Long Beach Airport, California Department of Transportation and Los Angeles County. Signal Hill's budget has $1 million allocated to the joint project on the northwest corner of Lakewood Boulevard and Spring Street. As a measure to keep up with California's ever-increasing environmental regulations, the project will divert stormwater to an underground reservoir and allow it to percolate back into the groundwater basin.
Another project is a partnership with Southern California Edison to convert all streetlights to LEDs, saving the city between $10,000 and $15,000 annually on light bulbs. The city is also preparing to receive a Parks and Recreation Needs Assessment from Richard Fisher & Associates, the findings of which will be used to update the city's Parks Master Plan.
Honeycutt recently celebrated his 30-year anniversary with the city, where he first began work in 1987 as a maintenance worker. He said that 30 years ago he would not have imagined working for the city for so long; however, he was never presented an opportunity worth leaving the jobs that were always exciting and satisfying.
"Signal Hill is a small community, and a lot of people take pride in being able to play a part in it," Honeycutt said reflecting on his time with the city. "I just want to express my appreciation to all those groups and people."
Signal Hill Police Chief Nunley Emphasizes Community Outreach
As president of the Signal Hill Chamber of Commerce, as well as a Signal Hill business owner and resident, Melissa Guy said the low crime rate was a big draw for her when making the decision on where to locate her family and business.
"[Signal Hill] has been such a great environment to do business in that I moved my family here. Because with having such an active police department, they are really top-notch, and the crime is really low in comparison to other neighborhoods," Guy said.
Mayor Edward Wilson said the department is outstanding and praised its fast response times, friendly but professional demeanor, and great training. He boasted that many former police chiefs have gone on to serve as chiefs in other cities, such as La Mirada and Culver City, and one even became a U.S. marshal.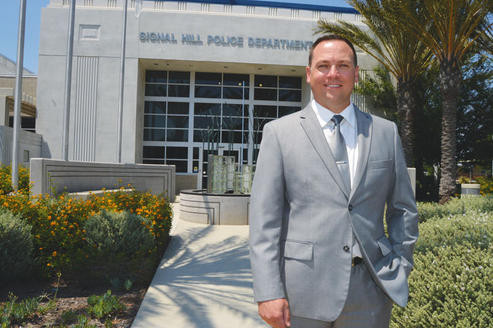 Signal Hill Chief of Police Christopher Nunley has been with the department since arriving as a police explorer in 1994. Nunley assumed the position of chief last December and said the city is great to work with and very supportive of the department. (Photograph by the Business Journal's Larry Duncan)
The city's most recent police chief is Christopher Nunley, who has been with the department since 1994 when he came in as a police explorer. Nunley assumed the chief position in December of last year and said he loves it, as well as working for the City of Signal Hill. He added that he is the first chief since 1994 to have come up through the ranks internally.
"It's a great town. It's well run. We have a supportive city council, our residents are very supportive and very engaged, and we've got a good leadership team over at the city," Nunley said. "I think what makes Signal Hill special is that everyone cares about the city. They take an ownership to it."
This sense of ownership is also present in officers out in the field, according to Nunley. He said when a crime occurs, officers feel as though they let the residents down, a quality that pushes officers to work harder.
One of the station's greatest challenges is recruitment, Nunley explained. He said becoming an officer has always been a job that takes a special person because of the inherent challenges that come with the position. Nunley said the recent portrayal of police officers in the media probably is not helping recruitment efforts, but that it is impossible to determine to what extent.
However, once an officer joins the department, Nunley said there is a very good retention rate. Of course, there will always be attrition due to retirement and department shifts, but Nunley said that by and large many of the employees are long term, mostly due to the department's small, family-oriented vibe.
Another challenge the department is facing is the small uptick in petty property crimes, such as car break-ins. Nunley said this increase is largely due to Proposition 47 and AB 109, which lessened the severity of certain crimes leading to the early release of perpetrators of such crimes. He explained that the entire region is experiencing this increase, most cities far more than Signal Hill.
"It's always a challenge to think of innovative ways to keep crime down and impact the crime in your city," Nunley said. "We're trying to do that through community engagement – working with neighborhood watch groups, going out to HOAs and explaining what they can do to harden their area as a target for criminals, really trying to create a good partnership with the community."
Regionally, the number of more severe crimes is increasing, but in Signal Hill, the statistics are relatively flat, according to Nunley. He said the city has never had a huge crime problem, which correlates to the number of officers, as well as the city population and size.
The Signal Hill Police Department has 37 officers for its population of around 12,000 people in a 2.2-square-mile city. This equates to about 324 residents for every one officer. Long Beach has a population of around 462,000 in a 51-square-mile city, with a police force of around 800, which equals nearly 578 residents for every one officer.
Additionally, Nunley said each city department working together assists in keeping crime down – from parks and recreation establishing afterschool and summer programs to planning and zoning working on blighted areas to public works removing graffiti right away. Of course, Nunley said the police department's fast response times – typically less than two minutes for a priority one call – are a key factor as well.
Community involvement is important to Nunley and his team. The department participates in local events year-round, such as National Night Out, the Miller Children's Hospital's beach day, holiday toy drives, and countless other community outreach events.
Nunley recalled an instance recently when several officers, on a whim, went to Las Brisas II, a low-income housing community in Signal Hill, to grill some hot dogs and talk with residents. It is this sort of outreach and communication that Nunley said helps build trust within the community.
"If people don't understand their police department or they don't feel like they can reach out to them, then they're not going to call when they're needed," Nunley said. "I really think if you can reach out to your community and if you can connect on a personal level, they're going to be more apt to pick up the phone, they're going to be more apt to partner with you in dealing with local crime situations or even just small annoyances."
Auto Dealer Sales Expected To Decline Slightly After Several Robust Years
For the past few years, the City of Signal Hill has seen between 5% and 6% growth in sales tax revenue from the Signal Hill Auto Center, according to City Manager Charlie Honeycutt. Recently, he explained that the economy has begun to flatten out, and the city is projecting only a 2% growth in auto sales this year.
"It's still growth, it's just not at the pace that we've become used to the last few years," Honeycutt said. "We're still pretty confident in their performance."
Chad Charron, general manager of Boulevard Cadillac and Boulevard Buick/GMC, said business has been strong this year. He explained that the dealerships' success is evident in the fact that they have hired 15 employees since last year. He said the extra personnel allow the dealerships to offer customers a better experience when purchasing a car.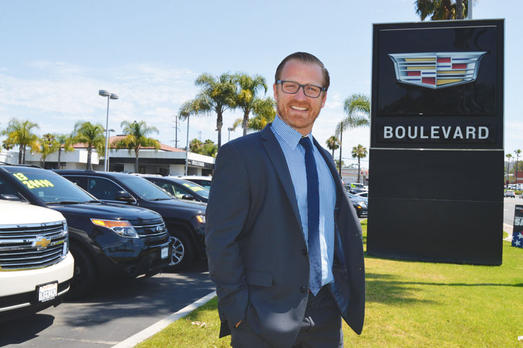 Chad Charron, general manager of Boulevard Cadillac and Boulevard Buick/GMC, said he has put an emphasis on certified pre-owned (CPO) cars leading to an increase of over 460% in CPO sales. (Photograph by the Business Journal's Larry Duncan)
The most noticeable change to business is the shift in popularity to midsize SUVs, Charron said. He said that full-size SUV sales are still strong but that many people seem to be upgrading from midsize sedans to small SUVs. Charron explained that the Cadillac XT5 – the company's crossover SUV – and Escalade account for 75% of the dealership's volume.
At the Buick and GMC dealership, the GMC Acadia, another midsize SUV, accounts for 33% of Charron's volume. He said the midsize SUVs are resonating well with the surrounding community. Another major change for the dealerships is an extreme boost in certified pre-owned car sales.
"It's an arena we're more focused on, and we are up over 460% from last year," Charron said. "We offered some before, but we were not as strong."
Charron said there are no plans for renovations or expansions at his dealerships, only continued investment in the employees so they can invest in clients. He said he loves the area and does whatever he can to team up with the community, including being a boardmember of the Police Foundation.
Philip Schultz, general manager of Long Beach BMW, said the dealership is doing very well this year and that he is excited about his new team and the progress they are making in regards to community involvement.
"I am unconditionally committed to serving and giving back to the community. We work really hard each and every day to create the experience for our guest," Schultz said. "True, genuine relationships with our community is what will help grow Long beach BMW. We are proud to be a part of this community."
Schultz said he is excited about the dealership's revived relationship with the cities of Long Beach and Signal Hill, noting that at the store's recent grand opening event Signal Hill Mayor Edward Wilson was in attendance, as well as members of the city's police department. Currently, the dealership's sister store, Long Beach Mini, is undergoing a renovation, according to Schultz.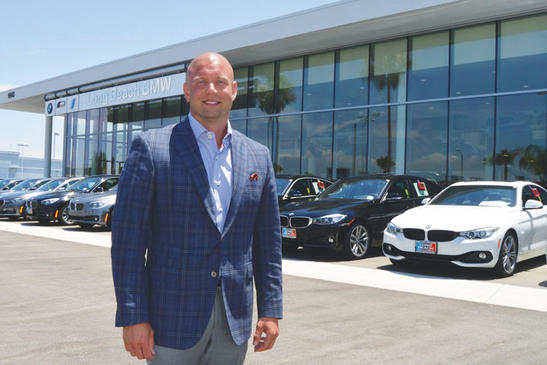 Philip Schultz, general manager of Long Beach BMW, said the dealership is doing well and that he is committed to serving and giving back to the Signal Hill community. (Photograph by the Business Journal's Larry Duncan)
Bob Davis, president of Glenn E. Thomas Dodge Chrysler Jeep Ram, said overall sales are up about 7% to 8% at his dealership. He said the increase is due, in large part, to SUV, Jeep and truck sales. Davis explained that Chrysler discontinued a few small sedan models, which has reduced volume on that end, but that trucks have more than made up for the loss. Solid sales are not the only highlight for Davis.
"We've got one more hurdle to cross, but we are hoping to put a Mazda dealership here. We're excited about that. Mazda has a really good reputation, they build a really great car," Davis said. "It will be nice to have a fuel efficient car that seems to be on the rise. Hopefully we'll be starting to move some dirt around in a few months."
The last step for the new dealership is approval by the California Department of Finance in Sacramento, which should come through this week, Davis said. The project will be located at 1400 E. Spring St., which is currently being used to store Davis's extra inventory. Davis also noted growth in his service and parts business – number seven in the nation in parts sales and the top Chrysler parts wholesale dealer in California.
In addition to owning the dealership, Davis serves as president of the Signal Hill Auto Center Association. He said other dealers in the center are also up in sales this year. He noted Long Beach Honda, which has new owners, has increased sales substantially and is currently in the process of remodeling the showroom and adding office and service space. Long Beach BMW also did some shuffling, separating the BMW and Mini inventory into two stand-alone showrooms.
"I think as a whole we really value our relationship with the city. They have been good supporters of the auto center. We work well together," Davis said. "I think they always work hand in hand with us in order to do good work for both the city and the auto center."
One recent project between the city and auto center was the installation of a new LED freeway sign at 3100 California Ave., the same location of a proposed dog park. Davis said the auto dealers were "disgusted with the previous sign and are really enjoying the ease of displaying clear messages and images."
"I think the main thing is that as a car dealer, business is good and it's been good. But it's also not without some treachery with all that's going on in the world," Davis said. "So we just try to be smart with what we're doing. All in all, I think most of the [dealerships] are pretty pleased with the year so far."
Volatile Oil Prices Keep Well Drilling On Hold
Even though it's not covered in oil derricks as it was in years long passed, Signal Hill still produces its fair share of oil through Signal Hill Petroleum (SHP). However, continuously low oil prices have put a stop to the company's drilling activities.
"Our oil production is stable, but based on where current oil prices are, we are delaying our plans for more significant reinvestment," David Slater, SHP chief operating officer and executive vice president, said. "We do have projects planned. We'd just like to see a little bit better margin before we make that capital commitment."
Slater said the industry saw a sag in prices recently, down to around $44 per barrel from $50 per barrel a short time ago, according to the West Texas Intermediate benchmark. He explained that the current market is very volatile, with price swings between $10 and $12.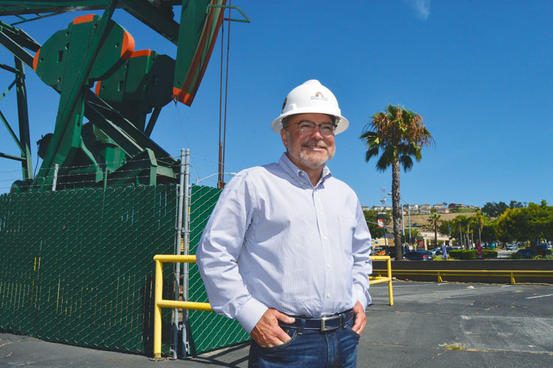 David Slater, chief operating officer and executive vice president of Signal Hill Petroleum, said discretionary spending is at a minimum due to low and volatile oil prices, which means all drilling operations are on hold. He said he is optimistic that drilling activity can resume in the next six months or so. (Photograph by the Business Journal's Larry Duncan)
Despite market volatility, Signal Hill Petroleum's more than 400 wells continue to produce approximately 1 million barrels of oil per year, which comes out to more than 2,700 barrels per day.
During times of moderate gas prices, Slater said when discretionary spending is low and the company's two drilling rigs are mothballed, SPH focuses on its infrastructure to ensure it continues to operate in a neighborhood-friendly manner. As a member of a small community, Slater said this is important for the company's relationship with residents living near active wells.
The company is continuously working to maintain pipelines, tanks, pumps and all other infrastructure to ensure their capability when drilling activities resume. Signal Hill Petroleum is also a prominent landowner and developer in Signal Hill, which helps offset low oil prices.
The City of Signal Hill taxes each barrel of oil produced in the city, which generated $1.1 million in tax revenue during the 2015-2016 fiscal year. However, with the drop in oil prices and halting of drilling operations, tax revenue has been cut by almost half.
Despite the freeze on drilling operations, Slater noted that the Long Beach Oil Field – a super giant, meaning it has produced over 1 billion barrels of oil – still has plenty of oil for the urban oil company to tap into, hopefully in the near future.
"But we're optimistic that we're going to be reinvesting and having drilling activity in the next six months or so," Slater said. "There's a lot of oil and gas opportunity. The life of the oil and gas field has got a long, long way to go. And there's still a lot of oil to be produced and a lot of wells still to be drilled."
Kaiser Signal Hill Is The 'Medical Office Of The Future'
Kaiser Permanente opened its 20,000-square-foot Signal Hill medical office at 845 E. Willow St. on June 29, 2016. In its first year, the medical facility's 50 physicians and staff have had 25,544 patient appointments, not including lab, pharmacy or nurse clinic assistance.
"The welcoming that we have felt in the community here is beyond what we expected. We've been so engaged in the community, and we've been provided a lot of support," Ozzie Martinez, chief administrative officer for Kaiser Permanente South Bay Medical Center, said. "That's huge for us in terms of them seeing Kaiser Permanente truly as an anchor institution within the community to help the community as a whole."
Martinez said that as operations continue in Signal Hill, the company is embracing it as the medical office of the future. He explained the staff is continuing to analyze how to integrate into patients' lives to provide care where they are, when they need it. To do this, telehealth technology has been incorporated into the medical offices, allowing for patients to be seen virtually.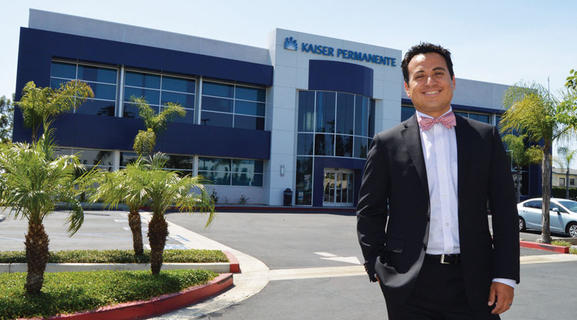 Ozzie Martinez, chief administrative officer for Kaiser Permanente South Bay Medical Center, said the Signal Hill facility at 845 E. Willow St. had 25,544 patient appointments in its first year and recently began in-person dermatology services. (Photograph by the Business Journal's Larry Duncan)
Beginning in March, telehealth technologies are being used for dermatology services. Using high-definition cameras, dermatologists at Kaiser's medical center in Carson can consult with patients at the Signal Hill office. Martinez said this type of service is more convenient for patients, who might not have the time to drive to medical offices out of the general area.
The Signal Hill office began in-person dermatology services last week, utilizing flexible space in the building. Martinez said this is only the beginning.
"We have rotating providers come through, and we're looking at the opportunities to rotate additional specialties. [With] the utilization of these exam rooms . . . we're excited about the different functionality that we're seeing out of the space that we have so we can maximize the area and eliminate that hassle factor for our patients to get the care that they need without having to leave their home medical office building."
Depending on the success of dermatology in Signal Hill, Martinez said the facility will look into building specialty carts so that doctors of other specialties, such as plastic or general surgery or orthopedics, can utilize the space with all the tools they need.
According to Martinez, Kaiser is also going all-in to provide behavioral health care in Signal Hill, as well as its other facilities. Martinez explained that Kaiser is trying to eliminate the stigma that exists when it comes to behavioral health. He said the office has been able to provide group therapy options in English and Spanish during the week, in the evenings and on Saturdays.
So far, Martinez said the organization has been surprised by the demand for behavioral health care. He explained that offering this service at more offices has made it easier for people to utilize them, as they do not have to take extra time for travel. He said the behavioral health care is integrated into the services already provided, so it's not in a separate part of the building, which helps alleviate the stigma.
"I think that's been very successful in terms of the number of visits we've been seeing and the impact that we're seeing," Martinez said. "We're actually working on trying to incorporate another psychiatrist in that space given the demand of services that we've been seeing. So we're very excited about that."
A major push by Kaiser at its Signal Hill facility has been culturally responsive care to LGBTQ patients. Martinez said the staff partnered with St. John's Well Child and Family Center, Transgender Health Program and the LGBTQ Center of Long Beach to train physicians and staff to foster culturally sensitive awareness in order to provide the best care possible.
"It's exciting that we're expanding to provide this type of training at all the medical center offices to really expand on that culturally responsive care," Martinez said. "And we're really taking a big focus on that."
Other services provided at the Signal Hill medical office include primary care, pediatrics, obstetrics and gynecology, walk-in nurse clinic, x-ray, pharmacy, blood draw, and virtual care through telephone and video appointments. The office is open Monday through Friday from 7:30 a.m. to 7 p.m., and Saturdays from 9 a.m. to 1 p.m. To make an appointment, call 800/780-1230.
Business Owners Report Sales Growth Year Over Year
With new businesses opening their doors, current businesses expanding and others relocating from other areas, Signal Hill City Manager Charlie Honeycutt said the business environment is doing well.
"Our major shopping centers are fully leased. Our primary businesses like Costco, Home Depot and the auto center are continuing to perform for us," Honeycutt said. "We've got a couple new businesses in town. We've got Ten Mile Brewing Company, which is a new business that will be opening up at the end of July, and Fromex has relocated from Belmont Shore to Signal Hill."
Mayor Edward Wilson said he thinks businesses open in or move to Signal Hill in large part because of the ease and cost of dealing with the city. He explained that the city has no utility users tax, has less expensive business licenses and completes the application process faster than larger cities, which allows businesses to begin making money sooner.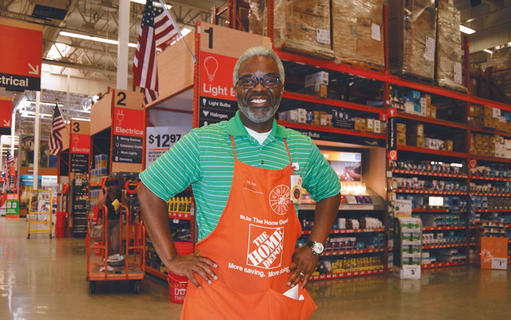 Earl Gibson, general manager of the Town Center East Home Depot, said the store has been performing above expectations and that he is very pleased with the results. (Photograph by the Business Journal's Larry Duncan)
Many of the city's businesses, including the national companies, are great business and community partners with the city, according to Wilson. He said the city and businesses work together and that businesses are eager and happy to be in Signal Hill because it is a community that cares, not only about its residents but its businesses as well.
Melissa Guy, president of the Signal Hill Chamber of Commerce and co-owner of Asset Media Group, said city officials and staff excel at connecting with local businesses and prioritizing them when looking for goods and services.
"The city is very active with the chamber," Guy said. "We host a meet-the-city event where the mayor and other city officials come out and meet local business owners, hear their concerns and share some things that are upcoming in the city, things that could affect their businesses, opportunities that are coming to the community, as well as just being able to high-five and handshake those people who make decisions in the city."
The chamber currently has about 200 members, which is roughly 15%-20% of the business population, according to Guy. She said that is a fairly high percentage when compared to other cities, which makes the Signal Hill Chamber "powerful."
Moving into the third and fourth quarters of this year and into 2018, Guy said the chamber is committed to continuing to provide more and more resources to business owners, including the largest community partners such as Kaiser Permanente, EDCO and Signal Hill Petroleum. She noted that she would like to see more active chamber participation by large companies such as Costco and Home Depot to create a more unified business community.
"The city and the chamber have always partnered," Guy said. "We are working on an even stronger partnership between the chamber of commerce and the City of Signal Hill to bring more resources like workshops on starting businesses in the city, staying in business and growing business."
Guy said that business is booming and that as surrounding cities continue to increase rents and fees and overall cost of operations, Signal Hill is becoming all the more attractive to startups and for relocation.
Paul Martin, owner and general manager of Pirtek Long Beach, initially planned on being located in the beach city. However, when his real estate deal fell through, he found his current location in Signal Hill and said he was pleasantly surprised at the ease of doing business with the city and how much cheaper it was than Long Beach.
"It's been fantastic. Signal Hill has been very supportive of businesses. They are very helpful in cutting through any red tape," Martin said. "Working with the city and all its employees was a lot easier. They didn't try to run us through a bunch of hoops like Long Beach tried to."
Pirtek conducts on-site hydraulic hose repair for construction, heavy equipment rental and manufacturing businesses, as well as recycling companies and a significant amount of business with port terminals.
Martin said business this year has been steady, though petroleum-related business has been down due to low oil prices. However, he said business is up about 5% over last year, and he anticipates the second half of the year to see more growth.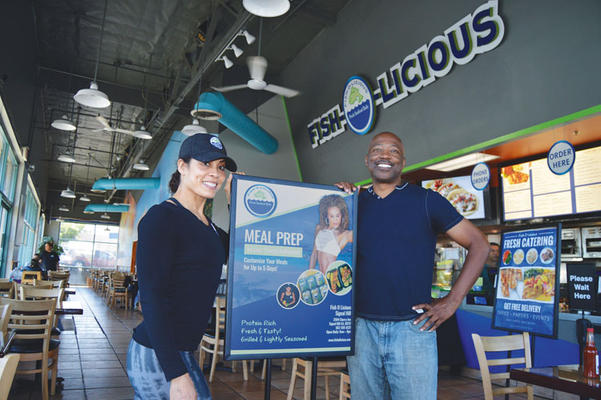 Lisa and Dana Johnson opened Fish-O-Licious at 2594 Cherry Ave. in October 2015. In the past year, Dana said business has increased 25% thanks to a meal prep program started by Lisa. (Photograph by the Business Journal's Larry Duncan)
Dana and Lisa Johnson will celebrate the two-year anniversary of their restaurant, Fish-O-Licious, in October. They also were first looking to open up shop in Long Beach but during negotiations decided the cost was too great for a new-build restaurant. They caught wind that City Mex was closing in Signal Hill and jumped at the opportunity.
"I think because it's a smaller city it's a little bit easier. The city council is right down the street. In fact, most of them eat here, so it's a lot easier to get their ear," Dana said. "Plus, it's a great spot to be in because there's so much business around here and everyone gets hungry at lunchtime."
The most difficult aspect of starting the business after replacing a restaurant with a great following was getting residents to give them a try, Dana said. The restaurant has seen growth every quarter since opening and has seen a 25% growth in business year over year, according to Dana.
The growth is the result of a meal-prep program Lisa began last summer for local gym-goers, Dana said. He explained that the restaurant prepares meals and places them in microwaveable containers, which can be stored in a customer's refrigerator for up to five days. The program is so successful that the couple are looking into ways they can expand the service to deliver to other cities such as Downey and Tustin.
Allen Printing & Graphic Design was established in Signal Hill in 1979. Jonade Saleem, creative director and owner of the shop, said he has grown business about 70% since taking over seven years ago.
"We've helped brand some businesses locally, even in Long Beach, like the Pie Bar. They are probably the one that stands out to me the most, as far as building their brand," Saleem said. "We work with a lot of the restaurants in the area, like the Hofmans' – Lucille's BBQ, Hof's Hut, Saint & Second. We work with The Attic. We just did a menu redesign with them."
The company can print anything from the smallest business card to banners and posters, Saleem said. However, he has been pushing and focusing on the design aspect of the company. He currently has three other employees and said that being located in the center of Long Beach while reaping the business benefits of Signal Hill – specifically the lower sales tax – has been great for the company.
Mitch Kron has owned and operated Big Studio Custom Apparel in Signal Hill for 19 years. He said that he had a business in Long Beach for some time and found it easier to do business in Signal Hill, adding that he is friendly with local law enforcement.
"We like the business-friendly environment that Signal Hill has to offer. We love our location. We eat at Curley's once a week," Kron said. "Being in Signal Hill is a real positive thing for us. We feel comfortable here. We feel safe here."
Big Studio started in Kron's garage in 1988 but has grown into its current 12,000-square-foot shop that employs 31 people. Kron said the shop is busy and business has increased, with a lot of new accounts.
On the Fourth of July, Wine Country had 115 people attend a rosé wine tasting, according to owner Randy Kemner. He said overall sales are relatively flat from last year, due in large part to technical issues with the online business. He added that local business and walk-in count are up, which is making this an exciting time for the store.
Kemner said tasting events have been sensational because they offer selections that cannot be found at any other local stores. He said the store's gourmet food section has been expanded, including new artisan ice cream. Additionally, Kemner said he has a new craft beer buyer that is doing great work, which is bringing in a whole new generation of consumer.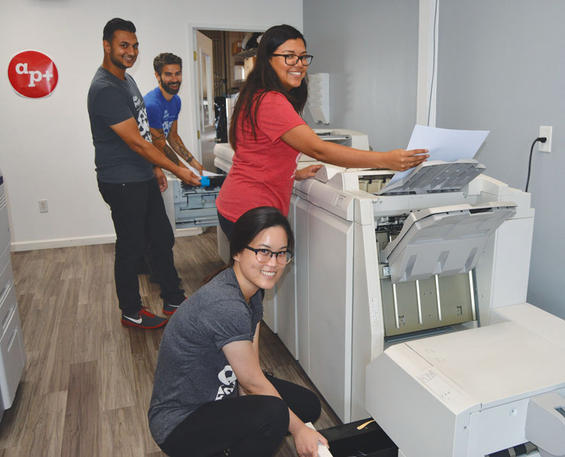 Since taking over Allen Printing & Graphic Design seven years ago, Jonade Saleem said he has grown the business about 70%. Pictured from back to front: David Oliveira, production assistant; Saleem; Monserrat Zitle, office manager; and Karen Chen, graphic designer. (Photograph by the Business Journal's Larry Duncan)
"We have a lot of pressure on us from chain businesses. The way we've chosen to deal with it is to be smarter, more original, do the hard work and be more personable," Kemner said. "We cater to people that are looking for things that are fresh, original, exciting and not necessarily more expensive. A chain offers mass-produced products for a mass market, and we deal with small producers. It's pretty thrilling."
Wine Country also provides wine storage services, which include 95 wine lockers that have a capacity of between 12 and 48 cases. Kemner said the storage lockers are 100% rented out.
City officials have been supportive of his business from the start, Kemner said, adding that the city has progressive values while remaining business friendly. The location of the store is ideal, Kemner said. He explained that Redondo Avenue is a well-traveled commuter street, and after almost 22 years in business, he still has people enter the store daily and say they drive by every day and never knew the store was there.
Business is up between 10% and 15% for Ship & Shore Environmental Inc., according to President & CEO Anoosheh Oskouian.
"We have been experiencing steady growth, which is really nice," Oskouian said. "We engineer and manufacture air pollution control systems. So it has been increasing not only because of the demands of the government and the requirements that are out there, but also our involvement with a lot of industries has increased."
The city's proximity to Long Beach Airport is a convenient perk, Oskouian said, not only for her staff but also for clients coming into town. Being central to Orange and Los Angeles counties is also helpful to her business.
Signal Hill residents enjoy the convenience of two Home Depot locations in the 2.2-square-mile city. Town Center East Home Depot General Manager Earl Gibson said his store has been performing above expectations this year and that he is very pleased with the results.
"I'm really humbled by the support we get from our Signal Hill community. We have several of our customers that live in our area, they support our store, they tell us when things are really good, they tell us when there are opportunities we can address," Gibson said. "But overall, I think that our community really enjoys us being here and we are fulfilling their needs."
When asked if having two locations so close is detrimental to the sales of either store, Gibson said he did not think so and that he views it more as a partnership. If his store doesn't have what a customer needs, they can get it from the other. In this way, he said that having two stores is more convenient to customers.
Mercedes Sepko, co-owner of Marketink LG, said her 2016 sales experienced an 80% increase from her 2015 numbers and that this year is still seeing growth, though not as drastic. She said the slowdown is due to the increased marketing and printing needs during the election season last year which is not present now.
At the end of 2016, Sepko said the company expanded by leasing the building next door. The expansion allowed the company to purchase a new machine for cutting custom decals, a service not previously provided.
"The Signal Hill Chamber is changing dramatically. It's just getting very dynamic, and the new board is really involved. And it's a pleasure to be part of it," Sepko said. "It motivates businesses. There is this general sense of optimism and business community, and we're happy to see it."
Business has been consistently on an upswing for Morey Remodeling Group, according to owner Ben Morey. He said business is up between 18% and 20% forecasting for the rest of the year. The company is located in a Signal Hill industrial park, and Morey said people are often surprised that the space has a showroom.
"From our perspective, [the city has] been really easy to work with. The thing that's been really nice on our end is the police department does a really good job of trying to watch out for the commercial buildings here," Morey said. "Also, being here in the central location is great. People access us very easily."
Dave Solzman, owner of Delius Restaurant, said business this year has been pretty decent, up 3% to 5% from last year. However, he explained that the middle six months of 2016 saw a drastic slowdown, unusual for the time, so this year's numbers are really just a return to normal.
Being a resident of Signal Hill, Solzman said he and his wife love the city. He said being a small town makes it convenient and personal for residents and business owners.
"We're on track for our biggest year ever, and hopefully it stays that way. It's just nice to see that whatever slump we were in last year seems to have rectified itself," Solzman said. "We're just really positive right now for the future. It just looks really bright."
Big E Pizza owner Jimmy Eleopoulos has been in business in Signal Hill for 31 years and said the city has changed drastically in the time he has been open.
"From what it was 31 years ago to now is day and night," Eleopoulos said. "Signal Hill has become a very vibrant city. Where before you had tumbleweeds on the way to work, now it's a busy city."
So far this year, sales are up about 5%, according to Eleopoulos. Part of the increase is due to the restaurant's recently expanded dining area, which hosts a lot more parties, he said. With the prices of payroll and food increasing, Eleopoulos said he thinks the entire food service industry will see big price jumps. However, after 31 years of ups and downs, he said he would describe the atmosphere right now as comfortably stable.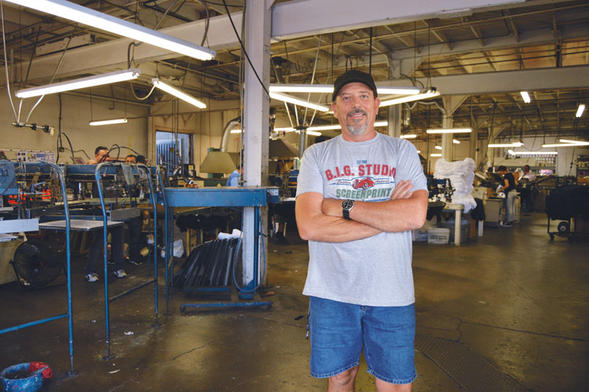 Mitch Kron, owner of Big Studio Custom Apparel, has operated in Signal Hill for 19 years. He said he enjoys the business-friendly environment the city offers. (Photograph by the Business Journal's Larry Duncan)
Liberty Coin opened its doors in Signal Hill in 1992. Retail manager Ryan White said that business has been brisk overall. He said he has seen an uptick in the sale and purchase of precious metals and that the rare coin market has been stable, though on the quiet side.
"I think people are afraid and they have a desire to take some control over the craziness we live in. I think one way to do that is to invest in something you can hold, a tangible investment that has stood the test of time," White said. "I think that's important for people after the boom-and-bust cycle of the stock market and other investment vehicles like housing. Gold is just one other option that you can invest in to potentially make money but at least keep your wealth."
Being located in the middle of Long Beach and central to the South Bay and North Orange County is beneficial to the shop, White said. He added that the direct access to the 405 Freeway makes it easier for customers to get to the store.
Sean Hitchcock, president of 2H Construction, said the strong economy has been good for business. He said work has been steady and similar to last year. The company has built out several projects in Signal Hill, including its own corporate headquarters and the Kaiser Permanente medical office.
"Working with the City of Signal Hill is good because it's less bureaucratic, it's a smaller city," Hitchcock said. "You can go in and talk to who you need to talk to on a given day if you want to. You can form relationships, and you'll probably be working with the same people on the next project."
Hitchcock said the company also does a lot of work in Long Beach, with 10 projects under its belt. He said he is excited to see the City of Signal Hill growing and becoming more aesthetically pleasing while also bringing new and different services to residents and businesses.
For LB Walker Automotive, work has been nonstop since the beginning of the year, according to store manager Sal Lombardi. He said the shop is so busy that he is the first one to show up and the last one to leave, often arriving before opening to accept vehicle drop-offs from his regulars.
"We're about 25% to 30% over last year. Each year we're going up. But this year alone, I think, it's jumped tremendously," Lombardi said. "I spoke to a couple other shops here in the area, and they are busy too. We do our thing and keep our nose clean. Take care of customers right and you'll always be busy."
Lombardi noted the cleanliness of the city, saying that he himself is a "clean freak" at his shop. He recalled his recent annual inspection saying he was slammed that day and the shop was a bit messy for his taste, but the inspector still told him his shop was one of the cleanest in the city.
"The city and everyone on the council, they're just great people. They're very open arms – anything you need you just have to make a phone call," Lombardi said. "I love this city. If I were going to live anywhere else, it would be this city right here."
Numerous Developments To Alter Signal Hill Landscape
The City of Signal Hill is in the midst of a development surge – affordable and market rate housing, for-sale homes, retail, parks and mixed use projects. One of the most notable projects in the works is Signal Hill Petroleum's (SHP) Heritage Square.
"The site plan has advanced significantly in the last two months," Dave Slater, Signal Hill Petroleum chief operating officer and executive vice president, said. "We're looking at a Class A apartment, residential, multi-family building, in addition to restaurant space and bringing in a very high-quality boutique grocer, Mother's Market."
The project is located on the northwest corner of Cherry Avenue and Burnett Street and is currently being negotiated between the city and SHP. Slater said the company has identified a high-end restaurant operator, which he hopes will open a signature restaurant with a great view at the project.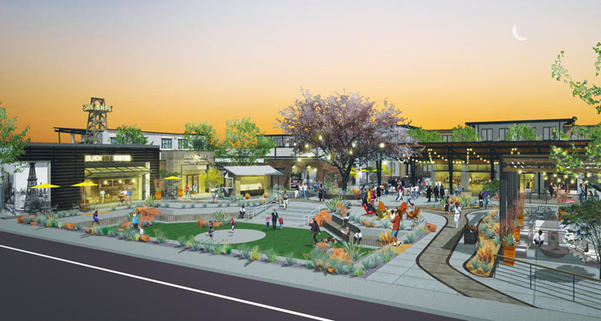 Signal Hill Petroleum's Heritage Square Development is designed to be an urban village. The project features about 200 Class A apartment units with amenities, boutique grocery store Mother's Market, a high-end restaurant and open gathering space. Located on the northwest corner of Cherry Avenue and Burnett Street, the project is nearing the end of its design phase. (Rendering courtesy of Signal Hill Petroleum)
Slater explained that part of the city negotiations are for a former redevelopment property still owned by the city and needed by SHP to complete the project land aggregation. The company already owns all other necessary surrounding land.
"We're really looking to create an urban village, Main Street atmosphere. And the site design we've got on the table now, I think we're very close to having fine-tuned it," Slater said. "I think the site plan is really exciting, and I think we're going to deliver a real quality project – lots of open space, gathering space, kind of unique and eclectic retail spaces, a mix of restaurant uses."
A key feature to the Heritage Square project is the inclusion of about 200 residential units. Slater described the housing element as a Class A, multi-floor, residential building that will feature amenities to appeal to a population not present in Signal Hill. The residential component is important because Slater said it brings in a customer base for the new urban village businesses.
The Heritage Square project will be very pedestrian friendly, according to Slater, with an open plaza serving as a destination and connection point for the city's extensive walking and hiking trail system.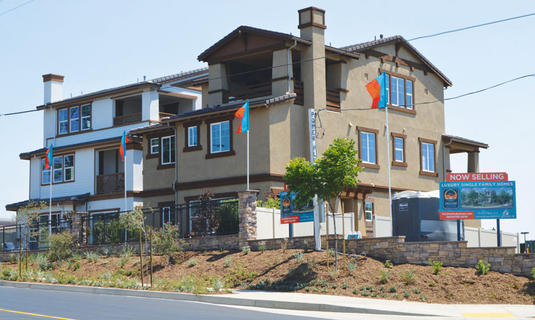 Crescent Square is a 25-unit detached single-family development by Far West Industries. Located on the northeast corner of Walnut Avenue and Crescent Heights Street, several model homes are completed for viewing, while the remainder are still under construction. (Photograph by the Business Journal's Larry Duncan)
Signal Hill Petroleum also played a role in the Crescent Square residential development on the northeast corner of Walnut Avenue and Crescent Heights Street. Far West Industries is constructing 25 three-story, single-family, detached homes that are for sale. Model homes are already completed for viewing, while construction continues on the remaining homes. Slater explained that SHP owned the land and conducted environmental remediation on abandoned oil wells before selling to Far West.
"Then we've got the Zinnia workforce housing development that's going to provide 72 affordable units to low-income families," City Manager Charlie Honeycutt said. "That's over on Walnut Avenue and Hill Street. It's under construction right now, and we think that will open in the fall. Housing is becoming so unaffordable in general. It's much-needed housing units."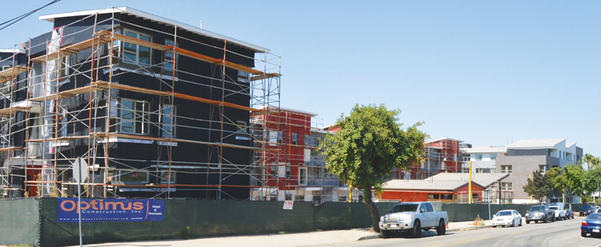 Zinnia is a 72-unit affordable housing development by Meta Housing located at 1500 E. Hill St. (Photograph by the Business Journal's Larry Duncan)
A major project for the city is the construction of its new public library adjacent to city hall on Hill Street. The current project design calls for a 12,000-square-foot library, which is three times larger than the previous library, and will feature a historical museum and separate children's section, according to Mayor Edward Wilson.
"I just went to a conference where they were talking about how important it is for kids to have accessibility to books because reading is the one thing that is fundamental through everything you do," Wilson said. "I've always believed that we are always looking to have a sustainable future, and that means making sure that our kids are having that opportunity because our kids are the future."
The library project had already been sent out for bid, which came back higher than anticipated, Honeycutt explained. He said the city is going to look into making modifications to the project to lower costs, as well as identify additional funds, before sending it out for rebid. Honeycutt explained the process is only delaying the project a couple of months, and he hopes for a groundbreaking before Christmas with a one-year construction period.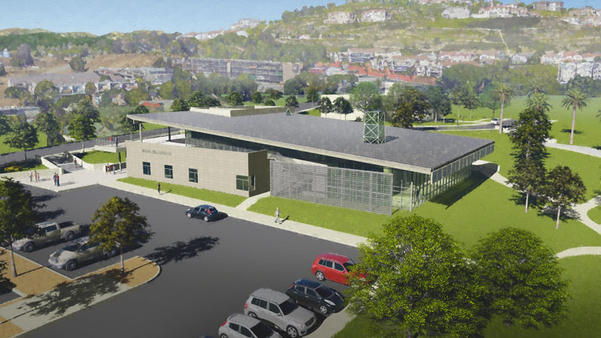 The bids for Signal Hill's proposed 12,000-square-foot public library came back higher than expected, according to city manager Charlie Honeycutt. He said staff is making some adjustments to the project, as well as identifying additional funds, before sending the project out for bids again. (Rendering courtesy of the City of Signal Hill)
The city is also working on plans for a view park and a dog park. Design of the dog park at 3100 California Ave. is completed, and Honeycutt said he expects it to go out for bid later this month, with construction beginning in October and wrapping up before Christmas. He said the park will feature separate areas for large and small dogs and will include architectural design elements and not be simply an open grass area.
"The view park, the first phase of that project, the design is complete. The City of Long Beach actually owns a property adjacent to the view park on Cherry Avenue and Burnett Street," Honeycutt said. "So we are working with them on a lease agreement where we can expand the view park and the trail system. It has a great view of the port area and will also incorporate a recycled waterline."
Honeycutt said the project was ready to break ground before the option to expand onto the Long Beach property, but if an agreement could be made, design for a second phase would need to be done. The project is largely funded by a $2 million grant from the Rivers and Mountains Conservancy. Honeycutt said Signal Hill is proud of the grants it receives, which fund 47% of the city's capital improvement programs.
Both Honeycutt and Wilson expressed interest by the city to see the development of a hotel. Honeycutt said that being adjacent to the 405 Freeway with two NFL teams playing in the Los Angeles area, not to mention being located minutes from Downtown Long Beach and its amenities, Signal Hill is perfectly positioned for a successful hotel. Wilson agreed.
"Personally, I'd like to see us do a development over by Spring Street and Atlantic Avenue. It's a longer-term project, but I view it as a multi-level premium outlet mall with view-orientated restaurants up on top and perhaps a hotel attached to help service Long Beach Memorial and any other opportunities that are there."