Like many cities, the City of Carson is not without its challenges: the government is working to regain stability after years of management turnover, there is the matter of a $4 million budget deficit, and, like other local cities, it's contending with increasing costs associated with infrastructure and public safety needs. On top of that, hopes of an NFL stadium within city limits were dashed when the project instead went to Inglewood.
But, in Mayor Albert Robles' view, there's much more to Carson's future than the fact that a football stadium isn't in the cards. Developments are planned and underway city wide that stand to update major corridors, attract new residents, increase pedestrian foot traffic and bring in significant revenue to the city. Plus, as he pointed out in a phone interview, the city's major industries – auto sales, retail, oil, and logistics and goods movement – are all doing quite well.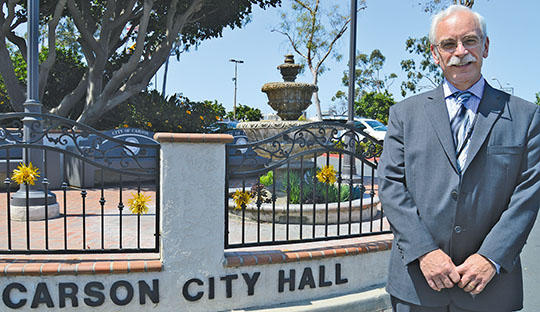 Ken Farfsing has served as interim city manager for the City of Carson since last July. He's credited with bringing stability to a city once embroiled in controversy. (Photograph by the Business Journal's Larry Duncan)
"I consider myself very lucky and honored to serve as mayor of Carson at this time, because this is a critical time in Carson's history and Carson's forward progress to what our founding fathers always dreamed and envisioned for the city," Robles said. "I think we're realizing the full potential of the great City of Carson in these coming times."
Robles pointed to real estate developments in the pipeline as the city's greatest opportunities for growth. "We have got a couple of major projects that are underway, and, when they are completed, they're going to move Carson forward significantly," he said. "It's going to attract more and more economic development, and that's what makes it exciting being mayor."
The parcel of land that Robles and city management believe has the greatest potential is the 157-acre site adjacent to the 405 Freeway where the NFL nearly built a stadium for the Chargers and Raiders. Robles recalled that he was caught off guard when the league chose Inglewood instead. "I was surprised. . . . But you know, the NFL owners in their infinite wisdom thought that the Inglewood site was better. So now we have to move on," he said.
The former owner of the site, Starwood Capital Group, transferred ownership of the property to the Carson Reclamation Authority after the NFL deal fell through, which, after 15 years of dead-end development proposals, finally gives the city leverage and control in the site's future, according to Robles.
"Now when we pick the developer, it's going to be our land, on our terms," Robles said. "We're only going to enter into an agreement with a developer who can fulfill their promise to us."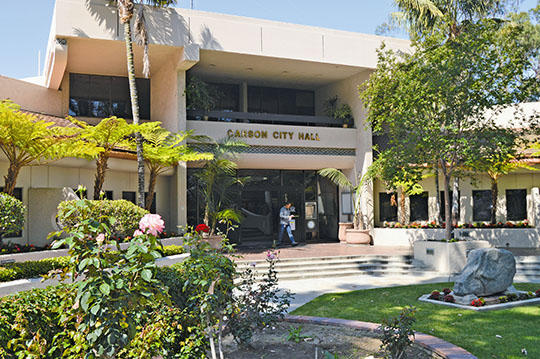 The site represents about 2,200 linear feet adjacent to the 405 Freeway – vacant real estate that Carson Community Development Director John Raymond told the Business Journal "doesn't exist anywhere else on the 405." Raymond said the city is fairly certain an outlet mall is going to be built directly next to the freeway.
The city has been in talks with several developers, and Robles expects the city will be ready to announce its plans for the site in about two months.
Robles expects other ongoing developments, such as the Porsche Experience Center and multiple mixed-use residential projects – including a 357-unit apartment building under construction across the street for city hall – to have a significant positive impact on the city.
Meanwhile, the city's business climate is "excellent," according to Robles, who pointed out that the city's auto dealers and oil refineries are doing well. "Small businesses, too, are relocating [to Carson]," he said. "We just had our first micro brewery open last year and it's thriving," he noted, referring to Phantom Carriage Brewery on Main Street. "One year into their business, and they're [already] looking to expand."
In an interview at Carson City Hall, Ken Farfsing, interim city manager, noted that the city's logistics and goods movement sector, driven by nearby port operations, is thriving. "That's driving a lot of land values and land use decisions," he said. "But it's having unintended consequences. Maria [Williams-Slaughter, director of public works] has to deal with a lot of issues related to road repair and traffic congestion."
The city's largest sales tax revenue generators – IKEA, the SouthBay Pavilion Mall and auto dealers – are all doing well, Farfsing pointed out.
Farfsing was hired by the city last July to help stabilize the government following years of city management turnover. He originally expected to come on for about six months, but has remained longer at the request of the Carson City Council as the city works on developing the former proposed NFL stadium site, balancing its budget and transitioning to a new management team. "We've had so much turmoil politically here that it's just very difficult to recruit city managers," Farfsing said. "So the council asked me to stay to try to stabilize staff."
"The city has had an exodus of managers, I guess you would say," Farfsing reflected. "A lot of managers were fired, so the institutional knowledge is not great. They've had a lot of acting directors running departments for a number of years."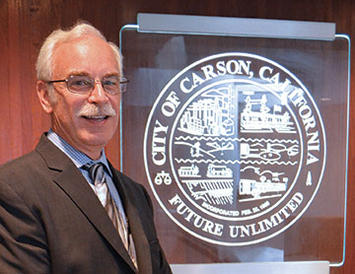 Ken Farfsing, interim city manager for the City of Carson, said the city has much to be proud of, including new businesses moving in and several real estate developments underway and in the works. (Photographs by the Business Journal's Larry Duncan)
Since Farfsing was hired, key management staff, including a new director of finance, have been hired. There is also a new human resources director and a new assistant city manager. A new city clerk, who hails from the Long Beach city clerk's office, is also in place following a recall election of City Clerk Jim Dear. Dear, who had previously been mayor, had displayed erratic behavior after he ran for and was elected to the position of city clerk, according to accounts from city staff.
Robles called the current city management team "the best the city has had in a long time."
The city government is running better now, although some things still need work, Farfsing said. "You know, excuse our dust – we're under construction," he said.
Although Carson's fiscal year begins in July, when Farfsing came on in July 2015 there was no adopted budget. "The first thing I asked for when I came in was a copy of the budget, and staff did not have a budget," he recalled. "Frankly, I didn't know where we were. So we brought in a forensic auditor to really get to the bottom and dig down." A budget was eventually adopted in November. The city had an $800,000 deficit, and dug into some of its $22 million in reserves, according to Farfsing.
Carson is facing a $4 million deficit for the upcoming fiscal year. There are numerous reasons for the deficit, a major one being that the city's contract with the Los Angeles County Sheriff's Department increased by $1.3 million, according to Farfsing.
"What's happening in L.A. County is there are a lot of jurors giving really large awards for these police incidents," Farfsing said of the increase. "The other part of it is that the [L.A. County] Board of Supervisors held off during the recession giving pay increases to the deputies. . . . All police departments and sheriff's departments are having problems recruiting, so they have to continue to raise their salaries to make sure they can replenish," he explained.
The city could be facing another financial hurdle if voters don't pass the renewal of its utility users tax on June 7. The 2 percent tax on natural gas and electricity makes up 12 percent of the city's General Fund, generating about $8 million per year for public safety and infrastructure needs.
Katie Pandolfo, general manager of StubHub! Center, is part of a group advocating for the tax's renewal. Although an effort to renew the tax failed with voters last year, she is confident the tax will pass now because more effort has been made to educate voters about its importance to the city. She noted that residents 62 years and older, as well as certain low-income families and individuals, are exempt from the tax.
Robles said he would like the city to be in a stronger financial position, but added that the city is in a good place in comparison to many other cities. "As we move forward with the development of the [outlet] project on the 157 acres, I think greater and better things are coming, and that's going to help our financial position," he said.