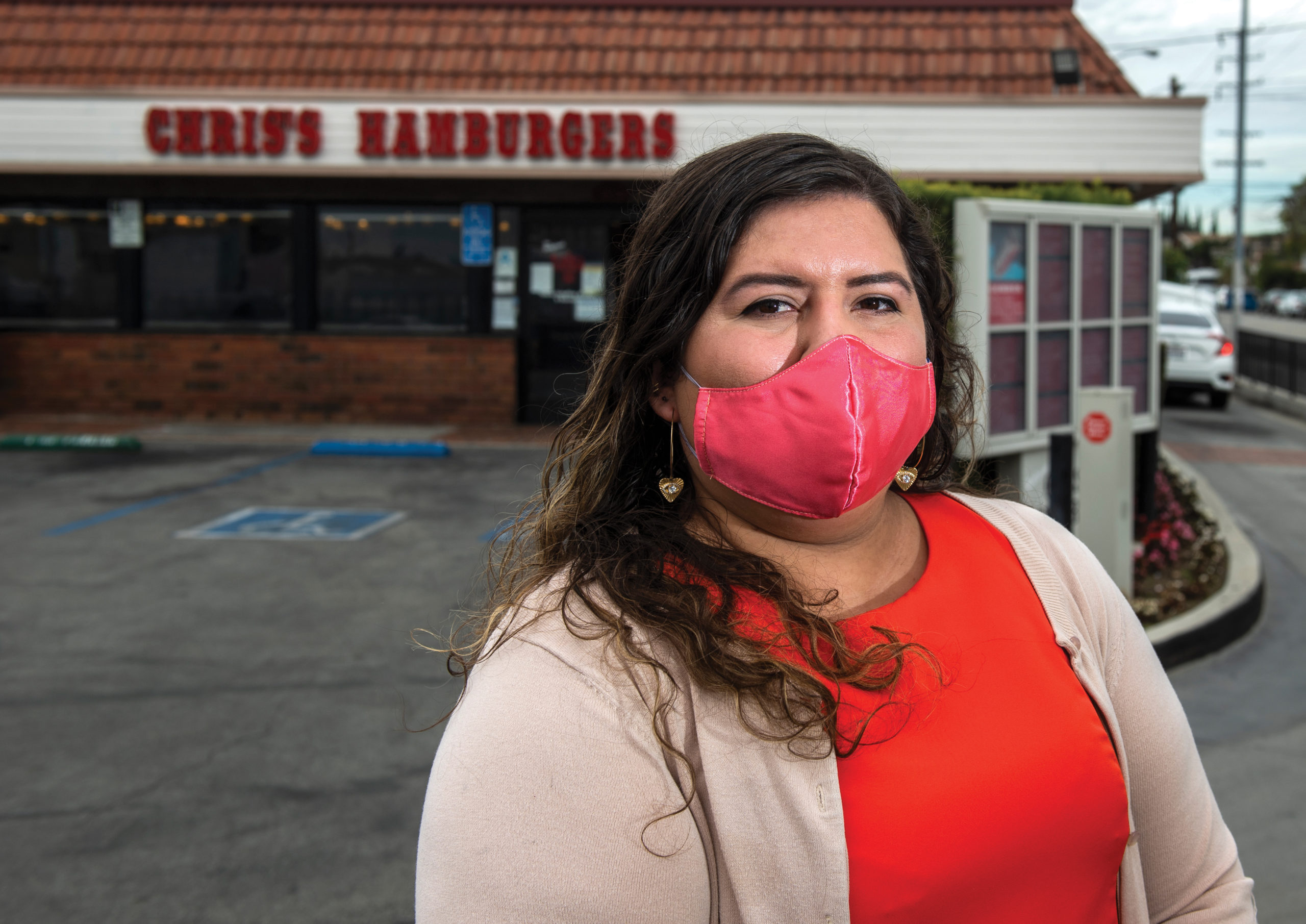 A year ago, at age 26, Elizabeth Alcantar was sworn in as the youngest mayor in the city of Cudahy.
Exactly one week later, on Jan. 14, Delta Air Lines Flight 89 declared an emergency and dumped 15,000 gallons of jet fuel on multiple East Los Angeles and South Bay communities, including Cudahy, kicking off a tumultuous one-year term for the young politician.
"The first word that comes to mind is 'turbulent,'" Alcantar said of her year as the city's mayor. "It was a tough time."
Born in Huntington Park, the now 27-year-old Alcantar moved to Cudahy when she was 5. She has lived with her family in the city since then. After high school, she attended Cal State Long Beach, where she received a degree in political science.
The small Cudahy community of about 30,000 is 95% Latino, and 85% of residents are renters. Alcantar herself, along with her family, are renters.
"A majority of our people don't have any sort of advanced degree or college diploma," Alcantar said, noting that it is important for younger members of the community to get degrees and remain in the city. "Supporting our community in the best way that we can with all that new knowledge we've earned."
And that is exactly what she did.
Alcantar was 25 when she was elected to the Cudahy City Council in 2018, missing the title of "youngest ever city councilmember" by only three months. But when her peers on council elected her to serve as mayor for 2020, she became the city's youngest mayor on record.
Cudahy mayor is not elected by residents. Instead, residents elect city councilmembers for four-year terms and then the positions of mayor and vice mayor are selected each year by the council.
But the elation of being elected the youngest mayor wore off quickly when the Delta airliner coated the community in chemicals.
"The biggest impacted location was Park Avenue Elementary School. They were doused in jet fuel," Alcantar said. "I'm used to environmental injustice and we know that too often those contributing these harms to our communities are not held accountable."
Residents exposed to the fuel experienced rashes, infections and diarrhea, in some cases for weeks. And nearly half the city's residents are without health care, Alcantar said. Delta representatives were invited to a town hall meeting to hear from the community regarding the incident. Ultimately, the company, in partnership with a local community health clinic, provided free healthcare for all impacted residents.
Litigation between the city and Delta is ongoing, so Alcantar could not elaborate on any future agreements for compensation, monetary or otherwise.
Two months later, almost to the day, the devastating impacts of the new COVID-19 pandemic began being felt throughout the county when officials ordered businesses to close on March 16. Alcantar, fresh off one disaster with the Delta dump, had a new, long-term crisis on her hands.
"Immediately we saw our people losing their jobs, losing access to healthy food, not knowing what to do in terms of rent—we still see that today," Alcantar said. "We are seeing our residents asking for support," she added. "Unfortunately, it is difficult for a small city budget to manage."
Under Alcantar's leadership, the city was able to implement some support in the form of rental subsidies, a food distribution program and senior meal delivery, among other things.
"Mentally and physically [crisis] does take a toll," she said. "But as an elected official, you're not only thinking about the toll you feel but also the community at large."
One driving force behind Alcantar's political career is affordable housing. She said despite the overwhelming majority of city residents being renters, Cudahy has no renter protections. Recently, Alcantar introduced multiple housing-related items to the council, including an eviction data collection ordinance.
"One of the reasons I focus so much on housing issues is a big part of my life was translating rent increase notices from our landlord to my parents," she said. "There was a lot of housing insecurity growing up."
Environmental injustice is another issue that led Alcantar into politics. She explained that being cradled between four major freeways—and near several others—Cudahy and surrounding cities are used to air quality issues but have never had representation on the South Coast Air Quality Management District, a body responsible for improving air quality for more than 17 million residents in LA, Orange, Riverside and San Bernardino counties. For that reason, Alcantar ran for a seat on the air quality board against Long Beach Councilman Rex Richardson.
Though she lost her bid for the AQMD board to Richardson, Alcantar still ended up as part of the organization. Exiting board member and former Rolling Hills Estates Mayor Judith Mitchell appointed Alcantar to the board's environmental justice advisory group.
"I decided to run after speaking with environmental justice organizations about the needs of the region," Alcantar said. "I'm proud of the race I ran. I stuck to the issues that matter to our communities."
Alcantar serves on the board of the Hub Cities Consortium, part of the LA County America's Job Center of California workforce development agency, and sits on the California League of Cities Women's Caucus.
In December, when Long Beach Mayor Robert Garcia announced he would not seek reelection to the Metro board, he mentioned Alcantar by name, which led to speculation that she may run for the vacant seat. However, Alcantar said she has no current plans to run for Metro. In fact, Alcantar is supporting Bell Mayor Ali Saleh.
"I was a Metro rider for 24 years. My family also uses Metro—bus and rail—to get to work," she said. "I would love to be on Metro but I am focused on Cudahy."
Alcantar said she has no real political ambitions planned beyond serving her community through a second term on city council when she comes up for reelection next year.
"I appreciate all the questions about running for higher office but I am focused on Cudahy," Alcantar said. "This is only my first term. I have so much work to do."