On July 14, Mayor Robert Garcia announced his recommendations for new appointments to the Long Beach Board of Harbor Commissioners: former Long Beach Councilmember Frank Colonna and former Assemblymember Bonnie Lowenthal.
Colonna, owner of Colonna & Co Realty in Belmont Shore, was a two-term 3rd District councilmember and served two years as vice mayor. During that time, he served as chair of the Alameda Corridor Transportation Authority, chair of the Central Cities Committee for the National League of Cities and chair of the San Gabriel and Lower Los Angeles Rivers and Mountains Conservancy. When he ran for mayor in 2006 – a runoff race he lost to former Mayor Bob Foster – Garcia served as his campaign manager. Colonna has been serving on the Long Beach Economic Development Commission since its formation in 2015. He will leave that commission once he is confirmed for the harbor board.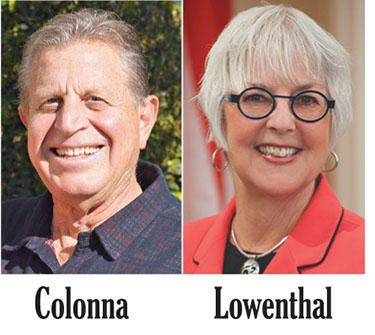 Lowenthal is a former Long Beach Unified School District Boardmember and two-term 1st District councilmember, serving from 2001 to 2008. She also served as vice mayor. Garcia succeeded her as the district's councilmember. After serving on the city council, she was elected to the California Assembly, in which she served as chair of the Assembly Select Committee on Ports and chair of the Assembly Transportation Committee. She served in the assembly from 2008 to 2014. She ran for mayor in 2014, opposing Garcia among others, but did not make it to the runoffs.
Harbor Commissioners Lori Ann Guzman, Lou Ann Bynum and Tracy Egoscue continue as members of the five-member commission, which sets policy for the Port of Long Beach.
Commissioner Doug Drummond, who previously announed that he wanted to serve only two years of his six-year term, is being replaced by Colonna. Drummond ran for mayor in 2006 against Colonna and Foster. Commissioner Rich Dines was eligible to be reappointed for another six-year term, but the mayor opted to not reappoint him. Lowenthal is replacing Dines.
"Frank and Bonnie love Long Beach, and their extensive experience in business and government make them great choices for the harbor commission," said Mayor Garcia. "They understand how important our harbor department is to our local and national economy."
The appointments are being presented to the Long Beach City Council for approval at tonight's (July 18) meeting, according to Mark Taylor, chief of staff for the mayor.
Appointments To The Economic Development Commission, Planning Commission And Transit Board Announced
In his July 14 announcement, Garcia also tapped new members for the Long Beach Economic Development Commission, the Long Beach Planning Commission and the Long Beach Transit Board of Directors.
Steve Goodling, president and CEO of the Long Beach Area Convention & Visitors Bureau, has been selected as the CVB representative to the economic development commission. He has led the CVB for 16 years. According to the mayor's office, the CVB generates more than $300 million in regional economic impact annually. In his time at the CVB, Goodling spearheaded $45 million in upgrades to the Long Beach Convention & Entertainment Center.
Ninth District resident Josh LaFarga has been named to the planning commission. If his appointment is approved, he will replace Donita Van Horik, who resigned. LaFarga is the director of public and government affairs and an executive board member at the LiUNA Local 1309 union. He sits on the building rehabilitation appeals board for Los Angeles County, is a member of the South Bay Workforce Investment Board, and serves as co-chair of the legislative committee for FuturePorts, according to the mayor's announcement.
Garcia selected Adam Carrillo, economic development manager for the Downtown Long Beach Alliance, to serve on the Long Beach Transit Board of Directors. He currently serves as president of the Long Beach Commercial Real Estate Council and as a principal at Economic & Business Development Partners.