California takes a hard stance when it comes to strict environmental laws, and Long Beach is no exception, oftentimes implementing additional regulations and incentives to encourage residents and businesses to be as eco-friendly as possible.
For residents, curbside recycling is easy enough – recyclables go in the large purple bins provided by the city and get picked up once a week. No more sorting cans, bottles, paper and cardboard. However, when it comes to large appliances, or white goods, residents and business owners alike may not realize they are recyclable or reusable through the city.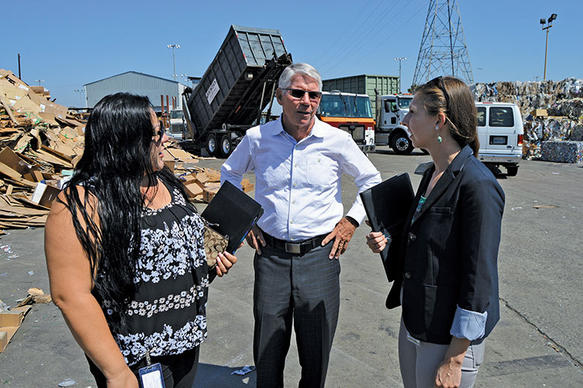 Long Beach has several programs that encourage residents and businesses to recycle and reuse. One program allows for large appliances, furniture, electronics, tires and other items that do not fit in trash receptacles for normal pickup or require special disposal to be picked up by the city free of charge. These special collections can be scheduled at longbeach-recycles.org or by calling 562/570-2876. Pictured at Corridor Recycling from left to right: Elisa Calderon, a recycling specialist with Long Beach's Environmental Services Bureau [ESB]; Gilbert Dodson, owner of Corridor Recycling; and Leigh Behrens, a recycling specialist with ESB. (Photograph by the Business Journal's Larry Duncan)
"Recycling isn't just cans and bottles," Leigh Behrens, a recycling specialist with the Long Beach Environmental Services Bureau, said. "When it comes to city operations, like with our contract with Corridor [Recycling], all of the appliances that are collected on the curb from residences or are illegally dumped and picked up by city crews, those are also being recycled."
The City of Long Beach has a special collections program where residents can schedule a pickup for large appliances such as air conditioners, clothes washers and dryers, ovens, stoves, refrigerators, freezers and water heaters. Behrens explained that the city began this program because these types of appliances are in a special category and need to be handled a certain way.
"They can't go in the normal trash. They can't go in the normal recycling with the cans and bottles because they may contain hazardous materials that are potential health hazards and environmental hazards," Behrens said. "That really is the importance – to be able to ensure that everything we're handling as a city is being dealt with in a way that is environmentally sound. And that's where our connection with Corridor is."
Long Beach holds a metal contract with Corridor Recycling, which has been operating for 21 years in the city. All large appliances picked up by the city are then brought to Corridor to be broken down and recycled properly. Some of Corridor's other clients include the Aquarium of the Pacific, Kaiser Medical Centers and Macy's Department Store.
"Recycling is a green business and we take pride in that, but we're in it for profit," Corridor owner Gil Dodson said. "We have to be very careful because there are some things that just don't work. But the metals do work if you handle them the right way, such as the hard-to-handle stuff like white goods."
Each Long Beach residential account is provided with two free special collections per year, however a regulatory fee may be charged for items that require special handling. Special collections are not limited to white goods but also include large furniture, computers and monitors, TVs, tires and yard debris such as tree branches, as well as other odd items that do not fit in with traditional recyclable goods or trash. Tires must have the rims removed before pickup, and appliances such as refrigerators and freezers must have their doors removed for safety reasons.
"These are in everyone's home. This stuff gets accumulated," Behrens said. "When it comes to the environmental situation, which of course we care about a lot, with refrigerators and freezers there are a lot of people who, when they buy a new refrigerator, shove the old one into the garage and make it their beer fridge. First of all, those old refrigerators are huge energy vampires, so really that's impacting our energy use within the community. And they're just sitting there and they don't need to be there."
Behrens pointed out that the special collections program is not equipped to handle household hazardous waste, which includes paint, cleaners and other chemicals residents and businesses might have. In fact, Long Beach does not have a program to dispose of these products itself but has partnered with EDCO Recycling in Signal Hill to offer free drop-off for these types of hazardous materials on the second Saturday of every month.
Speaking about the amount of white goods the city has been turning into Corridor, Dodson said, "[The city's] white goods have all of a sudden increased like no one's business. All I know is last month [the city] had a two-page list of of recyclable loads of white goods."
Behrens said the surge really speaks to the message the city has been able to get out to residents and the pride the community takes in the city. She said the environmental services bureau promotes to residents through its website and at events. In the bureau's recent annual presentation to the state about its recycling initiatives for 2015, it stated that almost 20,000 people were reached through community events.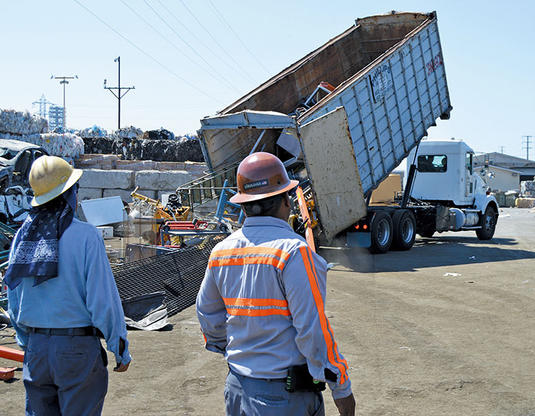 Corridor Recycling has a metals contract with the City of Long Beach, which includes the disposal of all large household appliances such as refrigerators, freezers, air conditioners, clothes washers and dryers and water heaters. Illegally dumped items picked up by the city, as well as items that were scheduled for pick up by residents and businesses, are taken to Corridor to be recycled properly. (Photograph by the Business Journal's Larry Duncan)
"We also were a little flummoxed when in, I'd say, early 2015 we just got slammed with seeing a lot more illegally dumped appliances, for one thing, and more special collections," Behrens said. "In the past six months, we have had twice as many tons of white goods [sent to Corridor] than in all of 2015. People that live in Long Beach, they have pride in their community, so they don't want to see the environment being fouled up with chemicals or have things cluttering the streets."
The city has a new initiative called the Clean Team that the mayor wants to focus on to improve response times for the removal of illegally dumped items and debris. In addition, the city's GO Long Beach app, which can be used to report graffiti, potholes and sign damage, can be used to report illegally dumped items.
In a recent 8th District newsletter, Councilmember Al Austin released numbers for reports made through the app in his district from July 2 to August 2. Illegally dumped items had the most reports at 120, all of which were completed. (The city actually had 124 pickups, meaning four were spotted by city employees and not reported by residents.)
For businesses, Dodson explained that Corridor will pick up bulk amounts of recyclable materials, including white goods. He also pointed out that residents and businesses could bring their recyclable goods to Corridor.
While the bureau is proud of its recycling success, Behrens explained that one of its latest programs hopes to promote reuse for businesses instead. LB-exchange.org is a site where businesses that are closing or upgrading their facilities can post large appliances and furniture in good, working condition for nonprofits, schools or other businesses to purchase.
"A zero waste stream – reducing waste or reusing – is a top priority," Behrens said. "[The exchange] acts as a connector for businesses that are in need of getting rid of things and are in need of something that someone else has. Kind of a trash into treasure situation.
"Recycling isn't just a green thing or an environment thing or, as some people who are more critical of it would say, a tree-hugger thing. Recycling isn't just about that, it is a business," Behrens continued. "That's really the broader aspect of why we are here today, to show that Long Beach is a green community that does recycle and makes sure things are handled appropriately, but also that there is business behind this, a commercial entity."
For more information about city recycling programs, residents may visit longbeach-recycles.org. Special collections can be scheduled on the website or by calling the special collections hotline at 562/570-2876. Businesses can schedule a bulk pickup with Corridor at 310/835-9109 or on corridorrecycling.com.