What started in the 1940s in Signal Hill as a crane rental firm with a single crane has since grown into a multidivisional company known for its ability to handle unique, complex projects. How complex? Dismantling nuclear power plants, building rocket launch pads, shoring up freeways after major earthquakes – these are just a few of the services Bragg Companies, now based in Long Beach, is called upon for.
"We have built a reputation that the tougher it is, that's when they call us," Scott Bragg, chief operating officer and vice president, said in an interview at the company's North Long Beach headquarters.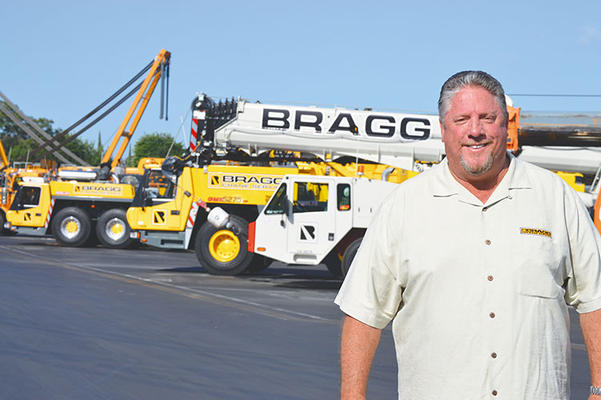 Scott Bragg, vice president and chief operating officer of Bragg Companies, is the third generation of his family to run the company, which was founded by his grandfather, Jim Bragg, in 1946. (Photograph by the Business Journal's Larry Duncan)
Jim Bragg, Scott's grandfather, was a crane operator – a transplant from Russellville, Arkansas – who decided to strike out on his own. He purchased his first crane and started the company, then called Bragg Crane Service, in 1946. "We started with one crane and started by moving oil rigs in Signal Hill and Long Beach," Bragg said.
Demand from customers caused the business to diversify. "Our customers asked if we could provide transportation services for those types of equipment. So in 1955, we started Heavy Transport, which is our heavy haul trucking company," Bragg said. That year, the company moved from Signal Hill to Long Beach, on a parcel of land on Paramount Boulevard that currently houses the company's John Deere dealership, Coastline Equipment.
"In 1967 we started Bragg Crane and Rigging, which is our industrial construction division, because we were asked to provide labor to disassemble and reassemble," Bragg said.
Bragg Companies' headquarters is now located across the street on 20 acres of land purchased from Monsanto about 25 years ago.
Since the firm's founding, it has expanded to include crane rental, crane service and rigging, heavy transport and specialized services divisions, making it "a turnkey operation," Bragg said. It has 12 branches in California, Arizona, Nevada, Utah and Texas. The company also owns another John Deere dealership in Idaho and is in the process of purchasing one that serves the Las Vegas region of Nevada.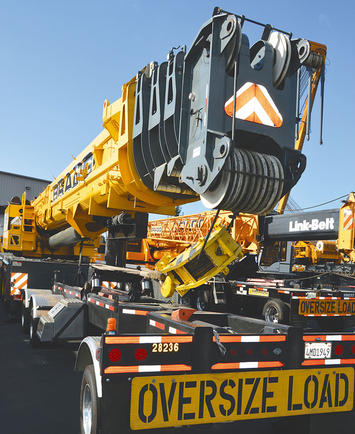 Bragg Companies' North Long Beach headquarters, which occupies 20 acres of land, is full of cranes and heavy-duty hauling equipment like the crane pictured on this specialized truck. (Photograph by the Business Journal's Larry Duncan)
Bragg Companies is now celebrating its 70th year in business. "It seems like it has gone by in a flash," said Bragg, who has worked in the family business for as long as he can remember. Bragg succeeded his father and uncle, as well as his brother, who all passed away in 2009. His mother, Marilynn, is the company president, but he runs the day-to-day operations.
Now, Bragg pointed out, he works in his father's old office, surrounded by photos of his family. Two of his sons, Cameron and Kellen, now work for the company – a point of pride for Bragg. "They love the business," he said. "My youngest is a junior at Vanguard, and who knows what he is going to do," he added.
"I really love the business. We're blessed to have, in all of our companies, 20-, 30-, 40-year employees. You're only as good as the people you surround yourself with," Bragg reflected.
Between all its divisions, Bragg Companies has about 400 salaried employees and at any time employs between 2,500 and 3,500 people in labor positions. About 300 employees are based in Long Beach, and many have spent their whole careers with the company, Bragg said.
For Bragg and his firm's employees, one of the best parts of the job is the unique projects the company is able to take on. "We get to do a lot of unique stuff that many people don't have the opportunity to do, which our crane operators and truck drivers and iron workers in our industrial construction groups get to tell their kids about," he said. "That they built a rocket launch facility. That they built rides at Disneyland. That they built power plants to turn the lights on. High rise buildings. Stadiums."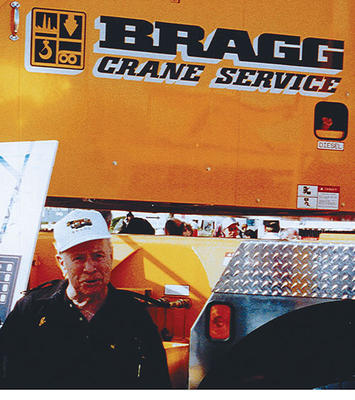 Jim Bragg founded Bragg Companies with one crane in 1946. The 70-year old Long Beach firm now has 12 branches and multiple John Deere dealerships in five states. (Photograph provided by Bragg Companies)
He added, "That shows people the diversity and the experience that our employees have to take those challenges on."
Bragg Companies was called upon in 1988 to assist with the first-ever dismantling of a nuclear power plant, and has performed this task on other occasions since, Bragg noted.
The firm's biggest task to date was building The Boeing Company's Delta IV rocket launch facility at Vandenberg Air Force Base in 2000 and 2001, Bragg said. "We erected all the structural steel and all the heavy mechanical components – the swinging arms that move away from the rocket," he said.
Bragg Companies continues to partner with the aerospace industry for similar projects. It is concurrently working for SpaceX and NASA in Florida and is also employed by Jet Propulsion Laboratory, Bragg noted.
The company is also heavily involved in the energy industry. "We work for different wind turbine manufacturers, as well as the owners of the wind farms," Bragg said, referring to wind turbine facilities near Palm Springs. These turbines weigh as much as 300,000 pounds, he added. Southern California Edison and Pacific Gas and Electric Company also employ Bragg Companies to move and install equipment. Additionally, Bragg Companies is still heavily involved in the petroleum industry, Bragg said.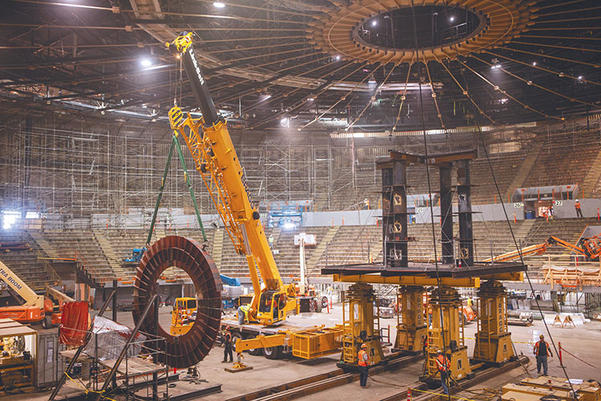 Bragg Companies worked on construction at performance venue The Forum in Inglewood, using its heavy-duty equipment to install the facility's supportive diaphragm structure. (Photograph provided by Bragg Companies)
While Bragg Companies continues to expand, it has faced some challenges in recent years. The company was able to weather the recession thanks to its diverse business offerings and its conservative practice of setting aside money for a rainy day, Bragg said.
"Running a business in California is not that easy," Bragg said. "It has been really constrained over the years with a bunch of new tax laws and HR issues in California," he explained.
Environmental regulations imposed by the California Air Resources Board (CARB) have necessitated purchasing new, expensive equipment. "It's really expensive in our business, with a lot of equipment and a lot of assets, to conduct business in California. But we're still doing it." In fact, this year the firm purchased the largest cranes it has ever owned – and all are currently deployed on projects, he said.
Bragg continued, "We have to be environmentally responsible, and at the same time, we still have to build things. We still have to get things accomplished. And it's harder and harder to do. But we try to stay on the leading edge of that with new technology and new equipment to comply with the laws that we're facing."
As Bragg Companies expands, it continues to purchase assets of other crane companies. "You have to be careful what you're buying. You can't buy anything old because of all the CARB regulations and all that," Bragg noted. "But we're always moving forward."
A historic photo shows some of the early equipment of Bragg Companies, which was founded in 1946 in Signal Hill. The firm moved to Long Beach in 1955 and has been based here ever since. (Photograph provided by Bragg Companies)
As a longtime Long Beach area business, Bragg Companies has been involved in the community since it was founded, Bragg said. The company has working relationships with the Red Cross and the Long Beach Fire Department to leverage its equipment and services in the event of a massive earthquake or other emergency, according to Bragg. "We work with fire and rescue [teams] during earthquake situations and catastrophic events, pulling cars off freeways and shoring up freeways," Bragg said. "We support with our equipment."
Bragg Companies has also been involved with local charities and schools. The firm hosts an annual golf tournament, which last year raised  $15,000 for Ronald McDonald House. The company has also donated funds to help seniors in the Long Beach Unified School District (LBUSD) pay for their yearbooks and for tickets to prom, which can amount to as much as $600 total, Bragg said. Last year, Bragg Companies donated $25,000 for this cause.
On November 2, Bragg Companies hosted more than 750 LBUSD students at its Paramount headquarters to learn about careers in the crane, rigging and specialized transport industries. The event was part of a national initiative by the Specialized Carriers & Rigging Association (of which Bragg is a member), the National Commission for the Certification of Crane Operators, and KHL Group, which owns American Cranes & Transport magazine.
In the coming years, Bragg looks forward to watching his kids and employees succeed. He reflected, "From my grandfather on, it has always been about the people you surround yourself with. You have to have good people. You can't do everything yourself. And you have to rely on them."