Imagine a street filled with the smell of cotton candy, the melodious sound of a barrel organ floating by, as a sparkling Ferris wheel slowly spins against a pastel-colored California sunset. This scene, complete with other familiar elements of a traditional street carnival, was among the most extravagant weddings Marni Farmer, owner of Long Beach-based So Smitten Special Events, has had the opportunity to plan so far. "The sky's the limit," Farmer said, with a laugh. "If someone wants a 40-foot Ferris wheel at their wedding, we can definitely make it happen."
While not every couple has the resources necessary to pull off this level of opulence for their special day, specialized entertainment has become a common feature of many wedding celebrations. The ideal entertainment, Farmer explained, completes the celebration, rather than interrupts it, and offers a "unique, memorable, one-of-a-kind experience that we might not get somewhere else."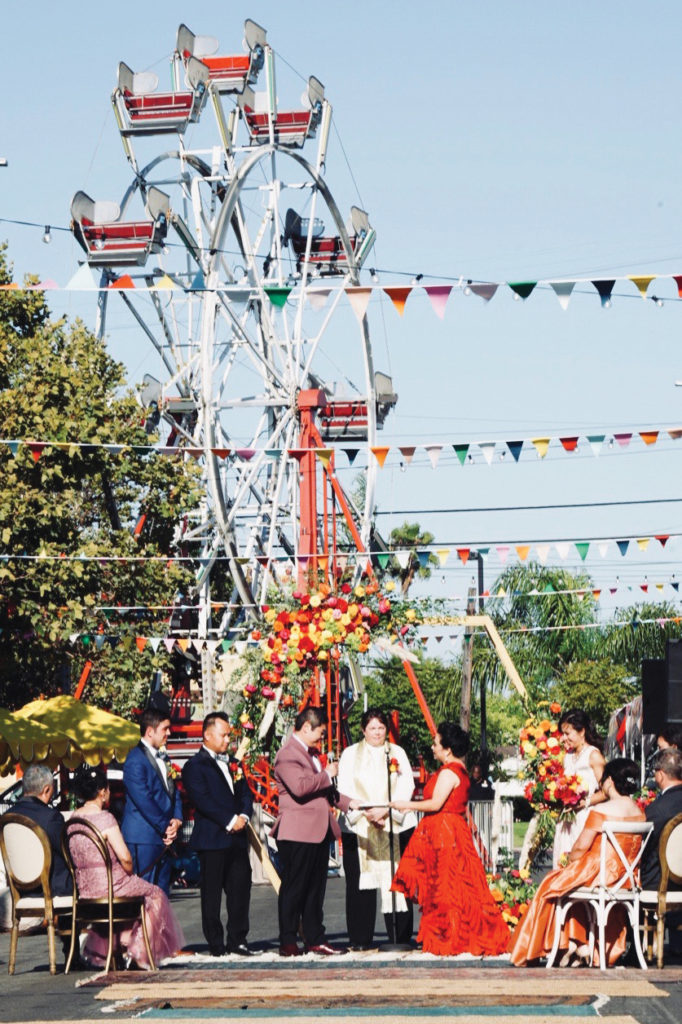 To create this one-of-a-kind experience, couples are drawing inspiration from movies, social media and the internet, more broadly. Growing up in Tennessee, Brittany Chandler, owner and lead performer of The Dancing Fire Entertainment, said it was uncommon to see special entertainment or performances at weddings, but times have changed. "The internet has really helped people realize that they can [now] have anything they want as entertainment at their wedding," Chandler told the Business Journal.
In California, she noted, there's a long-standing tradition of entertainment as part of a couple's special day. Especially among Mexican and Mexican American families, musical and dance performances are a cherished custom. "Mariachi are a standard at Mexican American weddings, and that got everything started," Chandler said. Today, companies like The Dancing Fire Entertainment have performers with expertise in a variety of cultural and modern dances, as well as acrobats and even dancing robots ready to go.
"The cool thing about having dancers is that usually, at the end of the show, we get people on the dance floor. That interactive element is really important," Chandler explained. "The dancers help facilitate the party by doing that, and it really helps break the ice." In recent years, she noted, it's become more popular for the bride and groom to be involved in the performances. Whether they choose to be part of the performance or not, Chandler said, "it's the bride and groom who are really the show. That's why we try to incorporate them as much as possible, because it's their day and we're just there to add a memorable moment."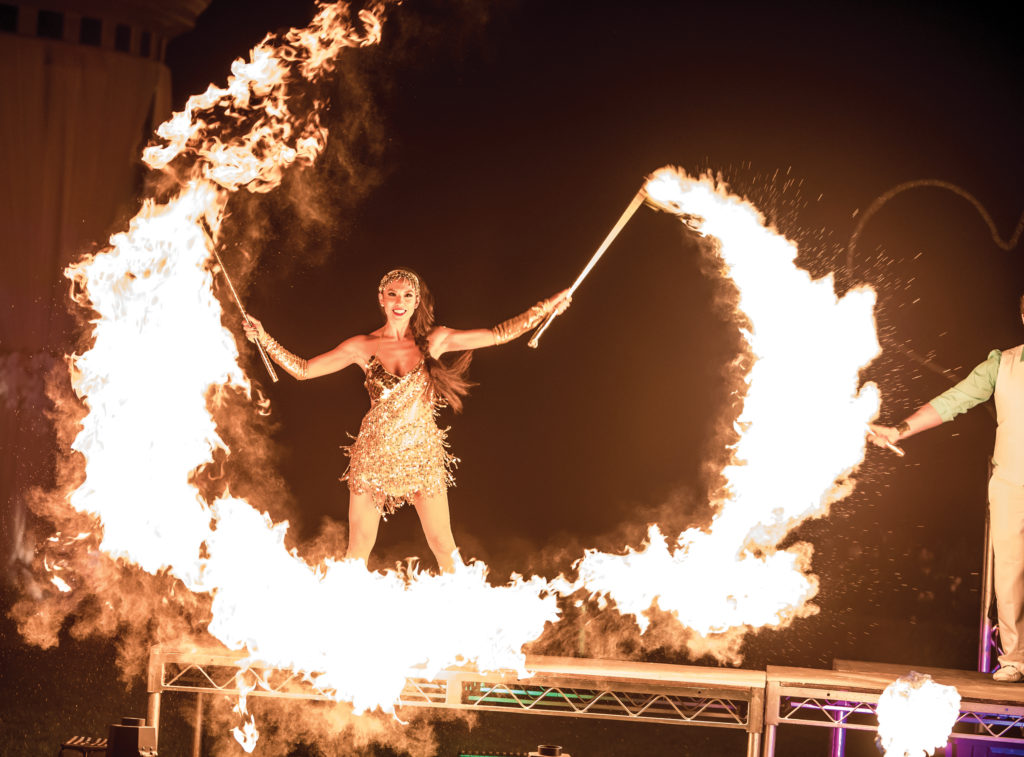 As for mariachi, things have mostly remained traditional, said Rodrigo Rodríguez Diaz, who represents the Long Beach-based Mariachi Romanza. But, he noted, as cross-cultural couples become more common, his group has made an effort to incorporate music from other cultures, like traditional Armenian and Jewish songs. "We understand that we live in a cosmopolitan city, so we have to be flexible," Diaz explained.
Still, a majority of the group's bookings come from couples looking to represent their Mexican heritage, he noted. "To my understanding, this comes from the history that California was once part of Mexico, so there are still people here who have those roots," Diaz said. "Frequently, they don't know the name of the song [and] they don't know the lyrics, but once we start playing, they recognize it and they go flying through their memories."
With the help of technology, Mariachi Romanza even made an appearance at a wedding halfway around the globe. The bride, originally from California, requested a performance for her wedding, in Poland. Using video conferencing software, the band was able to fulfill her request and bring a little bit of California to Eastern Europe, something that would have been unthinkable just a few decades ago. "Things like that happen and they're fun," Diaz said.
International weddings have become increasingly common, Megan Papageorge, CEO of event planning company Sweet Peach Planning, told the Business Journal. With friends and family members flying in from across the world, many couples decide to focus more on spending time with their loved ones, scaling down the number of entertainment options on their big day, Papageorge noted. "As much as people like being entertained, it's actually a trend right now to just enjoy the moment and be present," she said.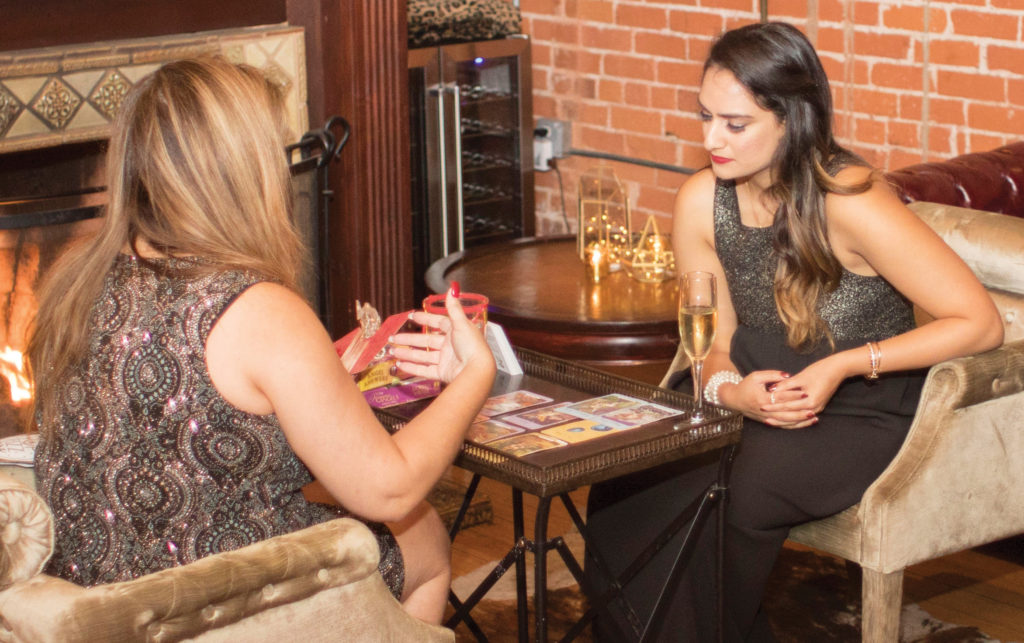 Harpists and classical musicians remain a popular option for both ceremonies and receptions, said Brian Noel, who has worked as a harpist for over 30 years. "Just seeing a harp at an event makes it memorable and the sound of it is just so beautiful and charming that I think it really sets the event apart," Noel explained. "When people leave the ceremony, they may not remember what kind of flowers were used, but they'll definitely remember seeing the harp up at the front, with the couple." Classical music is still the most common choice for ceremonies, while some couples request Disney tunes and pop songs for the reception, Noel noted.
Couples looking for an experience that is literally out-of-this world can give astronomer Craig Bobchin a call. Bobchin's company, Astronomy4You, provides high-quality telescopes as well as knowledgeable astronomers to help couples and their guests dive into the night sky. "For example, you can show them a constellation or a star, something that is occurring that night, that time of the year," Bobchin explained. The experience is guaranteed to be memorable, he pointed out. "Looking up and seeing Saturn's rings or the Orion nebula in the winter, or the Pleiades – all those stars that look like diamonds on velvet, is something that you won't soon forget," Bobchin said.
Whether it's dancing robots, star-gazing or traditional musical entertainers, couples are increasingly choosing entertainment options that reflect their own interests, heritage or personality, Papageorge pointed out. "It's very intentional, they're choosing one or two things to highlight," she said. "Couples are choosing entertainment that's representative of who they are as a couple."