The Queen Mary has been showing its age in recent years. The historic vessel is plagued with deteriorating infrastructure, failing utilities and rust buildup, among other concerns the City of Long Beach and leaseholder Urban Commons have addressed. Although repairs have been in progress over the past three years, there are still plenty more to go – and they are unfunded, according to city staff.
To date, the Queen Mary's completed projects include rust remediation in some areas of the ship, improvements to fire and other safety systems, a partial repainting of the ship's hull, and repairs to boiler tanks, expansion joints and interior infrastructure, according to a September 23 City of Long Beach memorandum.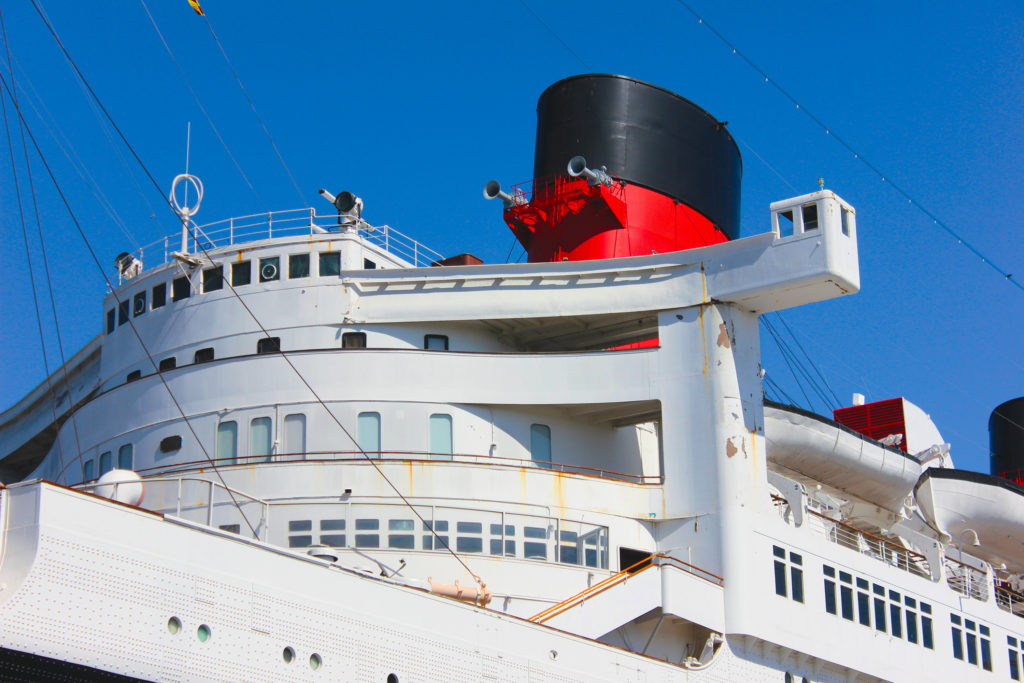 A marine survey of the ship, commissioned in 2015 by Garrison Investment Group, then the Queen Mary's leaseholder, identified extensive short-, mid- and long-term repairs totaling $235 million to $289 million. However, Urban Commons, which began its 66-year lease of the Queen Mary in 2016, refuted these cost projections and instead requested $23 million from the city to fund a total of 27 Queen Mary preservation and restoration projects.
As a result of the lease agreement with Urban Commons, the city established the Historic Preservation and Capital Investment Plan (HPCIP) to fund the aforementioned projects. The projects were identified as either "critical," "urgent" or "midterm" in consultation with the city's third-party professional engineer, who conducts monthly inspections on the ship's safety and structural integrity.
Critical projects indicate impacts to the long-term preservation of the ship, urgent projects should be addressed but do not immediately impact the safety or structural integrity of the ship and midterm projects can be handled as funds become available. Based on the city's third-party engineer's recommendations, critical projects should be addressed within 12 to 24 months and urgent projects should be addressed within three to five years, according to the city memo.
The city approved Urban Common's request of $23 million through the HPCIP – comprised of $5.8 million from existing reserves and $17.2 million from bonds. Urban Commons would then fund the rest of the repairs as needed. The HPCIP is funded through leasehold revenue streams, according to a city memo.
However, as work progressed on repairing the Queen Mary, many of the projects ran over budget.  For instance, a September 23 city memo indicates improvements to the ship's fire and life safety systems revealed more deficiencies than previously predicted, which spiked the cost from a projected $200,000 to $5.29 million. The reparations included replacing the ship's sprinkler heads, fixing sprinkler pipes and certifying all major alarm and lighting systems.
As of September, Urban Commons has completed a total of eight projects, totaling $14,087,500, with the exception of a project that has no disclosed cost. Per the city memo, other projects in progress have identified funding sources, such as replacements to landside utility lines and repairs to domestic water lines, which cost $100,800 and $133,000, respectively. The completed eight projects include:
$5.29 million for improvements to fire and life safety systems, as aforementioned
$2.3 million of structural repairs to decks M and A, which includes work on nearby boiler rooms and a catwalk
$1.3 million of structural repairs in the ship's exhibit hall and demolition of two boiler rooms, both of which were leaking and accumulating rust
$715,000 to replace the ship's three expansion joints, all of which were corroded and not "structurally sound," per the city memo
$2.8 million for rust remediation, priming and painting for 240,000 square feet of the ship's hull
$1.2 million for rust remediation and painting for the "Top of House" section of the ship, which includes the intake vents and funnel
$472,500 for reparation to the ship's side tanks
An unspecified cost, paid for by Urban Commons, to replace the ship's cabled-lighting system
Taylor Woods, Urban Commons principal and co-founder, said in a prepared statement that progress has been steady in addressing the historic ship's urgent repairs, emphasizing the safety of all visitors and crew members. "As partners, the ongoing role of Urban Commons and the city is always enhancing guest experience and working to extend the life of the ship," he said.
Currently in progress are fixtures to the ship's sewer and electrical systems, along with other HVAC work. "We have completed the repair/installation of air conditioning to 44 guest rooms, addressed time-sensitive plumbing repairs, updated guest services equipment that is essential for operating and accommodating guests and finalized several exterior paint projects," Woods said.
But while 19 of these projects are in progress, eight others are pending with no identified funding sources. Two "critical" projects in particular –  the removal of 22 aging lifeboats suspended from small pairs of cranes, and the reparation of the side shell – have no identified funding source.
Laura Doud, the city auditor, has previously expressed her concern to the city council about repairing the Queen Mary. "There are serious structural problems for the ship that appear to be pretty costly," Doud told the Business Journal. "If we're not able to identify a revenue stream, we need to figure this out."
Doud also takes issue with how the ship's repairs are being handled. Doud said Urban Common's 2016 request for $23 million to fund repairs ignored the marine survey's urgency in fixing the ship's projected $200 million-plus damages.  
"I just didn't understand why we weren't addressing the whole problem – the [$200 million] problem, rather than the $23 million problem," Doud said. "That's what I said to council. . . . It just seemed like a patchwork type of way to fix the problem and not addressing the whole problem."
City staff will continue to meet with Doud to provide status reports on the details of the lease agreement between Urban Commons and the city, as well as ship repairs. Although there is no set date for a future Long Beach City Council meeting to discuss the issue, Doud emphasized the need to find a solution soon.
"As the city auditor, I am focused right now on the agreement between the city and Urban Commons," Doud said. "I'm looking to make sure that they are in compliance with the contract and upholding their end of the agreement. They have responsibilities for base maintenance, as well as repairs. So, we need to take a deeper look into that and ensure the city is receiving its end of the agreement."